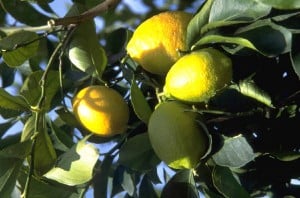 …do you really have to make lemonade?
I mean, can't I zest them and juice them, freeze all that and then use the peels to make my garbage disposal smell better?
Or scoop out the centers and use them as dishes for ice cream? Or mini-cakes in my Dutch oven over the camp fire?
Here's where I let you in on a little secret, where I open up more about the struggles of being in limbo and working towards something that's out of your control. Most of my blogging's about time in the kitchen or around the property, but this blog entry is courtesy of my irritated mood and boggled brain, so be warned.
This life in the country has its ups and downs. Some days, more downs than ups.
Before we moved here, we visited a few times, and each time, explored, tried to visit a lot of places we'd use if we lived here, and get to know a few people. From all that, we figured we'd settle in, spend nightly time on our porch with a glass of tea or wine, and chat with our neighbors while they taught us how to can or farm or talked Nascar. My husband gave up his 20+ year job, voluntarily, and we sold our over-priced two-story new model home and packed our belongings into a 53′ foot trailer that we bought; we came out in a caravan of cars and trucks and the RV with a dream that began with a leap of faith.
The reality of full-time life here is very different from anything you can plan on and study for.
When your husband drives over an hour one-way to work, because the good job moves its office far away after you start, then after spending 10+ hours there, evenings are more often spent catching up on things than relaxing. There are so many bugs, if you are a bug magnet, like my husband, you spend more time sitting out back in the screened patio (or "Carolina room") with no way to wave at passing neighbors. And when it's a small town? It's not easy to just jump into the social scene when everyone around you was either born here or has family who has been here. Forever.
We've been here two years now and while we've had a smattering of social outings, I can count them on, well, like seven fingers. In two years. For people who had activities every weekend back in California, aka The Good 'Ole Days, it's a humbling experience. Social skills become stunted, and when someone does invite you? You do the happy dance and then hope you still know how to talk because most of your conversation has consisted of talking to kids or the dogs. But at least the dogs don't tell you if you're weird or a social outcast. It's very easy to feel like you're back in high school: "I have a friend! I have a friend!" It even looks silly in writing, so imagine what it feels like when you have that sobering "I really just said that" moment. I've definitely met a lot of people — cupcake clients, business-owners, parents of kids' friends — but in a place where things don't change much, and when they do, it's slowly, and over time, not everyone's looking for more change in the form of a new friendship.
We've learned a lot here. We've also still not learned how to garden properly, but who to ask? Canning? I learned that on my own. And Nascar, my beloved sport? "It's too goldarn expensive, I love it but I ain't never been to a race other than on the TV." Despite there being a track just a bit over an hour away and being in the heart of Nascar country. (And that's a real quote, though I'm not sure I spelled "goldarn" properly.) Someone asked me once if I'd been into town lately. Town is 1/2 mile down the road. I realize it's a small rural town, but really, is that an event? I learned early on, I had much adjusting to do, far more than I expected.
Don't get me wrong, country life has a lot going for it. I've seen more nature in the last two years here than I've seen in 30 in California. When the squirrels aren't taunting me by picking my tomatoes, eating a bite, then leaving it sitting on the fence post, they are funny to watch…while they're vandalizing my birdfeeders. And when they leave me a ripe tomato? Yum. Much better than store bought, by miles. When I take the pups out to potty before bedtime, the sky is beautiful. There are colors of blue in it late at night that I'd never seen outside of a Crayola box. And the stars!
There's also something to be said for the lack of rushing…though that will get on your nerves when you have to make the 45-minute drive to Starbucks, CostCo, Target and everything else that has a recognizable name and you're stuck behind two tractors, a combine, and a tourist who is thinking "wow, I love small town life, maybe I should move here."
But back to the lemons. Our home was on the market for a few months last year, but with a realtor who barely remembered our phone number. We pulled it off the market rather than finding a new agent until April of this year. We have a wonderful realtor who is easily worth his commission, but you can't force people to move to the country, even if the beach — and a big city that's every tourist's dream — is a mere 25 minutes away. It takes a little longer. It'll happen, but the longer it takes, the more sour my attitude gets. I'm ready to move…like last year.
Many people adjust to country life just fine. I think I could if I had the family and friends we left behind. We've now got some good friends here, but we've checked out. Moving puts everything on hold. I don't decorate the house like I normally would; why? I'll just have to pack it and hope it doesn't break. We did renovate a bunch, but decided we were done renovating a house that would soon belong to someone else. (And let's face it, why spend more money to decorate or renovate in a way a new buyer may not like? The hardwood floors, stainless steel appliances, crown moulding, stained glass windows and lamps..they are already a lot of decor on their own.)
I will miss the peace. The privacy. The 'getting back to the land' approach we've tried to take, but we learned that even once we are back to a postage-stamp sized yard and have left our acres of green behind, we can still do that. Organic living, recycling, and preserving aren't dependent on country life. It's something we can all do, a little bit at a time. Fixing things instead of buying new. Baking instead of buying. Sharing instead of throwing away. And taking the time to just sit and look at the gorgeous flowers while hearing the ducks fly overhead. I'll miss the smell of my citrus bushes and numerous gardenias, the abundance of figs on my two trees, and the variety of birds that eat whatever the squirrels don't steal from the birdfeeders.
I'm sure that one day, sitting on the five-lane freeway (in just one direction) taking 20 minutes to go five miles, I'll miss my days stuck behind tractors on windy roads surrounded by gorgeous farms with cows moo'ing and wild turkeys crossing in front of me. But right now? That five-lane freeway sounds divine.