On Tuesday of this week, I had the distinct pleasure of being invited to a cocktail party in honor of the opening of Winter in Venice, a themed event occurring from November 18 through January 5 at the Venetian Hotel in Las Vegas. If you're a foodie, take note! Not only is the whole Winter in Venice program a beauty, but on December 5 through December 8, La Cucina Italiana is taking place and you don't want to miss it!
The Venetian and the Palazzo Las Vegas will feature the La Cucina Italiana Food & Wine Festival as a part of Winter in Venice, the resort's third annual celebration of the winter holiday season. I've never been, but the photos I've seen are beautiful: lights galore and an atmosphere that puts you right in Venice at Christmas.
The Food & Wine Festival has some big name headliners: Chef Mario Batali, Buddy Velastro, Dario Cecchini, Wolfgang Puck, Robert Caporuscio, and Anthony Giglio. What a line-up!
Not only are there different events taking place at the festival, but you've got the opportunity to dive into Italian cooking and the list of "How To's" that you can learn is endless and far too long to list them thoroughly here.
Visit the Venetian Las Vegas website directly for all the details you could need, including gorgeous photos. Be sure to watch the video, and there's a link to the .pdf of the event on the lower-right of the home page.
I won't be able to make the event this year, as it falls directly on my son's 13th birthday, and as you parents know, that's a big deal; we've got both a family party and a school-friend party scheduled, but if I could go anywhere that weekend, it would be to the Venetian. I'd love to learn how to make gelato, mix like a mixologist, make tiramisus (there's more than one kind, who knew?) and of course, how to make a grand Italian cake with Buddy Velastro.
Even though I can't attend, I did get a small taste of what an amazing weekend it will be, and how the Venetian will do the whole Winter in Venice on no small scale. In just a few hours at The Grove in Los Angeles, I was able to watch Human Nature sing Christmas carols Motown-style, meet them for a photo opp, drink some spectacular white wine and sample some 'no words will describe them adequately' foods, such as chicken satay, ahi tartare, shrimp cocktail on endives, goat cheese-honey tarts and lamb pops with aioli. I don't know which my favorite was, but I will say, I've only had lamb a couple of times and wasn't a fan; give me a lamb pop any day now, I will take it, SO good.
Here is a mini-photo album of our wonderful evening at Morel's Steakhouse at The Grove, hosted by the Venetian Las Vegas in honor of Winter in Venice. If you are able to attend, let me know! I'd love to see more pictures and find out what else I missed! That set of food legends in such a beautiful setting won't easily be found anywhere else.
I'll start it off with a few photos of the layout of the Grove and their twinkling lights. (My son would love Santa's Workshop!) The band, Human Nature, played at the end of the strip of lights, in front of the huge Christmas tree adjacent to Morel's. (For more info on Human Nature, visit here.) What a resume those guys have!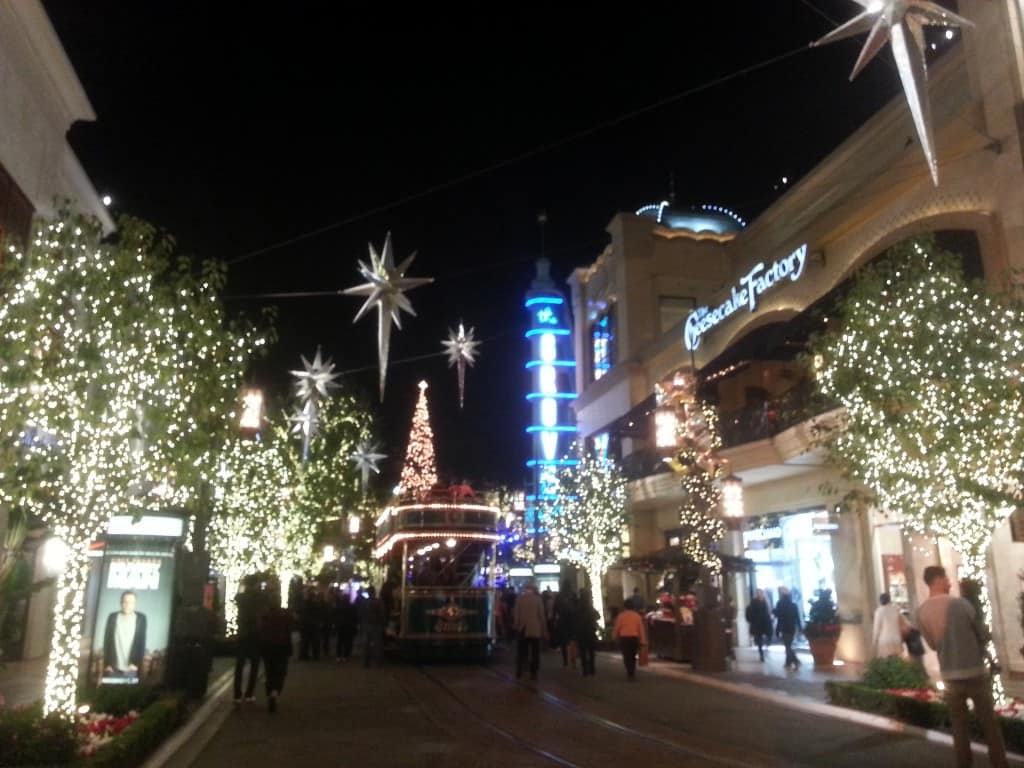 Look at all those white lights!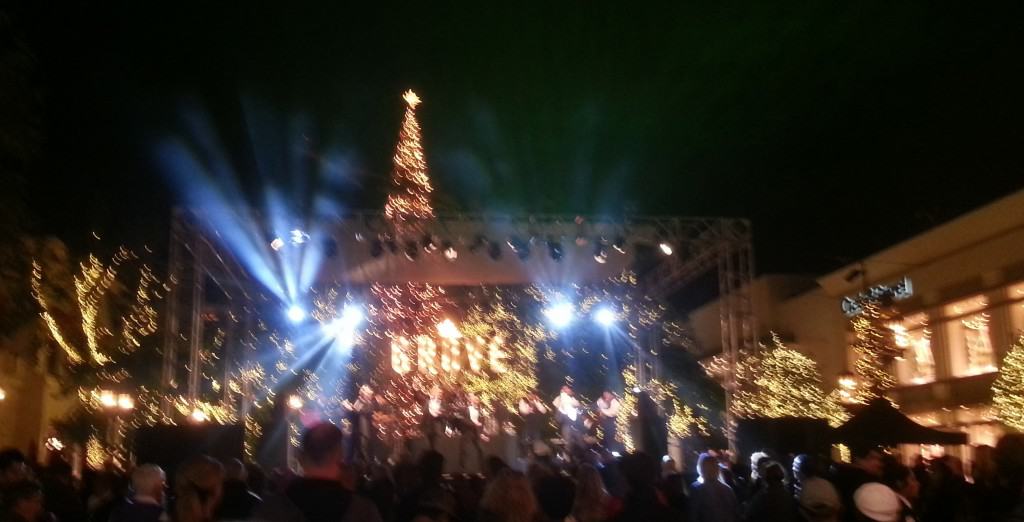 Forgive the blurriness, we were still in "awe mode."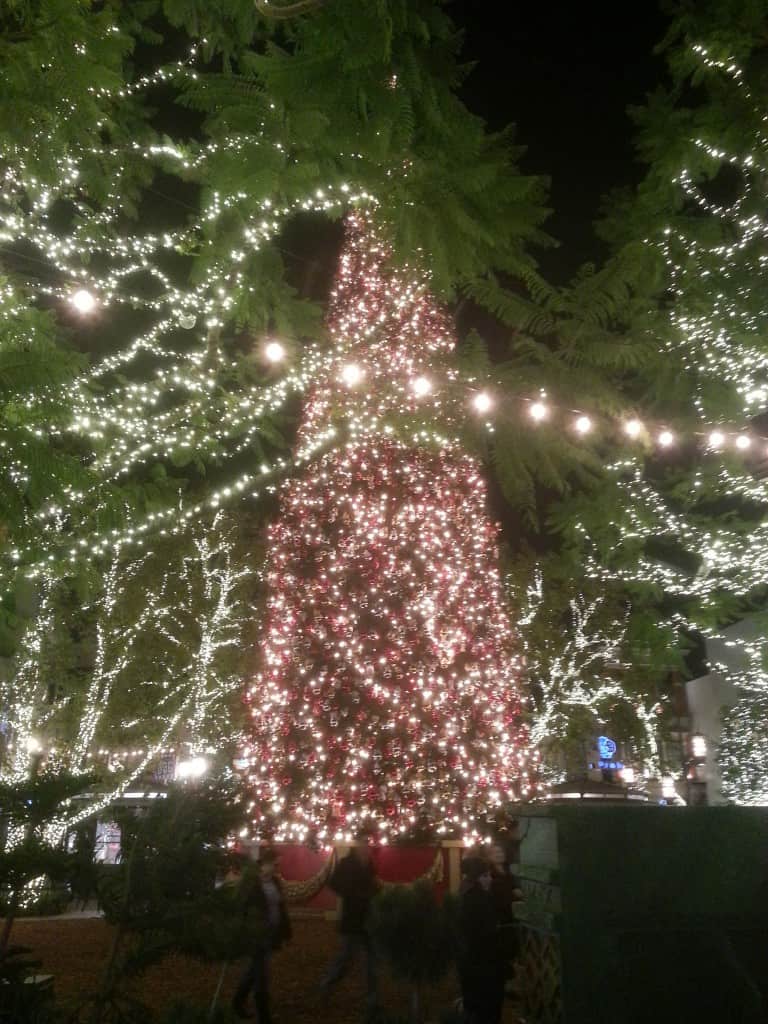 Isn't that gorgeous?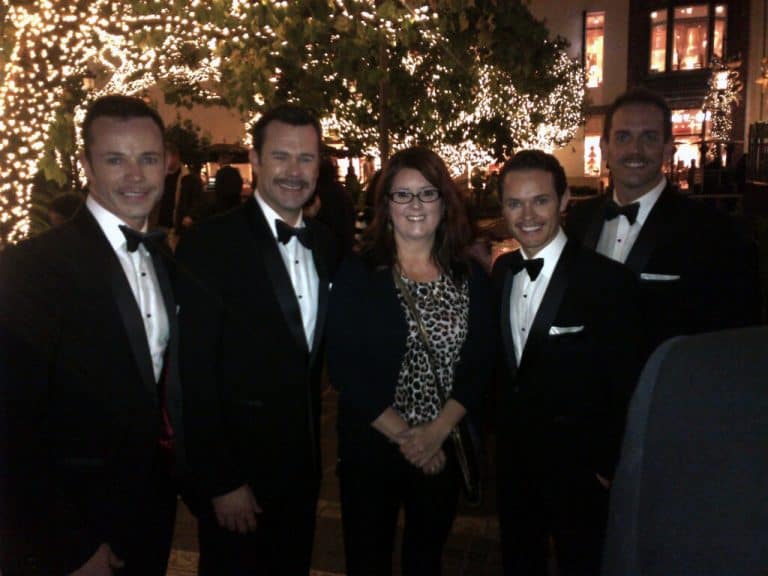 They were such sweeties to take a few moments in a busy night to let me have a photo with their cuteness!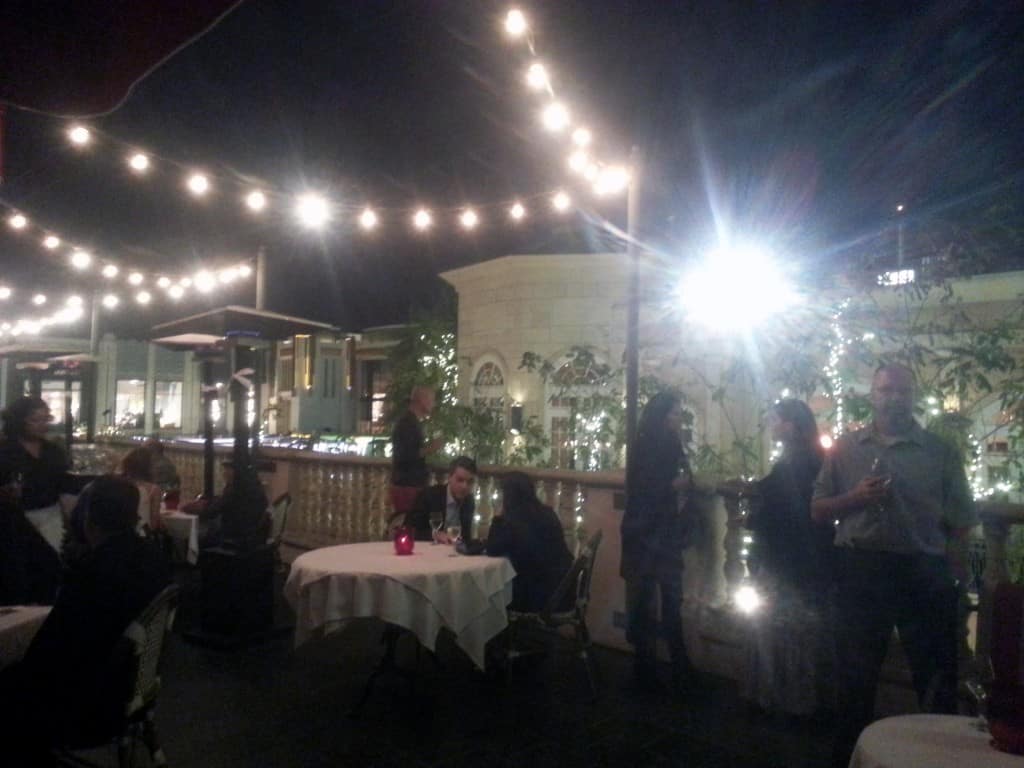 On the patio, overlooking Sprinkles Cupcakes and all sorts of other coolness..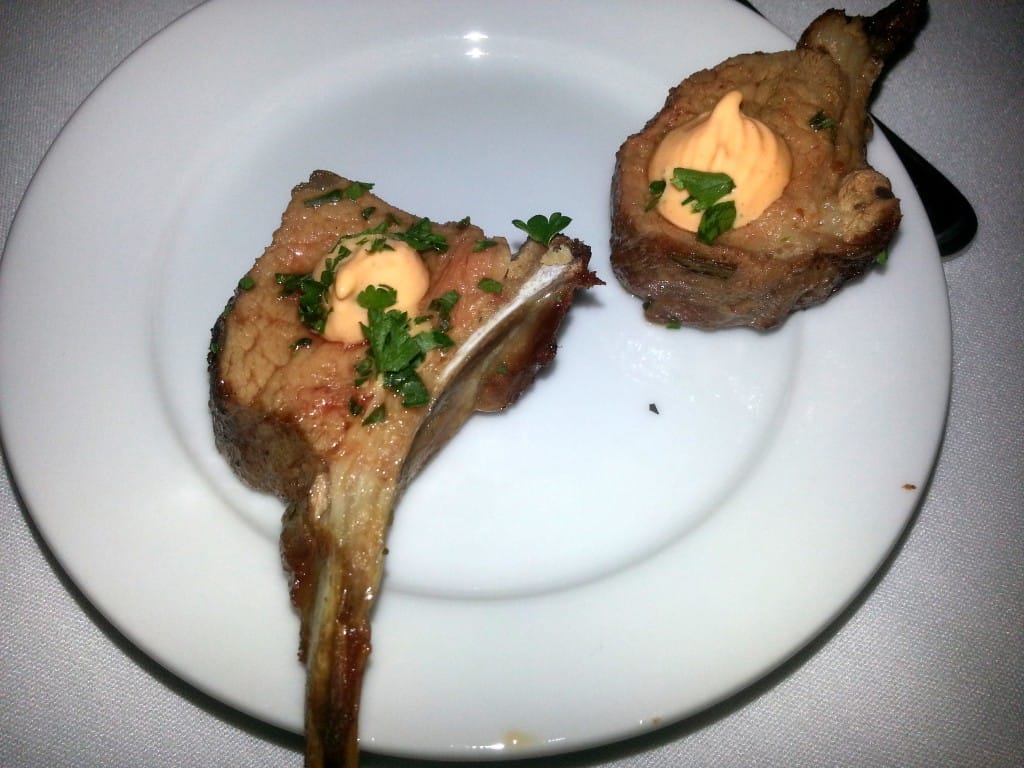 Yum.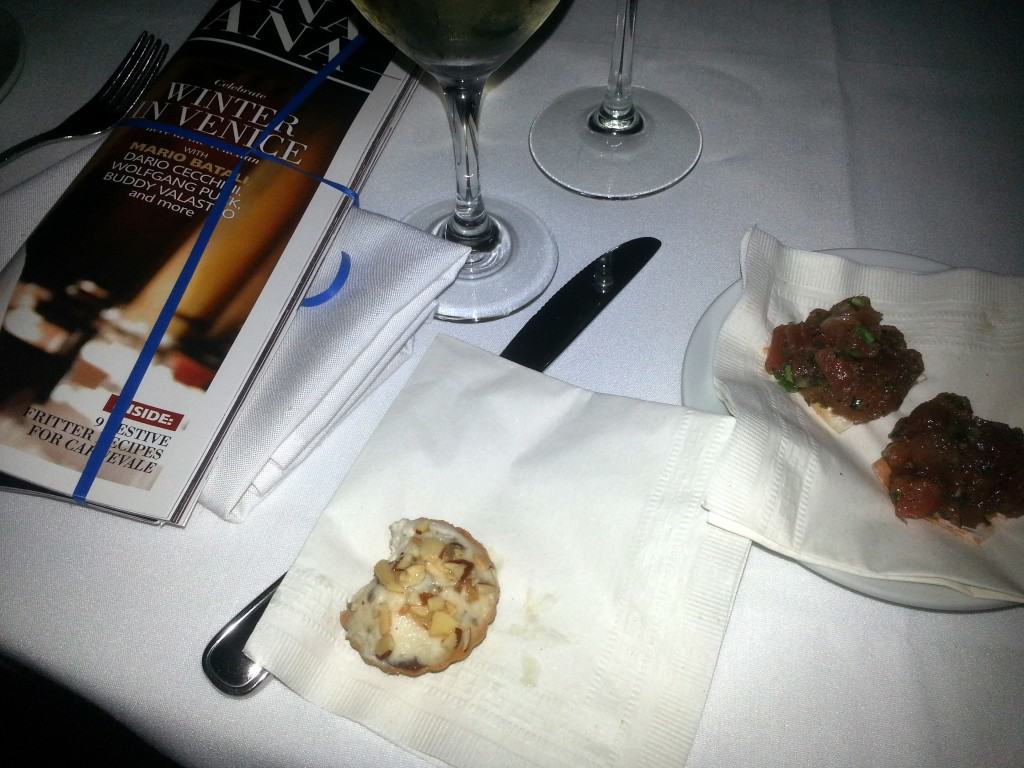 Goat cheese honey tart and ahi tartare before I devoured them. (Poor lighting for a photo but perfect ambiance for a cocktail party!)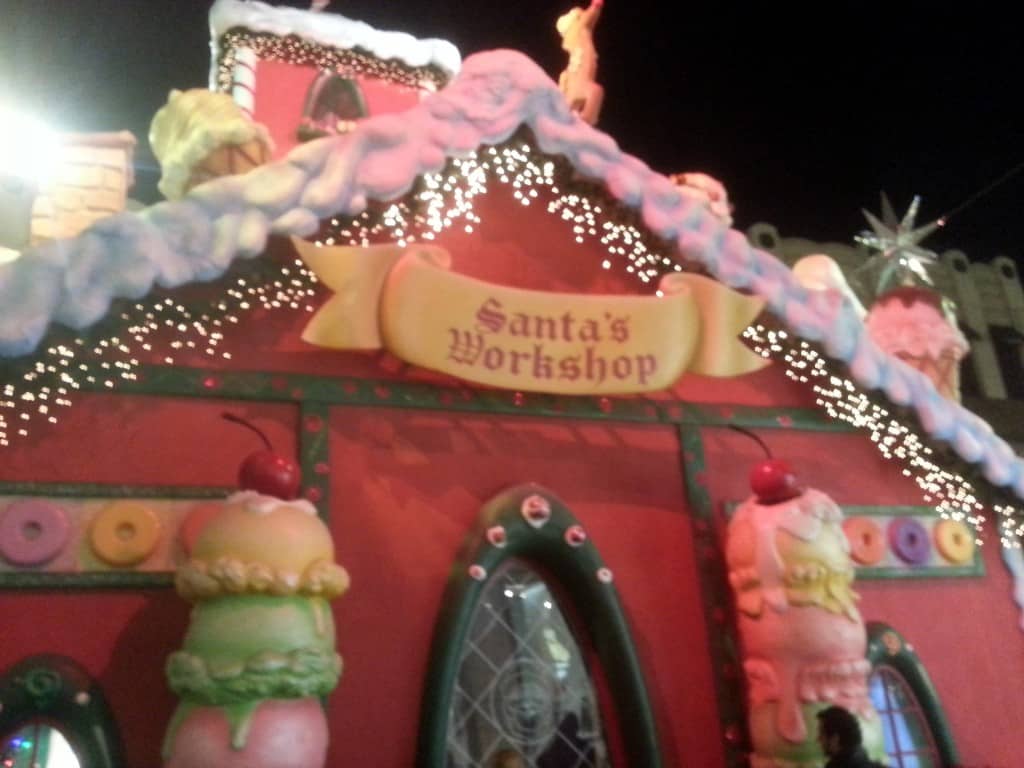 And of course, the workshop.
There were a lot of other things that I'd love to have shared but there were also a lot of people so I am not good at pushing to the forefront in heels to get that perfect shot. I'm working on it.
Get in a visit to The Grove and Venetian Vegas's Winter in Venice! (And then come back and tell me about it!)