To my fellow women in business and female business owners, check out this FREE business event to be held on July 30, 2022.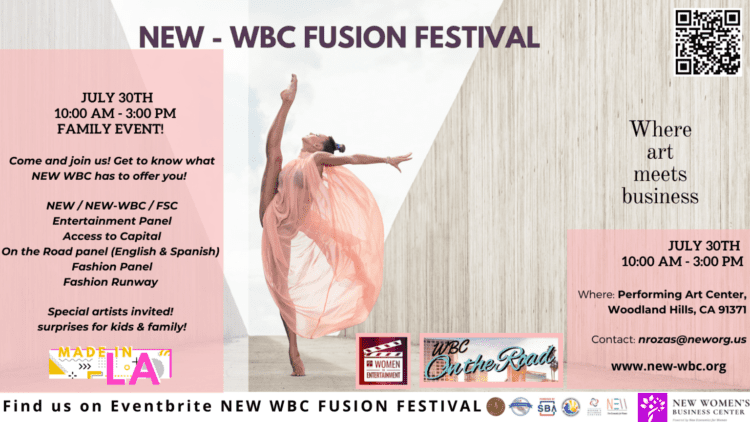 One of the biggest obstacles women in business face is financing. This event has a segment devoted to this particular situation. The schedule is available at the link above, but you do need to register online in advance. I, unfortunately, can't make it due to a prior commitment, but we business owners need to take advantage of every type of networking, education and resources we can find, right?
Here's a little more about the women in business event, directly from the press release I received:
New Economics for Women – Women's Business Center (NEW-WBC) presents "NEW-WBC Fusion Festival", a small business expo where experts from fashion, entertainment, financial access and business workshops (bilingual English/Spanish) meet women and underserved small business entrepreneurs in a dynamic and engaging setting.  The event will take place at Pierce College Performing Arts Center from 10am to 3pm, and prominently feature 4 of the NEW-WBC's most popular programs – Women in Entertainment (WIE), "Made in LA" Fashion, Access to Capital, and WBC On the Road "12 Pasos cómo iniciar un Negocio" – through multiple panel discussions, guest appearances from Hollywood influencers like actress Edwina Findley and visualization artist Lazaro Hernandez from Marvel Studios, LA fashion designers, banking and financial industry specialists, and local governments officials. Although topics are business focused, programs will have an entertainment component making the day more engaging and exciting! 
NEW Executive Director Maggie Cervantes says, "At NEW-WBC, we help women and underserved entrepreneurs and business owners plan, create, and grow their businesses.  NEW also sparks economic mobility for women and their families by taking a whole family transformational approach in supporting their business and other economic mobility service needs.  Please join us for this informative event and get to know NEW and our multitude of business and other economic mobility services." 
The event runs from 10am to 3pm PST on July 30, at Pierce College Theater, 6201 Winnetka Ave, Woodland Hills, CA 91367. It may be a bit of a trek for some of you but five hours of spending time with other similar women can be worth all the gas and mileage out there.
If you're unfamiliar with NEW-WBC: New Economics for Women (NEW) sparks economic mobility for women, particularly for Latinas and their families, through wealth creation, housing, education, entrepreneurship, and advocacy for economic justice. We empower generations of women and families to thrive. For more information, call (213) 483-2060 or visit http://www.neweconomicsforwomen.org. NEW-WBC is an initiative of the New Economics for Women (NEW), in collaboration with the U.S. Small Business Administration (SBA) and Go-Biz California Governor's Office of Business and Economic Development, with the objective to help women entrepreneurs and business owners plan and create a business and to make existing businesses grow successfully. http://www.new-wbc.org.
Women in business, whether you own your own business or not, networking can be key to success — or to even just meeting others who get your struggles and stresses. I hope you can attend!