I was sent a complimentary book to read for this review, and I was so glad to add this to my growing social media library. I have bought a lot of books this past year, all good. I prefer hard copy over ebooks because I like to highlight and pull it off the shelf to refer to smething, and this book is no exception. The downer is that I can't read it at night and who can read during a work day and night at home with the kids and family, so it took me longer to read than I would have preferred.
In short: it's a must read for any social media professional. Written by Ted Coine and Mark Babbitt, two social media extraordinaires, you know going in that it will be information overload in a good way. It covers everything, with an extensive Table of Contents that allows you to skip around and drill down into topics you want to read first; it's set up so you can move from one category to another without having to read in order.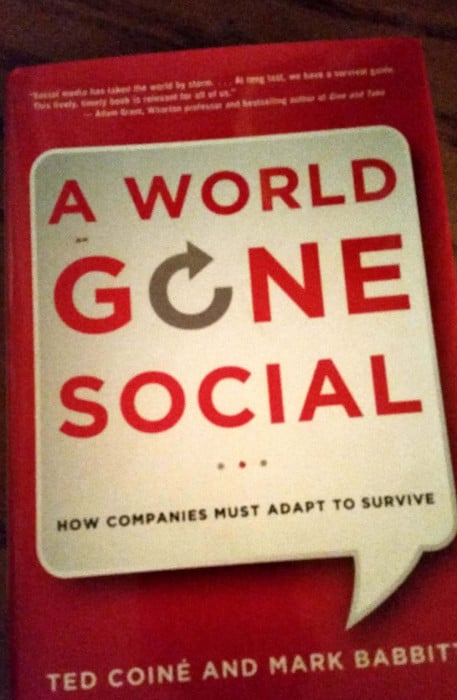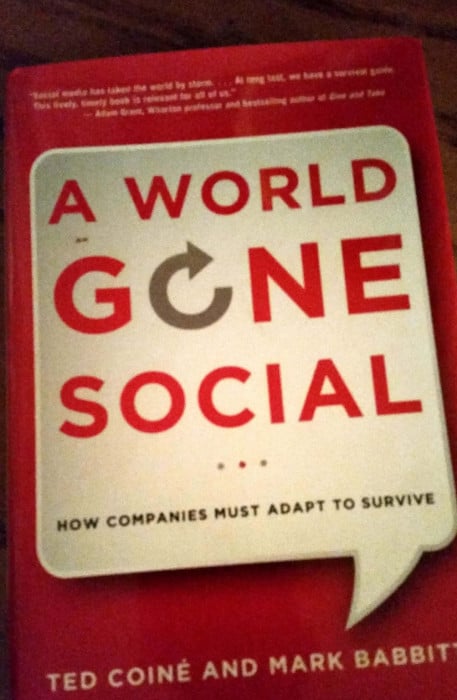 My eyes immediately went to "It Takes a Community." After having spent 17 years in online community, in general terms, I have a big soft spot for community. Many social media marketers or managers are focused on goals and strategies but forget the intrinsic need to develop a good community, not just the hallowed engagement. Without community, nothing else really sticks, and the book fine tunes it a bit in the chapter about putting together your social media team and what a community manager really is. Love.
Need to get attention to a customer service issue that's just not getting resolved? You have the power with social media, and <almost> everyone else knows it, too. I will forever tell all my clients or even companies I interact with that they have got to have a social media presence. It doesn't need to be end-all, be-all for customer care, but it can at least provide the initial liaison and A World Gone Social covers the possibilities of influencers and amplification and simplifies it in one sentence: a ticked customer can make a world of difference via social media for a business. (Paraphrasing, of course.)
It goes further to talk about the customer experience. This is where it states "More social. Less media." Remember that phrase. Think about it. Then read the book.
After I finished, I bookmarked The Social Sanity Check. It's a great list to help you stay on track, and if you're looking for examples to moderate, you'll have plenty to research. Success and failures — we all learn from them.
You'll be glad if you add A World Gone Social to your social media professional library. It's an easy read that you'll want to highlight and keep handy.