December 2000 was a momentous occasion. After several losses and a tenuous pregnancy, our youngest son had made it into the world, a little early but other than a couple of minor issues, healthy. We celebrated the holidays with our four kids, looking forward to all the exciting firsts for him and our other three kids, blissfully unaware of what was going to happen. Fast-forward a few months, and the baby was getting sick often; it started with dual ear infections but quickly escalated to vomiting after feeding.
It didn't get any better when we started with solids, though we were able to pinpoint which foods were causing the issues. Feeding him became difficult, because he was displaying issues with textures and even the things he seemed to like ended up coming back up. After a few doctor visits, it turned out he had food allergies. This wasn't a huge surprise, as our first child had a life-threatening allergy to eggs in addition to some mild allergies to other basics, like wheat and beef. It did become a huge surprise though when the allergies started to include things that we couldn't just avoid, like so many told us to do, as though it was no big deal. We could stop feeding him bananas, walnuts or anything with yellow dyes, but latex is everywhere. Arguments were being made for peanut-free lunch areas and/or classrooms, but latex? "Sorry, you may need to just keep him at home."
Thankfully, he outgrew this allergy but it gave us an entirely new perspective for allergies and a compassion for other families dealing with this difficulty. And if the allergy is life-threatening? Staying home may not even be safe, but who wants to keep their child in a bubble?
Peanut allergies are currently the most common known food allergy, with over three million Americans being allergic to peanuts, tree nuts, or both. Carrying an epi-pen is great but it's not something you can just do every day, and you can only protect your child so much. There's also the question all allergy moms dread: "Mom, why can't I eat a peanut-butter and jelly sandwich?" And to put a different spin on it, there are kids out there like mine, who ended up being diagnosed with autism, who would only eat a peanut butter sandwich for a while there. (That phase is gone, thank goodness!) The need for peanut-free peanut butter may not seem like a big deal, but it's a genius idea and it's a long time coming! We've tried almond butter and sunflower butter and whatnot, but peanut butter has a distinct taste; I'm thankful none of our kids are allergic because I'd really miss it! (And did you know that four out of ten kids have a food allergy? Mind-blowing and scary.)
"Disclaimer: I am a member of  The Social Media Panel, LLC. who was given the opportunity to review this product. However, the brand or company has not influenced me in any way to provide any type of review other than my true and honest opinions. I am disclosing all information provided in this review according to the information provided in Federal Trade Commission's 16 CFR, Part 255: "Guides Concerning the Use of Endorsements and Testimonials in Advertising. My thanks to Wowbutter for sponsoring this post!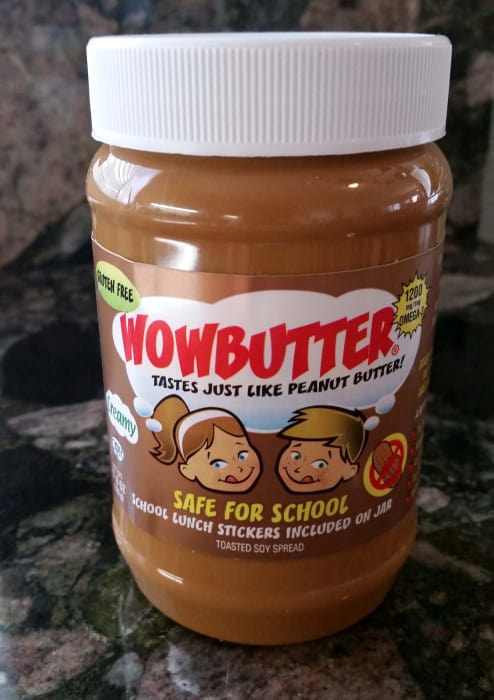 When I was contacted about trying Wowbutter, I was intrigued. A peanut butter that doesn't contain peanuts? I am picky with our butters, as we need to be able to spread it on bread or crackers without it breaking, and I need it to hold up if I use it in cupcake batter or butter cream frosting, so Wowbutter had a high bar to meet but meet it, it did!
Let me tell you a few things about the packaging: it's clear, so you immediately see there are no peanuts, and it's attractive to both adults and kids. (I tested this with my large brood.) The fact you can peel off a portion of the outer label and find stickers to send to school on the item? Ideal! No worries about your kids getting in trouble for bringing a peanut product into a peanut-free classroom or scaring a teacher who works daily to ensure your child gets no peanut exposure. (And what a genius, unique idea!)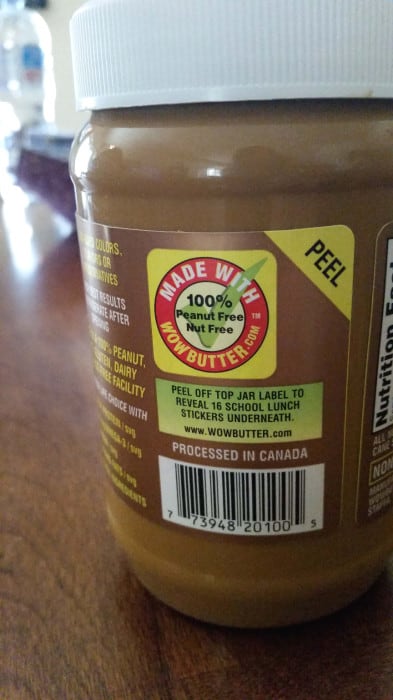 See how clear it is? It was super-easy to peel the label to get to the stickers.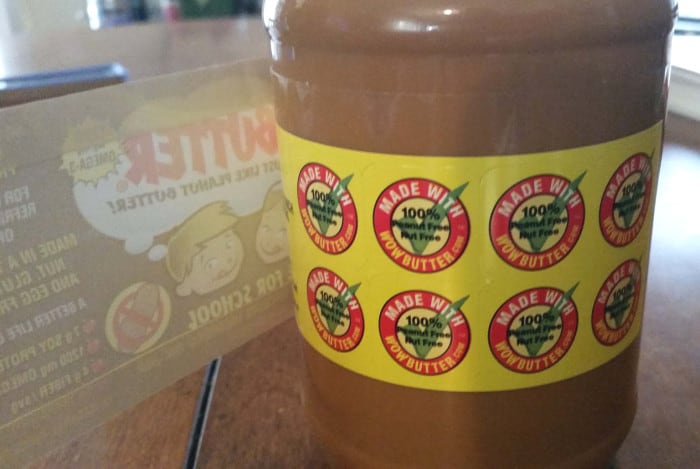 Onto the most important stuff though: the taste. It fooled everyone I gave it to, as I hid the jar initially. I've added some pictures below to my model of choice; I gave her the snack I was preparing for her younger brother, as she came home early and he came home late, and asked her to tell me if she thought he'd like it. (His food interests are pretty wide now but he'll still be VERY clear about his preferences and if something is the slightest bit off, he won't eat it.)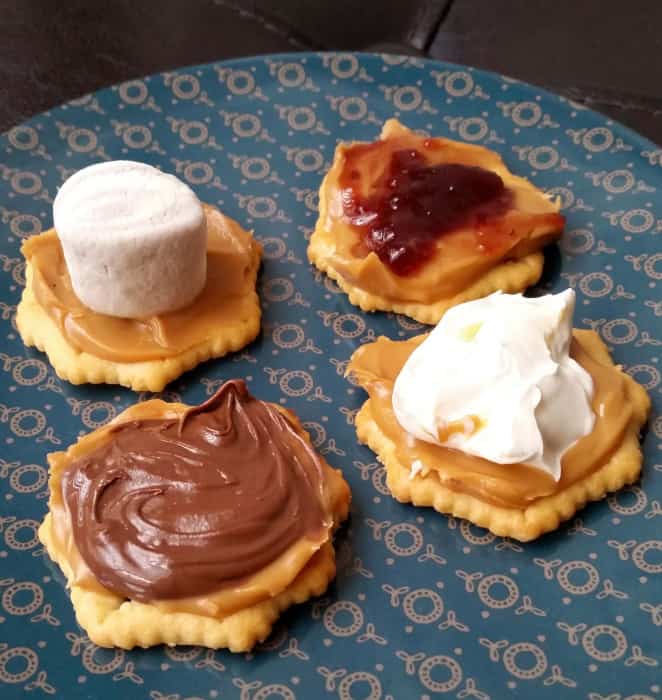 When Little Dude comes home from school, he sits right down at the table for his snack. Each day, I try to put out something different and it doesn't need to be fancy; it just needs to be yummy. Having just bought these snowflake crackers, I had to find a way to use them.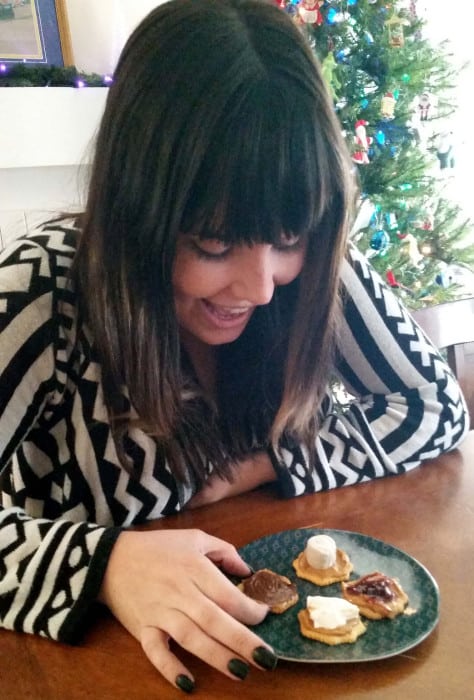 "Mom, how come I don't get snacks like this when I come home from work every day?"
She took her job as taster very seriously.
  First, she really thought my combinations for his crackers and toppings were unique, but onto the peanut butter – she had no idea it wasn't real peanut butter and she kept asking me which product she was testing! She's a Nutella lover, so when she said I could have just served a plate full of the Wowbutter and Nutella on the same cracker, I knew he'd have no problem eating them whenever he does stop playing, or when the rain comes, and arrives home. So what's really in it? Soy, and you'd have no clue! You would get 7g soy protein per 32g serving, a complete protein source, and 4g fiber, while consuming a 100% peanut free, nut free, gluten free, dairy free AND egg free product. How's that for helping a whole lot of people at once? It also has no added colors, flavors or preservatives.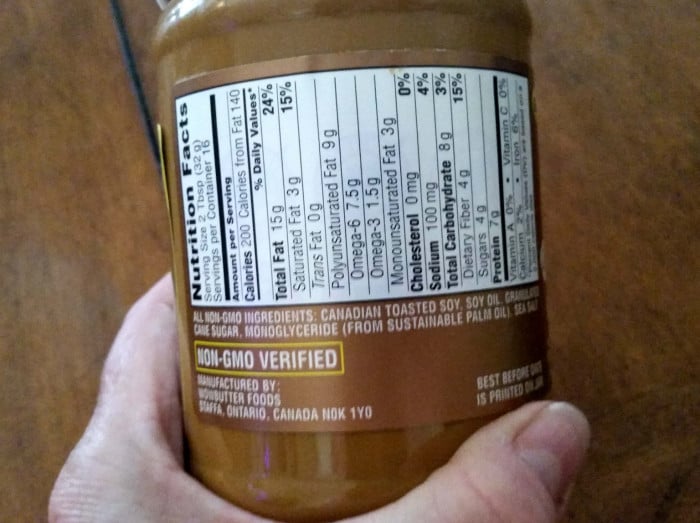 More info from the label.
You can learn more about the product at the Wowbutter website, and they also have a "Where To Buy" section that comes in handy. I was pleased to see it is available here in my area of Southern California in stores like Whole Foods and Sprouts, and I am a diehard at Sprouts, there every Monday. When this jar runs out, I can easily get more….even though we have no peanut allergies. It's that good, and as my daughter stated, it spreads even more easily than real peanut butter. (And if you've ever mangled a pb&j with clumpy peanut butter and end up with ripped bread, this is a big deal.) I would definitely use this in my cupcakes and frostings, as well as topping for waffles, in sandwiches, on celery sticks, you name it.
If you have food allergies in the family or a peanut-free class at school, check out Wowbutter, the #schoolsafespread. You can send it to school or day care with your child knowing that the kids won't notice the change but everyone's safe from peanut allergies. You can also share that it's non-GMO, a huge plus! It's also a 2013 winner in the Quality Food Awards.
You know I'm all about indulgence within reason, and Wowbutter just gives us one more way to still do that. I'm going to be putting this in my morning smoothie or on a piece of toast before a workout. When you try it, let me know what you think!