I am a CostCo fan. I love the fact we can find high-quality items for a lower price, with a good variety. (And the fact I can get a big discount on magazines, clothes and wine while shopping for food? Bonus!) We have been members at the executive level for a few years now, and without fail, our yearly benefits – the percentage of your purchase you get back – has always been pretty equal, so we renew for less than $10 each time. Combine that with the money we save on anything else we buy? So worth it!
Some people knock bulk-buying. I understand that some people over-buy but with discipline and a list, the average family can save a lot, so if you're an over-buyer, that's a 'you' problem, not a warehouse store problem! There, I said it out loud! (Money management tip #1: take responsibility for your spending. It really is all in your hands.)
We visited CostCo a few days ago with the intention of buying bacon, eggs, milk, cheese..the typical items we use consistently in our household. Going by unit price, we definitely save over buying these items in the local grocery store, and they don't expire, go bad, or go to waste. CostCo does a fantastic job of offering things weekly that aren't easily found elsewhere either, so shopping there for affordable meals for the family, along with some snacks, wardrobe items or just a quick lunch, is super-easy. (The entire meal's worth of samples we get by the time we've left the store is a pretty sweet deal, too.)
This particular time, we added a few things to the list: beer, as their per-case price beats the local Total Wine, fresh broccoli (can't be beat in the local produce section) and unique entrees to speed up dinner cooking without adding in preservatives and high-fructose corn syrup. My favorite was the chicken-mozzarella ravioli, on sale for $7.99 for two sections. Add in some batteries, a case of Kirkland's Pacific Bold k-cups ($37.99 for 100 – and you Keurig fans know what a deal that is!) and some taquitos, and we headed for the checkout, dollars ahead of where we'd have been if we shopped elsewhere and knocking it out in one trip. Saved on the gas, too!
Today, we headed to the DMV bright and early, to get our driver's licenses. Early as in 7:10 appointments. AM. AM, people..and I am not a "top of the morning, to you" kind of person, face-to-face, until I've had at least two cups of coffee. Drinking caffeine, then waiting in line at the DMV, or anywhere that people start lining up hours prior, is not pretty, so I plastered on my "I'm going to finally be a full California resident and have all this paperwork baloney behind me" face and got in the car, one-half of a cup of coffee later. Bah.
Then we ran a few errands, such as returning some prior work equipment, mailing back South Carolina license plates, and purchasing everying on a small-ish Target list. (Keyword: ish. That always leaves room for a few items you've had on a "when they go on sale" list in your head.) I will say, Target's sales this week helped us fill some wardrobe gaps caused by packing everything you own in a 53′ trailer and then having it inaccessible for weeks on end. True to my word though, everything I bought was on sale, other than some shampoo and two toothbrushes.
After all that, I came home, did some bloggy affiliate work, and before I knew it, it was 6pm and there was no smell, or sound, of dinner in the kitchen. Heads were starting to turn as they looked around, then at each other, with that "I'm hungry. Are you? Why isn't mom cooking?" look.
Sigh.
Now, remember, we're temporarily living in the RV, aka small house on wheels. (I keep saying "We only have 400 sq. ft. to live in, guys, keep it neat" only to hear my husband remind me every.single.time "You're lucky if it's 200 sq. ft., you know that, right?") It's super-tight when you're trying to cook and have three or four pots to go on the three-burner stove and two pans for the one-rack oven and nowhere to put hot things, and serving on plastic plates? <shudder> It's even a bigger nightmare for a baker like me, but I digress…it's not like I can even get to my Food Network servingware or build an additional countertop. I feel like I need to make this disclaimer before every food story, as my photos aren't full of pretty and we're eating on dollarware. Bear with me. (This has nothing to do with the lack-of-job situation and everything to do with the fact we couldn't travel with glass plates and now they are inaccessible in our 53′ storage trailer, and I refuse to buy more for the interim.)
Out came the <fake…don't judge> crab meat that was on sale at Ralph's last week, two for $5.00. My mind was on crab cakes, the spicy, easy, 'don't fall apart on the griddle' kind of crab cakes that are harder than they ought to be. I just have to say: SCORE. Recipe to follow.
As a side, I made kale chips, recipe courtesy of my oldest, a kale chip fanatic. (Clean them thoroughly, strip out the thick internal stems, tear in big-ish pieces. Yes, 'ish' again. Drizzle on some quality olive oil, sprinkle on salt, pepper and parmesan cheese, and bake for 5-6 minutes at 425 or so. Turn and do another 4-5 minutes, depending on your oven and requirements for crispiness. They also will continue to crisp as they sit on the tray after, cooling.)
I also took some jalapeno-cheese rolls from Sprout's and cut two of them in half. (I paid $2.99 a few days ago for a four-pack, and they will last for two meals.) Then, I roasted a pound or so of asparagus at 425 for about 15 minutes, also drizzled in olive oil, salt and pepper. (I prefer kosher or sea salt, but I couldn't find either.)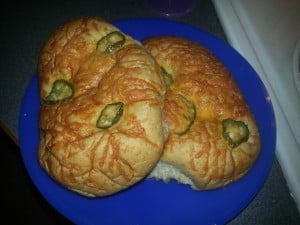 All together, quite the meal for a day where I didn't have a lot of time, and everyone loved it!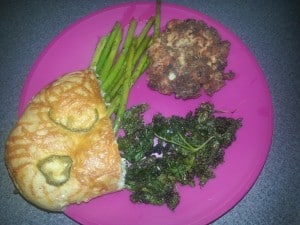 Now, for the recipe….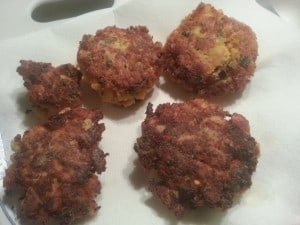 Crab Cakes
Two packages crab meat (yes, I used fake)
½ cup chipotle-seasoned bread crumbs
1/3 cup mayonnaise
2 tbsp mustard
1 tbsp lemon juice
1 egg
3 scallions cut in tiny pieces
salt and pepper to taste
cayenne pepper
Mix everything together. Make them into patties, roll lightly in flour and fry them in quality oil. (I used canola.) I cooked them about 7-8 minutes on each side until they were browned.
Keep in mind, we are a large family, so CostCo has always been a way for us to cut back on toilet paper, bottled water (when we bought it) and milk costs. We also use CostCo for our cellphone and electronic purchases, as their concierge service is wonderful and many, many things have a double warranty, which comes in handy when you drop $1000 on a flat-screen TV or need a new laptop. (Or when you kill your printer and have to buy a new one; I found a $200 printer on sale for $149 there, and I love it.)
With diligence and planning, bulk-buying can save money. Just be sure you have reliable refrigerator and storage space…and some patience, those lines can get long enough to grab a piece of $1.49 pizza and eat it before you check out!