"This post was sponsored by ALDI as part of Influencer Activation for Influence Central."  
Shopping for a large family can take a lot of time to find healthy yet delicious food within budget. Each week, I put together a list of items to create nightly meals while offering options for breakfast and lunches, and after-school snacks, with hopes of only having to go to one store. When I first heard of ALDI, my first thought was: maybe this was THE one. You know, the one store I could go to and get everything I needed without spending a ton of money. Pipe dream? Not anymore!
ALDI is new to Southern California, with opening around 25 stores here by July 2016. (Grand opening info is available on the ALDI USA Facebook page.) ALDI is a different kind of store. 90% of the groceries they sell are under their own ALDI-exclusive brands, which are tested regularly to be sure they taste as good, if not better, than the national brands. ALDI lines include: SimplyNature®, which includes USDA certified organic and NON-GMO verified items, liveGfree, which is gluten-free, USDA Choice meats and the NeverAny! line, which includes products free from added antibiotics, hormones and animal by-products. Based on a price comparison of comparable products and national retail grocery stores, shoppers like me can save up to 50% on our bills, and that alone is reason to try it out.
We busy moms — and what mom isn't busy — want to serve our families healthy meals that make our family ask for seconds without breaking the bank. We don't want to trade our family's health for our family's budget; we still want to incorporate organic, fresh produce and/or safe meats into all our meals, but it can be really hard when many chains charge a lot for those items or it requires visiting several stores. ALDI believes that organic, healthy food should be available to all, which means that all of their items are more within reach of everyone's budget. To do that, ALDI focuses on providing quality, inexpensive products without the flashy ads, loyalty programs or other things that can raise prices, and I didn't miss any of that on my shopping trip. I had a $50 gift card and used that to buy over five dinners, including produce and some condiments, for the family. This is just a portion of what I found on that one visit.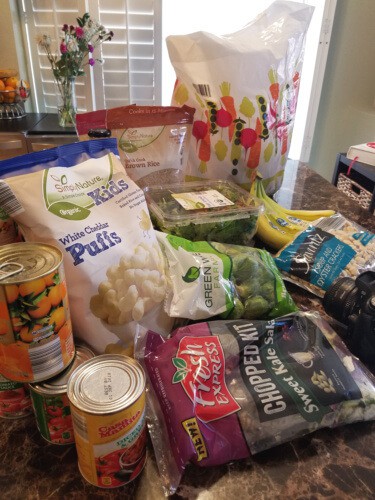 One of my son's favorite snacks ever are these white cheddar puffs. ALDI makes them under the SimplyNature® line, and they're organic, certified gluten free baked rice and corn with no sugar added. What more could I want in a snack since he likes them so much?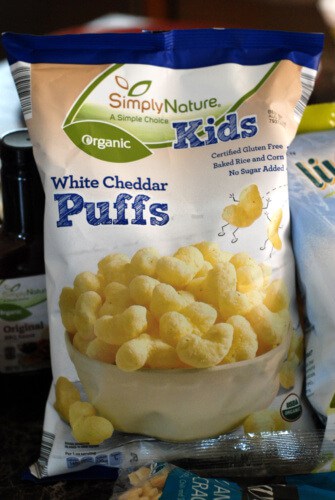 My shopping haul was pretty varied, just like a typical week, because ALDI has everything. A little of this, a little of that, and I ended up with a few canned items like the natural fruit, some Tejava Premium Iced Tea for my son, SimplyNature® Organic Original BBQ Sauce for the pulled pork sliders and Tuscan Garden Balsamic Vinaigrette for the bruschetta for Sunday's block party and so much more.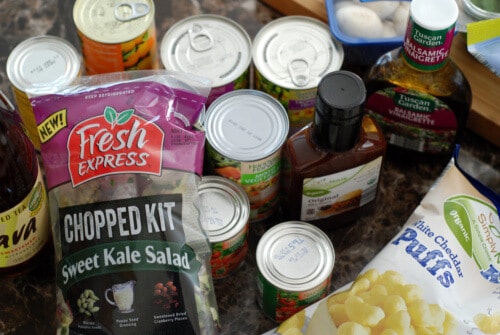 We try to avoid additives when at all possible, and the SimplyNature® Original BBQ Sauce is fat free, has no artificial colors, gluten or preservatives, while still not costing anymore than the alternatives I've bought elsewhere. That's going to really zing up my pork sliders tomorrow!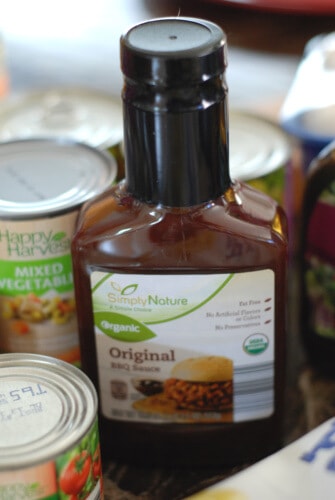 And the produce! That bag of brussels sprouts fed the whole family for only $2.29, which is a deal for that many. Bananas were only $.39 per pound and the SimplyNature® Organic Baby Arugula is enough to last me all week at about one-half the cost I normally spend for a garden-fresh container elsewhere.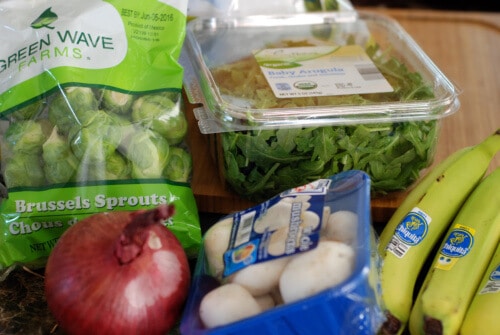 Side dishes are always a challenge for me. I'm not as creative in that area as I am with baking desserts, but when SimplyNature Organic Quick Cook Brown Rice and SimplyNature® Organic Quinoa is this affordable and comes in resealable bags, rather than a one-meal pouch, I can afford to experiment a little bit. See all those labels? Good stuff.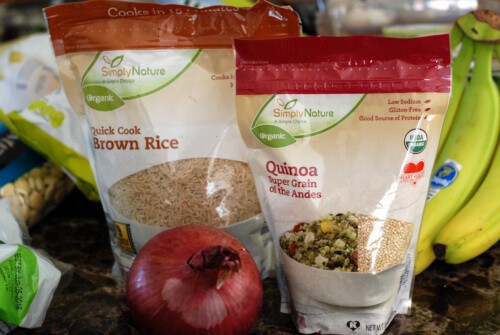 Because I can't eat beef, I have to make chicken, pork and seafood more spectacular since there is less meat in the rotation than in many non-vegetarian/vegan households. Chicken is one of those things that can range significantly in price, so when I find it for a good per-pound price, I buy a few. I don't need to clutter up my freezer now since ALDI is about five minutes from my house and always has chicken that doesn't cost me an arm and a leg. (See what I did there?) Those Sea Queen Bay Scallops were on sale for only $2.50 per bag, so I made a pasta meal with both bags and browned butter, and the roasted brussels sprouts, so the entire family ate for less than $10 and we had leftovers! Super-simple and we ate in under 40 minutes including prep time.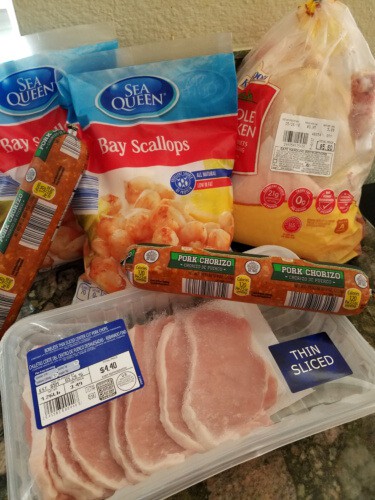 ALDI also has an extensive selection of non-edible items — paper goods, hygiene items and a lot of seasonal things like beach chairs, sunscreen and flip-flops. With Memorial Day barbecues in mind, I picked up the red chip and dip bowl below. It's actually sturdy melamine but looks a lot like a high-end glass bowl and it will be a hit at the party on Monday, all for only $3.99! In the meantime, I used it to serve these liveGfree Gluten Free Edamame & Lentil Chips with a Little Salad Bar Pineapple Jalapeno Hummus, both from ALDI of course. The chips are light, crispy even with ton of dip like I prefer and the garlic hummus-infused taste paired perfectly with the hummus dip. And the bowl is so festive, I'm glad to add it to my collection of party-ware.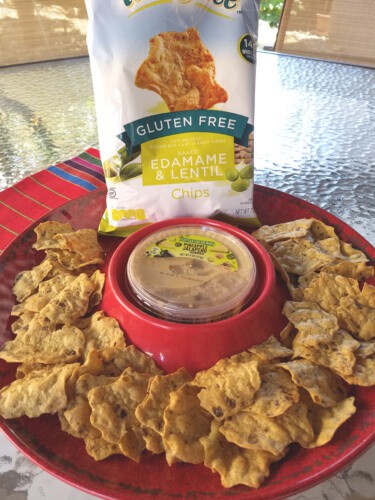 To find your local ALDI, visit their website. You'll also find recipes and their latest deals. When you shop at ALDI, bring your quarter; ALDI wants to keep your car safe in the lot by reducing the number of errant carts and keep their costs down with less cart theft. You'll get your quarter back when you return the cart. In an additional effort to reduce food prices and pollution, bring your own bags or you may want to purchase a few ALDI plastic bags. I keep a tote in the trunk of my car, full of reusable cloth bags, a freezer bag and a frozen meats bag that I can wash after each trip; I also stick a quarter in the main tote bag pocket so I always have it handy to re-use each visit. Park the car, grab the totes and I'm on my way quickly.
For more information, follow ALDI on Instagram or Twitter, and they also have a blog. The blog highlights perks of shopping at ALDI, style ideas, inspiration (for things like gardening) or seasonal ideas, like tips on hosting a graduation party. They even have Pinterest boards with recipes and suggestions. I'm all about the Pinterest so I was really excited to see more inspiration that I can browse through when pinning other things late at night.
If you're looking to save money or like me, you're shopping for a large family, check out ALDI. The money I don't spend on food now can go elsewhere, and I know I'm contributing to the overall health for my family. And they like it — they're happy trying new items and not caught up on having the pricy brand names in the pantry. We've tried to raise our kids to be frugal even if they don't need to be while prioritizing their health and the health of the planet. Organic foods shouldn't force people to choose which of those options they have to forego, and I think that stance has rubbed off on our kids. It's easy to do with a one-stop-shop like ALDI!