You've heard of Del Real Foods, right? I've posted about them quite a few times, and shared how my family really likes their products. Fast, convenient but deliciously authentic Mexican food that's affordable for my large family — that's what Del Real Foods means to me, so I was excited to be included in their newest recipe challenge with my Deconstructed Taco Casserole recipe.
The challenge was to create a new recipe using several Del Real Foods products that could be prepared in under 30 minutes. With life being so busy, who wants to spend anymore time than they need to just to get dinner on the table after a long day? This recipe was created with that in mind, knowing that the typical family is rushing at night but still wants to sit down and enjoy each other over a good meal. Del Real provided me the items I chose, but the photos and everything else here is on my own. You can buy the products at Costco or other stores like Sprouts. And their salsa…even if you don't make my recipe, go buy their salsa. I could eat a bag of tortilla chips alone with a bowl of their red salsa.
My Deconstructed Taco Casserole is an easy casserole to serve on top of pupusas, enough for a large family, ready to serve in under 30 minutes!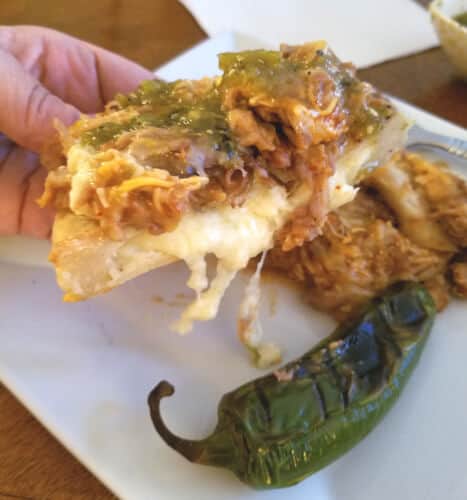 Deconstructed Taco Casserole
1 Package of Del Real Frijoles
1 Package of Del Real Pollo Asado Taco Kit
1-2 Packages of Del Real Cheese & Bell Pepper Pupusas
1 Package of Del Real Carnitas
Del Real Fire Roasted Green Salsa or Molcajete Red Salsa
Mixed shredded cheese
Fresh Jalapenos (if preferred)
Sour Cream
Heat oven to 375 degrees. Pre-heat barbecue or grill pan on stove.
Spray 9 x 13 casserole pan with non-stick cooking spray.
Microwave the frijoles, the carnitas and the chicken from the taco kit as directed; set each aside. Continue with the below steps while heating the above in the microwave.
Using red sauce packet from Pollo Asado Taco kit, spread 3 tbsp. of sauce in bottom of pan.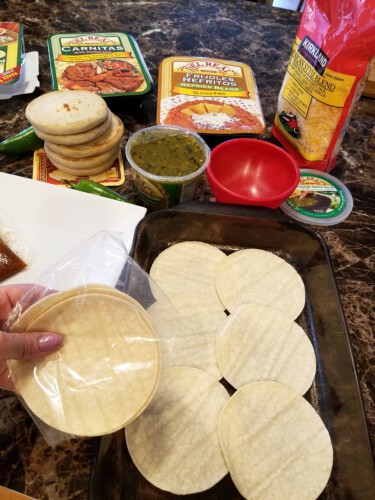 Spread 8-10 tortillas from the taco kit on the bottom of the pan.
Sprinkle cheese to lightly cover tortillas.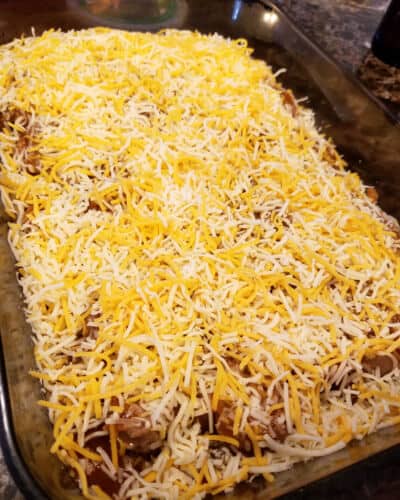 Spread the heated frijoles to completely cover the tortillas.
Sprinkle the heated carnitas on top of the frijoles.
Sprinkle another layer of cheese.
Spread remainder of red sauce packet on top.
Pour chicken from taco kit on top of the sauce, covering with another light layer of cheese. Bake for 10 minutes just to melt cheese.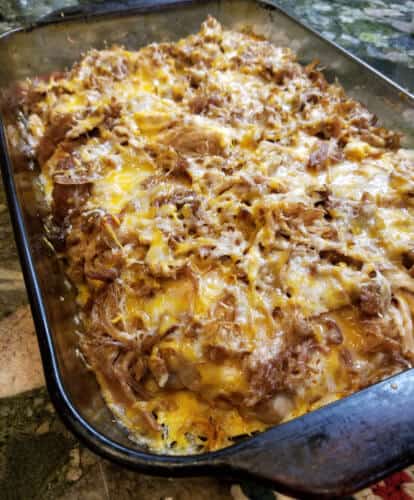 While the casserole is in the oven, grill pupusas several minutes on each side to melt cheese inside and to heat thoroughly. Also place fresh, clean whole jalapenos on grill to char.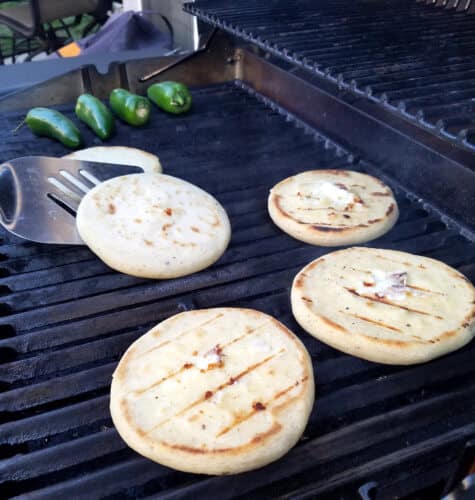 When casserole is done and pupusas are heated through, eat family style.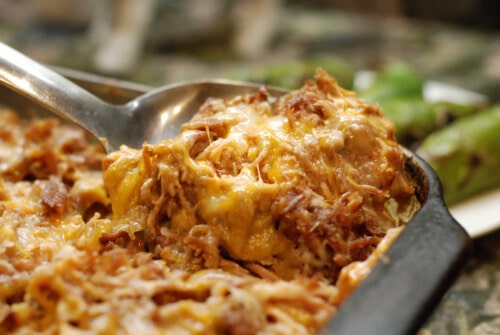 Cut the pupusas in half and serve, with everyone covering their pupusas with the casserole using green sauce and sour cream as they like. Serve charred jalapenos on the side.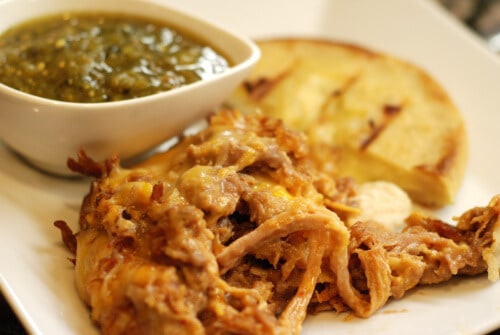 Now I'm hungry again! Some of my family members added sour cream and I added liberal amounts of the salsa. This is definitely something we're going to make again. Enjoy!