Amazon's new Alexa Echo Auto is currently available by invitation only but don't let that stop you from learning about it so you're ready when your turn comes!
Alexa, add printer ink to my list.
Alexa, what's the weather going to be like tomorrow?

Alexa, how long will it take me to get to Burbank?
We are an Alexa home. We have an Echo Show in our main kitchen-family room living space, and three Echo Dots in various rooms. I say Alexa's name so much, she's a part of the family. I learned that her birthday is November 6, so we sing to her. On holidays, she wishes us holiday greetings. I tell her good night and she wishes me sweet dreams.
Creepy? Maybe a little, but let me tell you, the convenience that the Alexas and their artificial intelligence add to our home makes my life so much easier. (And don't tell Alexa that she's artificial.)
A few weeks ago, I hit the lottery. I mean THE LOTTERY. I got an invitation to purchase the new Alexa Echo Auto before it was released to the general public. I immediately placed the order and when this little box arrived, my tech-loving heart skipped a beat.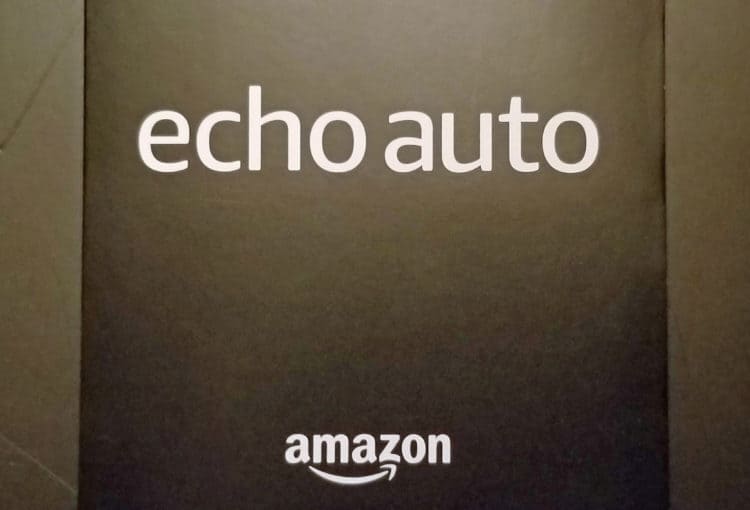 I got my new Alexa Auto set up in my car and it was so easy. Literally, plug the USB cord into an existing USB slot, or use the adapter in a vehicle power outlet, and follow the prompts. Be sure to have the Alexa app on your phone if you don't already, so you can add the device.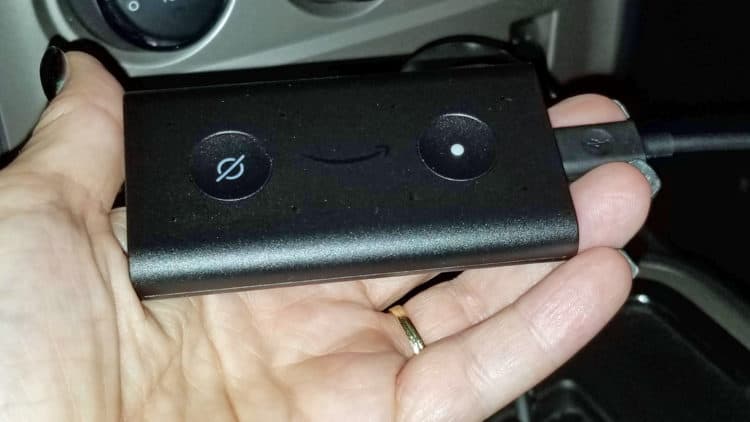 Boom, you're ready to go.
The Alexa Auto kit comes with a sticky to add to your dash so the device has a stable location but I put mine in a little cubby next to my shifter that really fits nothing other than loose change. You do need to keep it connected via the cable, so keep that in mind when you place it in your vehicle, but as you can see in the photo below, it's tiny.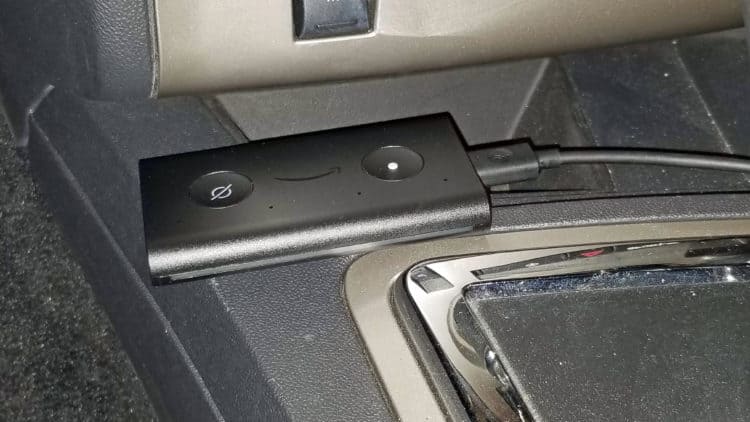 Now when I'm on the road, I have the same in-home convenience.
Alexa, can you tell me how to get to <restaurant name>?
Alexa, what's the traffic like on the 210 freeway?
Alexa, play me an Audible book. (It comes with a free 90-day membership!)
Alexa, please play me some Duran Duran music. (It connects with my Amazon Music, so if for some reason my Sirius XM is on my nerves OR I just want to listen to a more specific genre, Alexa has me covered.)
Alexa, add coconut to my list. (Because we all know that sometimes random thoughts come to us when we're driving and we've got no way to write them down.)
Alexa, turn on the living room light. (Why not make your home safer to enter? Or give others the idea that someone is home? It works with your other smart home devices connected to your app, too.)
It also interacts with the other Alexa skills you have enabled, so you can play word games, hear stories, or whatever your home Alexas can do.
A huge thing that's going to be fun for me — not so much those at home — is the ability to drop-in to your local home Alexas. I can call other Alexas and have discussions. I can also still tell Alexa to play opera music on the everywhere group at home (all my Alexas are connected as an intercom), or just the kitchen one, and annoy someone who is trying to already use them for music. It's SO MUCH FUN when a kid has yet to figure out you're controlling the music and you get to hear them question Alexa. Hilarious, trust me.
You're welcome.
The Alexa app does ask you if you're a passenger, so don't be playing on it while you're driving. It WILL bust you. This is a good thing, so be sure to set it up entirely before you leave the driveway. It's momentary and quick and you'll be on your way, connected to everything and bringing your AI convenience with you.
Someone asked me the other day why I would want this in my car. "Can't you just wait until you get home?" I live in Southern California. Sometimes it takes me 2-3 hours to get home from Los Angeles. (It's only around 50+ miles but California traffic is a bear at certain times, which is really most of the time.) That is 2-3 hours I'm unable to do anything other than stare at brake lights, so to be able to utilize that time is fabulous. I can listen to a podcast, jot down notes for blog posts, make notes about clients, and TA-DA, it can read you your emails!

This is HUGE for me. Not only will it run down the new emails, but you an also ask it to search for an email, really helpful if you're excitedly waiting for a reply and if it hasn't come yet, there's a one-time notification you can set it up so she will tell you when it does arrive.
Pretty cool, right?
If you get a lot of emails, like I do, this may be a pain but even if you just use it for the notifications or search ability for specific mails, it's a lifesaver.
I also have it set up to give me notifications about my calendar events. It also tells me when an Amazon delivery has occurred. (This is great as my delivery guy doesn't ring my bell. Ever. My Ring will see him and tell me about motion, but when I'm driving, I don't look at my Ring for motion. Now, a notification in the car can allow me to ping someone at home to go out and get the package.)
I know some people worry about privacy but it honestly hasn't bothered me that much. We carry our phones with us 24/7 and I feel they are more of a security issue than my Alexas. (Anyone that has talked about some weird cheese and then seen an ad for cheese show up on their Facebook or email sidebar knows what I'm talking about.) The conveniences far outweigh any concerns I have, especially since nothing goes on in our house that could get us in trouble anyway. We're pretty boring.
If you're into technology, smart home devices and/or just staying more organized on-the-go, put in your request for a new Alexa Echo Auto. I wish you luck — more people will be able to get them soon, and I am sure they'll be readily available before too long. Have fun with it, but drive safe and don't play with the app while driving!