With 20+ years of online community, social media and marketing experience, I've been getting asked more and more frequently to speak at events. It's flattering to be asked, and I love the opportunity, but I'd be lying if I didn't admit to having an OMG moment about getting in front of people.  No matter what type of experience and knowledge I have to share, there's always the chance that my mind will go blank, my notes will blow away if I sneeze or I will mispronounce a word. While these fears are normal, speakers find ways to get over them and perform at their peak, and I need to be one of them.
Enter "Scared Speechless" by Steve Rohr and Dr. Shirley Impellizzeri, a book about 9 ways to overcome your fears and captivate your audience. I'd be so glad to just overcome my fears that I jumped at the chance to receive a complimentary copy of this book for review; captivating my audience is just a bonus! I'm also hosting a Scared Speechless giveaway!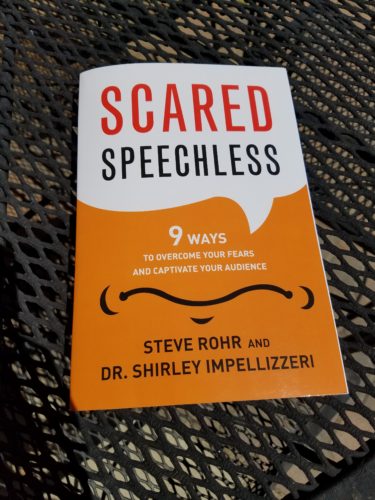 This 220-page paperback is a font of information designed to get you into the public speaking arena fast. Broken down into 11 easily digestible chapters, Scared Speechless helps you get over your stumbling blocks and you don't even have to read the whole book.
For example, I jumped immediately to chapter 7, "The 7 Deadliest Speech Sins." It covers a lot of important points, but my biggest problem is that I get passionate about a topic and I talk too fast. All the things I want to share come out in a rush. Scared Speechless helped me with thinking about a hammer. (Read the book to know what I mean.)
Interspersed with quotes and references (and a very complete addendum so you can dig into those resources separately), Scared Speechless talks to you like you're a real person. There's no technical jargon to slow down your brain, so the book is a quick read. It's written with us non-speakers in mind, turning us into speakers in the few hours it will take to complete all the chapters. Approaching things like knowing your audience, practicing your speech without a script, being a story teller (and not boring the audience to tears), retaining credibility, it covers all your bases.
Steve Rohr currently is the Show Publicist for the Oscars, and he has two decades of experience in public speaking education, including his current role as a college professor. Dr. Shirley Impellizzeri is one of America's most recognized Latina psychologists, with recurrent guest segments on Dr. Drew and The Doctors., and has authoered a best-selling book on conquering self-destructing patterns. With the knowledge shared by both of these authors, you know you'll come away with a new set of speaking skills to set your mind at ease and get you agreeing to speak publicly, whether it's at a book club or a major industry trade show.
Want to win your own copy of Scared Speechless? Enter my Scared Speechless giveaway for a chance to win a copy. (I'll be sending you the book directly.) The giveaway runs through May 10, and you can enter multiple times.
Scared Speechless Giveaway