As summer is officially here and the calendar fills up with entertainment opportunities and invitations, I start spending more time on finding recipes and putting together shopping lists. Appetizers, side dishes, entrees or desserts, I love to cook and bake, so I'm always excited for the chance to show my friends and family love with my food.
Or to just take the best food to the party out of everyone there.
I mean, who doesn't want that, right?
When I go shopping, I'm usually in a hurry so I try and pick a store that allows me to get in and get out quick, with everything I need. The problem is that I always get out with MORE than what I needed…but I could have worse problems, right?
Smart & Final fills that role for me. I go in for all the ingredients for our famous personal pizzas and leave with enough food to feed the whole cul-de-sac. (Our cul-de-sac is only four houses, but still….) But, with prices as good as Smart & Final, and all with excellent quality, it's a good thing.
And our neighbors love us.
July 4th is coming, so I'm already putting together my menu for the block party. (Is it a block if it's a cul-de-sac?) We start early in the afternoon by playing games in the street, eating snacks and drinking some beverages all throughout the day until we pack it up to watch the fireworks. We put on our own legal firework show on the ground, then we sit back to watch the eleventy-thousand air shows going on around us. It's quite a spectacle and we look forward to it everywhere. (It also keeps us home with our pets, so we can keep an eye on them rather than worrying about how they're handling all the noise alone inside our house.)
This year, I'm going to try this recipe from Smart & Final for Easy BBQ Pulled Chicken Sandwiches. They're a fun twist on the typical pulled pork, so they're unique, already making them the hit of the party, and their tangy flavor, along with the pickled onion toppers, makes them a delicious main dish. As a new Smart & Final ambassador, I'm compensated for these posts and telling you about all the cool things you can find at your local store!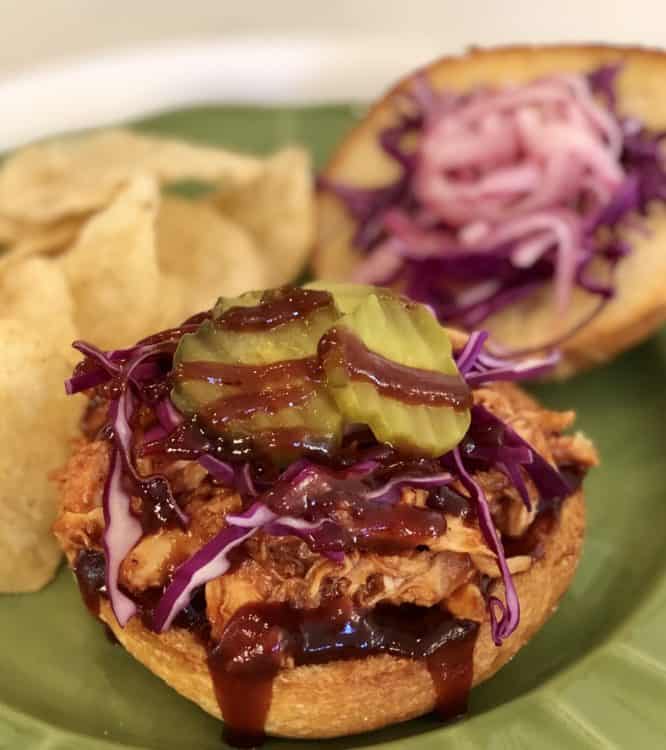 EASY BBQ PULLED CHICKEN SANDWICHES
Using a First Street Oven Roasted Chicken makes this a super simple crowd-pleaser meal. (Such a time saver you can use for SO many recipes!)
4 cups First Street Oven Roasted Chicken, shredded
1 1/2 cups First Street barbecue sauce
4 sandwich buns, cut in half
2 tbsp First Street salted butter
2 cups shredded red cabbage
Bread and Butter pickle chips
Pickled Red Onions, recipe follows
Combine the shredded chicken and 1 cup of the barbecue sauce in a saucepan and place over medium-low heat.  Stir often until heated through.
Preheat the oven to 350º.  Place the sandwich buns cut-side up on a sheet pan.  Lightly butter each bun and toast until golden brown.
Spread barbecue sauce on the bottom buns and top with a spoonful of the BBQ pulled chicken.  Top with shredded red cabbage, pickles and pickled red onion and finish with the top buns.
EASY PICKLED RED ONIONS
1 red onion
1-2 tbsp granulated sugar, to your preference
1/2 tsp salt
1/2 cup red wine vinegar
Peppercorns
Fennel seed
Red pepper flakes
Mustard seeds
Fresh rosemary or thyme
Slice the onions into 1/4-inch half moons. Bring a small pot of water to a boil. Place the sliced onions in a strainer and place the strainer in the sink. Once the water is boiling, pour the water over the onions.
Place the vinegar, sugar and salt, and any aromatics you choose, in a small Mason jar. Shake to dissolve. Add the onions to the jar and shake well.
To eat right away, leave the onions at room temperature for 30 minutes, then dig in. Or store in the fridge for up to 3 weeks.
Doesn't that sound delicious? I love the texture combination, too. I'm going to be headed to Smart & Final next week to pick up the ingredients. My favorite thing about Smart & Final is that I can get the food items — meats, produce, canned goods, etc. — and the paper goods and party supplies all in one place. That's my Smart & Final. What is YOUR Smart & Final?
If you haven't been to Smart & Final lately, give it a go. I've been a fan for a long time. You can read here about how they helped me pull off a fabulous bridal shower a few years ago, then visit their website in the meantime and check out the weekly specials and ads. Summer foods and awesome savings! You can also order online for easy delivery! (WINNAH!) I know you'll be pleasantly surprised with the variety and prices, and you'll probably be able to eliminate at least one or two other stores from your regular shopping routine. I am all about getting my shopping done fast, so if I can get more things at one place, that's a win in my book!
(And when you try this BBQ Pulled Chicken recipe, let me know what you think!)