During the pandemic, like most everyone, we found a renewed love of experimentation and fun in the kitchen. In lieu of going out, we tried to make a lot of our meals special by trying new things. One of the recipes I tried was for Bourbon French Toast, a combination of decadent French toast and a favorite alcoholic beverage, Bulleit Bourbon. Over time, I've perfected the French toast recipe into something my family asks for repeatedly, and my son says will forever be his birthday breakfast request.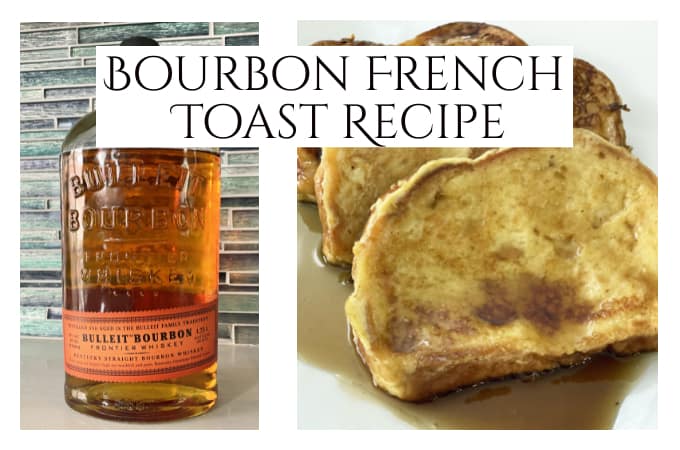 Jump to Recipe
French toast is a popular breakfast or brunch recipe, easily made with eggs, milk and bread. There are a lot of versions of the recipe, but we prefer those that are more eggy and with a hint of vanilla. It also has to be made with a fluffy, thick bread, and Brioche bread fits the bill. We purchase this particular loaf from Trader Joe's for $3.99. It is 9 slices, with two ends, both of which are fatter than the regular slices and should be used. This recipe has enough of the egg custard mix to make the entire loaf, which was just enough for me, my husband and my young adult son. You could make this with a different bread, but Brioche soaks up the custard and is sturdy enough to come firm when cooked and is very filling yet soft.
Our Bourbon French Toast version was a bit of trial and error until I got the ratios right, but my family now calls this the best French toast ever. It may be because of the Bourbon Syrup I spoon on top, but I take their opinions pretty seriously, so I'm sharing the recipe below of you to make this delicious breakfast for your own family.
How to Make This Brioche Bourbon French Toast Recipe
The recipe is simple and fast. The custard combination takes just a few moments to whisk together, and the silky bourbon syrup topper comes together in just a few minutes on the stove. Prepare it when you're about five minutes from serving the French toast, as it is best served hot. (The leftover syrup can be cooled and refrigerated in a sealed container for a few days.)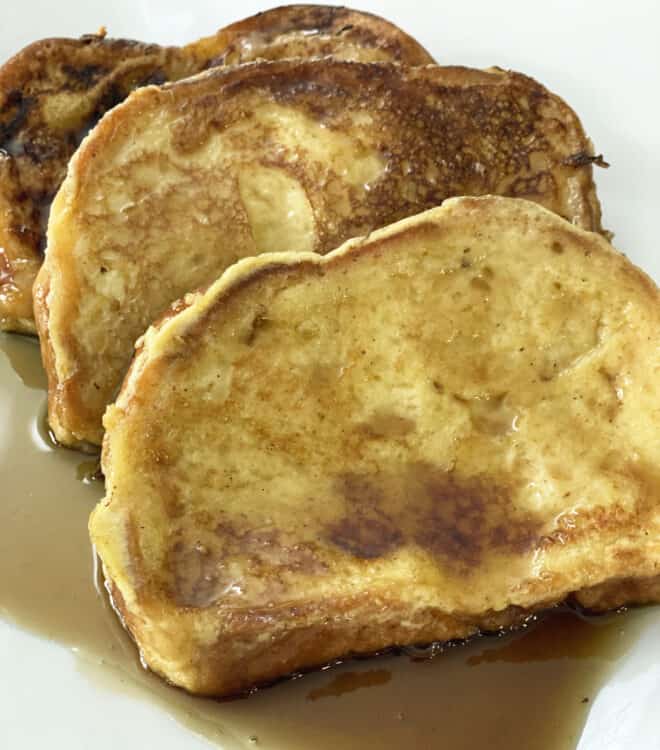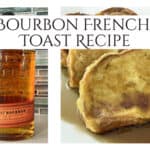 Bourbon French Toast with Bourbon Syrup
Ingredients
5

eggs

2/3

cup

heavy cream

2/3

cup

half and half

1

tsp

vanilla

3

tbsp

quality bourbon

2

tbsp

brown sugar

1/2

tsp

cinnamon

dash of salt

1

loaf

Brioche bread, sliced

butter for pan
Instructions
Whip the eggs together, then add the rest of the ingredients except for the bread. Gently combine in a wide, shallow bowl.

Dip the bread into the mixture; let each side sit 20-30 seconds. (We did four slices at a time.)

Heat a large flat skillet or griddle. Melt butter, 1 tbsp for each batch.

When butter is melted, swirl it around the pan to cover all surfaces.

Place slices of custard-covered Brioche bread into pan. Cook for 3-4 minutes per side, until gently browned and egg is no longer runny.

Flip bread and cook other side.

Stack toast until ready to serve with syrup, recipe below.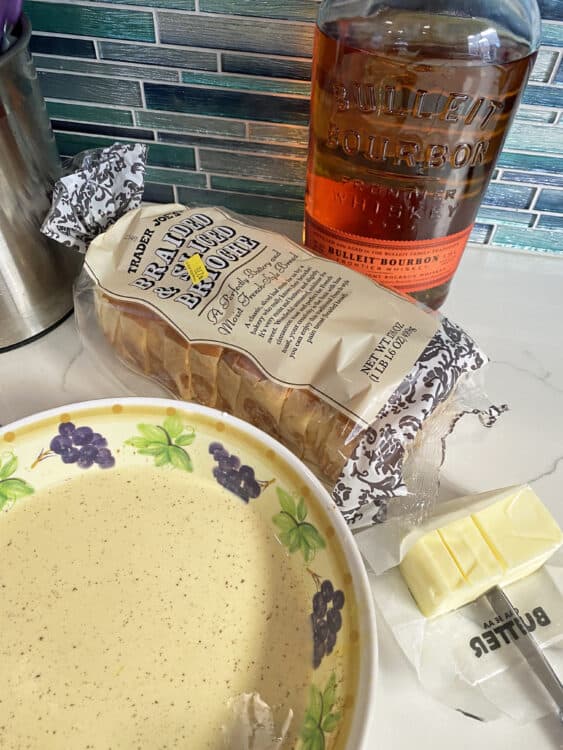 You can use regular maple syrup on this custardy French toast, but you'll be missing out if you don't make this three-ingredient syrup. You won't need a lot of it, and I promise, it is so worth the calories! Just be sure to add the bourbon after you turn off heat; the flavor is stronger and doesn't burn off. (I can't speak to the alcohol content of any of this recipe when ready to eat, so keep that in mind if you're making this for the under-age crowd.)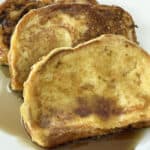 Bourbon Syrup
Ingredients
1.5

cups

brown sugar

3/4

cup

water

2

tbsp

bourbon
Instructions
Mix the brown sugar and water in a small saucepan. Heat until simmering, and let it continue to simmer for 2-3 minutes.

Turn off heat, remove pan from burner, and add the bourbon.

Stir and serve while warm/hot.
I doubt there will be too many complaints about the lack of photos in this post. I am going to blame the early morning on the fact that I forgot to take photos throughout the cooking process. Given that a lot of people dislike having to scroll past text to get to the recipe, I'm calling it a win because I still met the quota to rank this recipe on Google AND for you to easily print it and make it. It's a great addition to a brunch menu and can easily be reheated if there are leftovers. And that's a big IF.
I don't have a vegan option for this, but I believe you can make it with gluten-free bread if you can find a type with the right consistency to absorb the custard. You can use whatever type of bourbon you prefer; we currently have 11 types in our bar cabinet, but Bulleit holds up well in baking without losing its wonderful flavor, and it's affordable enough you won't mind using it in food. (We have some really expensive bourbons that we enjoy equally, but I haven't tried them in baking.)
One tip: beat the eggs for a good 30 seconds when you combine the custard, and then let the custard sit for a few minutes to thicken while you prep the pan. Then gently combine again right before you start dipping the Brioche bread.
Let me know if you try this! Bourbon French toast can pair perfectly with scrambled eggs and a good hearty bacon for a delicious and filling breakfast.