Bullying is all over the news lately, and not just bullying in high school. As it should be, because people need to realize that it's a much bigger problem than you'd think. No longer is it okay to tease someone mercilessly and then tell them to get over it; parents can't laugh at their kids' clever nasty comments or assume they'll get through it unhelped, and school officials can no longer blow it off as "just a part of growing up," because, well, the numbers of kids who aren't surviving high school due to bullying are increasing and bullying in high school is at an all-time high.
I will be the first to say that the term "bullying" is over-used. Telling a news reporter once that she's fat isn't bullying. It's rude, inappropriate, unnecessary and many more terms, but it's not bullying. A high-school football team beating the other team 91-0 is not bullying; it's simply a case of one team being that much more on their game than the other one. Misusing the term dilutes its real meaning and harms those who are in danger, physically and/or mentally.
Bullying, instead, is the continued, unceasing, repeated efforts to make another person's life miserable. Social media hasn't caused bullying, but it certainly has made it easier for people to bully and amplify it, and for people to say "wow, cool!" for fear of them being the next victim who shows up on YouTube.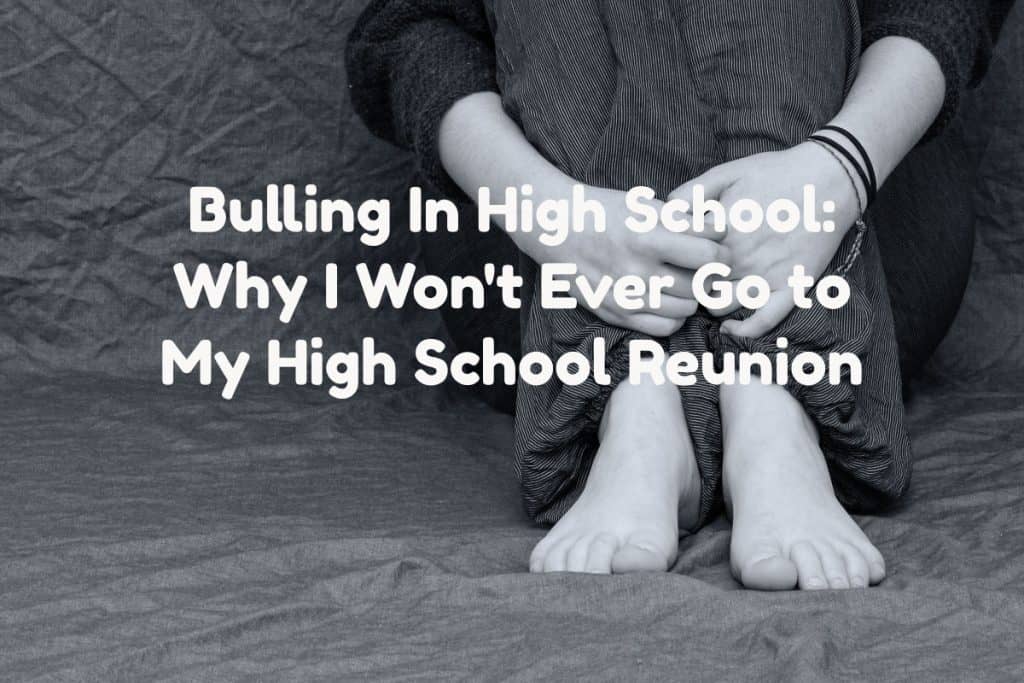 Being bullied beats down your self-esteem. It makes you fearful to step into the building and makes you not want to leave your house. It bleeds the joy out of things you'd normally love, and while you can ignore it to a point…only to a point…after a while, it's like nails on a chalkboard. You just want it to go away. You may put the fake smile on your face or pretend you don't hear, but trust me, it's there and you know it. You say no to events and pass up on opportunities because you just can't deal with *those people* one more day.
Bullying in High School Takes Different Forms
How do I know it? I was bullied in high school. No, I wasn't beat up nor was my unhappy face shared via video for thousands to see. That doesn't make it any less bullying though.
Why was I bullied? I was different. I was socially awkward, dressed in socially awkward clothing..as soon as I was allowed, I got a job and spent a lot of money on clothes, catching up, but that wasn't until after school. By then, I'd dealt with enough negativity from my classmates that I'd lost any concern. Nothing I did was going to be enough.
I remember, vividly, walking into math class daily, dreading what a particular girl was going to say about my clothes that day. Sure enough, there'd be snickers and whispering, and if she didn't realize I was within earshot, I'd hear outright "Can you believe what Donna is wearing today?" The last time she said something and knew I heard it, someone else had the decency to give her a glare and not respond, but others still quietly laughed at their funny little faux pas.
It was focused on my clothes, my straight-A nerdiness, and my lack of futile trying to change it, because I knew that if these particular "cool and popular" people, or wannabes, were going to stoop so low as to pick on my clothes despite being smart enough to know maybe it was out of my control, if I couldn't materialize with a new wardrobe, it wasn't going to change. So I stopped caring…or so I thought.
Years later, when the high-school reunion invitation arrives, I cringe. Why in the world would I want to go back to see those people? Why would I want to smile at people who either picked on me, laughed with those who did, or stood by and did nothing? I'd go so far as to say I don't understand why some people that I hung out with — as I did have a few other friends, none in the "cool and popular" crowd either — would want to go back either. I shake my head at how they pretend to fit in now, appearing to either have forgotten they were teased too, or in the least, ignored. There still seems to be a mentality, even at our age, to be accepted, to fit in, to be seen as 'cool' enough to talk with those who ignored us back then; it's unfathomable to me. High school was light years ago, we should change and be different people, yet some just…don't.
One year recently, a Facebook page popped up about the upcoming reunion; I glanced at it, letting my curiosity get the better of me, and perused the quotes they shared. I got so far as the one that stated how the reunion brought back so many memories, how the nerds were still sitting together, the annoying people in another group…and this, from an adult in their 40s? Really? I'm not sure what was worse — the person who said it, or the person on the committee who thought it was appropriate to be on the invitation in the first place? Bullying in high school, 2.0.
Some people don't change, I get that, but it was disappointing to see that the culture of judgment was still there in my graduating class. That one statement alone sums up exactly why I won't ever go to my high school reunion.
Ever.
Chances are, no one will really notice. I left no ripples. I attended no cool parties or participate in awesome crazy memories. I was just there. Instead, I left artwork on the library wall and names in all the books for grades, scholarships and awards, but no real bonding experiences. If I went back now, it would solely to be to say "Look at me. I'm successful. I no longer carry that baby fat. I sport a nice diamond from a loving husband on my left hand and my clothes have designer labels. And have you seen my shoes?"
But that approach isn't me. (I personally don't like those who look down on others, who forget that not everyone can afford $200 jeans and $50 Toms for each of their 2.5 kids. Snobbiness and 'look how much money I have' does not impress me. Good for you, but don't try to put down others.) Back in high school, I was tempted to try to be someone else to get in their favor, but now I realize how bad that is. I won't let anyone make me be someone I'm not or doubt who I am. I like me. I know me. I'm okay with me. I won't let anyone else give me a headache or the jitters or make me nauseaous. I won't let someone else's petty, small attitude rob me from enjoying something.
I picture going back in, saying my name and getting the blinky stare of "who?" from a lot of people. Then a few others would look me up and down and then continue their conversation. Others might suddenly pretend we're close. I wouldn't call it 'fear,' but I do hesitate to think what a few others would do; I have a concern, if that word works, that they'd be just as horrible as they were in high school, and that second would make me question again why I had spent all that money and time to attend.
My story of being bullied is small potatoes. My orientation, my color, my weight…none of those oh-so-personal sacred areas were teased…but it was still bullying nonetheless. My parents blew it off. School officials blew it off. I won't make that mistake with my kids. I'm not an over-reactive parent, but I'm a pro-active parent. I've taught my kids what to do, who to seek out, and when to walk away. I also work on building their self-esteem in other ways so if someone does tease them — as my son with autism has been teased — they'll be less likely to believe it.
Sadly, those methods won't work for everyone. It's a lot easier said than done. For some, the situation is so bad, and so out of hand that the ending is tragic. My heart goes out to the parents, and I hope that the bullies change. I hope more parents watch their kids' Facebook pages and other social media pages, and that schools find a way to step in and prevent good students from hating what should be an enjoyable time in a child's life.
If your child says they're teased, ask questions. Prod. Poke. Ask more questions. High school isn't necessarily fun 24/7, but it also shouldn't be feared. Three or four years is a long time to wish away or wish to be behind you. I know I missed out on things because I just wanted it over with, mostly because of the bullying in high school. I look back now, after seeing these movies about high school and think wow, I wish my years had been that way. I remember nothing like that. I'm sure there were good things I missed because I didn't want the nasty kids to be there, making it one more opportunity to have my attire laughed at or my voice teased.
I'd like to say I was beyond wishing bad on the main person, but to be completely honest, while I won't wish bad on her, I hope she has at least at some point, thought back on her behavior. I hope she's wondered why she did it — did it raise her status? get her more friends? distract others from teasing her? She wasn't a cheerleader nor was she invited to every party; she was on the cusp, someone who used teasing me as a step into their world…yet I would say it never worked. Even the last year, she was still not a cheerleader and still didn't get those invites she coveted. If I saw her, I'd like to say nah, I'd not say anything..but I might. I might ask her if those few years of picking on me made her feel better or achieved anything. Did she get anywhere? And would she want it done to her kids? Time wasted though. I'm pretty sure she'd deny it or that it was that bad.
Like the new Cigna commercial says, "Go you." Be true to yourself to be healthy. Don't let the nasty losers out there get to you. And when it's to the point where you can't take it anymore, please, seek out someone you trust, and don't stop. Don't suffer quietly. You deserve better.
In case you were wondering what happened after high school, things got better. I started college, got a job and became independent. With my independence came my confidence. I was free to be myself, starting over, without any baggage. I found I didn't have a problem making friends and was able to choose who I wanted to spend my time with instead of trying to fit in just to not get picked on. As an adult now, I have a lot of friends and we have a lot of fun socially. I'm also quite happy spending time with my family, especially now that we own our home and can decorate freely. Sometimes hanging out on your patio with good friends and extended family is all you need.
Enjoy life. It's short and no one needs to tolerate mean people.