Looking to add some spa nights to your summer plans? Check out these new evening events at Glen Ivy! Corona spa nights are unique, affordable and make for a fun staycation getaway this summer!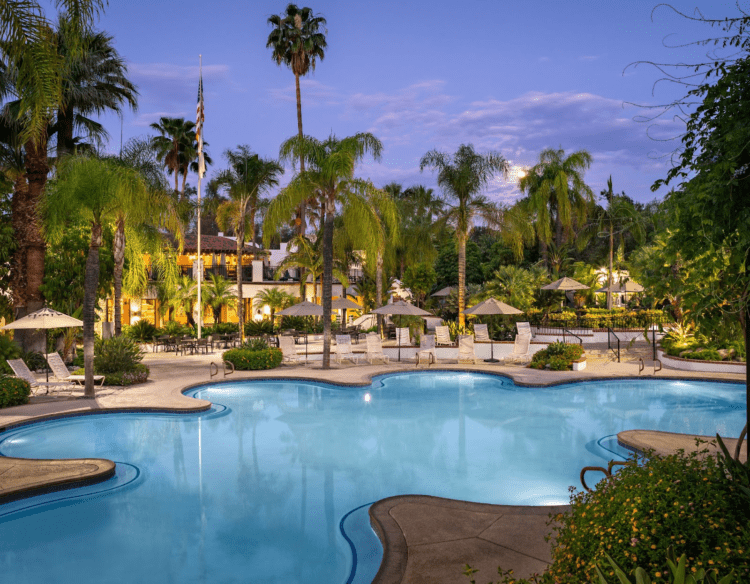 Off the 15 freeway in Corona, Glen Ivy Sits on 12 acres in the Temescal Valley. Featuring 19 therapeutic pools and healing baths, it is the ultimate in pampering that fits in everyone's budget. Attend for the whole day, pop in for the evening and spend your visit being wrapped up in fuzzy towels between luxurious sessions relaxation. Enjoy a healthy meal at the cafe or some cocktails at the bar, and if you're feeling in the mood, add on a massage, facial or nail service. There are even private cabanas available so you have your own reserved space.
Prices for a day time visit are $85 per person, and for evening only has a $55 rate. Reservations are required, and there may be a line when it opens, so come prepared to allow yourself time to check-in. (If you have a service reserved, such as a massage, you need to come a little early, but there is a special line for people with those additional reservations.) Bring your sunscreen, slip-on sandals and if you choose to experience Club Mud, plan your swimsuit choice accordingly! (It's so worth it. The mud dries on your skin in the sun, or inside a steamy cave, and your skin feels amazing when you rinse it off in the private showers.)
While there's usually entertainment throughout the summer, the new evening events at Glen Ivy are unique and add to your peaceful experience. Check out this summer's lineup below.

EVENING EVENTS AT GLEN IVY SPA | JULY 2022
Evenings: Sound Bath Meditation | Sundays, 5:30-6pm & 7-7:30pm 
Bathe yourself in sound waves produced by gongs, singing bowls, percussion, and more with self-care practitioners, Anthony Espanet and Marsha Pacificar. Catch one of the sound bath meditations offered every Sunday evening at Glen Ivy and end your week with the ultimate relaxation experience.
Live Music with Jason Weber – Saxophone | July 1, 9, 16, 23
Enjoy the versatile sounds of Jason Weber's saxophone during one of his evening performances from 5:30-8:30pm.
Live Music with Mor Sol | July 2 
Don't miss Mor Sol cover all the classics on July 2 from 5:30-8:30pm.
Live Music with Mario Marauak – Brazilian Pop | July 8 & 30
Get up and dance with Mario Marauak's Brazilian guitar duo as the sun sets over Glen Ivy on Friday, July 8 and Saturday, July 30, from 5:30-8:30pm.
Live Music with John Tidwell – Latin Guitar | July 15 
John Tidwell brings the classical sounds of Latin guitar to spice up your evening on July 15 from 5:30-8:30pm.
Live Music with Jimmy Dale – Reggae | July 22 
Sit back, relax, and enjoy the sunset on island time with Jimmy Dale's Reggae on Friday, July 22 from 5:30-8:30pm.
Live Music with Kenny Rice – Saxophone | July 29 
Catch Kenny Rice and his saxophone on Friday, July 29 from 5:30-8:30pm.
Stay for a dinner and wine pairing from the Evening's Dinner Package and catch one of the amazing live entertainers from 5:30-8:30 pm every Friday-Sunday through October. The food prepared at Glen Ivy is sustainable and healthy, yet delicious and every meal is also a feast for the eyes. It's the ultimate in high-end pampering from beginning to end.
We're big fans of spa days and spa nights. Corona is only about 20-25 minutes from us, so we're frequent visitors of Glen Ivy Spa. I love the sulfur pool and the plunge pools, where you go from hot to cold pools in sequence; it's great for your metabolism and circulation, but always check with your doctor as necessary, as that cold water is a SHOCKER. You'll frequently find me on a floating cushion in the wading pool, cocktail in hand. Their wine bar also has some great choices and of course, the bubbly is prevalent.
The evening events at Glen Ivy Spa are calling my name. I really want to try the sound bath meditation and as a longtime musician hobbyist (both instrumental as a child and vocalist later on), I'd like to visit on a night where a sax player is on tap. I'm no dancer, but I'm pretty sure the Latin guitar will have me grooving.
If you're local to SoCal, this Corona spa is easily accessible and makes for a great solo day or a group event. I've gone with a group of friends and had just as much fun as I do when I grab my book and float the day away.
For more information or to buy tickets for evening events at Glen Ivy Spa in Corona, visit the Glen Ivy spa website!