**Disclaimer: We were provided two tickets, including the Royal VIP upgrade, by Medieval Times, but the opinions are my own!**
First, let me say we've always wanted to go to Medieval Times. We're basically Cali natives..well, my son is and having moved here at 13 (like, 10 years, no, 20 years ago..ha) and drove past it many times but never went in. Bad.
Until last week. Medieval Times graciously gifted us with a gift pack of tickets, including the Royal VIP upgrade, and honestly, I am not sure who was more excited — me or my son! (I know, I could have taken the husband but a 12 yob who loves medieval times, horses, knights, fights AND is studying that time period in school is not to be ignored. And he's just a cutie buttootie.)
People take Medieval Times seriously! The line was already building when we arrived at 5:20 for a 7pm showing on a Wednesday night. The venue is located in the middle of all-things-fun in Buena Park, which is in the O.C., barely a 1/2 mile north of Knott's Berry Farm and only about 15 minutes from Disneyland. (You can't beat that for coolness!) We were escorted to the ticket booth at 5:45, which was good as the little guy needed to use the facilities after an hour's drive because the 91 freeway at that time of day stinks.
Once we had our tickets printed and we were at the front gate, it wasn't long at all before the Master of Ceremonies came out, complete with horns, to announce the opening.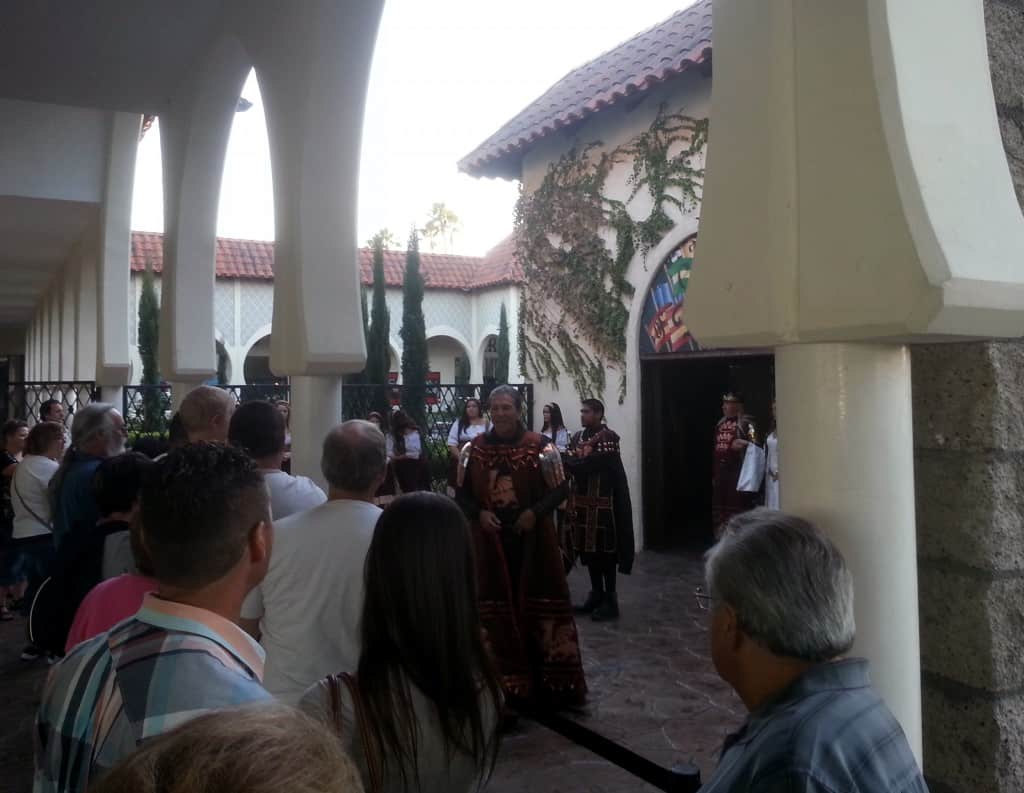 We ended up being selected to sit in the red-and-yellow knight's section, second row, which in our opinion was the best row — not so high that you miss anything, but high enough to see the whole show. Perfect!
While we waited for the show to begin, I signed up little dude for knighthood; he was SO excited about having a scroll with his name on it that he didn't want a picture nor did he even want a sword. Surprises! He did, however, love the souvenir knight-shaped cup of slushy we ordered while waiting. (And I enjoyed a glass of wine while we wandered the exhibits inside the main hall.)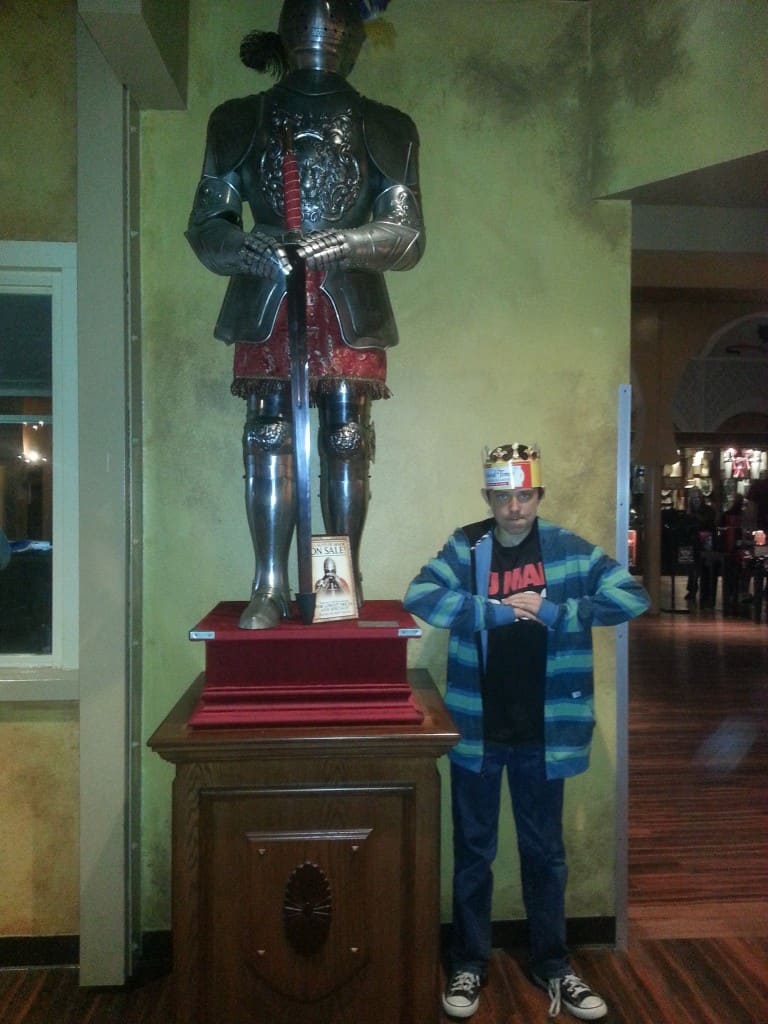 The horses…there's no way around it, they are beautiful. You can't help but be in awe of their skills and amazing talent. Our favorite is pictured below; I'll let you guess why we chose this one. (Hint: read the sign on his stall gate. That horse has got to have one heck of a sense of humor.)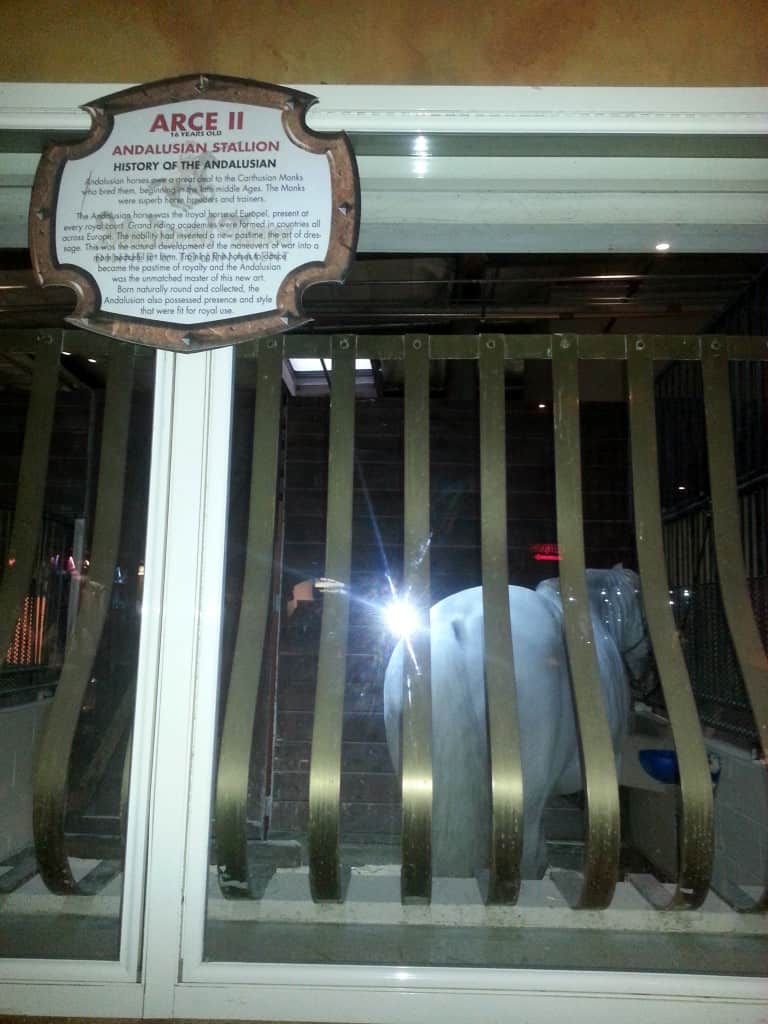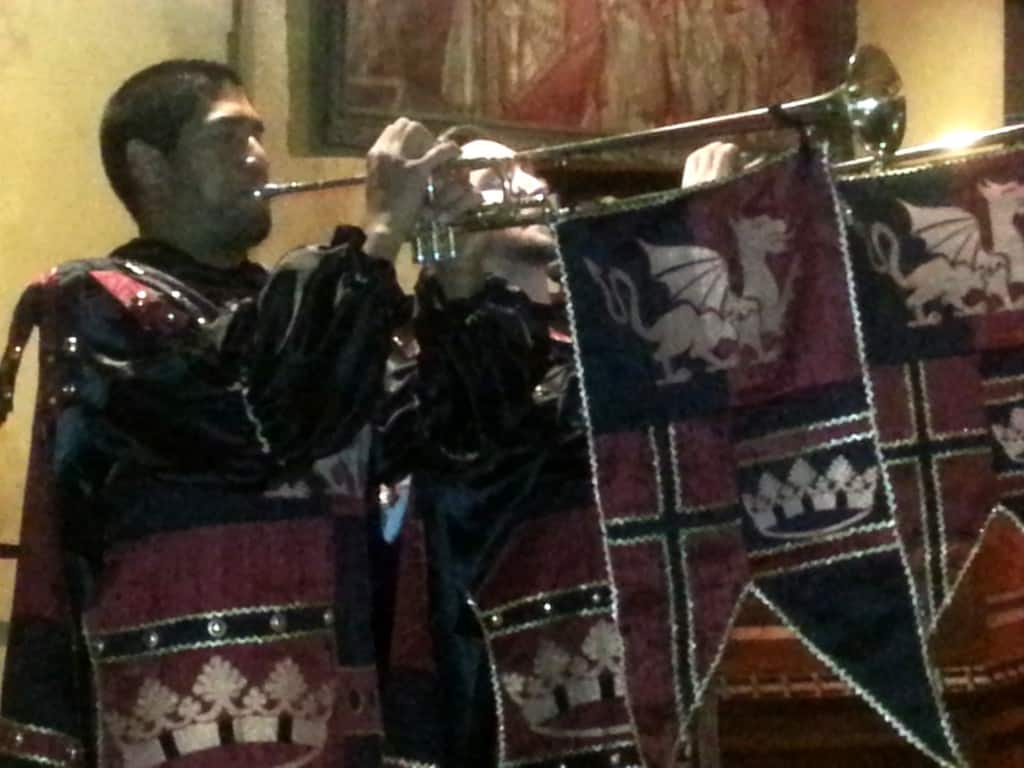 The coats of arms on the walls…the armor…the copper-inlaid doors…so much to look at while we waited! It went quick, and we were soon seated with our pewter servingware. It was then that I chose to tell little guy that he had to, rather, got to eat with his fingers. You would think I'd have said we were never going to use forks again, he was so happy. Who knew, if he's ever upset, I'll just take away his silverware… Anyway, our waitress was friendly and exuberant and handling the confused large family to my left with grace and style, never letting them see her sweat while they tried to figure out exactly how many there were in their family and how many seats that would mean they had to take. Little man chose then to use the restroom, so I ordered our drinks for us; you stand your mug straight up for coke, on its side for water, and upside down for tea. (Diet Coke was available by request, too.) We laughed at the one-napkin announcement and were glad to see it also included a wipe, though I did have to explain to little guy what that was for. (Huh? Like a diaper wipe? A wet nap? WHAT?)
The show was nothing short of amazing. So many lights, beautiful effects, and horses dancing and running and leaping. A favorite of ours was when the white horse jumps in the air, kicking out his back legs. So graceful!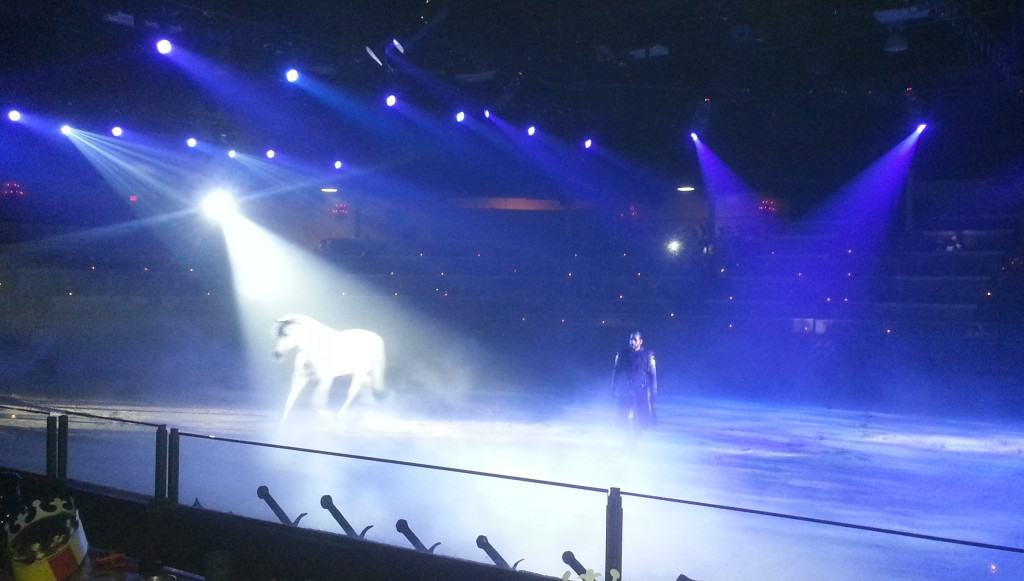 The meal was delicious, exactly what we'd have pictured for that time period. Tomato bisque (in a pewter bowl with a handle) and crusty, crispy garlic bread. I could have eaten at least five more pieces without a crumb left. Dinner with a show is so not to be missed. Later, we were brought a half of a whole chicken — so moist with yummy skin — and a rib, along with a half of a baked potato. More finger-food! The dessert, a pastry, was devoured, even though we were already food and had put most of our chicken in the supplied to-go boxes for the next day. (Let's just say, I didn't get to eat my chicken..little man got to both first! #leftoverfail)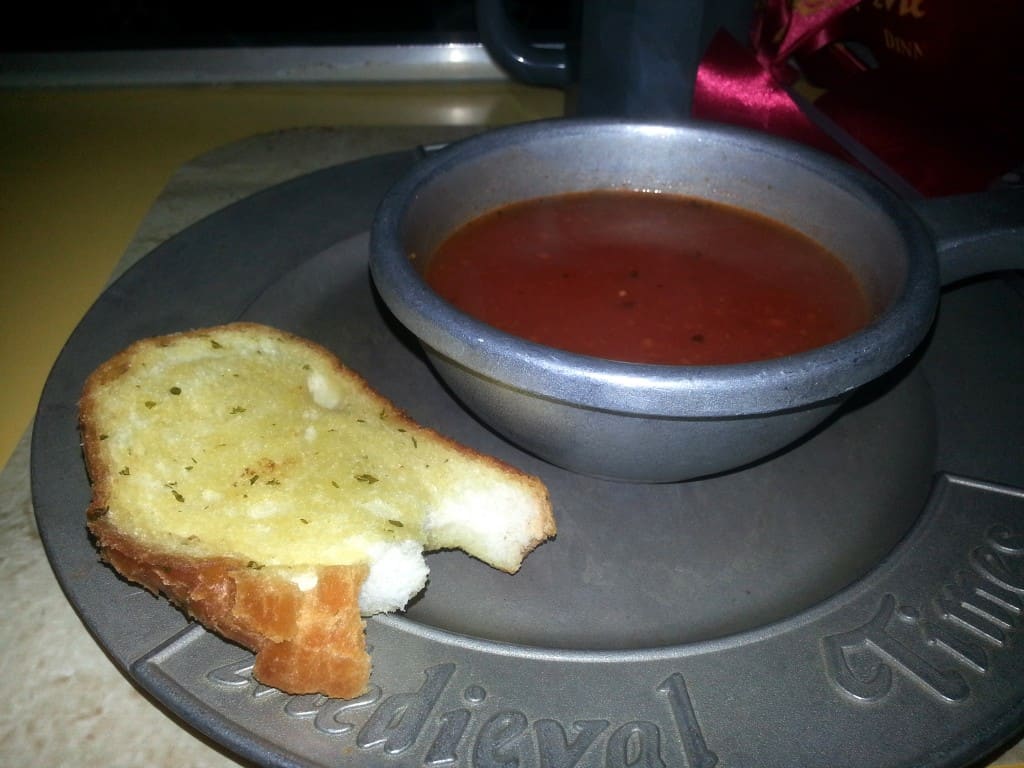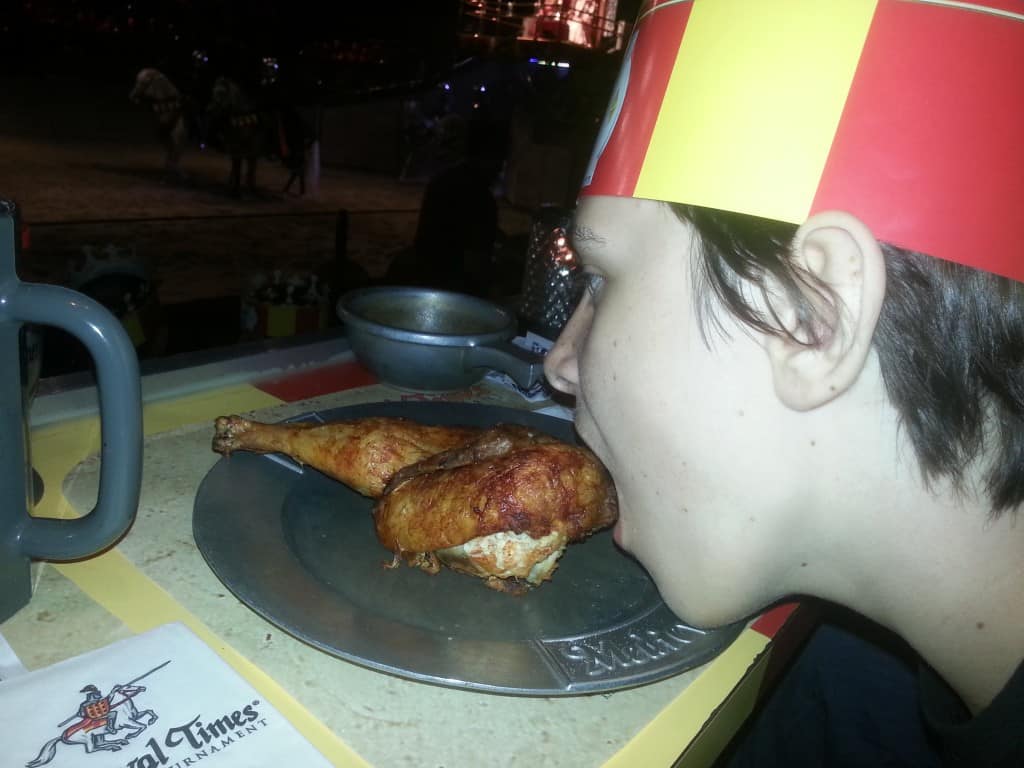 While we loved watching the horses perform, the knights and their jousts and competitions were so much fun! No elaborate adjectives suffice. The word "fun" does it all. Watching the hawk fly overhead was a special moment and of course, the winner of that evening's competition and fight against the bad guy…spoiler alert, I'm sharing a picture but since I've never gone before, I don't think it means this is how it always is. Sadly, our red-and-yellow knight did not win, but he came close enough that my little guy was yelling an awful lot. Oh, my ears.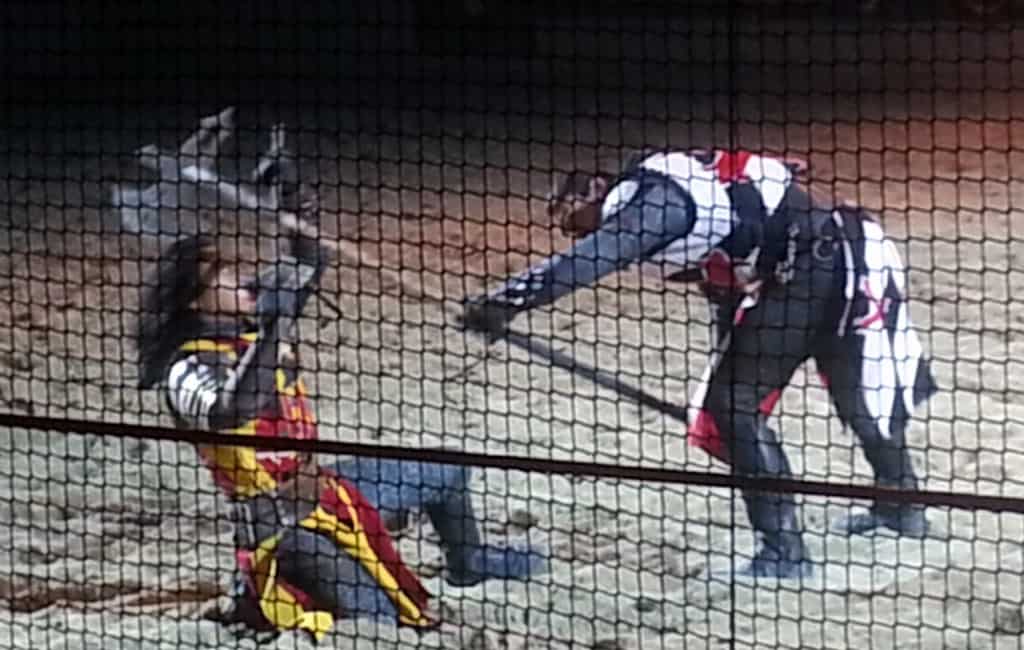 So much action, and we were right there alongside it all!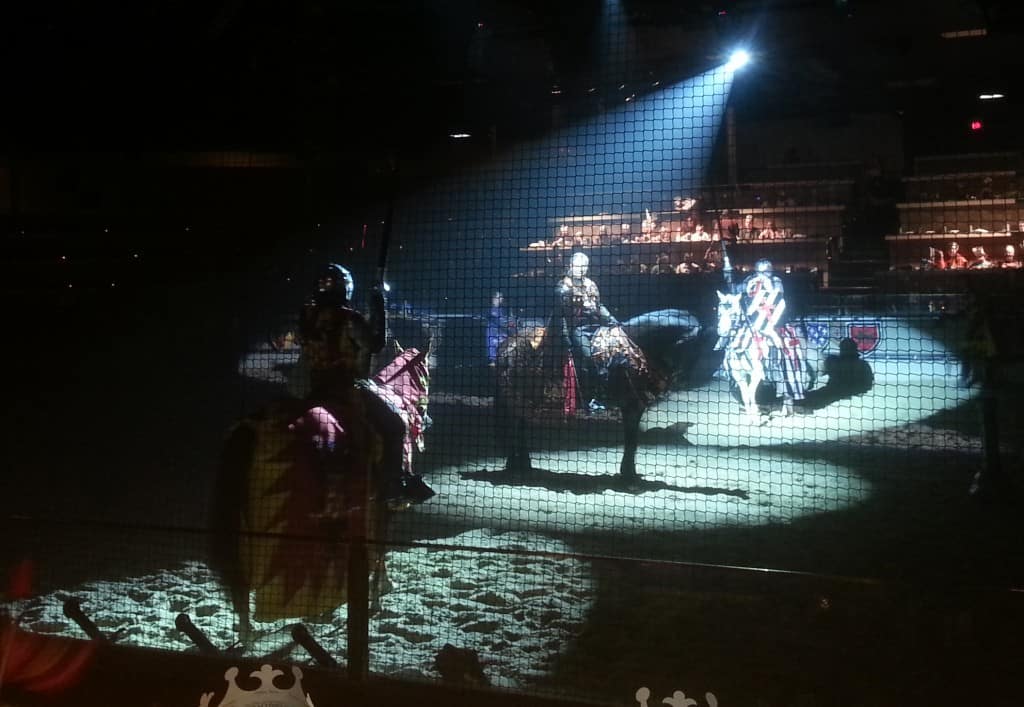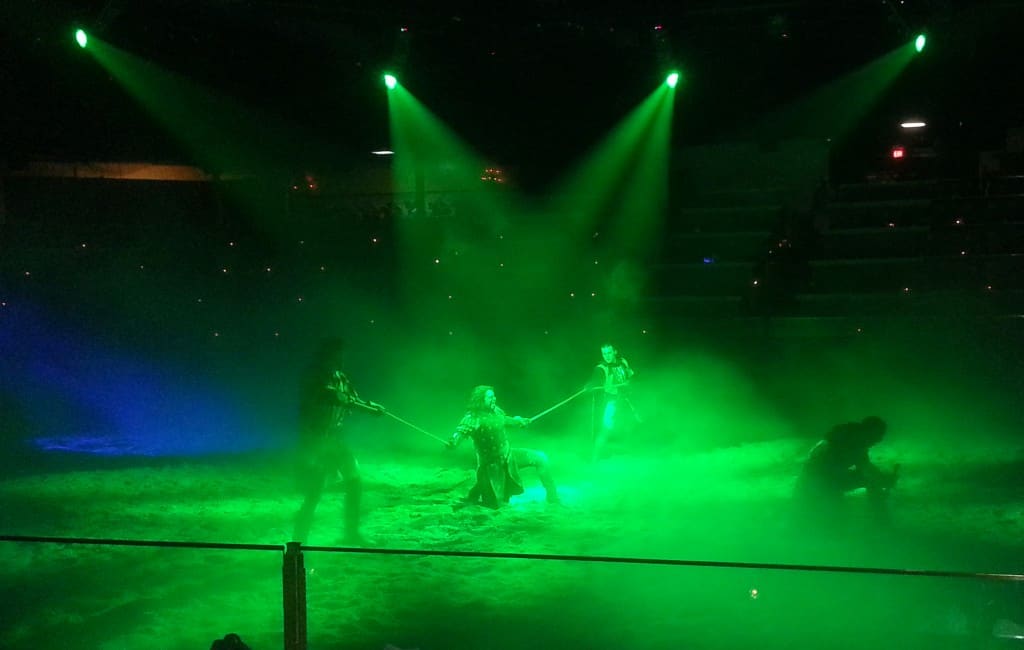 All in all, it's almost a two-hour event and worth every minute of it. The food is outstanding for a medieval meal, and the scene is realistic and engaging. We were captivated from the minute the lights went down and I snapped so many photos, I was thankful for the portable charger I carry in my purse. I won't share them all here — some are blurry, many are repetitive and there are just too darn many that it would kill my load time …and I wouldn't want to ruin the experience by sharing too much anyway!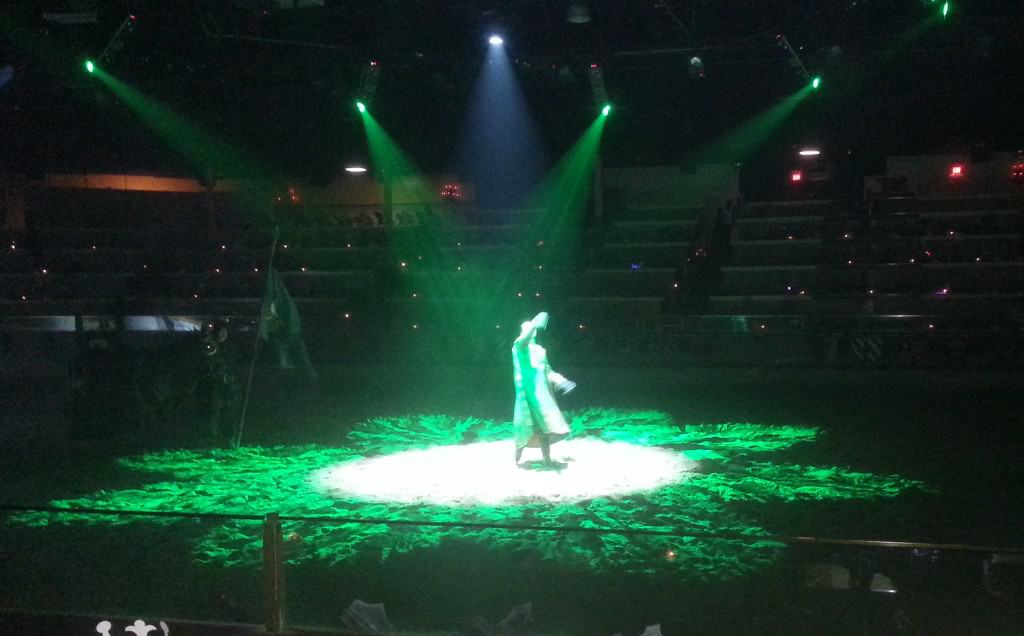 For fun, here's a goofy photo of us together!