Shelf space for my cookbooks is at a premium — so much so that I've started stowing each cookbook in categories above the tops of my cabinets, kind of like a library. Bread recipes here, smoothies there. They're all still accessible and I can continue to collect now that I've gotten this newfound space, so what do I do? Agree to review a bunch more cookbooks, and they're all so good, I'm finding space for them, too!

Sometimes, grabbing a cookbook, a glass of wine and sitting in a big comfy chair is all I want to do at the end of a long day. I'm a weirdo who loves to page through cookbooks, finding recipes, notating what I need to buy to make them and getting inspired for new creations loosely based on what I read. If there are photos or extra tips, even better. Here are the latest six cookbooks I spent some time going through the last couple of months. (I've been stacking them up a bit!)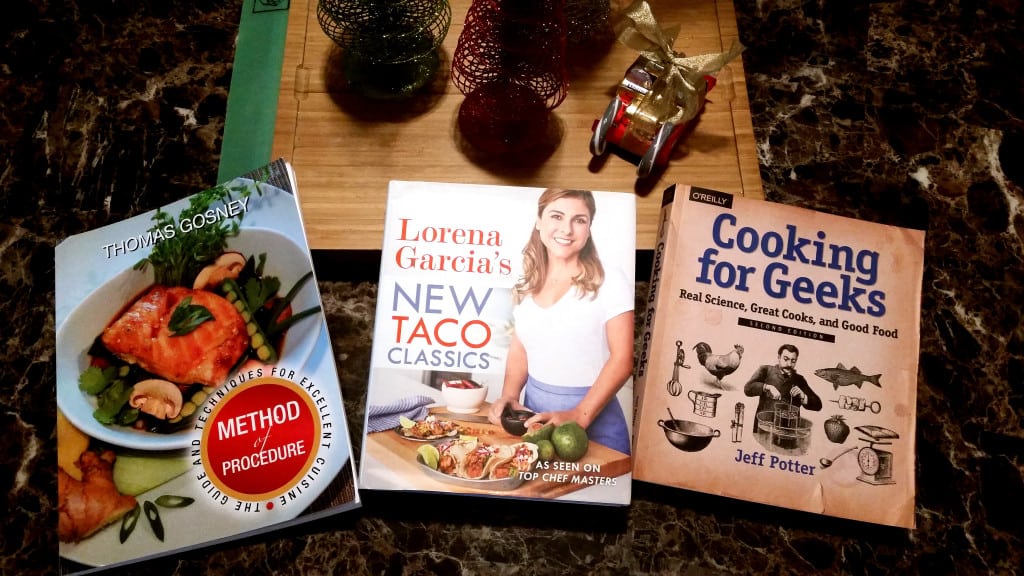 Cooking for Geeks: Real Science, Great Cooks and Good Food, by Jeff Potter and published by O'Reilly
If you like to learn some of the science behind food creation, you're going to want this cookbook. Paperback and 470 pages, Cooking for Geeks gives you the basics behind the how and why there are requirements in baking and cooking, supplying the tools you need to go beyond those basics and experiment. It's not just a cookbook, but it's partially a textbook, too — in the sense that it's a fun method of educating yourself into better results in the kitchen.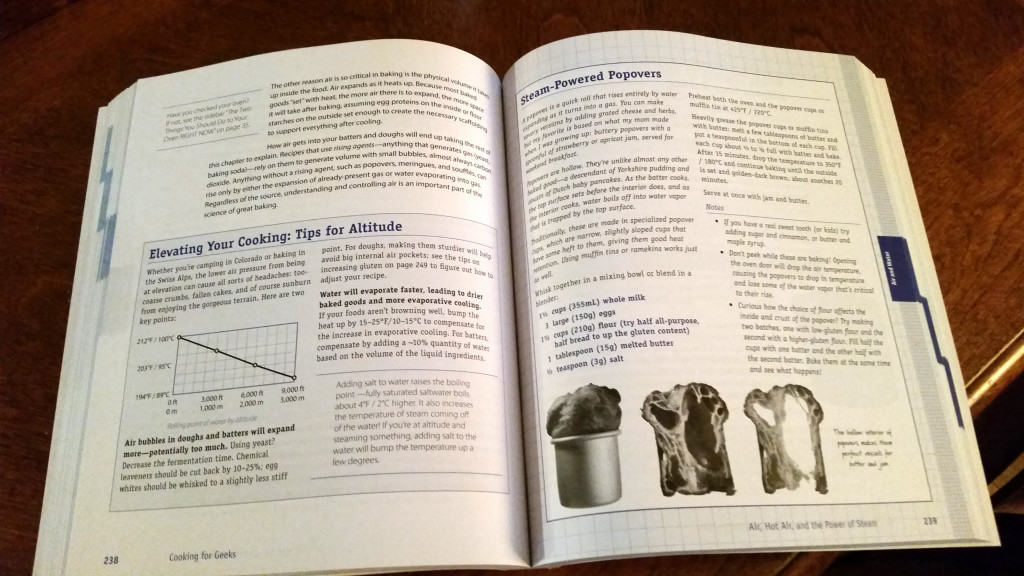 Start out by learning what type of cook you are, with the help of a quiz that's fun to take. Learn how to dissect and read a recipe and then put it into practice with the many included recipes. Interspersed with the recipes are interviews by renowned cooks, tips on anything food-related like countertop needs, why onions make you cry, what types of pots and pans you may like, flavor profiles, ingredients by culture and one of my personal favorites, different types/textures of butter and Labs, where you can study something on your own and learn by doing instead of just reading. (If you've ever read any of the O'Reilly books, you'll be used to that approach, where you are truly immersed in the learning process.)
Cooking for Geeks breaks down the obvious — why you add baking soda, what steam does, prepping egg whites, sharpening knives, etc. The recipes aren't really in the normal order, but that is a good thing. The index is inclusive, giving you a list of the recipes, the interviews, and things like labs. It's impossible to be inclusive in a review though, doing this book justice in any sense as it includes so much. I consider myself a seasoned cook (see what I did there?) yet I found myself repeatedly thinking "Oh wow, who knew?" and picking up tidbits to employ in my next time in the kitchen. You can't go wrong buying this book for the chef or the food novice in your life.
Lorena Garcia's New Taco Classics, published by Celebra
You may be familiar with Lorena Garcia from her stint on Top Chef Masters, but you may be surprised at how many versions of tacos she comes up with for this cookbook, basically a rundown of the best street foods of Latin America. The hardcover book comes in at 352 pages and has one of the best Table of Contents I've seen. The book begins with chapters such as Masa/Dough and Beans as the base of the taco. Toppings, like sauces, slaws, picos, pickled recipes and cremas come up next. Add in the fillings, broken into chicken and poultry, pork, fish and seafoods, meats and veggies — making it work for everyone — and ends with the sides like Tostones, Corn Gratin and of course, chips and salsa. The ideas are varied and the colorful full-page photos are plentiful.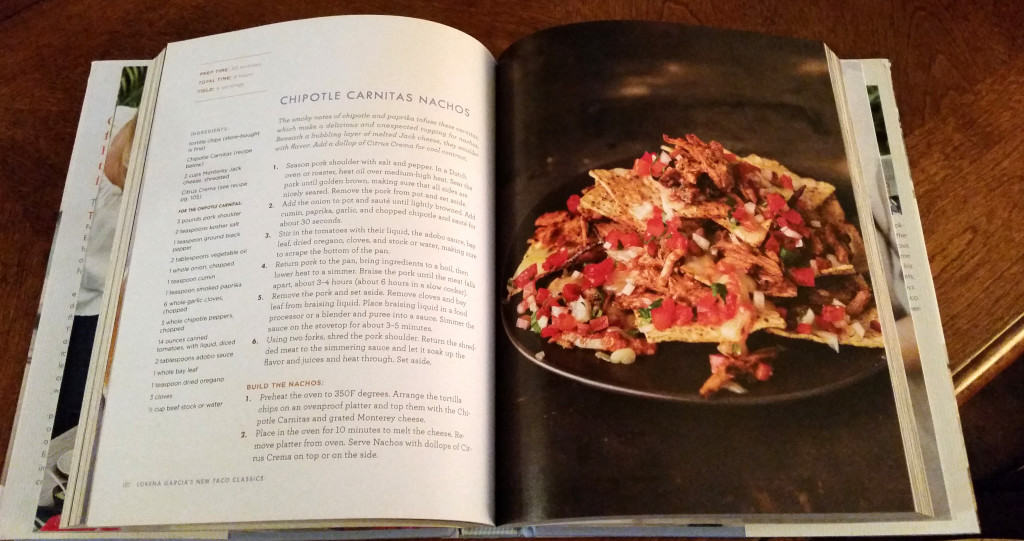 Recipes are clear and easy to understand, and while not every ingredient is going to be as easy to find in some areas, I had no problem getting anything here in Southern California. Recipes include a lot of fresh produce and seasonings and that's a big draw for someone who works hard learning authentic recipes that are still healthy and affordable. If you've got a Mexican food lover on your gift list, grab this cookbook and then tell them you want tacos for dinner that night!
The Complete Guide to Sushi and Sashimi by Jeffrey Elliot & Robby Cook, published by Robert Rose Publishing
I was lucky. My step-mom is from Japan so I had many firsthand lessons in Japanese cooking, but not everyone who loves sushi or sashimi will have that opportunity to learn from a master. Japanese cooking is more than just ingredients but a lot about presentation, so the 625 photos in this cookbook will get you well on your way. It's not only recipes but techniques, all the way down to how to eat sushi, including how to use soy sauce and that sushi is meant to be eaten in one bite. Nori? Ngiri? Miso? Maki? It's not just learning how to wrap and cut, but all the terms. Want to get really authentic? Learn how to fillet a fish yourself with the help of thorough color photos.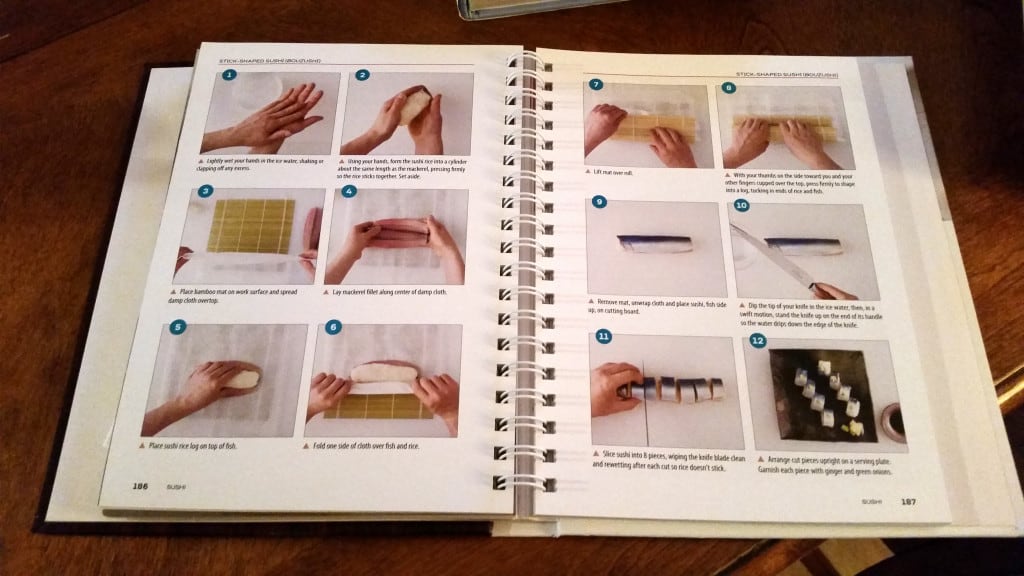 By the time you finish reading through some of this book, you'll feel a lot more comfortable shopping for the ingredients, prepping them, seasoning and cutting them, but you'll also be ready to go into a Japanese restaurant and order a meal with confidence. You'll also find yourself wanting to amass a few tools to make it on your own and serve your guests like a pro! Tekkamaki is one of my favorites and I'd never made this particular type of sushi on my own; it's a small roll that has a similar preparation and cut style as other rolls, so once you learn it, you've just gotten ahead of the curve. The book is a hardcover with 302 loose-leaf pages so the book lies flat for ease of reading. If you want an entry-level book to help you surprise your guests, grab the guide and start rolling!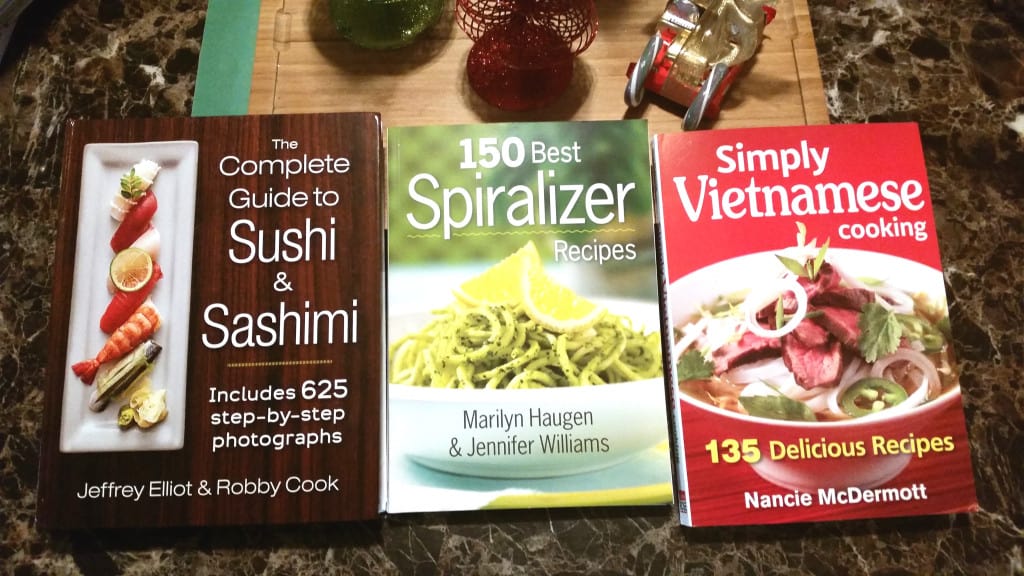 150 Best Spiralizer Recipes by Marilyn Haugen & Jennifer Williams, another Robert Rose Publishing book
Spiralizing your food may seem like a trend, but it's a healthy one that is easy to get on board with. Try it once, with the right spiraling tool, and you'll be on your way to looking around your kitchen, then the local produce department, to see what else you can spiralize. Produce is typically affordable and always healthier than the alternatives, so finding ways to make it the heart of your meal — saving you money over the cost of meat and offering alternatives to those on special diets or just trying to cut back — is easy with the 150 Best Spiralizer Recipes. Its 224 pages are clear, easy to read and all include tips on maximizing the success and flavor of the recipe by using the right oil, cutting and choosing the produce, for example. Many photos help you see what you're looking to make and you'll be surprised at how many new ways you can switch up your repertoire by using a spiralizing tool.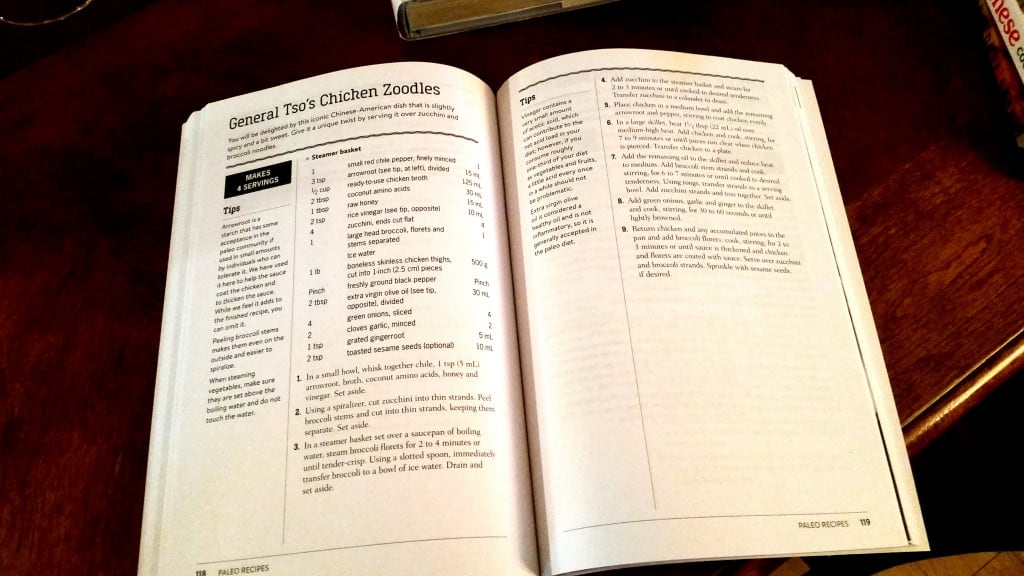 I bought my tool last summer when walking through a Bed, Bath & Beyond. We laughed at the name a bit and figured it would be fun to try. We enjoy the pasta-like food we create using it, but I did find myself rather quickly running out of different ways to use it, ending up with the same zucchini noodles more often than not. Now I know how to use beets in an entree, in an appealing way very unlike the big red disks that we often associate with childhood beet experiences. (If someone else remembers them in a more enjoyable way, please let me know!) There's a two-page spread in the center of the book that shows 24 various types of produce spiralized, and I have to admit I'd never have thought of these possibly mundane vegetables turned into something so different. Up next? Sweet potato noodles — we love our "zoodles," aka zucchini noodles, but onwards with the exciting recipes and keeping vegetables in our diet on a regular basis.
Simply Vietnamese Cooking, by Nancie McDermott and also published by Robert Rose
Confession time: I know nothing about Vietnamese cooking. This cookbook is the first of its kind to grace my bookshelf, and I'm still paging through it learning more about a cuisine for which I'm completely unfamiliar. With 240 pages of recipes and ideas though, I won't stay that way for long! Nancie McDermott does a fantastic job of breaking it down to make a novice like me comfortable with attempting it. It's nothing like I expected, but that's merely my ignorance of the type of food overall, and now I really want to try more!
Using normal ingredients found at local grocery stores, the recipes are displayed in typical Rose Publishing fashion, with a clearly printed recipe, a description of it and several tips; some have color photos. The book includes traditional dishes, and things that are now trendy to buy at restaurants, like banh mi sandwiches and pho. I made the Lemongrass Chicken, with a very small alteration, and it was delicious! (I had to resort to bottled lemongrass instead of fresh stalks.) The taste was mild and the red pepper flakes added just a zing of heat. What a great combination! Next up is the Hainan Chicken and Rice with Ginger-Lime Dipping Sauce. (In fact, I'm tempted to at least try the sauce on its own for a party dip! I can easily see it going over well with fried wontons.
If you want to try experimenting with a new type of food, or maybe hosting a themed-dinner, this book is a great place to start.
Method of Procedure: The Guide and Techniques for Excellent Cuisine by Thomas Gosney
Thomas Gosney has a varied career history as both a personal chef and a list of television appearances a mile long. In years of working and speaking with others, he realized that most of the problems people were having with cooking were related to "method of procedure." He set out to help with that in this new book, Method of Procedure. In 138 pages, he attempts to make the techniques for excellent cuisine achievable by everyone via easy recipes that have one additional step: attention to detail of preparing the food all throughout the recipe. Not only does he say "Add the oil…" but he says "Don't let it sit too long…" and tells you why that would be a problem. It may feel like over-simplifying the food preparation process, but sometimes it's the little things that make all the difference, yet we overlook them in our rush to get it all in the pan.
I found some of the recipes to be long lists of ingredients, which at times can be a turn-off, but if you look closely at the list, you'll find that the items are things you typically have in your pantry and are not difficult to purchase if you don't. Recipes are one or two pages only, some with color photos, and the print is on the larger side with less-cluttered pages for ease of reading. Each description gives you pointers to make the food turn out as intended, and the Table of Contents is typical in that it is broken down by category. With recipes like barbecue sauce, Danish Blue Cheese Dressing, Korean Barbecue and Jalapeno Cauliflower "Grits," the options are varied and everyone can find something they like. The cookbook is paperback and more recipes have photos than not, so it's easy on the eye. If you're looking for a set of recipes that doesn't fit in one particular category, this is a great book for a discerning chef's shelf.
Whatever type of food you prefer, you'll find this latest cookbook round-up to be a good selection of books to consider. All are readily available via the publisher's website or Amazon.com. If you purchase one for yourself, put it on your wish list or buy them as a gift, I'd love to know what you think and what recipe you try first!