This post is sponsored by Hamilton Beach, who provided me with a new slow cooker for the purposes of this review.

This time of year, everyone's busy. School, with its homework and activities, is in session and families are rushing around more than ever to get everyone to parties, extracurricular activities and still fit in shopping and other errands. We're no different — Little Dude is in Tae Kwon Do three nights a week, my younger daughter is currently working in a haunted amusement park several nights a week and my husband and I both have work and I have the blog and business to run. Birthday parties, holiday plans, baking, it's enough to really take away all of your extra time so saving minutes here and there can make a big difference. One of the biggest ways I can do that is to spend less time in the kitchen, but we don't want to jeopardize our health or weight by eating too much food with preservatives or other items we try to avoid. We still want to stick with our 90% homemade goal, but to do that, we have to get a little creative. That's where my slow cooker comes in!
Hamilton Beach's Stay-or-Go 5 qt. programmable slow cooker is a life saver. It's big enough to cook a whole chicken and perfect for soups, stews and other delicious meals that you can make ahead. It's also perfect to serve a family of stragglers, where people come and go and eat different times, with the warming option keeping food at the perfect temperature without overheating or drying it out. This is my first slow cooker that's programmable. I can set it to cook for a certain period of time and then go to 'warm,' so if we need to come home, grab dinner and go, the food is all set. I love being able to have dinner ready to go when people start arriving home! Of course, the downer is that I have to smell it all afternoon/evening as I come and go, but that's a small price to pay. If we have to go somewhere that evening and contribute food, no need to worry about spilling it or having to move it to a different container. This slow cooker has a latch on each side to keep it sealed and the unit's light enough to carry or set on the floor of the car between your feet. One more bonus is the probe, allowing for complete cooking without fear of getting it to the healthy temperature.
I've used it for a lot of things since I received it. Potato chowder was probably my favorite, but I tried something new with the recipe I'm sharing below. I was wandering Sprout's at lunch, shopping the produce section and filling the cart with items that were good prices or on sale. Since things rotate on and off of the sale prices, we eat different vegetables and fruit every week; eating healthy doesn't mean it needs to be expensive and you have a lot of options even on a small budget.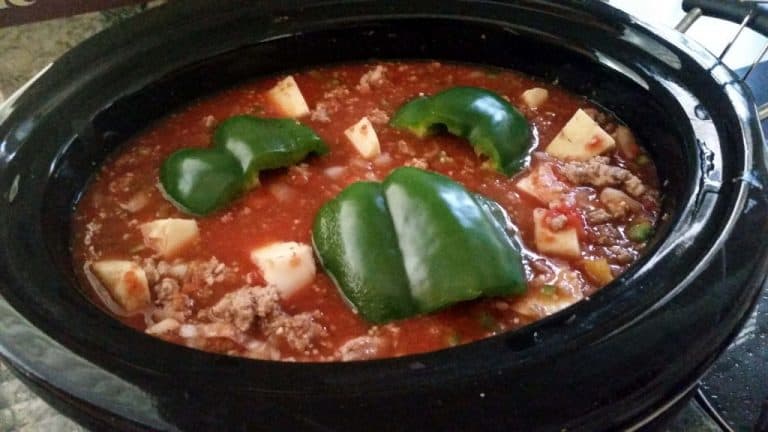 Stuffed Pepper Stew
Ingredients
1 pound ground turkey
3 tbsp. chopped garlic
1/2 onion, diced (white or purple)
4 1/2 cups chicken stock
1 large yam or sweet potato, diced
4 whole bell peppers
1 whole fresh jalapeno pepper
1 28 oz. can crushed or diced tomatoes
1 1/2 cups uncooked long-grain rice
2 tbsp. Worcestershire sauce
Salt and pepper
Parmesan cheese, if desired
Tomato paste, if necessary
Instructions
Brown ground turkey with chopped garlic and onion. Set aside.
Pour stock into slow cooker. Add in diced yam or sweet potato. Turn slow cooker to hot and place top on slow cooker. Cook 2-3 hours, depending on heat of slow cooker and size of yam/sweet potato.
Seed and chop jalapeno. Add jalapeno, Worcestershire sauce and ground turkey mixture into slow cooker with entire can of diced tomatoes, undrained. Stir. Add uncooked rice. Place lid on slow cooker, leaving it on high, while prepping bell peppers.
Cut tops off of bell peppers. Remove seeds and veins. Place bell peppers gently into mixture, submerging as far as possible. Place lid back on top of the slow cooker and cook on high for another 30 minutes; rotate bell peppers once more, cooking another 30-45 minutes. If it isn't as thick as you'd prefer, add a little tomato paste to change both the consistency and flavor.
After yam/sweet potato, rice and peppers are cooked thoroughly, serve but give it several minutes to cool off in the bowl. Sprinkle parmesan cheese on top if desired.
 I love assembling the ingredients while cooking. Fresh produce is always so colorful.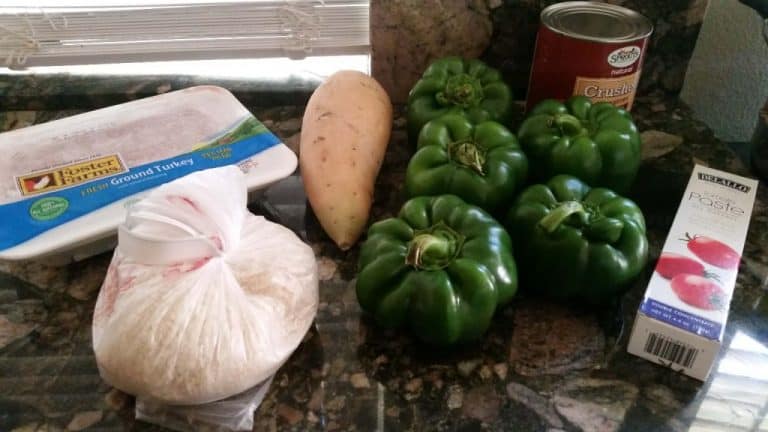 This is my most favorite store-bought bouillon ever. I usually make my stock from scratch but didn't have any.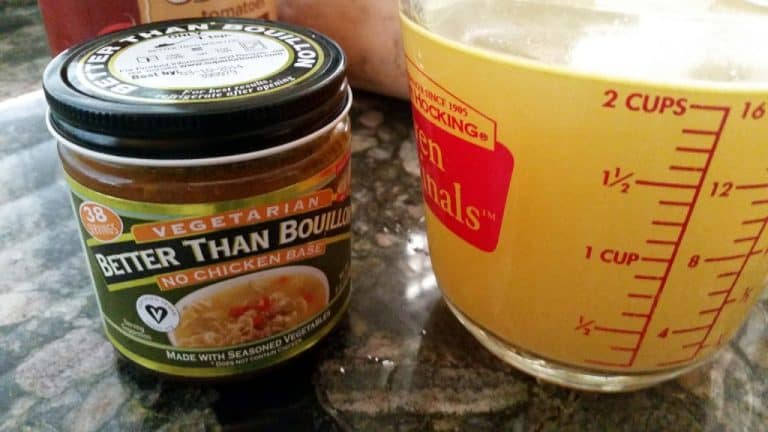 Then, the finished product!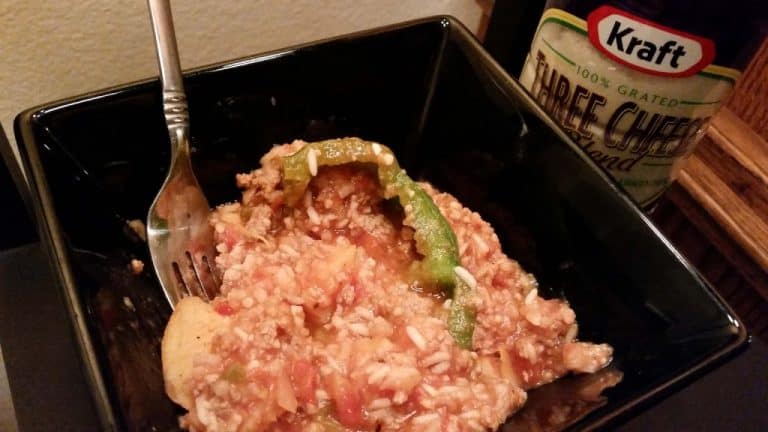 How will you let your slow cooker help you simplify your life and make family meals easier?