Last week, Eataly LA opened.  If you are a foodie, you already know what that means. It's like foodie heaven, with three stories and over 67,000 square feet of cafes, restaurants, lunch counters, quality Italian food ingredients, cooking gear, and of course, Eataly cookbooks. We were invited to the pre-opening press and media party, and let me tell you, while it was so crowded that it was almost difficult to get good photos, it was full of happy people.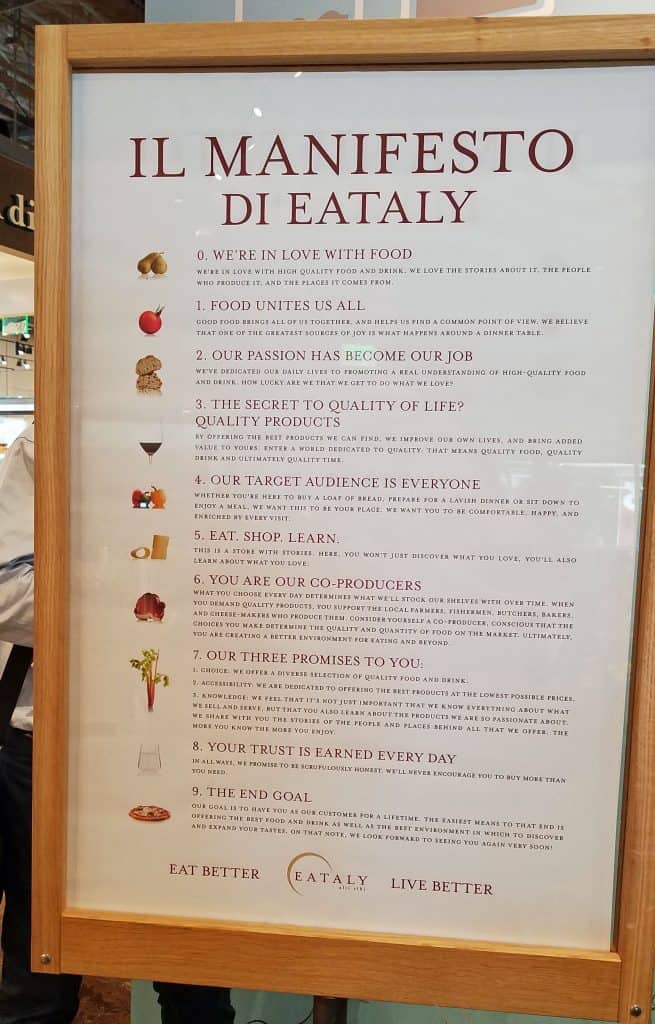 It was also full of manifestos and explanations such as this one. I love how they put this Eataly plan together: build this place for people who thoroughly enjoy food, both buying and making it, fill it with quality things, promise you they are all as good as you expect, and make everyone happy in the process. That's only the beginning on why you need to go.
Everywhere we turned was a new Italian food item to sample. Lines quickly grew long as people were eager to try everything that was offered, but surprisingly, the wait at the wine counter was relatively short. This meant that the red (and white) wine was flowing, people were getting chattier and everyone cared less about the line waits.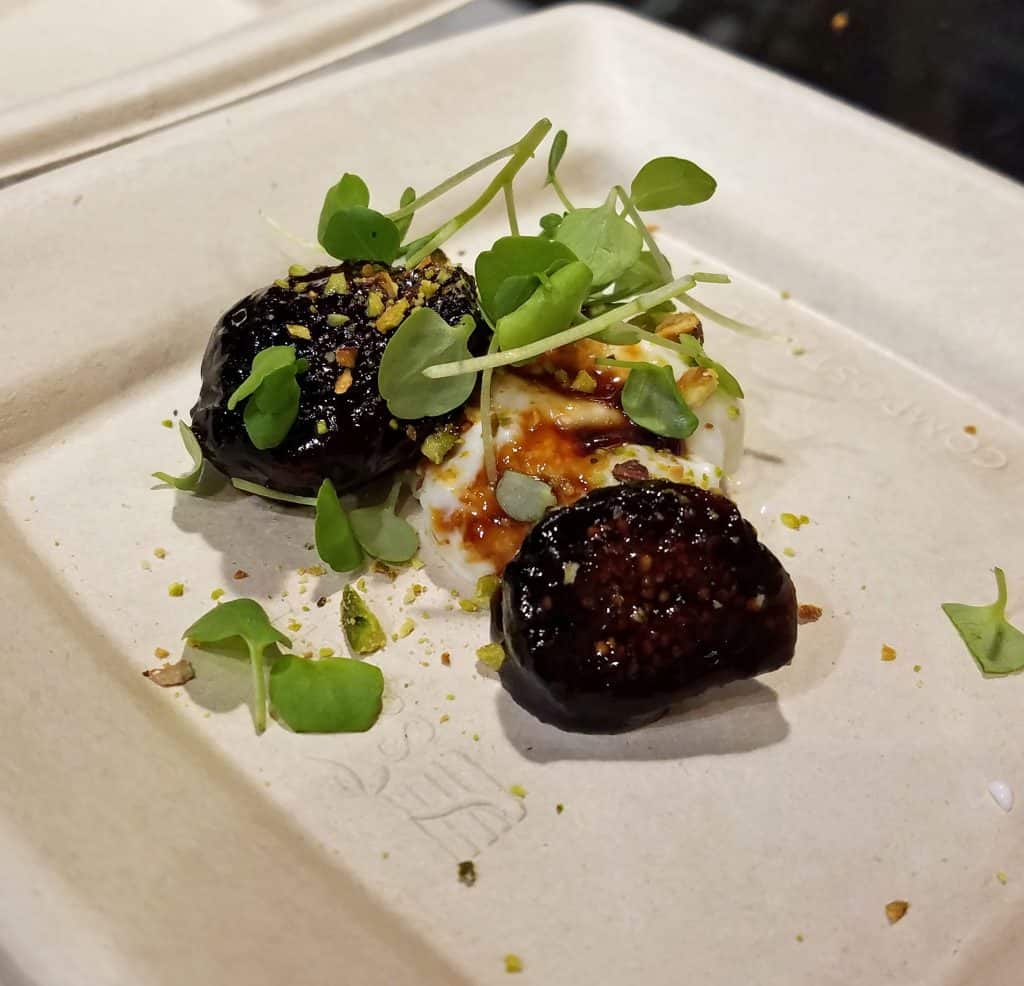 The longest line was for panigacci. If you're unfamiliar with this amazing food, it's kind of like a flatbread filled with Italian deli items like burrata cheese, salamis and pancetta. (If you don't know burrata, you need to head to Eataly and get to know it. It's similar to mozzarella, which was being made there on-site, but it's like a softer inside version of the mozz. SO good. It spreads and provides a glue of sorts for the rest of the ingredients.)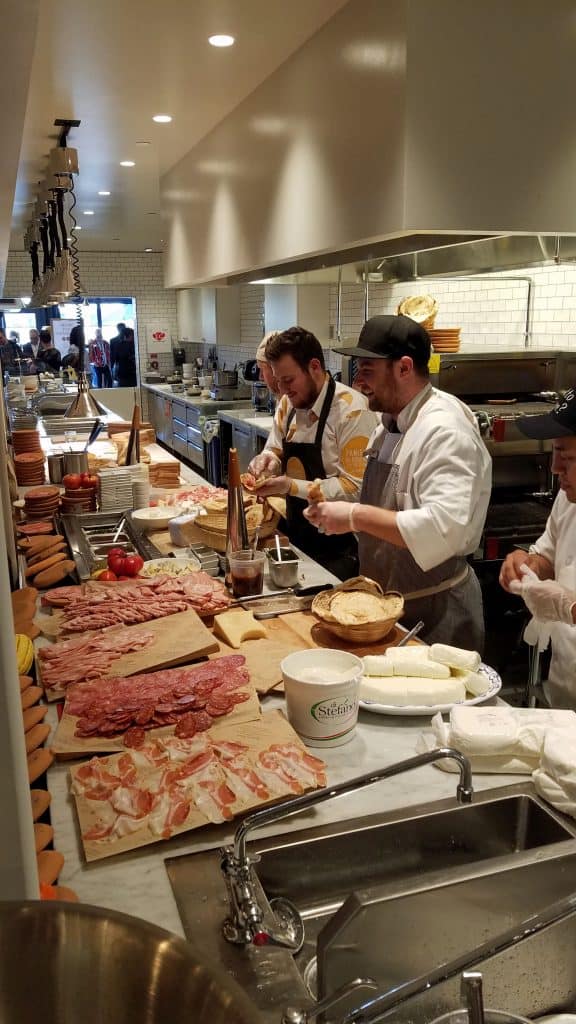 Several pizzas were available, all with varied toppings, including a margherita pizza and just a buttery crust version. With a perfect crisp and crunch, they were all fabulous. The white wine of course completed the appetizer course.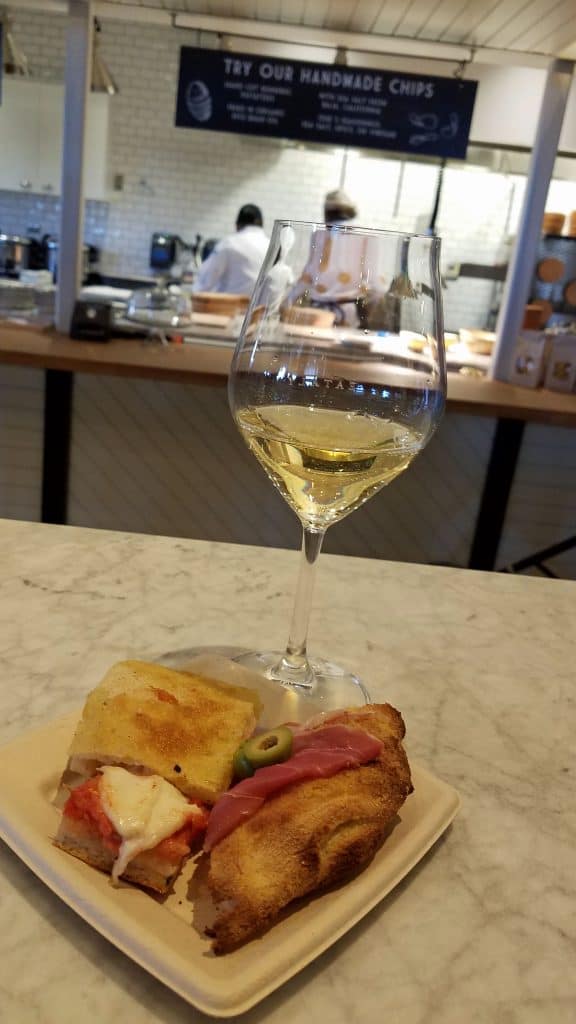 I started off small with my sampling, not knowing all that was lying ahead to eat. I really should have eaten more of that pancetta pizza though with green olives. The two different textures on a garlicky crust with a crispy outside and soft center was perfection in pizza form.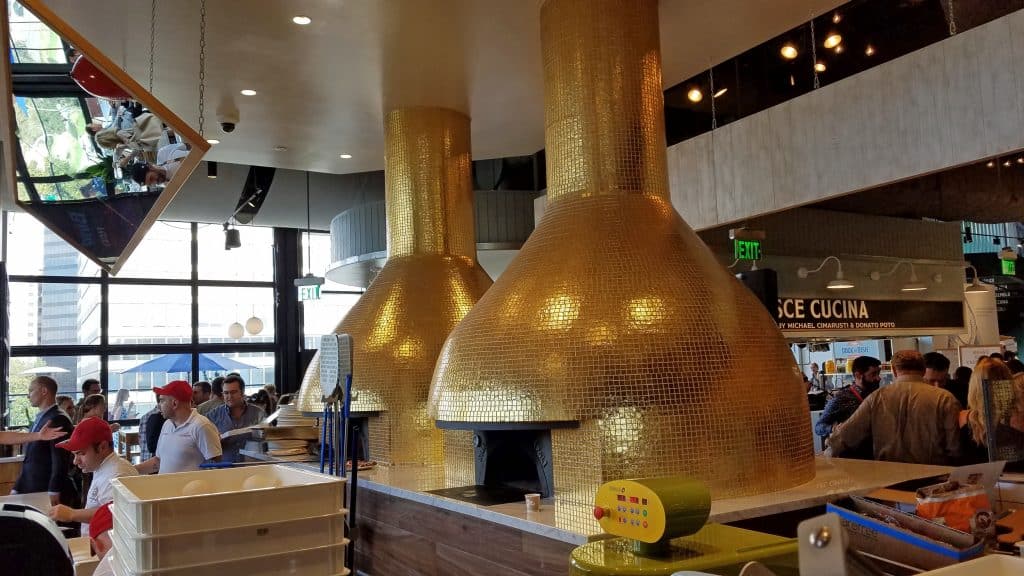 If you walk towards the back end of the second story, you can't miss the gold pizza ovens. They are beyond huge and their shiny reflective surface attracts your eye, pulling you to the pizza area. It happens to be right next to the seafood counter, not far from the wine bar. The layout is interesting, with the wine available for sale one wall away. Grab a rolling basket and fill that baby up as you go.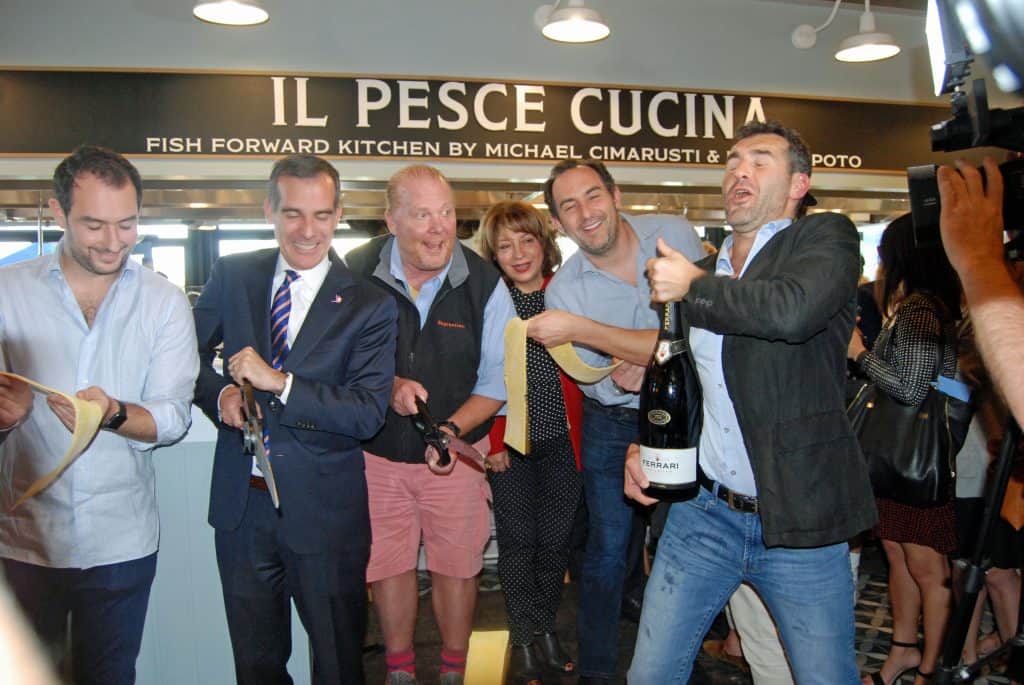 On hand to cut the big, long real fresh pasta was Mayor Eric Garcetti, Mario Batali, a representative from the Italian consulate to Los Angeles, and members for the Oscar Farinetti family, the founder of Eataly itself. Everyone shared their excitement about the undertaking to open a restaurant of this size in Los Angeles, but how very fitting it is in an area where food is so important. This is Eataly's fifth location but only the second of the five that I've visited. I spent a few hours wandering the Flat Iron location in NYC a few years ago, bemoaning the fact that I couldn't take anything home as it either wouldn't make it past security or fit in my suitcase.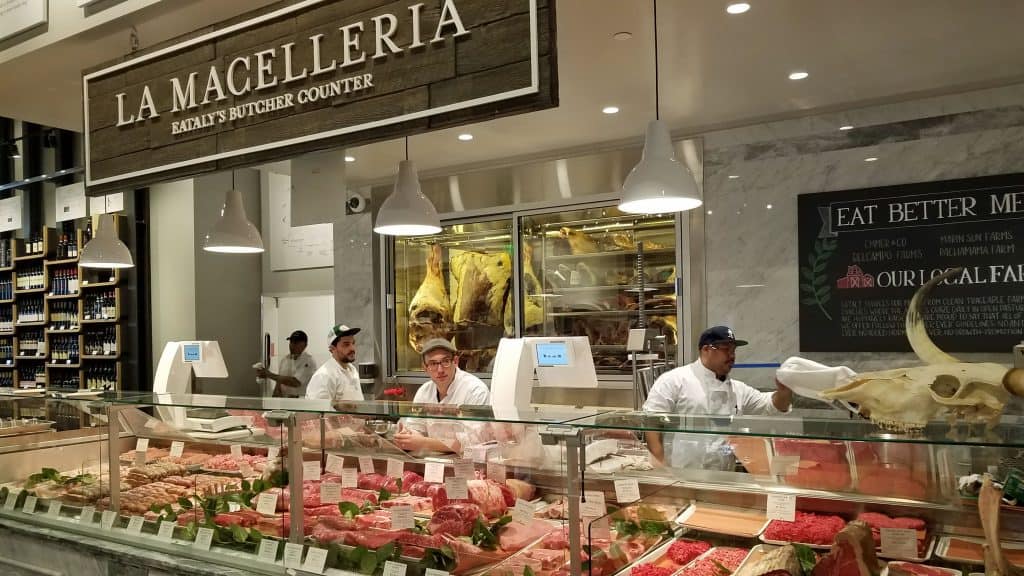 Eataly couldn't have picked a better place. The Westfield Century City is not far from the 405, 101 and the 10 freeways, making it easily accessible to everyone coming from all over Southern California. We drove from the Inland Empire and it only took a little over an hour in moderate traffic. (Getting home? Not so much. As you know, choose your travel times carefully.) There's a culinary school on the first floor, along with the gelato and espresso counters. On the third floor, there is a lounge opening that was unavailable when we visited.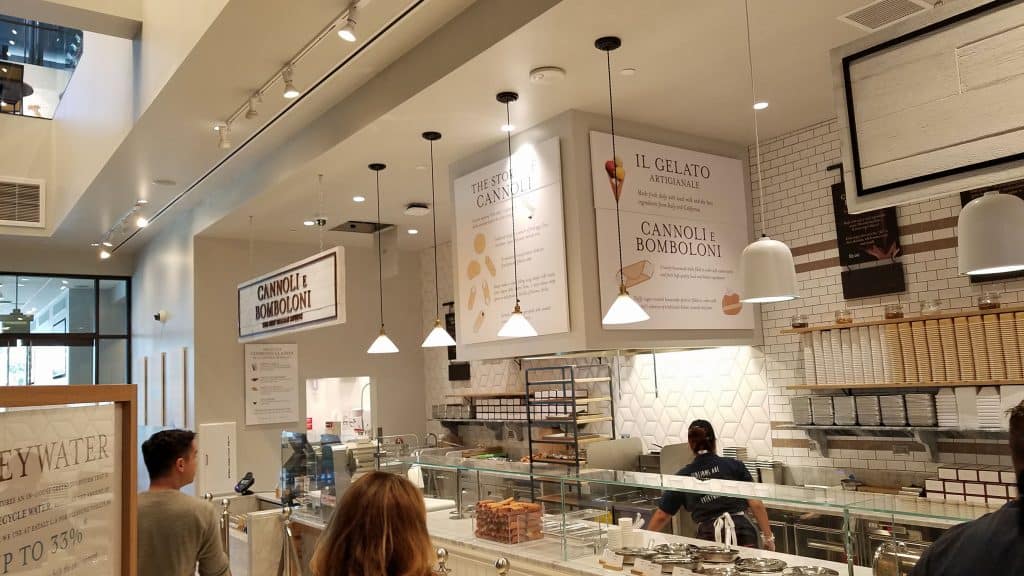 Head to Eataly to grab lunch. Eat there at one of the many tables or take the food to go. Or as Mario himself suggested — before he reminded us all that they opened in two hours so there was a time crunch — buy quality ingredients from Eataly, go home, make a meal and then spend 15-20 minutes after the meal is complete to simply enjoy each other sans phones and digital devices. I think that's good advice we all need to take.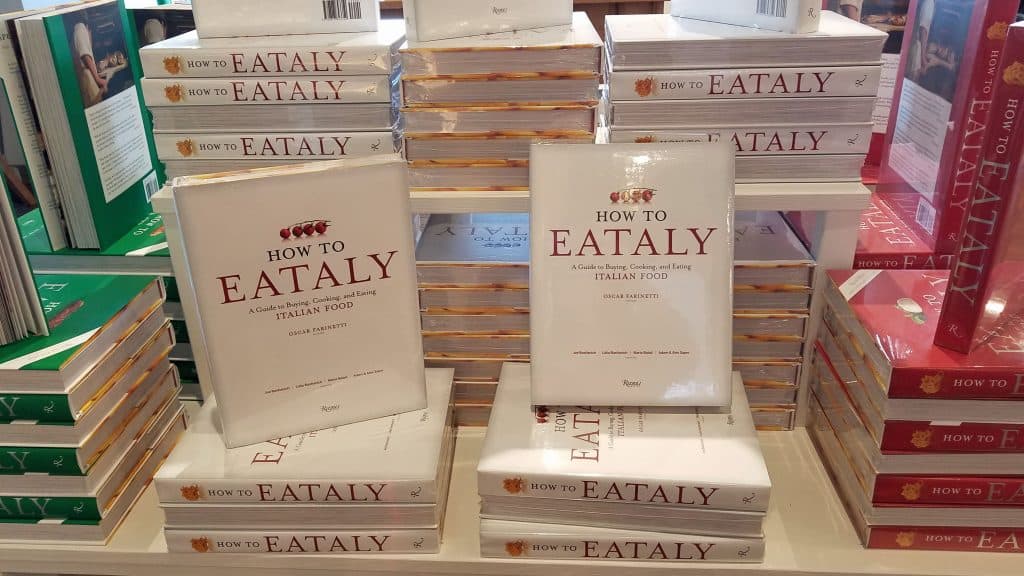 I'd drive back again to shop at Eataly. I saw quite a few things I could use in my kitchen, and I need more of this insalata again. I'm just going to visit on a slower day. Take your wallet — Eataly is so quality and unique, the price tag reflects it but I saw quite a few wines that were at good prices. I also plan on buying the newest Eataly cookbook, and a lot of these desserts below. A TON. We tried the tiramisu. I could have just sat down the entire container and been happy.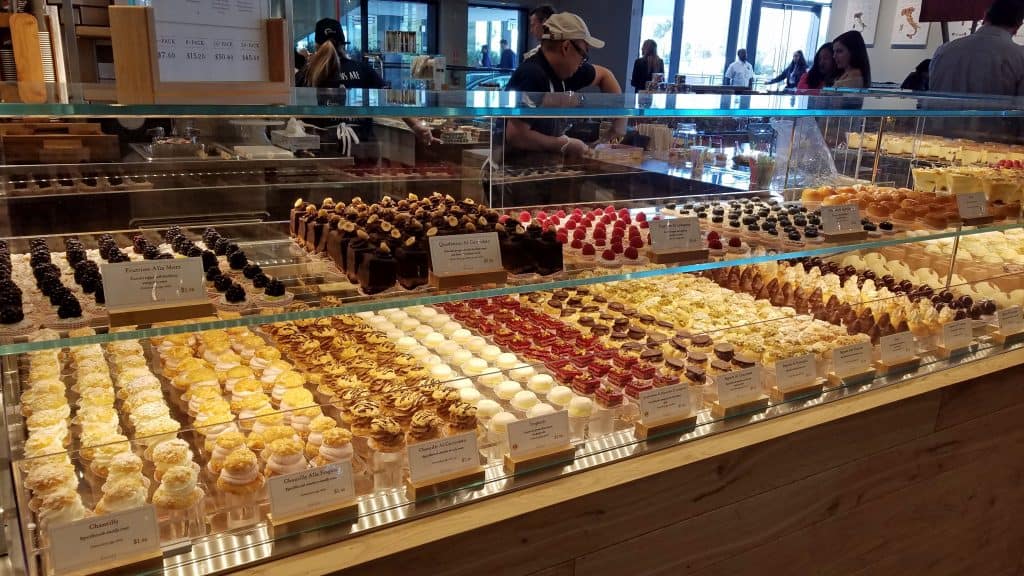 Eataly LA opened — it's time to put your Italian shopping list together. Road trip anyone?
Before you go, here are a couple more photos to lure you into exploring. You're welcome.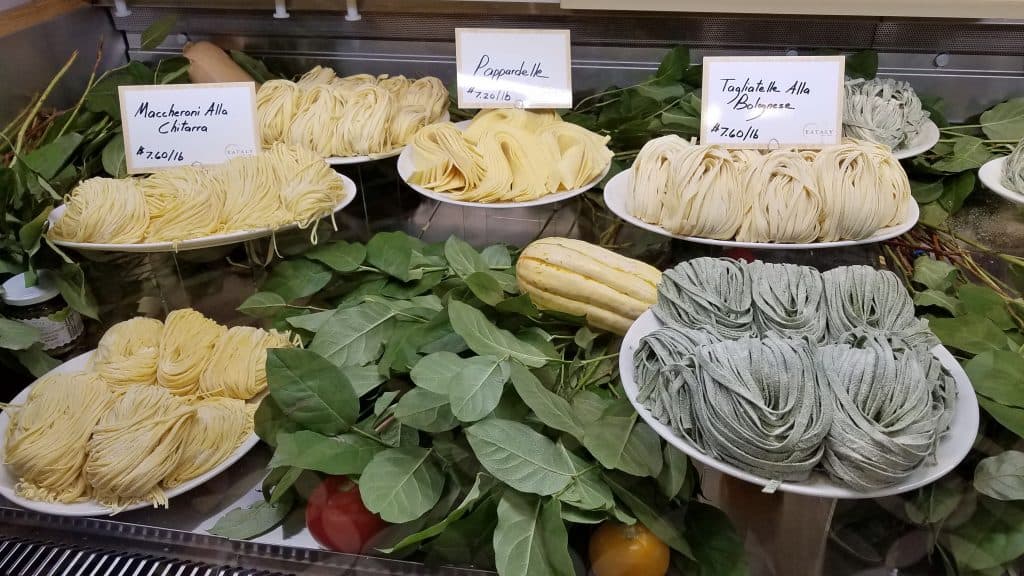 Because no self-respecting Italian market doesn't sell an amazing, large selection of fresh pasta….or this array of seafood. Mangia!