Are you being forced into an emergency homeschool situation? Homeschooling, when chosen, can be stressful enough but when you're doing it because the schools are closed and we're quarantined, it's even harder. No prep time, the push to start right away and do it perfectly, it can feel like a lot for a new homeschooler but as a homeschooler for 18+ years, I've got some tips to help make it easier. Or easy….because you don't have to be a teacher, just be a parent.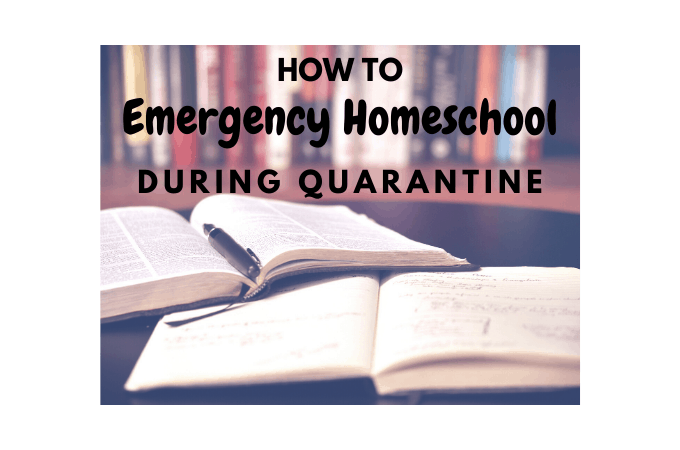 First though, you've got this. You're raising kids, that already means you know what you're doing.
Be flexible. TV isn't a bad thing. There are a ton of educational programs out there, and if it's funny or less educational than other things, that's okay. Desperate times call for desperate measures, and emergency homeschool means you have to think outside of the box. Next month is Earth Month, and Disney Plus has a long list of nature shows and otherwise educational programs available. You can watch TV together to enjoy family time, or use it as a break so you can get chores done. It's okay to park them in front of the TV or device, don't let anyone tell you otherwise.
The typical actual student in school spends a lot less time being fully 'educated' than you'd think. It's okay to teach for only a couple of hours.
Schedules are great but they lead to frustration easily. Roll with it. We adults move from thing to thing, kids are no different. If something isn't working, move to something else. You can always try again later…today, tomorrow, next week. You don't need to do it all in one day.
Teaching takes place in all sorts of ways. While we can't run errands like normal — to the bank, the post office, the wherever — those errands are learning experiences in and of themselves. Playing in the backyard, weeding the garden while talking about flowers, setting up hummingbird feeders, these are all learning experiences. Not all school has to be memorization and numbers. Bake: kids learn a lot from kitchen science and the bonus is that they'll be self-sufficient as an adult! (And you'll have dessert and snacks available.)
Bad day? There's always tomorrow. We aren't always as productive at work as we'd like but we still get stuff done. The same approach to homeschooling works.
School starts in kindergarten, and even then, it's only a few hours and is a lot of name writing and coloring and crafts. Anything before that is just parenting, so have fun with it and don't let it stress you out!
Enjoy it. Kids grow so fast. Before you know it — trust me — you will be enrolling them in college or watching them walk down the aisle. Appreciate the small things, like watching them learn to use scissors, glue paper to their chubby fingers and blow a pinwheel. These memories are more important than anything.
Have fun with it. I know there are days where wine is our friend and we need to hide in the bathtub. Rotate with your spouse if you can. Make a fancy coffee. Set them up with play dough or toys and turn on your OWN Netflix show. They'll still learn and grow, I promise.
Emergency homeschool isn't the end of the world, especially now. I know it's complicated by many people being unable to work, and many going unpaid, but it doesn't need to be expensive either. Hopefully your school is providing curriculum, but if not, don't freak out. Google is your friend, and whatever you do will be fine. There are a ton of How to Homeschool articles out there that will be state-specific, but whatever you do, try to enjoy it! Flexibility is best!