One of the most common reasons people don't exercise is time. We're a society of busy people – demanding jobs, traffic, family needs, social events, chores, errands, appointments, the list goes on. If we don't schedule something in, it may never get done, yet many of us don't schedule in exercise, so finding time to exercise is critical to our health.
Now, before I go further, I know a lot of us have jobs that have us moving all day. We're walking long distances or standing all day, or running around with our children, and for some of us, that's getting physical enough. For many others though, we're at desks all day long and before we know it, we've been sitting for hours, so long that when we stand up, we're stiff and maybe even sore.
It's an easy thing to make an excuse about: I'm tired. I didn't sleep much last night. I have meetings all day. My child is ill.
Yep, all those things make it difficult, but if we don't take care of ourselves, we are always going to be tired and we're not going to be energetic enough to care for others. (And that can lead you down the whole road to resentment and irritation and exhaustion…not a good road.)
So what do we do to change it?
Put 'being healthy' on your To Do list. That's over-simplifying it, obviously, but it has to be as important to us as going to the bank, the post office, the grocery store, or it's always going to get put on the back burner.
I know when I don't get enough exercise, I'm sluggish. I'm less motivated to watch what I eat, and I have more insomnia. When I do make time to get some exercise – and I'm only talking 20 minutes at least – those all change. I've got more stamina, the stairs are even easier and I feel more inclined to cook a better dinner. Finding time to exercise makes a difference I can feel immediately.
My latest schedule for exercise won't work for everyone, but it's just an example of how creativity can make a difference in your health. I work out at lunch time now. I either run (on the treadmill right now, as it's in the high 90s to 100 degrees this week), do a Zumba class (on the Xbox..I don't have a gym membership and really don't want one), do Pilates, Yoga, or just do toning exercises and free weights. A quick shower and I'm back at work for the afternoon, and I feel so much better. I also don't get the afternoon yawns.
Working out at home doesn't need to cost an arm and a leg either. While I do have some good equipment – the treadmill, an elliptical, a Bowflex – it's not necessary. I could run in the neighborhood or even walk. (You can do that before work, too…getting up 30 minutes earlier will pay off.)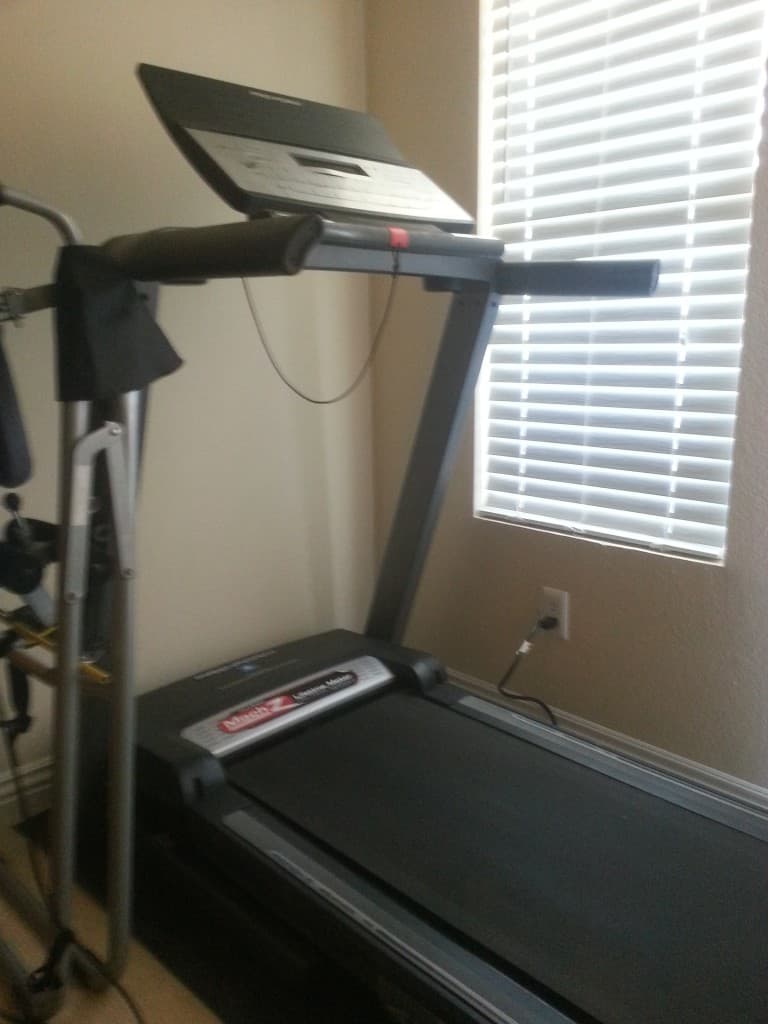 (That's my treadmill, next to a window and along wall of glass that you can't see; I have a pretty view while I'm running and I also can see my laptop for music, video, whatever I want to keep occupied, though a lot of times, I have my tablet on the treadmill so I can catch up on reading.)
I have found great prices on weights, yoga mats, workout attire, etc., at Ross Dress for Less and Marshalls. (If you have a pre-disposition to not go there like quite a few people I know, you're missing out!)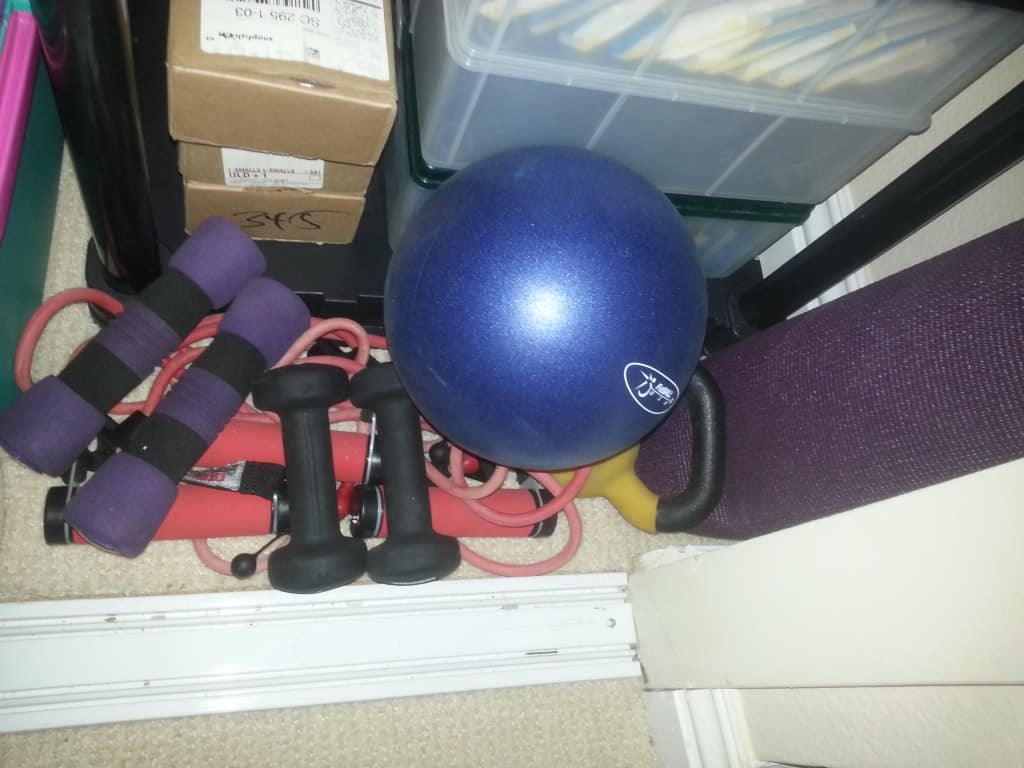 (That's my pile of the workout equipment I keep in my office/craft room.)
In my new neighborhood, I've talked to a couple of people who walk "the loop." I've been invited to go along, and the cool thing is that these ladies didn't know each other until they started walking. Social opp, anyone?
Have a DVR? Record some workouts and do them after the kids are in bed. Wii systems have a lot of options to get moving in addition to the Playstation and Xbox. There are also a bajillion workouts and videos on Youtube. Free
Block out 30 minutes a day – before, during or after work or at least on Saturdays and Sundays. When the kids were smaller, my husband and I used to pack up our tennis equipment and head to the public courts at our local park. The kids would play in an empty court (there always was one) with a ball to bounce around, so they got activity while we could supervise them during our lame game of tennis. I say lame because while we can technically play tennis, we are not good. It was a fun, free evening and got us active before we headed back in to wrap up dinner, homework and prep for the next day. Making exercise a family event can double as family night, too! We've had some crazy games of Bocce Ball even. (See, it doesn't need to be hard-core cardio – if it gets you walking and bending and stretching, it's a step in the right direction!)
Look around you throughout your day. You've probably got a lot of ways you can get exercise that you didn't think about, many of them simple things you'll find in any article about exercise: taking the stairs, parking your car further away from the door, walking a golf course instead of using a cart, walking to pick up your kids from school, standing while you're on a conference call. (I've even been known to do squats while brushing my teeth and doing arm weights while on hold.)
Whatever you do, don't undervalue exercise. Talk to your doctor (that's the only medical advice I'll ever give!) and enjoy the break from your normal routine!
Now that I've talked about exercise, time to get ready for my lunchtime run! Gotta be able to burn off the cupcake or frosting I'll be taste-testing this weekend!