When I was growing up, my parents used to tell me I was German (by way of my mom's side) and French (via my dad's side). As a kid, it was enough, but as I grew older, I wanted to know more. My dad's darker coloring spoke to the possibilities of Spanish ancestry he'd mentioned, but my mom was not close to any of her family, and most of my dad's side had passed, so I had very little information to go on. Now though, home DNA test results have changed everything, making it very easy to learn more about your true ancestry.

I could tell you all about my upbringing here, and what type of culture we shared at home, but how about I skip ahead and tell you about the product I'm trying: a Nebula Genomics DNA test. Fast, easy, and done in the comfort of my own home, I'll have my home DNA test results in no time.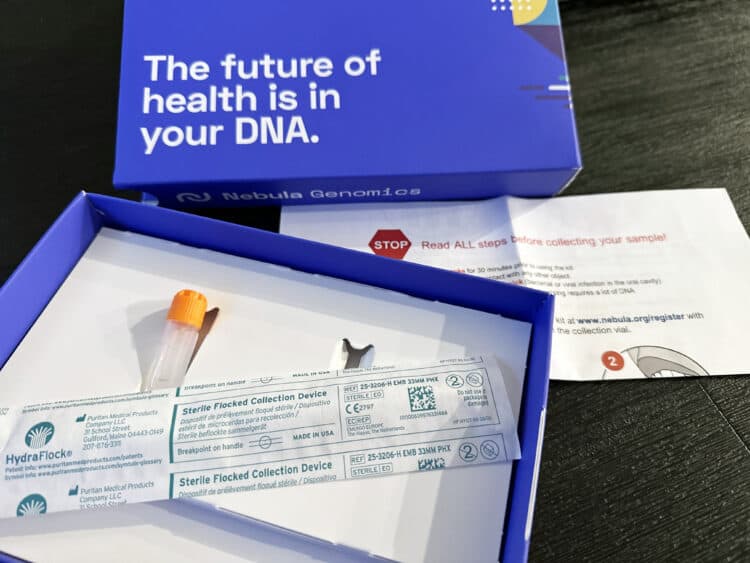 How Do I Get Home DNA Test Results?
The process of using a Nebula Genomics DNA test is simple. Buy the kit online, and it is shipped to you within 72-hours. Once you've received it, follow the directions and swab the inside of your cheek. Place the sample back into its shipping container and return. Nebula Genomics will send you an email once the process is done and you can then view your DNA test results.
There are various levels of membership and testing, depending on your needs. For me, I just want to be able to learn ancestry basics and build my family tree. You may want a more in-depth report, which decodes 20,000 genes or generates even more gigs of DNA data. You can learn about genetic mutations and have access to genome exploration tools, too.
All tests require a membership to the program; this allows you to constantly add to your family tree and use the information you've learned to find out more specifics about your ancestors. As more data is gathered and more people are in the database, you will receive updates to your DNA results as applicable. This ensures you'll continue to benefit from your test so it becomes even more accurate as time goes on. No, your DNA doesn't change, but as databases grow, there is more information available to get pretty granular; what once would have been labeled as North African could at one point be labeled as Algerian, as just an example. (I personally learned a few years back that I had North African ancestry and am still hoping to learn which part! It doesn't matter to me in the end, it's all fascinating, but how special would it be to find out?)
Shipping on all tests is free, and the testing kit comes in a small, sturdy box to prevent damage on its way to you. It was really easy for me to do and took less than two minutes to take the test and repackage for return to Nebula Genomics. For $99, you can get a lifetime membership to their genealogy platform and your home DNA test results. I haven't yet received my results; they say it takes about 12-14 weeks but I'm hoping it's faster. Once I get them back, I'll be doing another post and sharing what I've learned!
Let me know if you're considering ordering one and what you find out when you receive your home DNA test results! (I wanted to find out I was adopted. It would have explained SO much.)