In the past few years, the discussion about CBD has changed from it being taboo to how to secure some. The benefits of CBD are becoming more widely known, and people who were hesitant to try it are now proponents of it in its many forms. It's fantastic to see the stigma disappearing.

If you're unclear about the difference between THC and hemp CBD products, Google is a wealth of information. Do some research before you judge, because non-THC products are readily available and do not cause a "high" effect that people associate with cannabis.
As a person with an autoimmune disorder than can cause a great deal of pain during flares, I was desperate to find things that decreased my discomfort. I'm on <very expensive> biologic medications, but I still suffer some joint pain that nothing touches. RA is a whole-body disease, not just swollen and/or painful joints, and it can cause extreme exhaustion, sensitivity to touch and a litany of other uncomfortable symptoms. No two RA sufferers are alike, but we all struggle with varying degrees of difficulty with mobility during flares.
On that note, I am not a doctor and nothing you'll read here is medical advice.
What are the Benefits of CBD?
This is where the benefits of CBD have most affected me. CBD salve or cream, applied gently to my affected joints (my knees, my hips and a wrist) has mitigated some of my discomfort. CBD sleeping gel pills can induce more restful sleep, and tinctures can bring a sense of calm, and if you're calm, your stress level decreases. It can also help reduce nausea. It's pretty incredible that one line of products can be so beneficial, so when Joy Organics reached out to see if I wanted to try their products, it was an immediate yes.
I was sent this bundle of Joy Organics products to try. Each product is available for purchase online on their website, and there are frequent sales with discount codes to make purchases. Joy Day is being celebrated on February 21-23, so if you use code JOYDAY during that time, you can save 30% SITEWIDE. In fact, since you're reading my blog here, the secret's out: you can use it beginning February 16! This won't be publicly available on the Joy Organics site, so take advantage of this sale to try the benefits of CBD for yourself. A percentage of all sales during the JOY DAY campaign will go to two mental health organizations, so your purchase will not just help you, but others, too.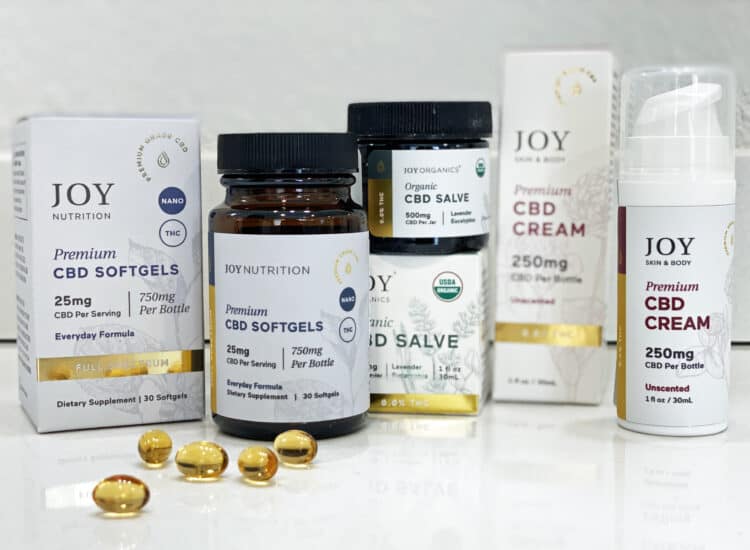 I have tried all three of these products, and can say without a doubt that they had the effects I'd hoped for. The salve has a pleasant lavender scent that's not overwhelming, and there's no residue to get onto my clothes or bed sheets. Same with the cream, except it is unscented.
The soft gels are a game changer for me. I've tried ingesting CBD with THC products before with mixed results. I'm a mom who runs two businesses, and I can't risk being sleepy during the day. These easy-to-swallow 25 mg Full Spectrum CBD Softgels with THC are my favorite. If you're worried, the THC is less than 0.3%, so you get the all-day sense of calm without any high. I can take one of these and feel better without any effect on my productivity. Winning! And the Joy Organics soft gel capsules use nano emulsion technology to give a four times the absorption rate requiring you take less for full effectiveness. This makes them one of the best ways to absorb CBD.
Tincture Tip: put it into a smoothie or shake! Joy Organics flavors are great, but you can add it to a beverage to not have to take it on its own OR to change up the smoothie flavor a little!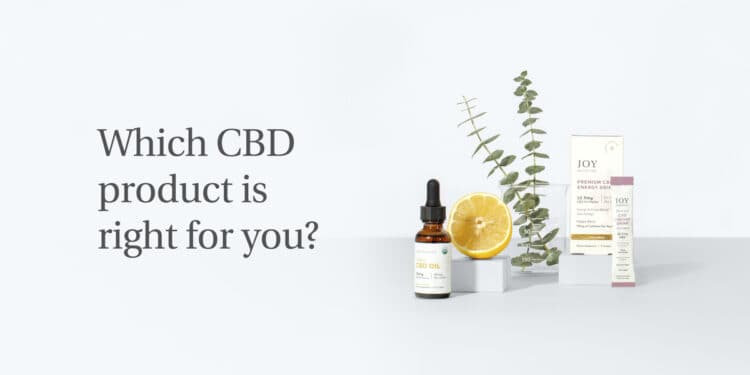 Here are some additional facts about CBD and THC.
CBD stands for cannabidiol oil.
THC stands for tetrahydrocannabinol.
THC-free CBD oil is legal in all 50 states.
THC oils are legal in 44 states. (And those numbers are rising!)
You do not get high from CBD; the removal or reduction of THC eliminates the mind-altering effects.
The benefits of CBD that I listed above are pretty common, which makes it a nice option for people who want to try alternatives to traditional treatments. Choosing from the many products at Joy Organics — including broad, full spectrum, THCV and Delta 9 — also means you'll get pure, effective and safe products from the #1 USDA-certified organic CBD brand. Each batch is tested for potency, heavy metals, and pesticides. They are made in the United States only, with certified organic carrier oils and beeswax, as well as organic pesticide-free hemp.
Joy Organics gives you an affordable way to try new top CBD products and see the benefits of CBD for yourself. Shipping is free over $50 and there's a 90-day return guarantee option. You can't lose!