If you're new to NASCAR or you're a "it's just a bunch of left turns" kinda person, let's talk. I mean, I get that not every sport is for everyone, but until you've watched an entire race and given it a little time to marinate, you may be missing out on so much. NASCAR isn't just cars following a track; it's about logistics, strategy, fuel consumption, skill, car builds and bravery…and the smell of burning rubber. Give me the next five minutes and I'll give you everything you need to know about attending the upcoming Pala Casino 400 NASCAR race at Auto Club Speedway in Fontana, California.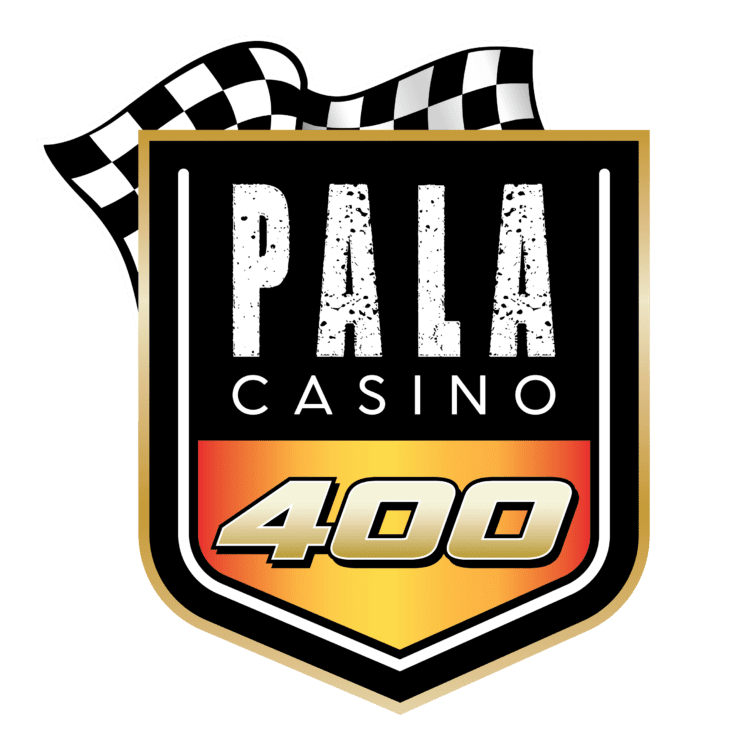 Disclaimer: this is my home track. It's the track that sucked me in to the sport, and it will always have my heart for that. However, we've been to a ton of races across the country and my favorite is Bristol, Tennessee, followed up by Darlington, South Carolina, aka the Lady in Black. We have favorite front-row seats at the Las Vegas International Speedway and our trip to Dover, Delaware, was memorable. We've had the track president randomly pick us up at a track and take us infield. I've been invited into my driver's pit box and had entire pit crew teams take pics with me — I have a weird habit of buying boots that match the team's colors. Over the top? Maybe for some. For us? All part of the fun.
This weekend's race is the last on the two-mile track. The track is being mismantled and turned into a half-mile track. This means there will be no 2024 NASCAR race at Auto Club Speedway. Major bummer for us local NASCAR fans, but in the big picture, could be a lot of fun. It's a historic weekend with the final five-wide salute. We were there on opening weekend back in 1997 so it's a bittersweet weekend for us. This year also marks the 75th anniversary of NASCAR!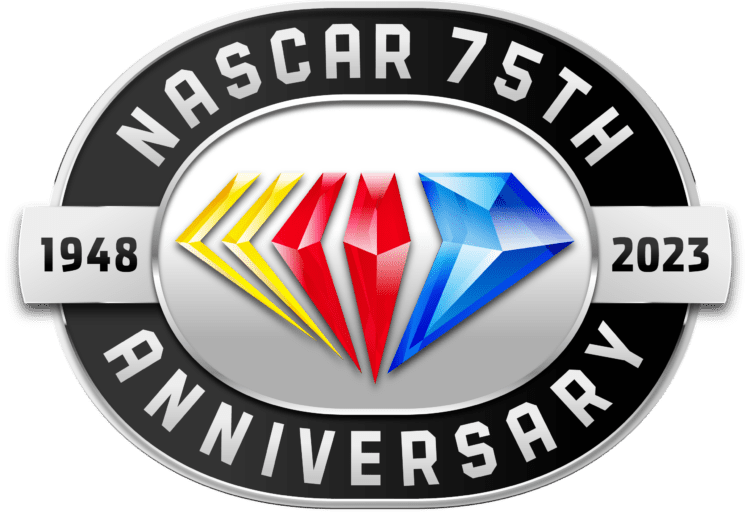 NASCAR gets a bad reputation sometimes. No, the stands are not full of drunk people. Are there some? Yes. But I promise you this — most NASCAR fans LOVE to talk with newbies. I learned more about the sport by meeting people alongside the garage watch or during practice the morning of the Xfinity race. They are good people.
Which brings me to my first thing: what's the difference between the Saturday and Sunday races on NASCAR race weekends? There is the Xfinity race and the Cup Series race. The Cup Series is the top-level of drivers, and the name of the race changes depending on the main sponsor/s and the length of the race, such as the Pala Casino 400, the February 26 race this year. (You can follow it on social at #PalaCasino400.) The Xfinity is made up of newer drivers or those who haven't advanced to the Cup Series. It's more affordable ticket and can be a great day to attend with your family if you're new. There are practice sessions to watch, there's time to shop for gear outside the stands, and if you have kids, there are always some fun child-centered vendors.
And yes, there's beer. There are also cocktails, high-end food and the typical grandstand hot dogs and burgers. As years have progressed, so have the food choices. I don't eat red meat, so years ago, it was harder for me to find pescatarian or vegetarian food options. Now it's easy.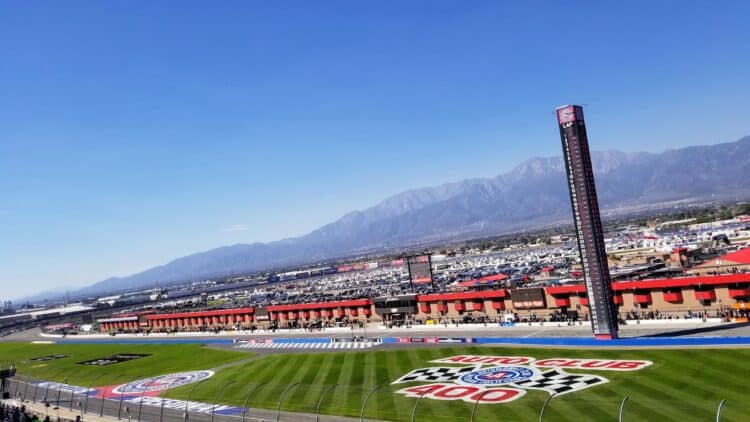 On Sundays, guests with pit passes can sign the start/finish line at Cup races. On Saturdays, you can also walk alongside the pit boxes and get up closer to the cars and teams making small adjustments. You can also do this on Sunday, but you won't see the same level of activity, it's typically just the teams and all their very important gear. If they're not busy, most are very happy to take photos with you or let you nearer the box for you to also take photos.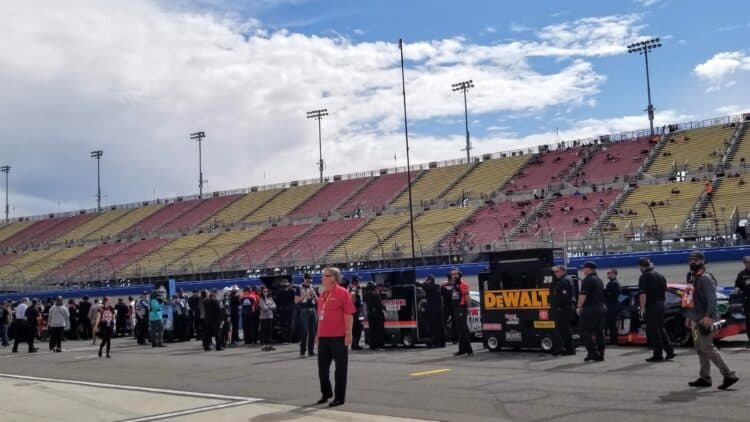 Important notes: close-toed shoes won't work here, and my recommendation is to dress properly. Dresses aren't your friend here. Listen for whistles and horns — the cars come in and out through the garage tunnels FAST, and when security or NASCAR staff tells you to stop behind the barriers or get through that opening fast, DO IT. Drivers are in a hurry and those cars don't stop on a dime. Also, open drinks aren't allowed on the pit road side; I feel like the reason for this is obvious, but we always see people get huffy when they are told to dump or chug that drink. Safety matters, not just for you, but for the other guests.
Parking isn't a free-for-all. When you purchase your ticket for a NASCAR race at the Auto Club Speedway, you'll receive a tag to hang from your rearview. It will come in the mail closer to race day. Before you get on the phone to buy your tickets, look at the map of the lots at the Auto Club Speedway website. Then, be ready to ask questions. We live less than a mile north of the Speedway…directly north, to where our development is blocked off for entry on race weekends, and we can hear the cars from inside our homes. (It's SO cool…and since we're at the track every NASCAR weekend, we only know it from random testing weekends or that one year we had a sick kid and I took one for the team and stayed home on a Saturday.) We can only use the Orange parking lot. It's the farthest walk to enter, but it's the only exit that allows us to go north. Otherwise, it takes about 35-40 minutes for us to go down south, finally turn west and hook back around. You don't want to make this mistake.
When we park, we look for an end spot along a grassy strip. We tailgate with a morning mimosa after burritos from a local restaurant and we play corn hole a bit before going in. (If we're doing media coverage, we skip this part but we have so many memories with friends and family!) This also gives us faster access to the egress route, as it can get a bit hectic. Be patient. California fans are pretty cool, but there's still a ton of cars being let out onto a main public road where a lot of non-fans are still driving.
Go early. You can get better parking and the experience of people watching is a lot of fun. We've made some great friends — as in, over a decade later friends, people we've met while tailgating or hanging out in the lot. We tried moonshine, made from a still on the back of a guy's truck, in Bristol. We were always taught, and taught our kids, to not take candy from strangers. Moonshine though? Sign me up, where else will I get to do that? Those guys were a blast and that moonshine was an ass kicker…in a good way.
When you go to your seats, scout out restroom location. At the Auto Club Speedway, the ladies' rooms can have some pretty long lines. It is often faster to go down the escalator and use ground floor restrooms. (Don't all do this though or the lines will be too long and then it won't help.) Look at your food choices, too. I always give the husband choices: I'll take a King Taco chicken burrito, a salmon wok bowl or a pork sausage roll. He can choose the one with the shortest line. Get your food and beverages early, if you can. It's easier than going back up/down the stairs, as the only escalators are to the first level. Above that, you're walking. There are elevators, but they are limited and you may have to wait. Also, no strollers in the stands. There's no place to leave them near your seat.
Vendors do walk the stands selling beers, popcorn, water and other snacks, but be ready. It really stinks to be behind a person who can't decide, has to fiddle with their wallet or asks a bajillion questions while they and/or the vendor blocks your view. Always be considerate of people behind you.
That said, when walking the stands to your seats, go from the shortest side. And more importantly: people who sit in the front row do so SO THEY CAN SEE THE RACE. They pay for that view. Don't park yourself along the fence in front of them, it's just rude. A quick photo? No problem, we all do that, but ruining it for someone else is a no. Buy a front row seat if you want to do that.
So, back to details for this weekend's Pala Casino 400. Here's the schedule for the race. Unless you're infield, it's pretty much Saturday and Sunday only now; the hauler parade is also in the Auto Club Speedway lot on Saturday at 1:15pm. (This used to be a Thursday night event, and tbh, I miss those days!)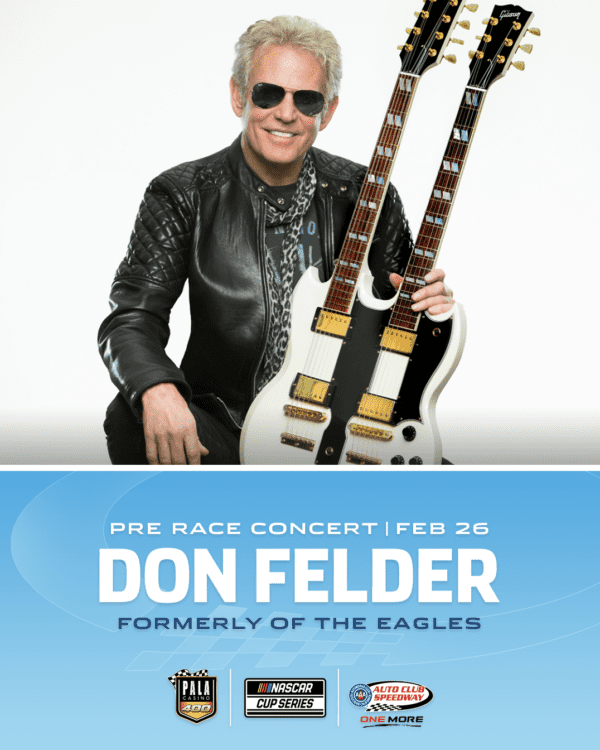 Entertainment is going to be fun! Don Felder, formerly of the Eagles, performs pre-race on Sunday. There are various concerts infield, which requires an infield wristband (sold only in limited quantities associated with each RV spot) but there are also a lot of performers on Saturday outside in the fan zone. There are also driver story times, where drivers read to the kids in the kids' zone. NASCAR is definitely a family-friendly sport.

Sunday's festivities have all been officially released, so here are a few other details:
Alfonso Ribiero (actor known for Fresh Prince of Bel Air and more) is the honorary pace car driver
Misty May-Treanor (olympic volleyball player/star athlete) is the honorary starter — she will wave the green flag from the flagstand
Micheal Rooker (aka Yondu in Marvel or Rowdy Burns in Days of Thunder) will give the "start your engines!" command
Jacqie Rivera is going to sing the National Anthem before the Pala Casino 400 starts

Read the gate entry policies here. Don't be that person giving security a hard time. (That said, sometimes they can be a little overzealous, so be prepared to open everything. We got questioned for water bottles once, so just an FYI, but they do allow them and refillable bottles in. Above all, be smart. No glass, no dangerous items, and no umbrellas.) Get your clear backpack in advance and put away that tripod.
Scanners and cushions are available to rent. Scanners can be a lot of fun! Bear in mind, as with any sport, passion and frustration can sometimes result in a few curse words. If you're going to put that headset on your child's ears, now you know in advance and can't complain if your child gets an earful. Admittedly, the first time I heard a driver rant, I was a little surprised — but I always really enjoyed it. They love their sport, and they literally put their lives on the line doing it. They're entitled to a good rant or expression of anger. They don't all do it, by any means, but some are more known for it. Consider yourself warned.
What Should I Bring to the NASCAR Pala Casino 400?
You can buy almost anything you need at the track, but bringing it yourself is cheaper. This includes:
Sunscreen
Seat cushion
Ear plugs
Water (in plastic bottles in soft-sided cooler bags)
Wet wipes (some restaurants give you a few, but none will provide you napkins due to the safety factor of them blowing onto the track)
ID, cash and a debit and/or credit card (since COVID, some places are cashless, and sometimes machines break)
Layers (SoCal weather can change fast, so be ready)
This weekend, add in a rain jacket AND a poncho — it may be downright cold the whole time, so a plastic poncho will be a game changer. NO umbrellas.
Light gloves also this weekend. Thank me later. We're on the edge of the foothills here and it's our hugest storm week in a very long time.
Hat (you can get a sunburn even with the overcast weather) or buy one there
Tissues: they are great emergency napkins, but ACS has run out of TP in the ladies' restrooms more than once before the Sunday race is over. Not saying it will happen again but I'm lucky I had tissues the last two times.
The race will be in three stages. Work on cars can be done during regular cautions, but if it takes longer than 10 minutes, the team will need to work on it in the garage. These cars often make it back on the track, so if you choose to root for a driver who takes that left turn into the garage, don't give up. They gain points for where they finish, or if they're a leader during a stage, and each team has a different strategy as to when to change tires, whether to change two or four, when to just get gas, etc. Mechanical issues, flat tires, there's always action and that doesn't even include potential wrecks. The Pala Casino 400 is 200 laps, which isn't a short race, but with the long stretches of track, there are typically less cautions.
Weather this weekend is questionable, so whether or not Sunday's race will take place on Sunday or be delayed is up in the air. NASCAR does everything they can to get the race in as scheduled, but our SoCal weather this weekend is part of this huge winter storm and we may actually see snow here tomorrow. If they cannot do it on Sunday, they may do it on Monday or Tuesday. We've seen more than one race on a Monday because the weather wouldn't cooperate. We've also sat in the stands for hours under ponchos and waterproof blankets trying to stay warm until they call it for the day or the track dryers can make it safe for the cars to get back on the track. (Drivers need to be able to go home safely that night, too.)
I hope you give it a try! And I hope this really basic breakdown is of some help. This article about NASCAR basics is really helpful, and here's some info I wrote about the NASCAR Clash at the Coliseum, which also shares a little about racing. If you have a specific question, reply or find me on social! (Links are up at the top right, and I'm pretty active on both Instagram and Twitter.) Hope to see you at the race!