As a working mom and busy entrepreneur, I often forget to schedule in down time, moments where I can focus on relaxing and pampering myself. Most moms out there can relate, because we fill our calendars with appointments, tasks and errands, and sometimes forget our own needs. This is why we all need a Glen Ivy Spa Day.
This week's schedule contained a litany of odds and end appointments, and despite not feeling like doing much of it since the loss of our precious pup, Missie, I forced myself to get out and about. I got my grey roots covered and then spent 90 glorious minutes at the nail salon getting a mani, leg/foot massage and pedi. I even treated myself to special Halloween designs and I could not be happier with the little spurge. Sitting in that massage chair was the quietest moment all week long, because I couldn't focus on the bad or the sad as I talked to my nail lady and we joked about the news.
However, if I'm completely honest, pampering myself feels like a chore. I have to cover my roots, I have to get my acrylic gel nails filled, I have to keep my hair trimmed. How do we pamper ourselves and not have it be something we dread scheduling? Set up a spa day!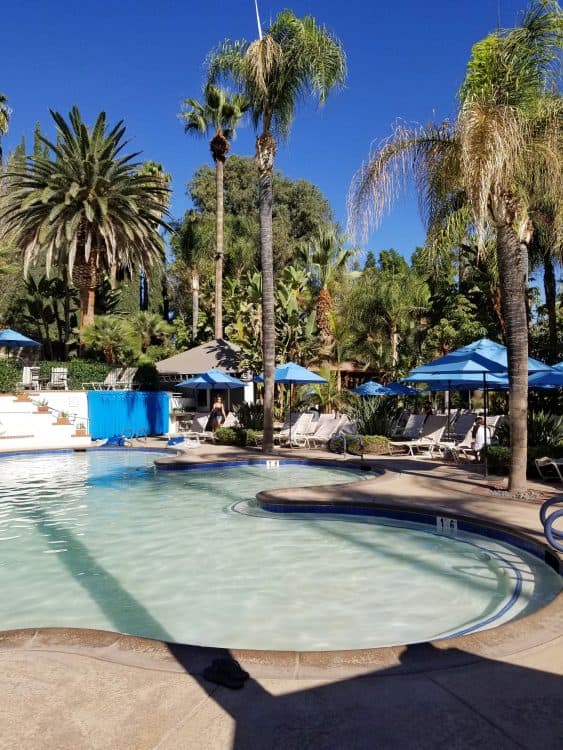 The Glen Ivy Spa in Corona makes it all so easy. You can buy your tickets prior online, so when you arrive you wait in a short line to sign-in, then head off to spend your entire day your way. If you want to spend the extra money — which is well worth it — you can book a massage or facial or other specialized treatment. (If you have an early morning massage or treatment, or you've booked one of the private cabanas, you have a special line to wait in so you don't waste time.)
Thank you, Glen Ivy Hot Springs, for giving my daughter and I a free day so we can experience it and then share it with everyone!
Glen Ivy Hot Springs is a little piece of Heaven off of the 15 freeway just south of Temescal Canyon. It opens at 9am and I recommend arriving a few minutes earlier, if possible, to get a jump start on the line. Parking is easy most days, but on a busy summer day, you may have to park a little further away as the spa can get crowded.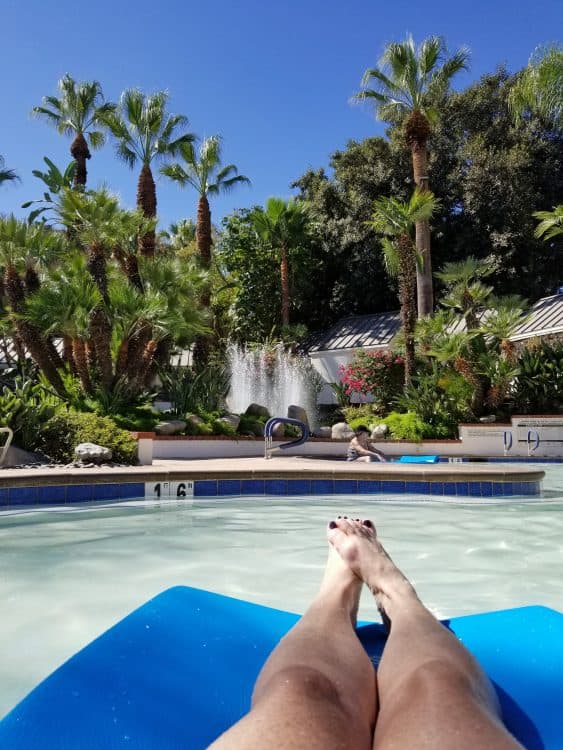 We typically head in, right towards the float pool, and enjoy a few moments of "ahhhh, we're here" time on a lounge. The seats get taken fast, so we learned early to follow what others do and reserve your lounges with your shoes or other personal items. (A group actually moved our stuff one time, and even though we saw them do it from our spot in the pool, they denied it and we had to go retrieve our phones, shoes and hats. Don't be that person.) The big float pool has mats available for use, for free, first come, first serve. There are also bean bag-type floats available, and they are SO comfy.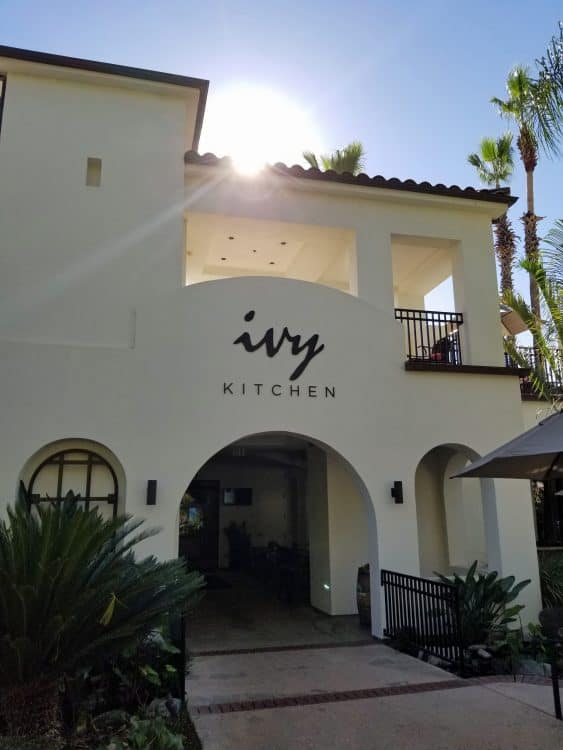 The Ivy Kitchen puts out spectacular spa food all day long. There are many choices available, made with sustainable, organic ingredients. If you're gluten-free, vegan or vegetarian, you will be happy as the menu suits everyone's needs. My favorite is this ahi salad, which I may get every single time I'm there. The fresh flowers add a fun punch of flavor, and the fish is extremely fresh.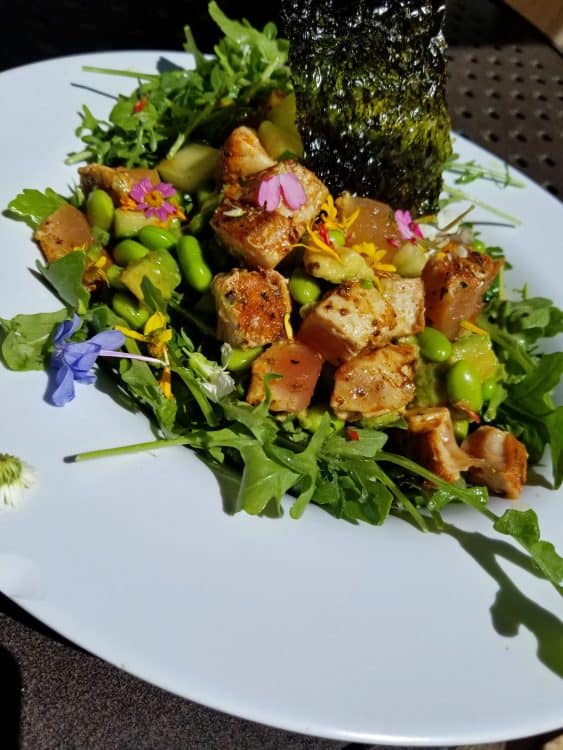 You need to start your day though with the mimosas. Find a quiet place to sit and relax, like these two rocking chairs up the stairs in a gazebo, right by a peaceful fountain. Cheers!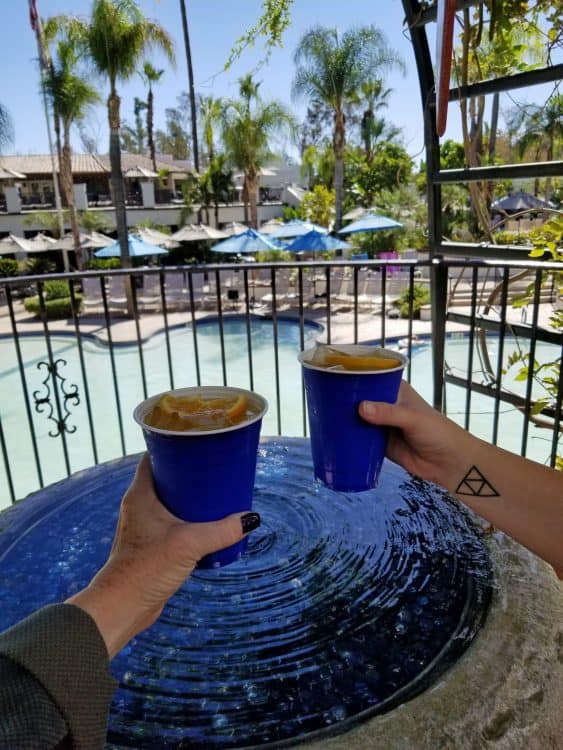 Throughout the day, you can choose which of the many pools to spend your time in. The sulfur pools are excellent for your skin, and truly heated from underground hot springs, but they do fill up quickly. You may need to wait a few minutes for people to exit so you have space, but I recommend just keeping an eye out as you walk around. When there's an opening, take it! There is a suggested time limit of 15-20 minutes, and it goes fast but you exit with your skin feeling soft. This vista pool is also a favorite.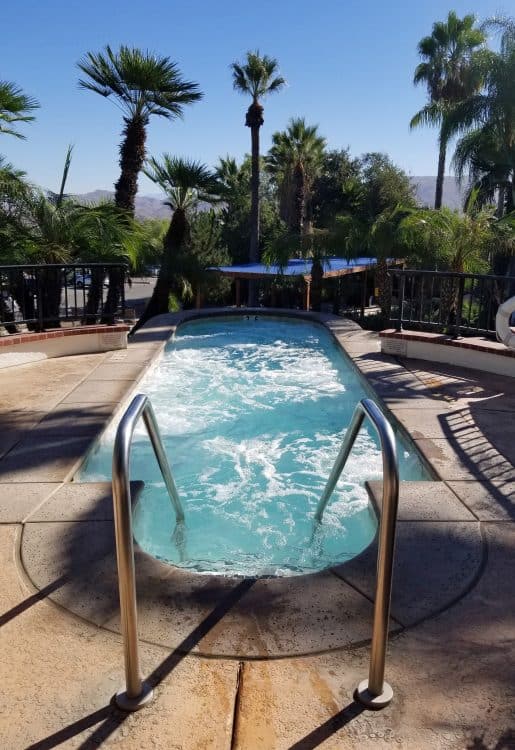 The cold and hot plunge pools are a blast! It's easy to bond with other guests while you go back and forth between the two temperatures. (Read the signs for medical advice before entering.) 45-60 seconds per dip, we did it a series of six times so we could say we really got the whole experience. So much fun!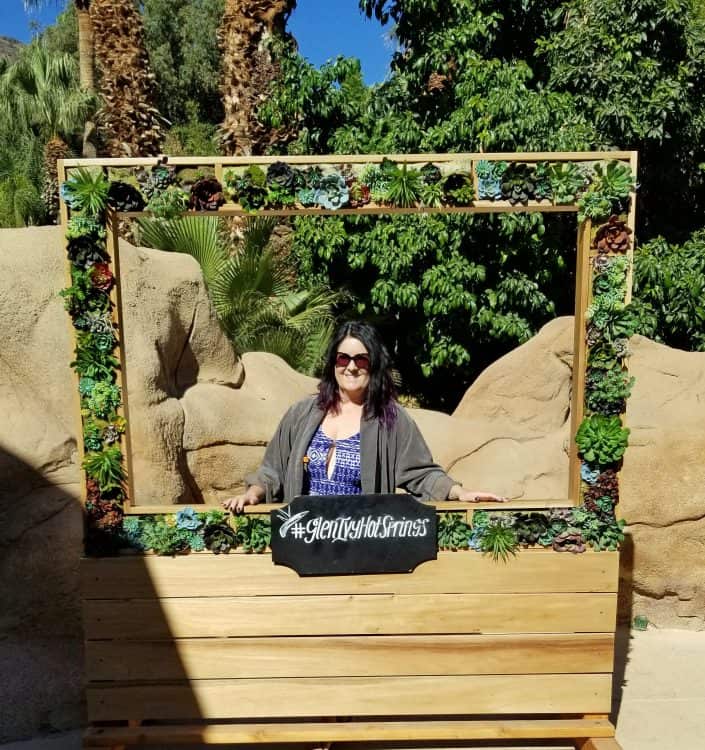 The Grotto costs extra, but it's worth it. Reservations are required, but do it once and you'll see why. You are escorted down an elevator (which is actually ground floor, but you feel underground) to a cave-like area where you are painted head-to-toe with a skin moisturizing treatment that smells SO good. From there, you'll enter another 'underground' space for 10 minutes or so, allowing the treatment to do its thing. Then you go rinse it off in showers built into the walls of the 'cave,' and exit to sit in the hydration area, where you will enjoy infused waters and/or hot tea and green apples. The waterfall sound makes it even more peaceful, as though you really are in a private space. Once you exit, you are rejuvenated.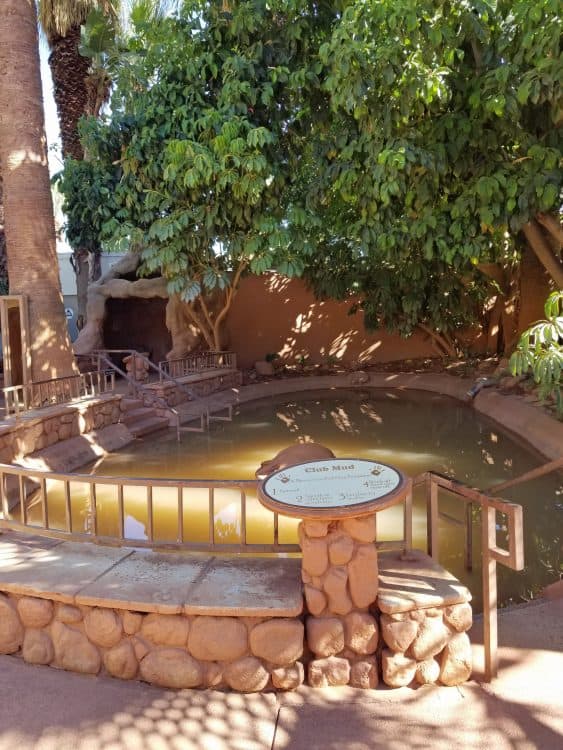 Another treatment to try, preferably right before the Grotto, is the Club Mud. It is included in your "taking the waters" admission, and is something everyone has to try at least once. You step inside a separated area, then step down into a pool with a mud pile on a platform in the middle. Rub the mud all over yourself, then let it dry, either in the sun or in an enclosed area. We did a little bit of both. Once dry, rub it off and then rinse the rest off in one of the special mud shower areas. It is recommended to wear a suit that you're okay with if it gets dirty and/or stained, though I've never had any problem getting the mud off.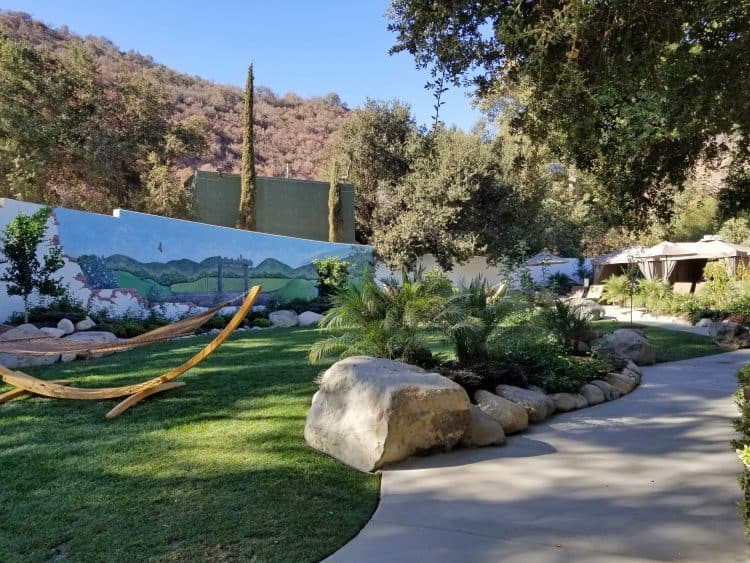 There are two saunas, each with a different scent, and we usually do those near the end of the day. One thing you cannot miss now is the new Secret Garden. It's on the far end of the spa, in an area you'll have to directly look for as it's almost hidden. There are a few hammocks to snooze in, amongst a field of bright green grass, but my favorite part was the series of wood rocking chairs in the middle of several fountains. It was so quiet! We took over a glass of wine and rocked for a good 30 minutes, only seeing one other person. Don't miss checking it out!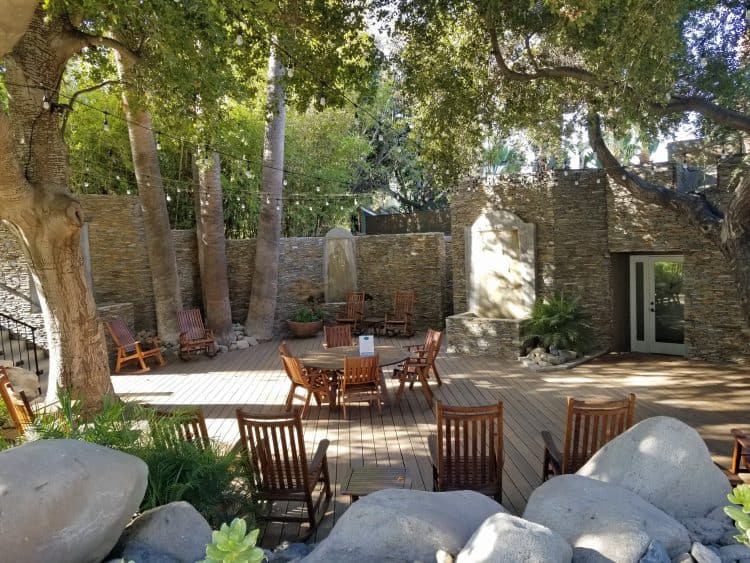 I'd be remiss if I didn't mention the cocktail bar in the central area of the spa, just by the health food smoothie and juice bar, where you can get coconut water served in whole coconuts. The cocktails are delicious and they offer a wide variety of options. There are frequently seasonal options, like the mango jalapeno margarita, rimmed with tajin. They also offer several options of wines, and if you don't want to get out of your comfy spot in one of the many heated pools, there is poolside service in most areas.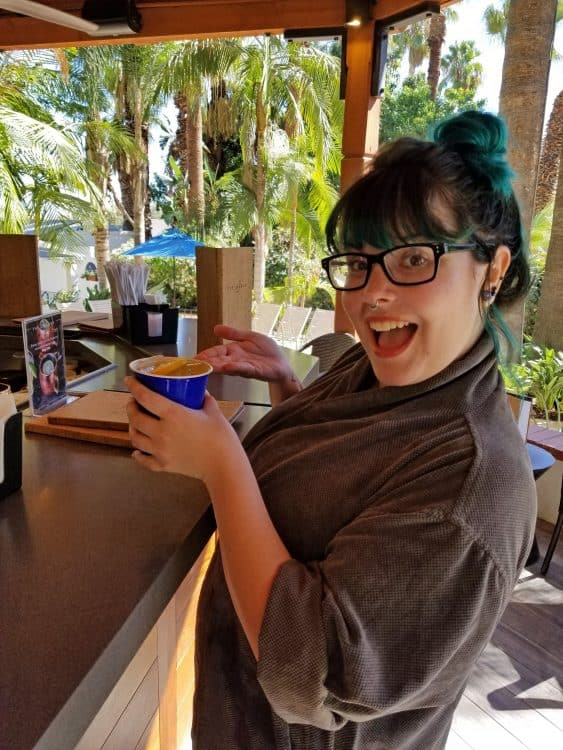 We arrived at 845am and didn't leave until 545pm, just as the spa was closing for the day. (There are twilight hours on some nights, along with special musical entertainment, but that is a separate fee from the day rate.) If you wish to partake, there is water yoga and water aerobics in the main pool next to the sulfur pools.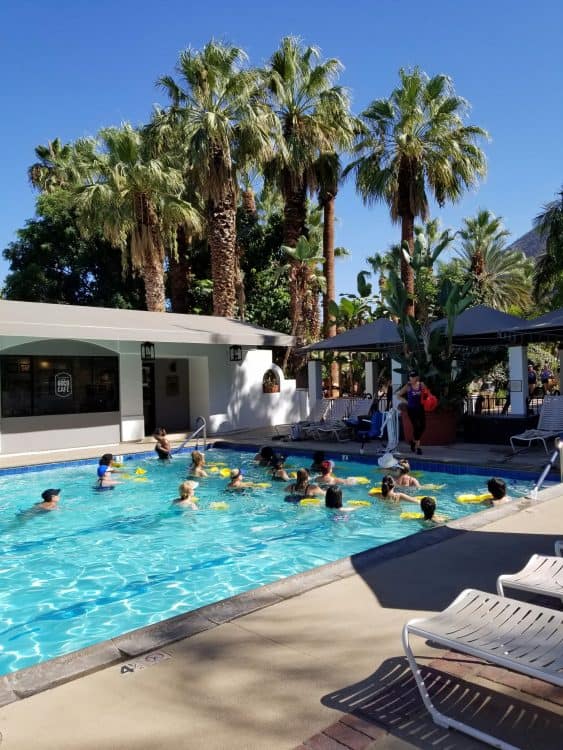 Our day was wonderful. We were soft, smelled good and ready for the rest of our day as we left, thanks to the changing areas provided by the spa. Individual showers, blow dryers, various products and soaps are provided to allow you to change back into your regular clothes. It is a high-end spa experience at better than high-end prices! Visit their website and book your Glen Ivy Spa Hot Springs day today!