I was compensated for this post and this post contains affiliate links. I will be compensated if you make a purchase after clicking my links. Keep reading for more info on the Noom health app and you!
It's now over a week into the new year and I'm down two pounds. Getting through the holidays without gaining weight was tough, and I have to say I'm pretty surprised I made it. I didn't hold back. Egg nog? Yes, please. Bourbon in it? Of course, and did you know, DiSaronno is good in it, too?
I'm not a big cookie eater, but I made a bunch of my family's favorites and one of them was Meringues. Here I thought I was doing good by not making soft sugar cookies covered in a thick layer of frosting, but in one afternoon, I randomly had eight meringues. EIGHT. That's enough sugar for three days, much less one three-hour span.
I justified it for those few weeks by saying "It's the holidays, I don't eat this stuff the rest of the year. I'll go take a walk later today anyway…" I honestly eat pretty well most of the year, but what is it about the holidays that has us throwing caution to the wind and just enjoying life?
Whatever it is, I'm okay with it. Life is short and I never want to be following a dietary plan that's so restrictive that I can't enjoy myself. That's what I love about the Noom health app. There's no feeling of failure. I have learned good approaches to life and food, and taking a break from that for a few weeks doesn't mean I have to start over. Such a relief!
Now that the new year is here though, I am getting back on track. I'm getting back to making the decisions that make me feel healthier. I'm saying no to that glass of wine and to the veggie burger covered with cheese at the family dinner. I'm saying yes to the gym, yes to taking a walk and yes to taking some extra trips up and down my stairs to meet that 10k. I'm also saying yes to the Noom program with my daily session!
I joined a 'midlife' health group on Facebook, but sometimes you just don't want to say things publicly. You have questions more specific to you, and comments directly related to your own program and focus. This makes the coaching system of the Noom health app a real added bonus. Your coach is there for you when you need her/him, and you can be as open as you feel comfortable. I love that, and I reach out to mine via the app, so I don't even have to leave my house! (And I don't have to step on a scale in front of anyone either!)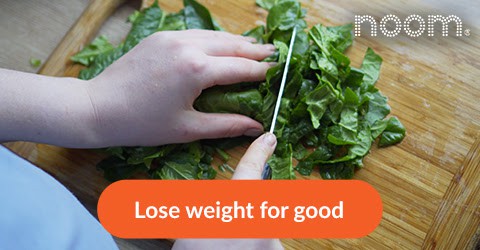 Noom is helping me be independent with my weight loss approach, while educating me on principles to apply to not just food choices but often, life in general. In only about 10-15 minutes a day, I get motivated and can start my day off feeling like I'm on the right track. (Honestly though, there have been days where I am behind and do it later. Or I miss a day. And if I do? No biggie, I can catch up at any point OR I can rewind, which is hugely helpful if you fall off the weekend.) No meetings, just a slow build on skills we all need.
Resolutions don't need to be stressful, and you don't need to set yourself up for failure. Be realistic with whatever type of goals you go for, and you don't have to go it alone. Noom's affordable and I use it in conjunction with my gym membership, but you don't need to. You can exercise at home, with whatever favorite online program or app, or out in your neighborhood. In the end, you just need to make the commitment to work on healthy choices. It doesn't have to be perfect, it just needs to be a start. Head over to Noom, install the health app and take the first step today with a 14-day trial! (And as always, check with your doctor before beginning any dietary or physical program!)
Happy new year!