I have a confession: despite frequently writing about fitness and attempting to be healthy, I don't drink enough water. At all. I have good intentions to start off each day the right way and finish it even better, but good plans have a habit of going awry. I get in a few glasses of water at my desk, and maybe half a bottle from my nightstand before bed, but I don't drink nearly enough, especially when running and it's something I really need to improve. It might just get easier with these new hydration bottles from Trudeau.

Trudeau Hydration sent me three hydration bottles for the purpose of testing and reviewing. Their line includes a large selection of water bottles, tumblers, mugs and infusion bottles to meet all your needs. I received three totally different bottles: the pink breast cancer-themed mist bottle, the glass fruit infuser bottle and the large 17 oz. plastic bottle. I tried out each bottle and can honestly say they have each earned a place on my shelf.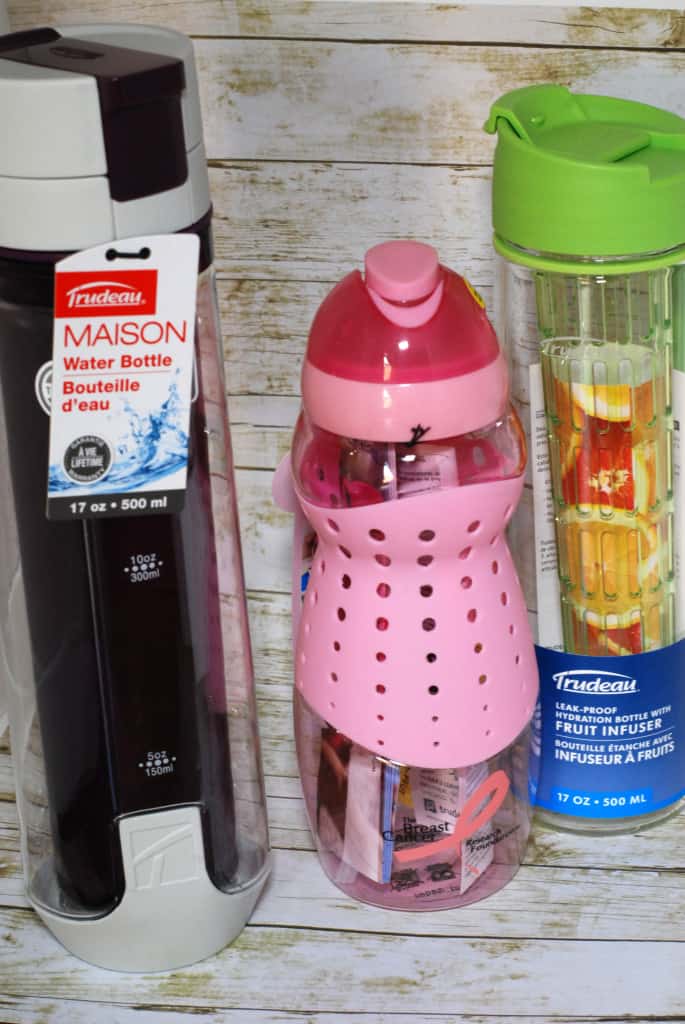 The 17 oz. plastic bottle came in purple, which is awesome given that it's my favorite color. It is easy to hold while running, has a small carry strap (not big enough to go around your wrist, just to loop fingers through) and the lid is snug. It's light to carry and didn't leak when bounced. The water stayed cold for quite some time and I didn't experience any sweating after I set it down on the desk afterwards. The bottle disassembled easily for cleaning and hand-washing. (I don't put my water bottles into the dishwasher; I prefer to hand wash and dry them all.) It also matches a lot of my running attire!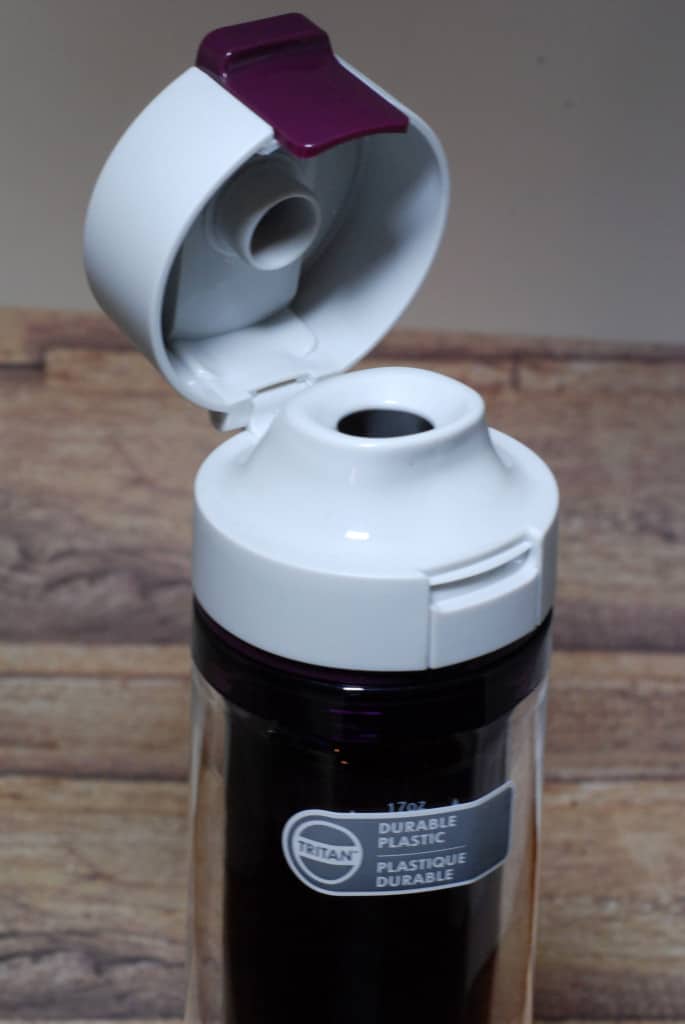 The fruit infuser bottle leaves me no excuse whatsoever to not drink enough water. Who doesn't like water with a light fruity taste? The inside cylinder has holes big enough for the fruit flavor to infuse the water but not big enough for a random seed or pit or rind to get into your water, yet it's thin enough to not impede filling up the bottle most of the way without overflowing. (I use an infusion lid on some Mason jars but they overflow easily and I don't feel like I get enough water in each one before I'm filling it up again due to the volume the cylinder takes up.) It's as easy as the plastic bottle to clean, even with the couple of additional pieces. The lid snaps tight and the carry strap is the same as the plastic bottle, though I wouldn't run with this one. There's even a pulp filter so you don't get unwanted chunks in your water.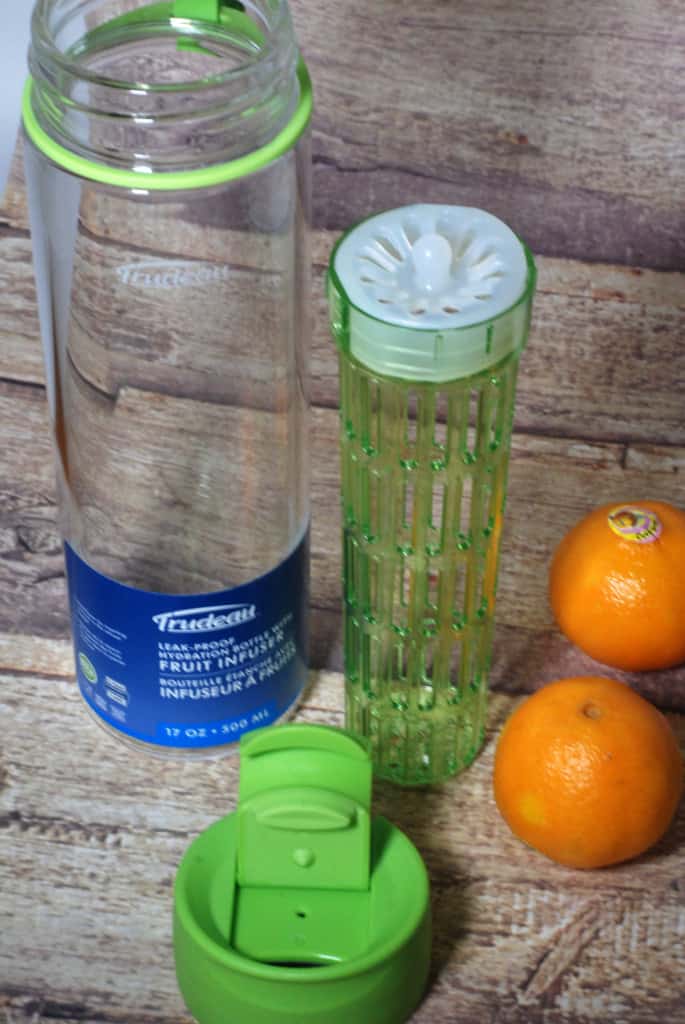 Then there's the breast cancer pink mister. This one's too fun! It doesn't have a carry strap, but it does have a rubber grip around it's curvy ergonomic middle, making it easy to hold while running or even sitting on the beach, wherever you need to drink your water as well as stay cool. The straw stays clean, tucked inside the two-in-one lid until you twist it and the straw pops out. The mist button depresses with just enough force that you don't accidentally squirt yourself in the car. This one went with me to an amusement park and not only saved me from having to spend a lot of extra money on water bottles, but it helped me keep cool on one of the last few hot days of our fall.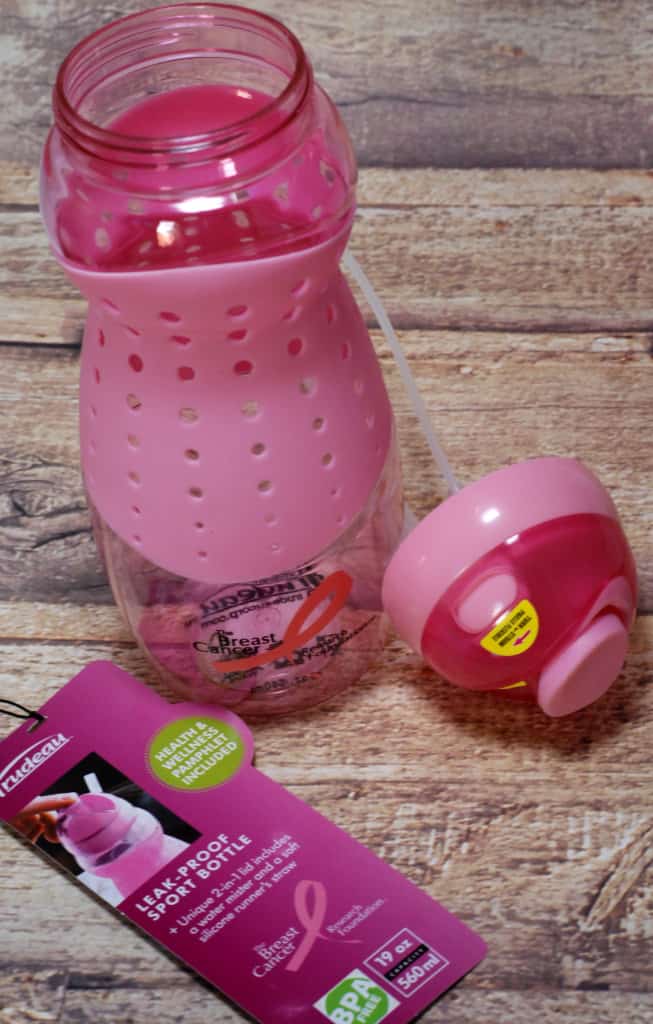 I'm clearing a few other bottles off my shelf so I can store these Trudeau hydration bottles permanently. They're BPA-free and eco-friendly, so you know you're safe when you opt for refillable bottles over store bought bottles that fill up our landfill, unless they're recycled properly. (And those stats aren't as good as they need to be!)
Check out the Trudeau website for a better rundown of all the Trudeau hydration bottles as well as the other products Trudeau sells. You can order online and right now, you can get free shipping with a $75 purchase. You can also find local retail options should you want to purchase in person. Pick a favorite bottle and let me know what you think!