When we close our door each day, what do our dogs really do? Sit on the couch and watch the door, waiting on us to return? Mope about, chew a shoe or do zoomies all around the house?
Or do they secretly have a party and adventures and have way more fun than us?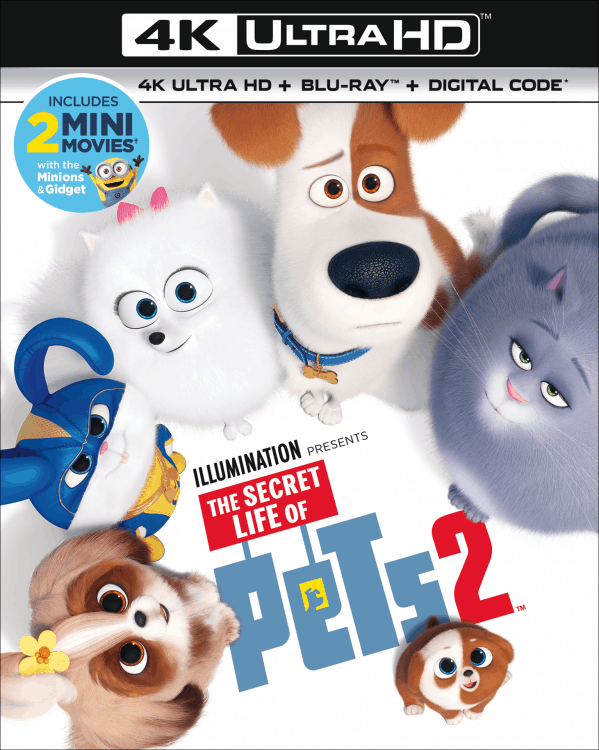 The Secret Life of Pets, by Universal Studios Home Entertainment and Illumination (the studio that introduced us all to the minions), explored this in the first movie, and part two came out in June of this year. Without giving away any spoilers, part two is the perfect sequel, continuing to show how strongly our pets are attached to us, how our lives impact theirs, and how we're all better for it.
Keep reading — at the end, I've got a free Secret Life of Pets 2 party planner for you to download!
Pets all have different households and families. While we go about our daily business, living our lives, our pets are living theirs. We have a choice in what we do in our home and introduce to our family, but pets are along for the ride. Will a new baby upset the dog? What about relationship changes? What do dogs really think when we dress them up? What do they do with all their time?
The Secret Life of Pets 2 is out on Blu-ray on August 27 and it answers the above questions and more. In similar fashion to the first movie, you'll fall in love with the pets, laugh a lot, maybe get a little teary, and if you're a pet lover in an empty house, you may want to head to the shelter…and on the way home, pick up a cute outfit for that new fur baby.
We loved the movie! The grandbaby was transfixed with the colorful images on the screen, and the rest of us laughed at the animals' antics. I admittedly still have a hard time with pet-related movies, having just lost our second pup a few weeks ago, but I love the reinforcement of not just how important our animals are to us, but how very important we are to them, and how invested they are in us. We have extensive lives outside our homes, but our pets have to navigate their own lives without us around. Animated and humorous, it still drives home how intertwined we are.
The cast of the Secret Life of Pets 2 is solid, including:
Patton Oswalt – Max
Kevin Hart – Snowball
Eric Stonestreet – Duke
Jenny Slate – Gidget
Tiffany Haddish – Daisy
Lake Bell – Chloe
Nick Kroll – Sergei
Dana Carvey – Pops
Bobby Moynihan – Mel
Harrison Ford – Rooster
The Secret Life of Pets is out on digital now, and available in 4K Ultra HD, Blu-ray™, DVD and On Demand August 27. It runs 96 minutes long and is rated PG due mainly to some crude humor.
BONUS FEATURES ON 4K ULTRA HD, BLU-RAY™, DVD & DIGITAL
Mini Movies

Minion Scouts – When Margo, Agnes and Edith return from Badger Scout camp, three of the Minions are entranced by the girls' merit badges. Their own attempt at scout camp results in attracting a bear, eating poison berries and eventually blowing up a dam, creating a massive flood. But, when they arrive back home, the girls share their badges, encouraging the rest of the Minions to try their hand at scouting.
*DVD format includes over 75 minutes of bonus content
Super Gidget – When Max is kidnapped by an army of squirrels, Super Gidget is the only one who can save him. It turns out that Max's captor is a flea with the power of mind control. Gidget must use her pluckiness, strength and smarts to save her one true love…until it turns out it was all just a dream.
The Making of the Mini Movies – Every Illumination film is accompanied by mini movies that are a production all their own. Each film's directing partners will explore how the mini movies were made.
Deleted Scenes

Wake Up – Max and Duke have a new morning routine with Liam.
Duke Explores the Farm – Duke has a funny interaction with a goat.
Snowball Karate – Snowball does his superhero warm up.
Secret Confessions – Dogs gather to talk about their deepest secrets

A Tapestry of a Tail: The Making Of – The plot of The Secret Life of Pets 2 involves multiple storylines ultimately coming together to create a larger than life tale. We talk with the filmmakers, editor and cast about the delicate dance of juggling multiple narratives in one movie.
How to Draw – Hosted by Head of Story, Eric Favela, follow the step-by-step tutorial to learn to draw Max, Snowball and Chloe
Frame by Frame: How to Make a Flip Book – In this DIY-style vignette, Head of Story Eric Favela will teach viewers about the essence of animation and how they can create their very own flip book animations at home.
Character Pods – Get a closer look at your favorite characters of The Secret Life of Pets 2 with these delightful character pods that might just give away a few more pet secrets.

Patton Oswalt – Max
Kevin Hart – Snowball
Eric Stonestreet – Duke
Jenny Slate – Gidget
Tiffany Haddish – Daisy
Lake Bell – Chloe
Nick Kroll – Sergei
Dana Carvey – Pops
Bobby Moynihan – Mel
Harrison Ford – Rooster

A Party Fit for a Pet – Using stop motion animation, this step-by-step guide teaches you everything you need to know to throw the very best party for your pet!
Pops' Puppy Training School with Kevin Hart – Join Kevin Hart as he shows off his dog training skills.
Pets Yule Log – Sit back and relax in front of this exclusive The Secret Life of Pets 2 themed animated 'Yule Log.'
Lyric Videos

'Panda' Lyric Video
'It's Gonna Be A Lovely Day (The Secret Life of Pets 2)' Lyric Video
EXCLUSIVE TO 4K ULTRA HD & BLU-RAY™
The Further Adventures of Captain Snowball (Interactive) – This animated 'Motion Comic' expands the world of our furry hero, Captain Snowball. Using a 'superhero' comic book style and custom animation, we discover more about the secret world of our caped crusader with a little help from our viewers. At key moments in the story, the viewer is presented with a choice: left, or right? Fight or flight? Their choice determines our hero's next move!
EXCLUSIVE TO 4K ULTRA HD & BLU-RAY™ & DIGITAL
My Buddy and Me – We interview the Illumination cast and crew talking about The Secret Life of Pets 2 while holding (or trying to hold) their pets.
Pets with Jobs: A Documentary – We find and profile animals with special jobs – a service dog that detects when its epileptic owner is about to have a seizure; ponies that provide comfort to children with cancer; police dogs that go the extra mile to catch the bad guys. Meet some of the many animals who make the world a better place every day!
Relax the Cat: The Secret Life of Pets Massage – A professional pet masseuse shows the cast how to read signs of tension in their pet and use massage techniques to keep their furry babies relaxed and happy!
Production Pets – It takes hundreds of people to make an animated movie and a lot of those people have pets that can't wait for them to come home. This piece is dedicated to all those faithful companions.
The Secret Life of Pets 2 will be available on 4K Ultra HD in a combo pack (4K Ultra HD+ Blu-rayTM + Digital Code). Bonus features on the 4K Ultra HD will all be delivered in stunning 4K resolution.
4K Ultra HD is the ultimate movie watching experience. 4K Ultra HD features the combination of 4K resolution for 4X sharper picture than HD, the color brilliance of High Dynamic Range (HDR) with immersive audio.

The Secret Life of Pets 2 4K Ultra HD is available with HDR10+™, providing a premium HDR picture quality. HDR10+ transforms your movie watching experience with incredible brightness and contrast for each scene, delivering brighter brights and deepest darks.

Blu-rayTM delivers a pristine HD picture and theater-quality surround sound.
Digital lets fans watch movies anywhere on their favorite devices. Users can instantly stream or download.
MOVIES ANYWHERE is the digital app that simplifies and enhances the digital movie collection and viewing experience by allowing consumers to access their favorite digital movies in one place when purchased or redeemed through participating digital retailers. Consumers can also redeem digital copy codes found in eligible Blu-rayTM and DVD disc packages from participating studios and stream or download them through Movies Anywhere. MOVIES ANYWHERE is only available in the United States. For more information, visit https://moviesanywhere.com
You'll want to add this to your family movie collection, especially knowing that it earned a 90% rating on Rotten Tomatoes. Pop the popcorn, settle in on the couch with your dog or cat, or whatever pet you call family, and enjoy!
Here's the free party planner to download and enjoy!