"My philosophy is — in order to achieve anything, you have to have a good attitude."
I couldn't agree more with that statement, something Kevin Costner shared with us during last week's press junket for McFarland, USA. I'd seen the movie the night before and was still riding high on the inspirational feelings caused by "pickers" from McFarland, California, one of the poorest cities in the country, who created a cross-country team and ended up being more memorable than anyone could have hoped for.
In attendance at the press junket was Kevin Costner, who plays real life coach, Jim White, and Niki Caro, the director, much of the rest of the McFarland cast, including Carlos Pratts, Johnny Ortiz, Sergio Avelar, Hector Duran, Rafael Martinez, Ramiro Rodriguez and Michael Aguero.

In addition, the real Jim White and Damacio, David and Danny Diaz, the three 'real' Diaz brothers, also attended.

Since Coach White's involvement at McFarland High School, home of the Cougars, the school now has a new logo, one that includes the outline of a runner with the words "Tradition. Unity. Excellence." We could all stand to focus on life with that approach. What a legacy!
A lot of questions were fired at everyone and it's impossible to share all the wit and humor and wisdom of this terrific cast. I learned that Ramiro Rodriguez is actually a soccer player in real life; once you see the movie, you'll understand why it matters that he was not a runner prior to being cast as one of the three Diaz brothers, Danny. It's really important to mention that six out of the seven runners in the movie are not actors. Only Carlos Pratts, who plays Thomas Velles, a runner whose speeds are astounding, was an actor prior to being a part of the McFarland, USA cast. The rest of the boys were actually students in McFarland, chosen by Niki Caro, to play runners. Everyone has returned to McFarland since they grew up and the Diaz brothers have played major roles in those kids' lives prior to the movie and there is a bond between the whole cast that isn't just a movie special effect. Their excitement, yet almost disbelief at their fame, is obvious and so endearing.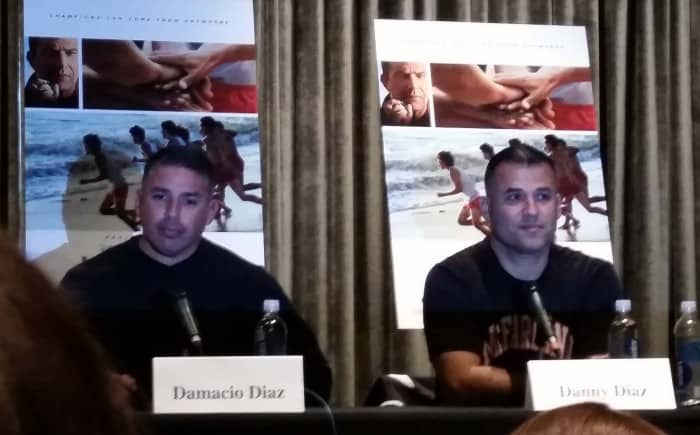 Kevin Costner shared that he personally hates running and that a highlight of the movie, for him, was the quinceanera. Anyone who has held on or attended on knows what a big deal in a young woman's life that is, and this town comes together to make the day of Coach White's daughter. I've been to a few of these parties myself and found myself remembering those real-life happy moments. (I've got an adorable photo of that scene to share with you in my next post that reviews the movie.)
From an actor who has had some pretty amazing movie experiences, like "being in the bathtub with Susan Sarandon, I wouldn't do a movie unless it has a chance to be good….. I want for something to come along that I just move to it," after being asked about choosing parts and the number of movies that are sports-related. (I have to say that I loved that he was so candid and his peppery vocabulary was just plain out fun!) When asked if he had inspiring mentors, he named two: Jim Barnett, a Visalia basketball coach, and Joe Vaughan, the "winningest" basketball coach. Kevin was on the last team where he coached boys and said "maybe he was sick of us." Apparently Kevin got in some trouble, and Coach Vaughan really brought him in line, to which Kevin responded "Does this mean I still get to play?" Yes, Kevin…and that made a big impact on Kevin's life. One other response that has stuck in my head is about McFarland, how apple pie and baseball are just pastimes, but there's no real American story than parents willing to do anything to better their kids. Isn't that the truth? Sometimes we need to look past the type of car someone drives or the clothing they wear and look at their hearts. "If I plan my life so much in advance, I'll miss this….Life is so much more about the things you bump into." Yes, Kevin, it is. Thank you for the reminder!

Niki Caro did such a fantastic job putting together the McFarland cast. "I was inspired, as simple as that" when asked why she made the movie. As Kevin stated, when Niki called one cast member to let him know he'd been chosen for the role, 100 other hearts broke but 8 lives were changed. That gave me goosebumps. Hearing each of the boys share their training experiences and how much they had to run gave us insight on how hard they worked for the role, and spoke largely to what you'll hear in the trailer, "These kids have the biggest hearts I've ever seen." These boys have such wonderful opportunities ahead, and I don't mean just in Hollywood. They are going to change lives, and not just their own.
Coach White was very humble and threw the credit back to the boys, as well as his wife. She is played by Maria Bello in the movie, but apparently was a lot more involved than the movie had time to display. The young men mentioned how they were traveling so much, at such a young age, for these meets and were still of an age to need the nurturing, which Mrs. White provided. Breakfasts, snacks, hugs, she filled a gap and was truly a team with Coach White, a very important part towards helping the boys have all they needed. Kevin Costner and the real Jim White were in two separate sections of the interview so they couldn't see what the other was saying, but Kevin reminded me of the real Jim White, all the way down to his crediting Niki Caro with the fabulousness that is the movie, and wanting everyone to remember that it was about the boys. The similar humility made you understand why Kevin was chosen and I just wanted to hug them both. Niki Caro talked about how much of themselves the young boys put into the movie and how they inspired her every day — and how Kevin made them laugh.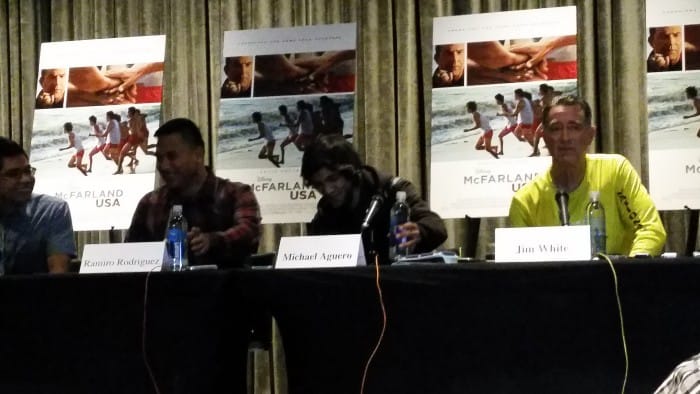 Those boys are so cute! (And Jim White is one impressively humble man.)
I haven't done a lot of press junkets before this, but if all casts had such true respect and love for each other, I think the world would be a much better place. The McFarland, USA cast didn't feel like actors, but like an extended family. Kudos to you all. (And special thanks to Carlos Pratts and Danny Diaz for taking photos with me, as well as Ramiro's sweet apologies that he was literally being pulled into another interview and couldn't snap a pic. These guys!)

Me with the real Danny Diaz, a close-up of Kevin as he passed by me on the way out, and an extremely unflattering photo of me with Carlos Pratts.