My youngest son is 17 years old now, and bugging us to teach him how to drive. Teaching a teen to drive is no easy feat though so it's time to call in the big guns and let DriversEd.com help!
Learning to drive in California if you're under the age of 18 means you have some pretty specific rules to follow, and it's not easy for all parents to make it happen. In our case, not only are we busy like every other family, but we have two sports cars and a huge SUV. None of them are ideal student driver cars. In fact, the teen refers to my husband's Charger as "The Boat." The SUV is a heavy behemoth that even intimidated me at first, as an experienced driver, and let's be real, he isn't driving in my Challenger. Maybe ever.
This means we have to consider outside sources, so when I was contacted about working with Driversed.com in exchange for driving lessons, I did a loud YESSSSS in my office. This is a win-win situation. The teen gets tip-top driving training both behind-the-wheel and online, and the husband and I don't have to stress out. Or yell. And I get to tell you all about your options to save yourself the time, stress and anxiety, too!
We all know how it is. Teens are wonderful people most of the time, but they don't always listen to us parents. However, they will listen to what other adults say. This means that more driving skills and information are going to sink in during the time that a teen would normally be saying "I knooooow, Mom," complete with eyeroll that takes his eyes off the road.
When my son gets home, I get to tell him that not only is he signed up for the 30-hour online driver course, but he gets to learn to drive in a Mini-Cooper! (Raise your hand if you took driving lessons in something less cool! Yes, I see all those hands…I learned to drive back when it was still taught in high school and boy, were those cars NOT cool.)

Online driver training via Driversed.com is available via any device that can reach the internet, so students can study and take tests from their computer, a tablet or even their cell phone while waiting at the DMV. (And if you're in California, you know that can be a long time.) There are unlimited practice tests, but you won't need them all because they have a 100% pass rate! (And that's always a fun thing to do. Years later, I still remind my husband that I got 100% on my driving test!)
Then, you can set up your in-car driving lessons, because Driversed.com is the only one in California that includes the proper licensing and paperwork so that you don't have to have your permit yet! That is a big score, because making an appointment to get this set up with the DMV can take a few weeks. With 25 years of experience and being accredited by the Driving School Association of the Americas (DSAA), you can trust Driversed.com to be the one to choose.
The in-car lessons are set up to be very convenient for the student and the parents, as there is home or school pick-up and drop-off available. Lessons are fine-tuned to suit your age and experience, and you'll learn not only the basics, but everything important — even parallel parking! Nighttime driving, changing lanes and passing, intersections, traffic, freeways, maneuvering and more. Here in SoCal, we spend a lot of time on freeways and if you're in the LA area, parallel parking is a huge plus because parking can be tight if you want to save on a public parking fee. Learning to drive on freeways means you've got the ability to get almost anywhere you need, but you need to be comfortable. I'm going to feel SO much better knowing my son has the skill to do this.
Here are a couple of important facts that are good to keep in mind when teaching your teen to drive, courtesy of Driversed.com:
If you are between 15 and 18 years old, the state of California requires you take at least six hours of in-car driving lessons with a licensed driving instructor at a DMV-approved program, such as DriversEd.com.
In addition, parents are required to supervise 50 hours of in-car training (Ten of which are done at night). Any professional driving lessons beyond the 6-hour requirement counts against those 50 hours.
That's a lot of training time, right? As the laws change, there were some complaints but I'd prefer we have safer drivers out there. This not only protects our kids from being the driver in an accident, but being hit by someone else who may be unprepared or distracted.
Thank you, Driversed.com, for lifting a huge weight off of our shoulders! Our son is going to be much more ready when we purchase him his first car, and we'll feel better knowing he's got a lot of practice to help keep him safe when he's driving for college or work when he graduates next year!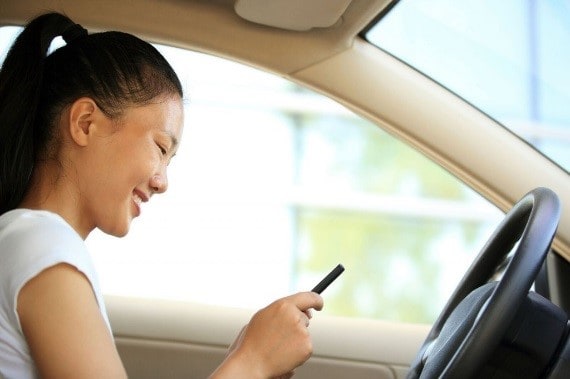 Checking your Driversed.com app before you go into the DMV for your license test and then texting your friends after to tell them you got your license? Score!