Will using CBD help me to sleep better? Yes, it can! Using CBD to sleep better just got easier with these delicious syrups and dummies from CBD Living. If you're unsure about using CBD for sleep, keep reading. I've got some great info to share!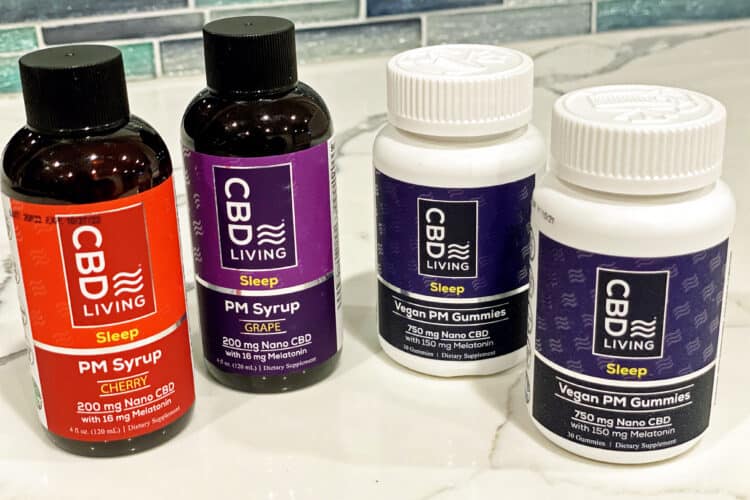 First, you should always talk to your doctor before trying new things. I am not a doctor, so nothing I say here, or anywhere, is medical advice! I was sent the products you see above to try out so I could tell you about them. Over the last couple of years, I've tried quite a few CBD products, and not all of them helped or were palatable. That's not the case of the CBD Living products though! I've shared about them before, and I'm again a fan of these products designed to help promote better sleep.
Like everyone else right now, I'm a little stressed. We're renovating our entire house, I'm still adapting to not working, I'm slowly starting my refocused business, and we're still training our crazy puppy, Shuri. The husband's an essential worker, and Southern California is currently in yet another more restrictive stay-at-home order.
Things add up, and while I can fall asleep initially without issue, I routinely wake up about 2am and sometimes don't go back to sleep until around 4am. This means that when I wake up at 7am, I'm waking up groggy. I'm very much a night owl, usually staying up to watch TV or read until around midnight. This insomnia business really messes that up. Like most busy moms, I cherish the quiet time at night when everyone's asleep.
I also like being at my best, feeling rested and energetic. Lack of sleep affects our lives negatively in many ways and once your body gets into a bad habit, it's hard to break out of…so I decided it was time for me to do something about it before it got to that point. I tried melatonin. Nothing. I tried a heavy-duty melatonin. Nothing. I tried an over-the-counter sleeping pill. Still nothing.
Then I tried the CBD Living Sleep line of sleep syrup and gummies. I finally found something that works!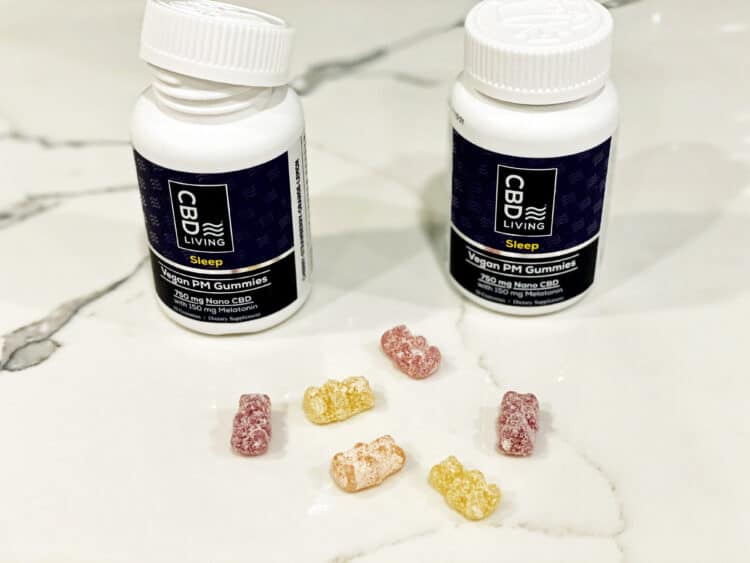 The CBD Living PM Syrup comes in cherry or grape flavors, combining nano-CBD with melatonin. One serving, or one tablespoon, contains 25 mg of nano-CBD, 2 mg melatonin, 40 calories and 9 grams of sugar. CBD Living has created a Proprietary Self-Emulsifying Technology; in short, the good stuff gets into your bloodstream for fast, sustained relief.
The gummies come in four flavors: cherry, strawberry, orange and lemon. They are entirely vegan, and each gummy has 10 calories and 1 gram of sugar, along with 25 mg of broad spectrum nano-CBD and 5 mg of melatonin.
Both deliver similar results, providing you with all-natural sleep solutions, but you can decide which option works best for you. I am not a huge cherry fan, so I prefer the gummies (they're tangy and all delicious) but I found the cherry flavor of the syrup to be a lot more enjoyable than old-fashioned cough syrup!
For more technical explanations on nano-CBD and the technologies deployed to bring you these products, visit the CBD Living About page. You'll also find an expansive FAQ page and contact information so you can be sure to get answers to all your questions before you make your choice. The syrups run $15 per bottle, and the gummies start at $50.
If you're worried, there is ZERO THC in these products. (Legally, they could contain up to 0.3 percent and still use the term 'zero,' but CBD Living has chosen to truly have no THC at all.) THC is the part of marijuana that can give you the 'high' feeling, so you will not experience that with CBD Living products for sleep. The CBD itself, combined with the melatonin, can help you relax and induce you to sleep more peacefully…without the side effects that OTC and prescription medications may have.
You can place an order online, and shipping is free if you order more than $75 worth at once. CBD Living also sells a lot of other products that may interest you, not just sleep-related products. Spend a little time reviewing their website and let me know what you think. I'm going to bed now, I'm loving that the gummies and syrups help me avoid that two hour middle of the night deep thinking session..and I bet you'll love it, too!