I've shared many times here on the blog that my home away from home is Disneyland…but in reality, I have a second one, which is Victoria Gardens here in Rancho Cucamonga. I love to shop, I thoroughly enjoy meandering through the outdoor mall under a blue sky or brilliantly lit night sky, and Victoria Gardens includes some of my favorite places. And shoes, there are a lot of places I can feed my shoe obsession.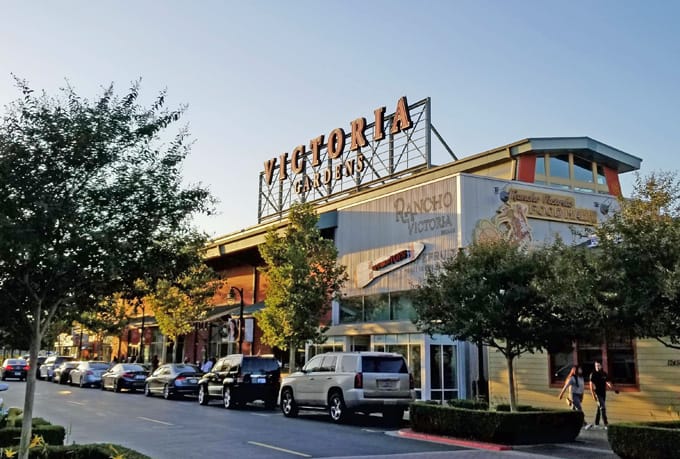 Luckily, I live close enough to zip over to hit up the Farmer's Market on Fridays for my favorite Salvadoran pupusas or to meet friends at Happy Hour at one of the many Victoria Gardens restaurants. (Keep an eye out for happy hours as they start early!)  When I asked if I wanted to work with the VG public relations to visit more stores and tell you about them, it was an easy YES, so I have indeed been compensated for this post telling you all about Victoria Gardens stores and shops to visit!
Any time I head to the Gardens, I never go just for one thing. This time, I was going to visit a few stores and then head home, but we ended up enjoying a craft beer at Yardhouse, seeing if It's Sugar had a particular chamoy gummy bear I am desperately trying to find, and of course, I popped into Williams-Sonoma to smell all the things. I can get into trouble in that store. Speaking of trouble, Hot Topic, you suck me in every.single.time. I love your Marvel and Disney items!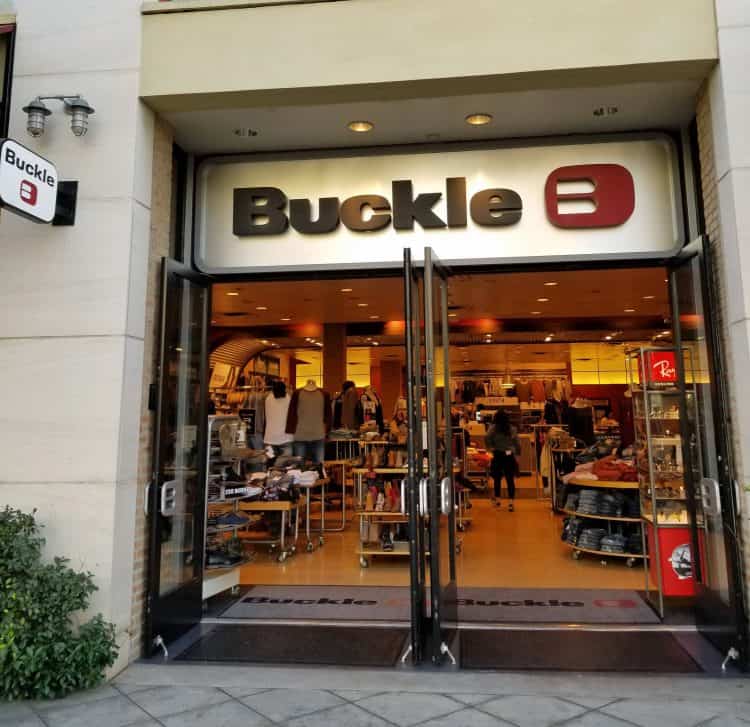 Back on topic…this visit included a stop in at Buckle, a high-end clothing store with items for everyone. My teenage son loves the Sullen line of t-shirts, I love the shoe variety and it's always nice to see when a store puts together an outfit that's easy to buy, top to bottom, all the way down to the jewelry.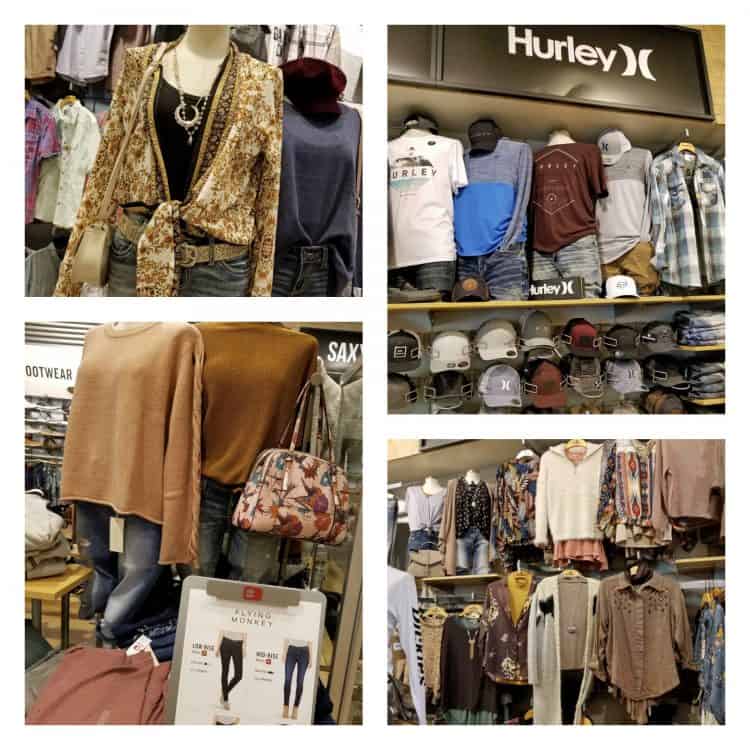 And that Guess bag? I was THIS close to buying it. I'll be heading back to pick up some Christmas gifts, and maybe the red denim jacket by the new Kylie Jenner line.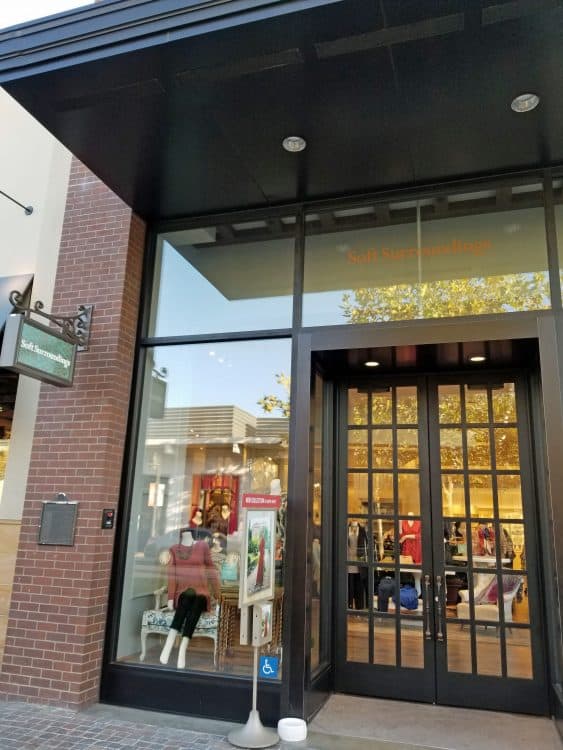 Next stop was Soft Surroundings, on the south end of the mall on South Main Street. It's relatively new and I was lucky enough to attend on opening day to enjoy a mimosa while plotting my list. This time, I wandered in a much smaller crowd and had space to select which of the many dresses to purchase. This black one with the flowers, slightly sheer but perfect over leggings, was the winner. Isn't it beautiful?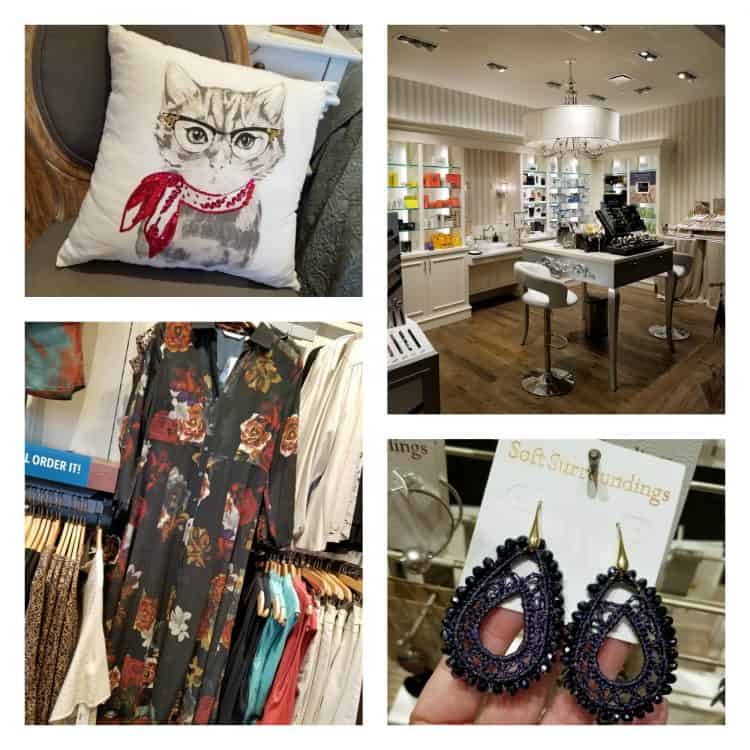 One of the big sellers for Soft Surroundings is that it's not just clothes. All the corners and spaces in between are full of whimsical items you love and self-care items you need. They also host various beauty events monthly, where you can come try products for free.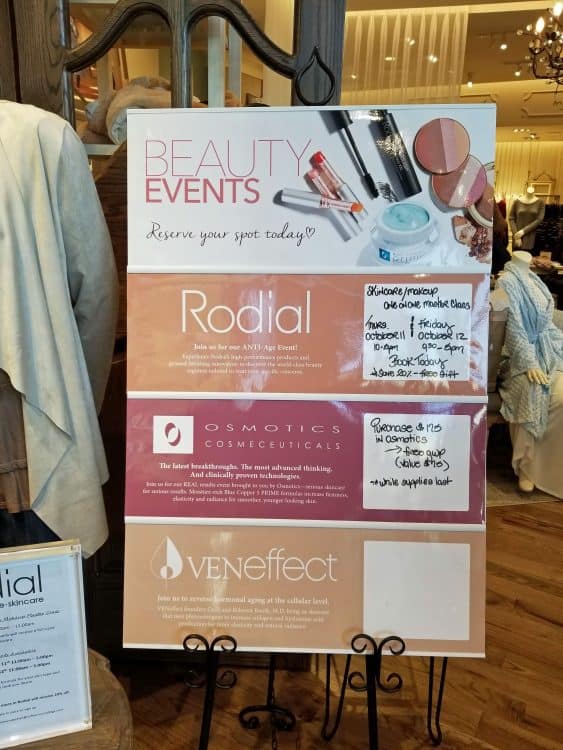 From animal-print pillows to facial masks to fun little books, there are so many things to choose from. If you shop with the husband, as I did, there's even a special "husband chair" back by the dressing rooms, so he can wait comfortably while you try on clothes! Victoria Gardens stores really DO offer something for everyone, even if it's just rest and relaxation.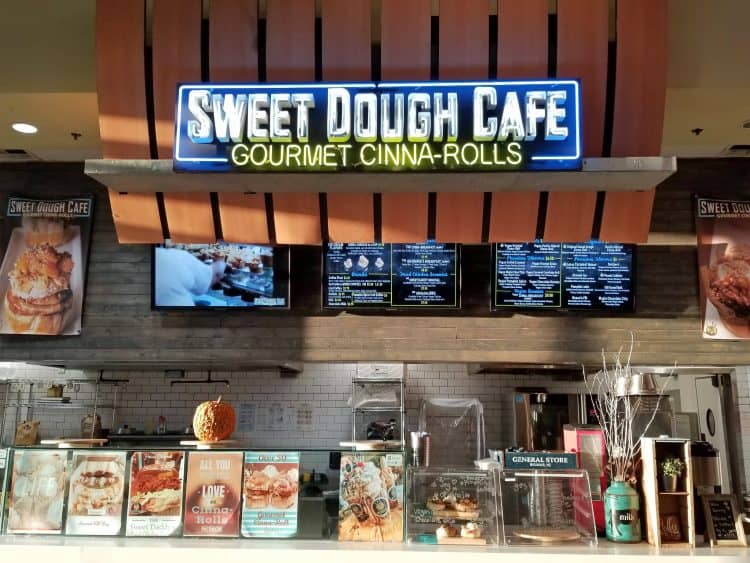 We also visited Sweet Dough Cafe, a spot on my list for a while, but you need to visit Sweet Dough when you're hungry. They're known for their large, moist and flavorful cinnamon rolls with unique flavors, but don't miss their chicken sandwiches in either original or sriracha style, along with an all-day breakfast sammie with sausage. Sandwiches are made fresh so give yourself some time as the chicken is fried while you wait, but the rolls are a lot faster. We tried several rolls and while I loved the sriracha chicken sandwich — moist, crispy yet soft, and the pickles are a perfect touch — the Reese's PB Cinnamon Roll was my favorite. Chocolate cream cheese, peanut butter and a Reese's cup on top = YUM.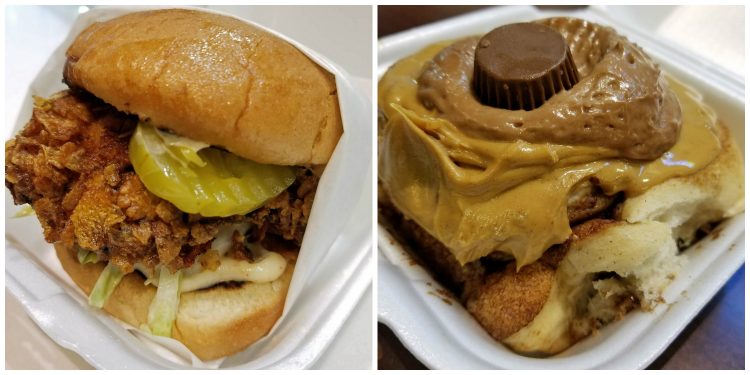 Victoria Gardens in Rancho Cucamonga is located off the 15 freeway at Foothill or the 210 freeway at Day Creek and Foothill. The outdoor mall is full of chain stores, boutiques, small kiosks, Starbucks (in a new, larger location) and a litany of food and nightlife options such as Punch Bowl Social, Brio Tuscan Grill and PF Chang's. One of our favorites is Kabuki, with a menu of spectacular Japanese food and sake options.
The mall is not just a good place to do your shopping, but they have a lot of events year-round at Chaffey Town Square between north and south Main Street. During the Christmas season, you'll see a special Santa house, and there are morning yoga classes, summer movie nights and other holiday-related events. The water spouts on the south end of Chaffey Town Square is one of the most popular spots in the summer, as the kids run through the water…and some adults. We used to take the kids to the playground up by the parking structure, and the Ralph Lewis Center includes a Rancho Cucamonga Library branch and auditorium with fun plays and shows all year long.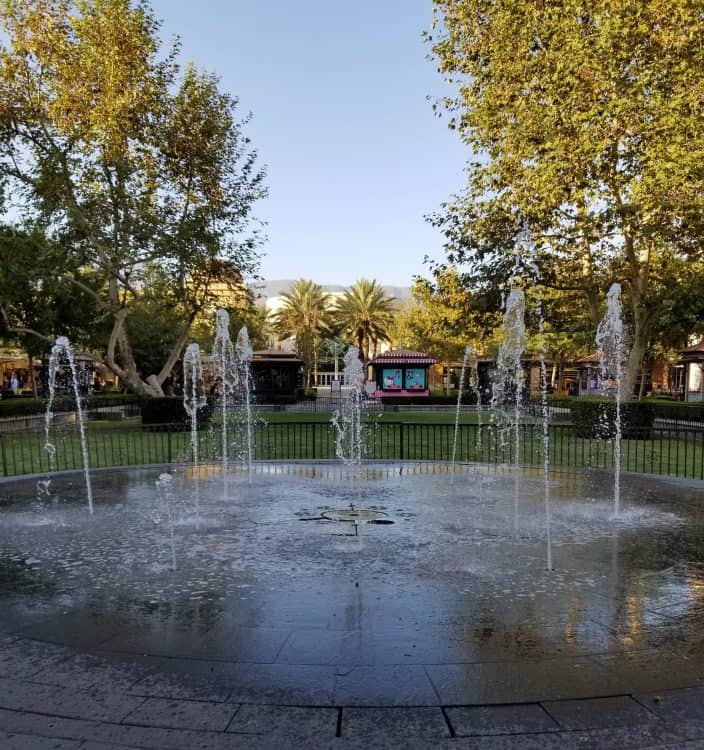 It's a mall that's not just shopping, but a destination. Put the Victoria Gardens stores and open-air mall on your list of places to go, you won't be sorry!