It's only a few weeks until Wreck-It Ralph 2: Ralph Breaks the Internet hits theaters and I'm super-excited. What about you?? Keep reading for a sneak peak into Disney's Ralph Breaks the Internet!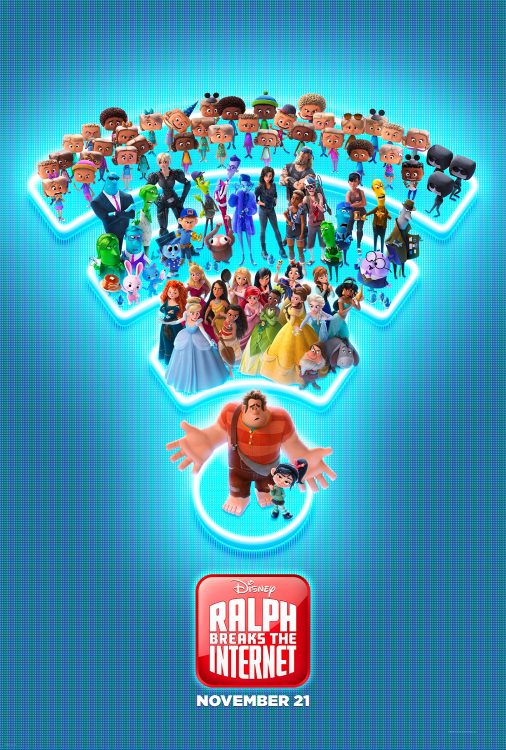 I get to see the movie next week and I can't wait! The husband is going with me to the studios for the pre-screening, and the son is bugging me about why dad gets to go instead of him. ("Remember, YOU saw Incredibles 2, not him?" Oh yeah, Mom…<makes pouty face regardless.>") I know I'm going to love it as much as the first in the series, if not more!
Have you seen Wreck-It Ralph? If not, there is still time! Ralph Breaks the Internet picks up where the first one left off, and there is so much good about this movie, I can't even begin to hit upon much, but here are a few fun facts about it!
Ralph is the bad boy of the arcade, and he forms an unlikely friendship with Vanellope, but when her game breaks, Mr. Litwak considers scrapping her game entirely rather than repairing it. Obviously, this won't work for Vanellope, and Ralph steps in to help ensure his friend has a home. Enter some new characters and the wonderful world of the web — good, bad and dark — and you've got another adventure that will either make or break their friendship and Vanellope's future. I won't tell you how it plays out, as I don't even know yet, but I know we're in for one amazing ride!
"Ralph and Vanellope are imperfect characters," says Academy Award®-winning director Rich Moore, who directed the original film. "But we love them because of their flaws. Their friendship is so genuine—the chemistry between them so engaging—that I think we were all anxious to know more about these characters."
One of the biggest things I learned on early press day back in August was how much work goes into just one scene of an animated movie. Here's an idea of what I mean — a series of images depicting just one frame of Ralph Breaks the Internet, from inception to finalization.
See what I mean? The years of work that goes into an animated movie, particularly one with so many nuances and varied backgrounds, require hundreds of people, man hours and teams that work in sequence to finish their parts before passing it onto the next team. Scenes go before the team for approval, then they move onto the next step. It's so much more than you'd expect!
As a Disney animated movie, many people will expect it to be a kids' movie, but don't let that stop you from seeing it as it's something that will translate to viewers of all ages. There is emotion that we can all relate to, even if we don't realize it, and I think we all value relationships that are as tight as Ralph's and Vanellope's.
"While 'Ralph Breaks the Internet' will make people laugh, I think some of the emotional struggles that Ralph and Vanellope go through in this movie are pretty intense and complicated," continues Johnston. "We're exploring the reality of all relationships, which come with ups and downs. Friendships are tested from time to time, and Ralph and Vanellope have to navigate the complexity of theirs—while attempting to navigate the vast and often intimidating internet."
I know you will laugh, and you will also get some deeper feelings. You will come away loving the entire cast, and one particular Disney princess scene is a show-stealer. Grab the popcorn, your beverage and sit down for the duration, you won't want to miss any of the movie!