This post is sponsored by BabbleBoxx.com on behalf of Erie Insurance.
This year, we celebrated our 25th wedding anniversary. We took a vacation and relaxed together for five days on a road trip. During the drive, we reminisced about our wedding. The stress, the fun, the guests, the food, all the prep before and all the adjustments after. And we got a laugh out how much crystal we'd registered for that was STILL unopened in our china cabinet. That led to a talk about how I should do a post on wedding registry tips for brides, especially since we've got a daughter getting married and we have a LOT of stories to pass along. One of them is this crazy wedding gift.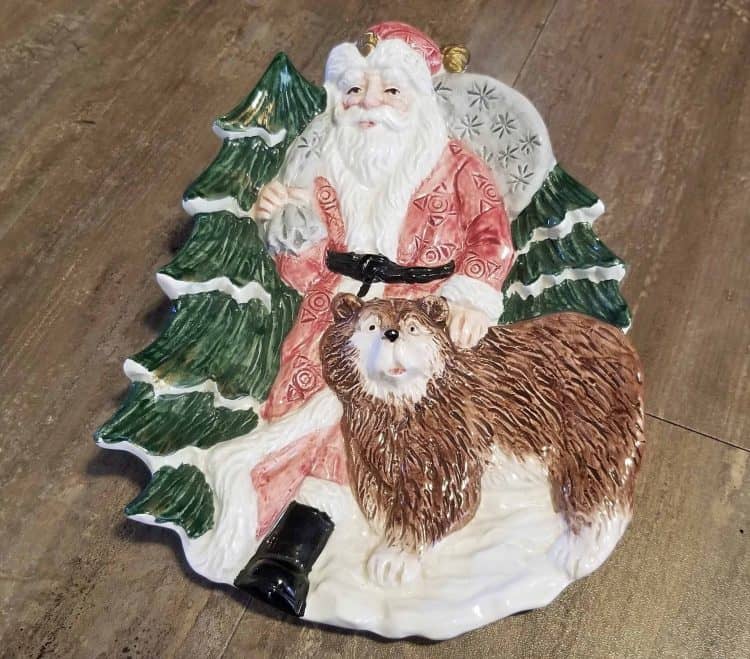 We were married in April. And we definitely didn't register for it.
I'm not saying we haven't used it but one wonders, right? "Hey, I think I'll get this really weird Santa with a bear plate for their wedding." It is unique for sure, and probably the most unusual item we got. (And I still have it.)
Speaking of our wedding, check us out….two young adults, coming together to raise two kids and we're about to celebrate our 26th anniversary!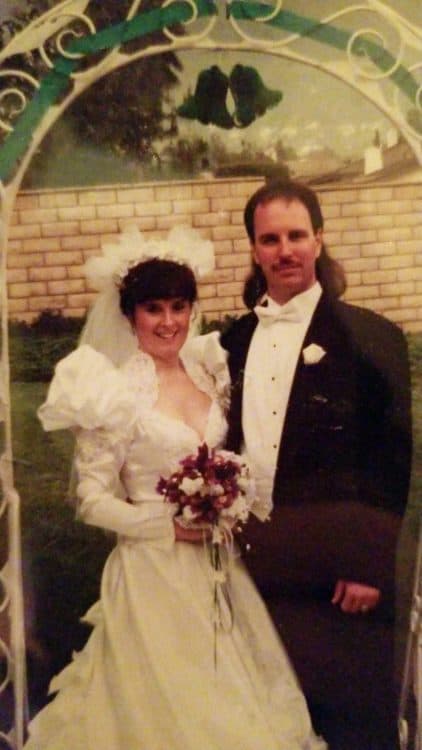 After we got home from our trip, we were talking about our wedding with our daughter, which led to her wedding registry, and I gave her a few tips. The biggest? Don't register for things because people say you need to, like crystal and china. Instead, register for what YOU want….and you won't really want 36 champagne flutes taking up space year-round.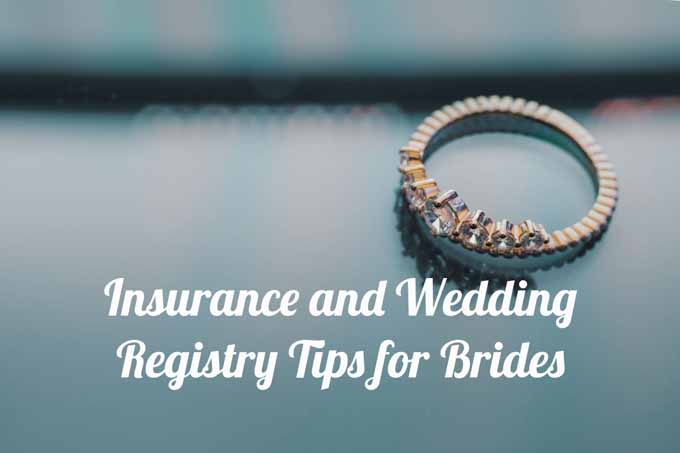 Erie Insurance did some research on wedding registries and the answers from their respondents were really interesting!
For example, 58% of people wished they'd voted for a robotic vacuum cleaner but didn't, while 17% did register for and 88% of them are still glad they did.
An air fryer is another popular item, with 48% of respondents wishing they'd thought to add it to their registry, and out of the 20% who did, 89% of them are still happy about adding it.
Ever thought of adding lawn equipment to your wedding registry? 13% of people did, and 84% are still happy about having done it, and 47% of those asked were sorry they hadn't done it! Who knew?
A food saver/vacuum seal system made it to the registry of 15% of respondents, and 75% of them were still glad. Only 38% wished they'd added it.
And a barbecue grill, another bigger item? 18% of people added it and 88% were still happy today that they had, while 37% thought of it too late.
Many respondents did receive and insure such items, including fine china (14%), fine silver (11%), fine crystal (10%) and valuable artwork (6%).
Some favorite but more unique items that they registered for and received were a trip to Paris, his and hers matching bathrobes, and my favorite? An elephant ride! How cool is that? (And now I'm totally thinking I missed out and didn't think big enough when we got married!)
Some odd things people regretted asking for are also funny: a back scratcher, dog seat covers, and "too many casserole dishes." I don't know, I wouldn't have asked for those two first items but now that I've been married 25 years, I kind of think you can't have too many casserole dishes! They break, they get loaned out and never returned and what happens if you decide to have a large family?
Not everyone has a wedding registry these days, and even if you do, there's no guarantee people will use it. Some respondents even got re-gifts for their wedding, including a registry book that had already been written in!
When it comes to registering for money, people were split. 46% of the respondents said they asked for money, and 45% of those said it was for general use while 31% said they used it for their honeymoon. Some people felt that a registry was a great place to ask for high-dollar items they couldn't get on their own. I didn't really ask for high-dollar items, but I did get a lot of money, which was really appreciated.
What are your thoughts on asking for money or high-priced items? And if you did get some, did you remember to add them to your insurance policy? I didn't even realize it was a thing until years later! We were renters for a couple of years, and looking back, I feel so fortunate we never had an incident, but it was a risk. What if someone had broken in and stolen my engagement ring or other jewelry? I rarely took it off, but once I got pregnant, it lived in a little dish on my dresser. I hear stories about theft and realize how lucky I was!
A friend of mine got a very expensive piece of artwork as a wedding gift. It came with a card listing its value as well as information necessary for her insurance company, and she mentioned that she wouldn't have thought about it otherwise. The gift giver was very thoughtful! (And I need one of those people in my life who gives out artwork as gifts!)
Eventually, I got on board and got insurance on my property, increasing it as necessary for specific items. It took some time for me to find the proper agent and to ask the right questions, but the peace of mind that comes with knowing we're protected has been so worth it. Have you looked into it yet? Erie Insurance has published their survey online here, and it's pretty interesting!
After you read all of the results — and you'll get a laugh as well as getting wedding registry ideas — you can check out Erie's life insurance offerings. They can help you learn more about what type of policy you should get, how much coverage and what to cover. For starters, I'd consider wedding and engagement ring coverage, family heirlooms and other items of value to you. I wish I'd done it sooner! The cost of insurance will seem like nothing if you ever have to file a claim, so it's something you may want to think about earlier rather than later.
But back to the topic of wedding registry tips for brides. Are you happy with yours and the results of it? What did you forget to ask for, and what's the one thing you got that you're sorry you asked for? Me, I forgot to ask for a rice cooker (and ended up getting two, luckily) and I got SO MUCH CRYSTAL.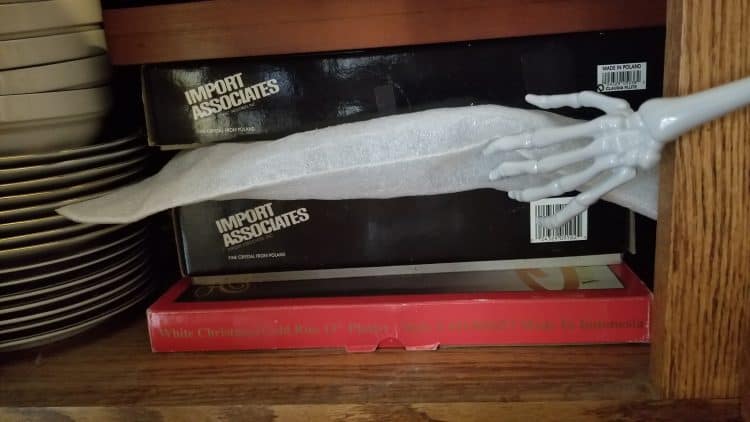 See, even after 25 years, these boxes are still open. I also gave away several boxes when I did a purge of unused things a few months ago. Those are what made the cut but still, they are UNOPENED. (And that really cool skeleton salad server that is holding back the wrapping of another unused platter? That made the cut, too. It sits, with its mate, in the cabinet with those platters though….)
Here's an entertaining video from Erie Insurance that asks the big question: what do you think about asking for money on your wedding registry?
So what do YOU think, and what wedding registry tips would you share with a new bride-to-be?