A whole new world…a new fantastic point of view…a new Aladdin is about to hit the shelves!
The original Aladdin was one of my favorites. My oldest son loved the genie and he'd watch the movie all day long if I let him. We loved it so much, and it was such a big part of our lives when I got married that we used A Whole New World as the song that played while I walked down the aisle.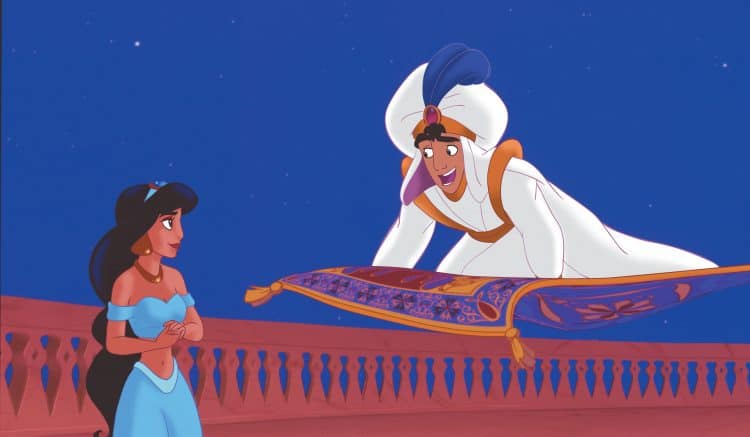 Fast-forward to this year, and I screened the new live-action Aladdin. Tears, laughter, nostalgia, I felt it all. The nod to Robin Williams was so appreciated, and as well as the fact that Disney stayed true to the story. It's another live-action win for Disney!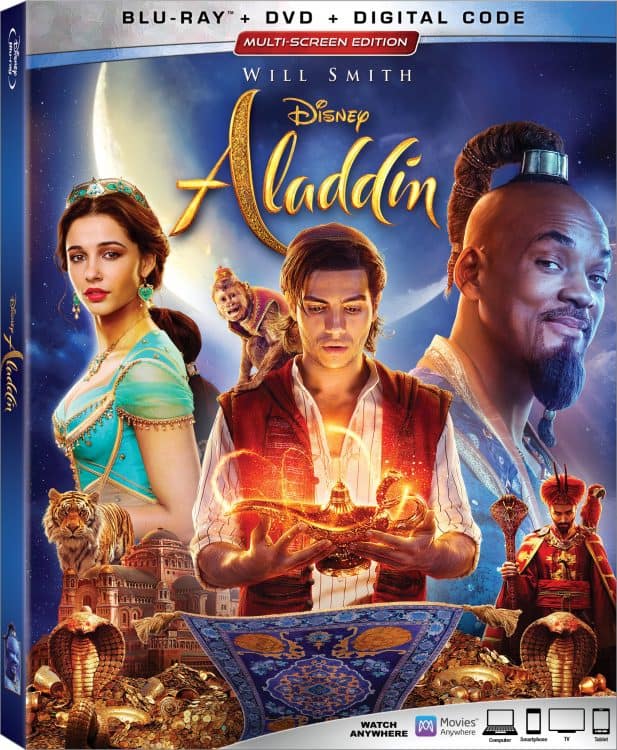 I think most of us are familiar with the story, but just in case, here's a brief synopsis: Aladdin is a poor street boy whose best friend is Abu, the monkey. Aladdin rescues a girl and learns only after that she is Princess Jasmine. With the help of a genie, who he is tricked by Jafar into finding, he transforms himself into "Prince Ali," hoping to find his way into Jasmine's heart. If only it was that easy!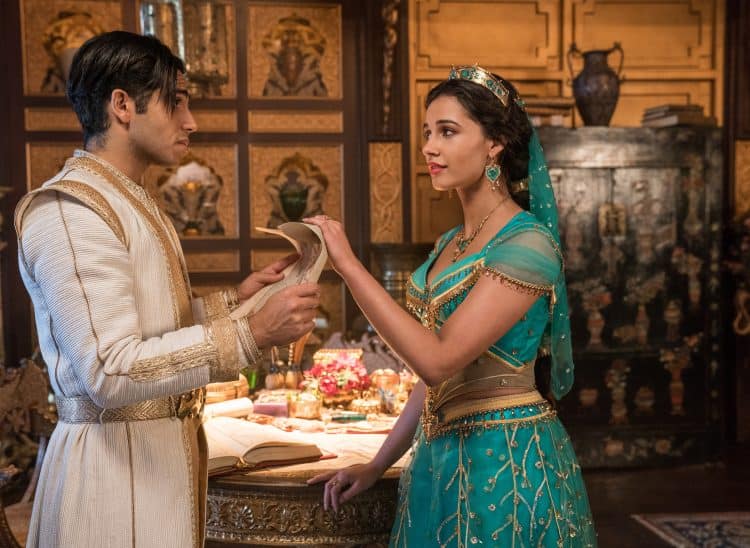 Jasmine finds herself falling for Aladdin/"Prince Ali," but Jafar throws obstacles in their way. Jasmine has to stand up for herself, and her rights in the family, and ends up teaming up with Aladdin to save Agrabah from ruin under the hands of nefarious Jafar.
The live-action version adds a new song, "Speechless," which is an amazing today's world kind of song, and they add a twist to the story by way of making Jasmine more forceful and assertive than the animated movie. Taking a page out of today's paper, Jasmine advances beyond being just the king's daughter, and the rest is history.
Will Smith's version of genie pays homage to Robin Williams without replacing him, and while a lot of people worried about his portrayal, he did it justice. I was very happy with the 'new' genie, and the Never Had A Friend Like Me scene is a show-stealer! Thanks to Disney, who sent me a set of both movies on Blu-ray, we now own both copies. (My other copy is VHS!)
Aladdin's out on digital now, and it comes out on 4K Ultra HD™ and Blu-ray™ Sept. 10. You'll soon be able to watch it over and over, if you didn't by the digital version already. As always, there are extra treats on the hard copies. Take a look at the impressive list of fun things!
DIGITAL PRESELL BONUS: MAKE WAY FOR PRINCE ALI – Take a look at the gigantic design extravaganza that came together for this scene of Genie-sized proportions.
DIGITAL EXCLUSIVE BONUS: "SPEECHLESS": CREATING A NEW SONG FOR JASMINE – Follow the story of Jasmine's inspirational song "Speechless," written by Alan Menken, Benj Pasek and Justin Paul especially for this version of "Aladdin."
BLU-RAY & DIGITAL BONUS: ALADDIN'S VIDEO JOURNAL: A NEW FANTASTIC POINT OF VIEW – Watch behind-the-scenes moments captured by Mena Massoud (Aladdin) in this fun, fast-paced look at his personal journey.
DELETED SONG: "DESERT MOON" – Experience a moving duet performed by Jasmine and Aladdin, fully shot and edited, with an introduction by Alan Menken.
GUY RITCHIE: A CINEMATIC GENIE – Discover why director Guy Ritchie was the perfect filmmaker to tackle this exhilarating reimagining of a beloved classic.
A FRIEND LIKE GENIE – Discover how Will Smith brings talent, experience and his own personal magic to the iconic role of Genie.
DELETED SCENES
Falling Petals Into OJ
Jafar's Magic Orrery
Anders' Gift
Wrong Wishes
Silly Old Fool
Post Yam Jam Debrief
BLOOPERS – Laugh along with the cast and crew in this lighthearted collection of outtakes from the set.
MUSIC VIDEOS
"Speechless" – Music video performed by Naomi Scott
"A Whole New World" – Music video performed by ZAYN and Zhavia Ward
" A Whole New World" ("Un Mundo Ideal") – Music video performed by ZAYN and Becky G.
*Bonus features may vary by retailer
My favorite is the Desert Moon duet, but we've already watched it twice and I'm probably going to put it on again Monday when the grandbaby comes over. Time to introduce Baby Charlie to Aladdin!
Check out the trailer here, and then scroll down for a fun Aladdin-inspired cookie recipe, perfect for a family movie night!