Million Stories Media is proud to announce "Adulting with Richard Sherman", a 12-episode digital series showcasing the San Francisco 49er's captain coaching young people through 'adult' financial decisions. From buying a car, creating a budget, to getting a first apartment, Sherman breaks down his tips and strategies for financial success using his signature no-nonsense, straight-talk personality. Young adult financial decisions are a real stress for our kids, so this is a timely topic for all parents of teens and up!
Richard Sherman helped take the 49ers to the championship game, and was also nominated for the Walter Payton NFL Man of the Year Award which highlights a player's volunteer and charitable work as well as their success on the field. As the mom of a football player, I like to hear things like this about athletes.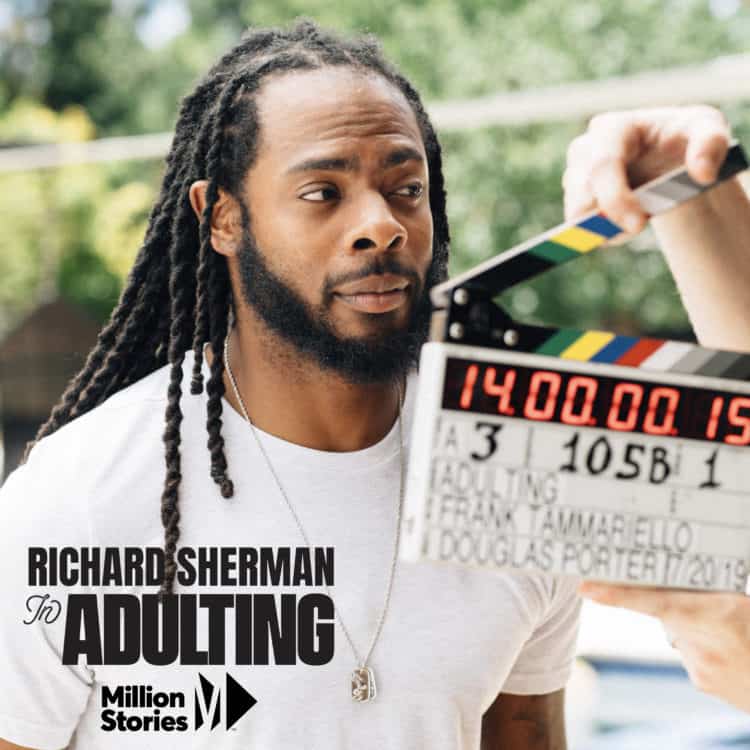 That same son is now in his third semester of college and he asks a lot of financial questions. He's working part-time in addition to carrying a full-time+ course load and we talk a lot about budgeting, college expenses and other things as he moves forward in life. He received scholarships that cover the first 2-3 years of school, but unless he gets more, we know we'll need to figure out that fourth year, and more, should he decide to go beyond a bachelor's degree.
Young adults don't always like to listen first to their parents. They sometimes need to hear advice and guidance from someone else to make it really hit home. When an idolized star athlete shares information, kids are more likely to listen. All our young adults will eventually be purchasing a car, figuring out how to rent a place to live, learn how to budget to pay for all their bills and if they are in college, books, transportation and more are a big priority. I welcome any reinforcements I can get to help my son understand what lies ahead!
As Sherman prepares for the Super Bowl kickoff, get ready to kickoff your financial goals! Here's a sneak peek video.
"Richard Sherman is the perfect choice to headline 'Adulting',"said Shelley Miles, CEO of the Singleton Foundation. "His personality, personal story and likability will draw in viewers and his passion for financial matters will help get young people interested in their own financial futures. He connects with our foundation mission on so many levels and we couldn't be more thrilled to have him on board."
Do you have a kid headed to college or graduating from high school soon? The issues they face are real, especially here in expensive California. Give his video a peek!