One week out from the big game and I'm finally solidifying our party plans. We'll only have about ten or twelve people here, but putting together football party food for a small group is almost harder than making a menu for a big party, you know?
For inspiration, I headed over to Smart & Final. I can buy produce, meat, alcohol and dairy, party supplies and snacks all in one place for less. One and done. (My only complaint is that the nearest store is 15 minutes away! I wish we had one closer, I'd be there even more often.)
*I am a Smart & Final ambassador, so they've sponsored this post, but the photos and words are my own.*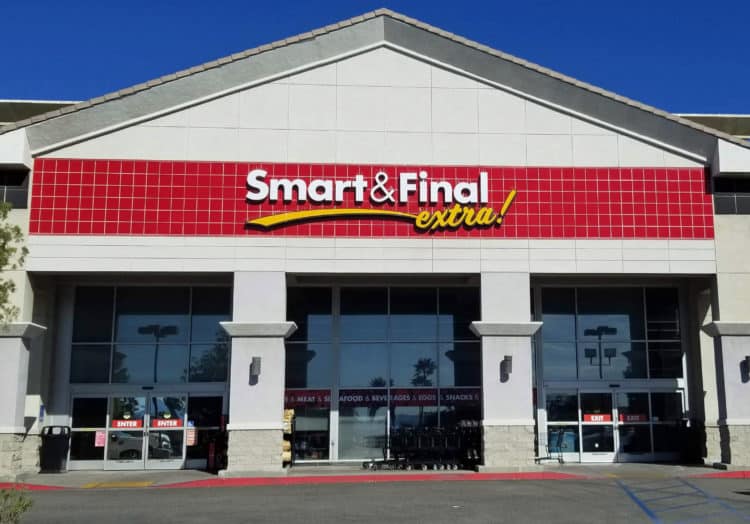 With my husband and son being such big football fans, we always watch the game at home because my son is under 21 so that rules out most public game day parties. It's also a lot cheaper to make your own football party food than to buy it at a venue, and that's without even considering the cost of those $8 beers! (I bought a 12-pack at Smart and Final for only XX. Winning!)
Over the last few years, I've collected several pieces of football party decor, but the highlight of the party is always the food. People don't want to miss the commercials, so we prefer to serve food that is safe to eat in front of the TV without staining the couch or the carpet. This means we look for finger foods and things that can be eaten cold. That shortens the list of possibilities but we're up for the challenge!
In addition to my football party food ideas below, Smart & Final shared with me the list of top 7 things people buy there for game day party menus. Here it is for any additional inspiration, though there's some overlap in what I suggest and what it includes, so that means I'm doing it right, right??
Top Items Sold for Superbowl Sunday at Smart & Final
Beer
Wings
Chicken
Chips
Ribs
Avocados
Nacho Cheese Sauce
Those ideas tell me that most of us out there are leaning towards doing pretty simple things that don't require a lot of time in the kitchen. Getting them at Smart & Final means they won't cost a lot of money, either. You can buy things pre-made in the freezer section, or you can get all fancy and make them yourself…which leads me to my own ideas.
Football Party Food Ideas
Wings: Speaking of getting fancy above, wings are really easy to make on your own. Buy a bottle of barbecue sauce for an easy batch of wings that you can customize for levels of spicyness by adding tobasco sauce or chili powder before you baste it onto the wings.
Another simple option is to put the wings in a half-gallon plastic sealed bag, squirt in a few tablespoons of your favorite oil (I prefer olive oil) and shake to coat. Drop in a little fresh lemon juice, shake again and pour onto your baking pan, where you can sprinkle with salt and pepper. Super-easy, right? (Balsamic vinegar, orange juice and Italian dressings are other options that you can prepare the same way.)
Every party needs a layered bean dip: seven-layer dip is really popular, but I like to make it my own, so I change it up. Fancy cheese, crema instead of sour cream, a layer of green chilis, some chopped chipotle peppers, you get the idea. It's a little different every time I make it! (This definitely does not fit the 'less mess' category, but it's filling and goes with whatever kind of chips you buy: potato, tortilla, veggie, etc.
Chocolate-dipped Pretzels: I make these for our Daytona 500 party, using a chocolate mold in the shape of a car, but for game day, they're made as easy as dunking half the long pretzel log into chocolate and either laying on wax paper to dry or dipping into a number of other items. A favorite is rolling them into crispy rice cereal in cocoa or regular flavor. This year, you can also buy strawberry-flavored cereal! They are also really yummy rolled in M & Ms, so even if you think that grown men watching the year's biggest football game won't eat them, think again!
Hawaiian Roll Sliders: Take a package of Hawaiian rolls and break it up into sections of four rolls. Slice through the center of each four-pack and leave one side attached. Make each of these four-packs a little differently. Switch up the spicy mustard for jalapeno mustard or regular mustard, change up the deli meats from ham to turkey and use different cheeses. If you use my favorite, wasabi mustard, be sure to warn people! Or horseradish, which really can amp up the flavor. Throw each four-pack into an oiled frying pan and quickly grill. Guests can rip them apart or eat a whole four-pack on their own, and they're totally finger food that your guests won't get just anywhere!
Stuffed Crescent Rolls: Buy a few tubes of refrigerated crescent roll dough and roll the individual sections out on baking sheets. Stuff them each differently: shredded cheese, cream cheese mixed with chopped chili peppers, grilled onions, whatever you like! Bake as directed and enjoy. You can also make these with chocolate chips, a little cream cheese combined with vanilla and a little white sugar, the combinations are really up to you.
It's really a mish-mosh of food items, but this year we're including our tried-and-true favorites, most of which I can make ahead and heat up when it's time. (One exception is that we won't put the condiments on the sliders until right before we grill, because I have a serious issue with soggy bread. Ewww.)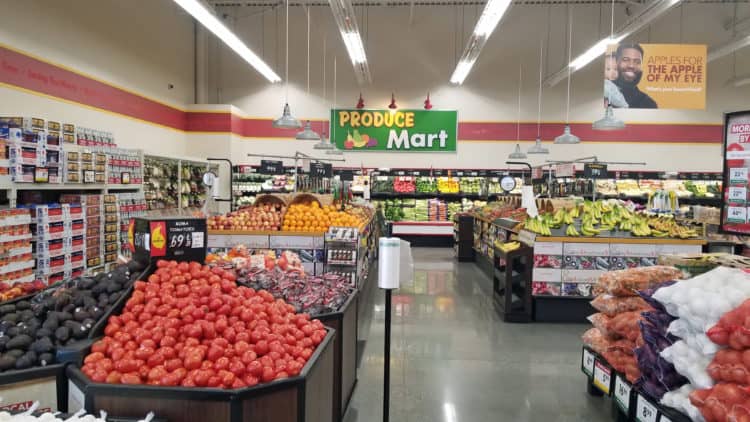 Our local Smart & Final had everything we needed, and we were in and out of the store pretty quickly. We also picked up our paper goods. They sell huge sleeves of every type of party ware you could ever need, including some plastic champagne flutes I needed for another party we're hosting on Saturday. (More on that in another post!) They also had football-themed paper plates and napkins for only $.99 per package.
And don't forget the beer. It can go quick at a football party, and no one has to be in the kitchen making cocktails or icing anything up since we just shove them in a cooler on the patio. Smart & Final has this big long row of beer….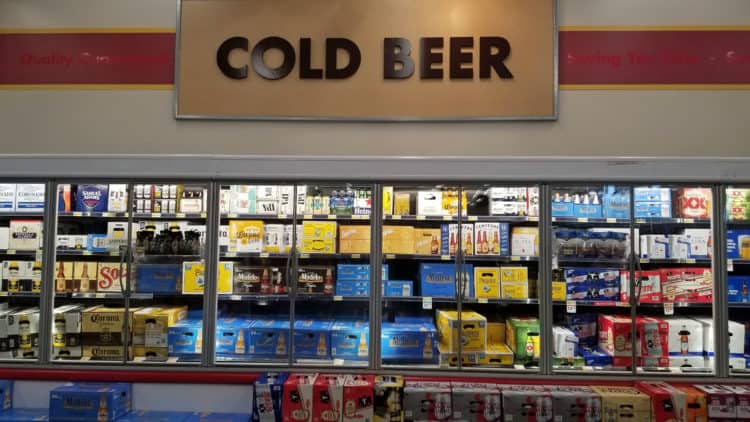 …which was adjacent to this other big long row full of wine. (They carry one of my favorite sauvignon blancs called Prophecy. Yum.) They also carry affordable champagne, to go in those four-packs of plastic flutes I bought.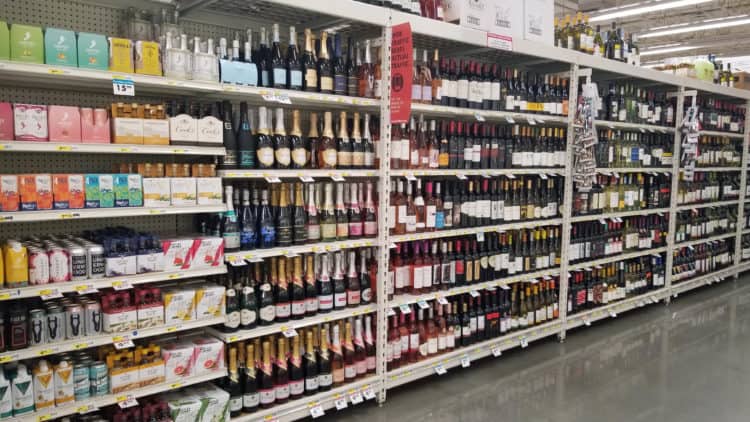 Whatever your football party food menu looks like, give Smart & Final a peek. Grab those big box store items right along with next week's produce and you'll have all your shopping done in one place. And you might score on these sweets that no one needs but everyone wants. Life's short, eat the cupcake, cookie, pie, cake and more!