This week, I'm attending Social Media Marketing World 2016 in San Diego. It consists of three days full of sessions led by social media marketing pros, networking, a lot of walking, people and a different schedule than I'm used to. And I love it.
Don't tell anyone, but attending Social Media Marketing World feels sort of like a vacation.
Who can complain about an all-expenses-paid opportunity to dig into their field and their industry, absorb information from the big names in session after session, eat good food three meals a day and head back to a nice hotel afterwards? Any mom knows the value of a quiet room and not having to make breakfast for anyone, right?
It means revisiting every social media tool, every account, and every approach that I take. But that's good. I think I have a pretty good handle on things but the minute you stop thinking you need to learn is the moment you start failing. I'm big on education — you can be 5, 25, 45 or 85 and you can still learn. Attending Social Media Marketing World has fired me up to make sure I'm not complacent. Without realizing it, I think we almost get into ruts. Without specific "this is what I'm going to do today" road maps, we slide a bit. We do enough, but we don't do enough, if that makes sense? I'm okay where I'm at, but I don't want to just be okay. I want to be awesome. Where I'm at pays the bills, but that doesn't need I mean to be satisfied with that when I can do so much more with a little more effort.
In the 36 hours I've been here — which feels like so much more, because the Social Media Examiner team does a more-than-amazing job at filling our hours with quality programming and opportunities — I've taken pages of notes. And I'm old school, so those are handwritten, scribbled, messy notes full of verbatim tips from the speakers and my offshoot inspirations. I've got lists of things I plan on trying after I get back home. I pulled out the iPad several times, so I also have typed notes as well. That's a lot of notes, folks. A LOT. And I'm not done yet!
I'm working on some strategies, things that will spiff up my Twitter, Facebook and Instagram feeds, but I'm also starting my Snapchat anew. I'll share my handle with you once I get home and get into my groove; I snagged the name a while back but didn't share it with but a few close people. I'll soon be ready to go public!
Social Media Marketing World is not inexpensive, to be completely transparent, but I completely encourage you to attend if you can swing it somehow. I'm attending courtesy of my day gig, and I'm focusing first and foremost on skills and knowledge to take back there. I am just lucky that I can learn so much that applies beyond the job, making the travel worth it. It's only about 1.5 hours south of my home, if traffic's not horrible, and who can complain about accommodations in the Hard Rock Hotel in San Diego? It's literally right across the street from Coronado Bay and the San Diego Convention Center, home of the conference. I lucked out and got a room in the corner on the top floor. It's quiet and I have what has to be the best view in the entire hotel. No obstructions and fully facing the waterfront. I head downstairs and it takes me less than five minutes to cross over to the convention center. It really doesn't get any easier. The Hard Rock's bedding suits even me, the one picky with pillows — they have to be so squishy and soft because I like them almost flat — and they have every amenity I could ask for. (Well, I would like to have some room to put my own stuff in the refrigerator, so I could keep my own water bottle(s) cold, rather than have a tiny fridge full of products I have to buy, but that's not worth any complaint at all. I just utilized the ice bucket instead.) And the view from my room?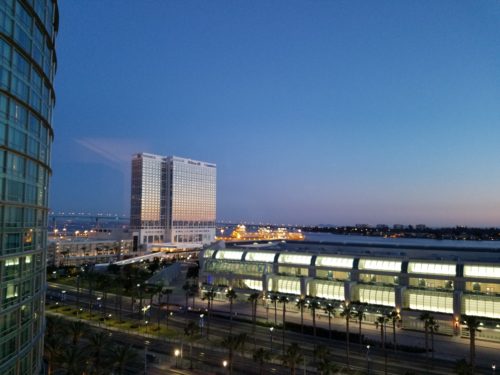 My point? The conference is worth it. There are so many speakers to choose from, you'll miss several that you want to see, but it's not a big deal because they're all available online within a couple of weeks or so, and any attendee can watch them for free for a year. How cool is that? I literally can watch all of the 100+ sessions from my own comfortable couch, stopping to take notes if needed. Breakfast and lunch is included each day, and every other need during the event is met, including snacks and bevs throughout. There was a huge party on the USS Midway on Sunday night, with food, a bar and tours all over the ship; tonight, there's a party on a yacht and it cruises the bay for 1.5 hours. I went to the Midway, just like last year, but I skipped the yacht. I volunteered to join the chorus and we have a 7am practice before we perform at 8am. (The cool thing is that I get to save myself an awesome seat for the opening speakers.) If I get brave, I'll share the link to the video of us performing after. We learned a song, one we'd not heard before we arrived here in San Diego, so be kind!
I'm going home with so much inspiration to try new things, think outside of the box and dig a little deeper. I made some new friends, too, and am finding I'm much more relaxed on my own. I had dinner tonight at a local pub-ish place and I survived being seated outside at the biggest table they had…alone. Alone is okay, don't get me wrong, but I'm sure it looked odd to have one person, feet dangling, at that big table. I thoroughly enjoyed my local greens with goat cheese and calamari. I had vegetables and fried food. It was perfect. Don't judge. Oh, and a glass of Blood Orange Wit. Because, vacation.
Attending Social Media Examiner is such a fun perk of my career. In social media, like many careers, people come in all shapes and sizes and styles, but social media has less of a conventional approach and we don't always need to have our business suits on. That makes these conferences even more fun. Not being stuck to any type of conventional rules is nice — a relaxed dress code means a lot more colored hair than I'd see in most places, and I love it.
I'll share more pictures after I get back home, but right now I've got a small issue connecting my Galaxy S7 to silly Windows 10 and I'm limited on equipment options, so I am resorting to email. I miss the family, including my sweet Yorkie pup, and my new car. (We had an accident in Hollywood a week or so ago and totaled one car, so we had to do some speedy car shopping. I ended up — because of an amazing husband — with my dream car, a Dodge Challenger SRT-8 with a 392 hemi, and I'm SO dying to drive it. It's fast, it rumbles, and it sparkles. I drove it home from the dealership and took the boys around the block twice. That's IT. I can't wait to get home so I can put some real time into setting up the nav system, my music stations and seeing what all those other little buttons and gadgets do. The dealership rocked and set up my in-car phone already. My other car is a Charger so I am somewhat familiar, but this one's new, so the bells and whistles are fancier. I am ready to pop open that sunroof and hit the freeway to really test it all out.) I'm driving a fun rental this week — my employer supplies that so I don't have to put miles on my own car whenever I drive to the LA office or to a conference, and it's appreciated. I've got a sweet Hyundai Sonata downstairs in the parking garage; I arrived when the San Diego Padres game was about to start and regular parking lots were full and/or blocked off. Plan ahead if you're headed to the Gaslamp Quarter so you're prepared!
I'm out for the night, I have more steps on my Garmin than I have unless I run 5+ miles, except in non-running shoes, and my body and mind are tired. It's a good kind of tired, but I have another day of learning ahead so I'm going to grab a glass of wine and watch the boats on the bay for a little while before I hit the hay. Sweet dreams to all!