When someone mentions Jungle Book, my first thought is of my early memories of Mowgli. I've shared before that I had a membership to the Disney Music Club, where I received albums every few months. Some albums had bonus photos and the Jungle Book shipment was one of my absolute favorites, as the album cover was actually a story book. I'd page through it while listening to the album, happy as a young child living on a farm in the middle of nowhere could be. I'd sing along with Mowgli and Baloo as they were floating down the river and "wanna be like" them both. I had such a good time with that record!
Fast-forward all these years later, and I'm introducing my son to the story. The older three kids watched the animated version of Jungle Book on VHS and then DVD, and now I'm able to take my son to the theater to see the live-action version of Jungle Book. He gets to be the first of my kids to see the unique mix of special effects, voice overs and Neel Sethi as the only human, playing young Mowgli.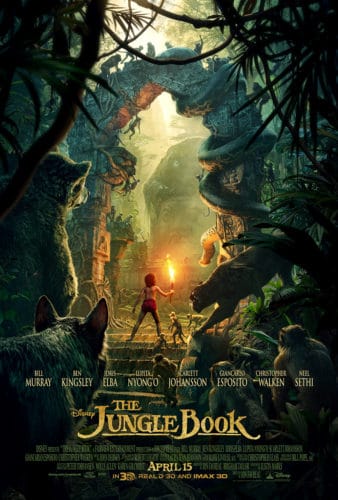 The new Jungle Book does not disappoint. Sometimes when you see a remake, the original is very hard to live up to. All of Disney's movies have raised a very high bar, and Jungle Book is no exception, yet Disney manages to make the live-action second version just as amazing, and even moreso in many ways. In a way that's hard to explain, it just adds to the magic of the animated movie and will make people that haven't seen the animated version go out and buy the Blu-Ray version.
Jungle Book, directed by Jon Favreau (from Iron Man as well as other well-known movies) has a knockout cast, including Sir Ben Kingsley ("Bagheera"), Neel Sethi ("Mowgli"), Lupita Nyong'o ("Raksha"), Idris Elba ("Shere Kahn"), Christopher Walken ("King Louie"), Giancarlo Esposito ("Akela"), Bill Murray ("Baloo") , Scarlett Johannson ("Kaa") and the late Garry Shandling ("Ikki"). I give you a lot more inside scoop on the cast in my earlier post, found here, and share some cool photos of the press conference. The cast makes the movie, but it wouldn't be what it is without the amazing skill of the many Disney teams and departments that came together to tell the story of Mowgli, a man-cub being raised by a wolf pack in the middle of the jungle. As Mowgli grows and finds he is threatened by Shere Khan, the scarred tiger who has a part in Mowgli's past, he has to find the man village. From there, the adventure builds. Along the way, Mowgli establishes new relationships and explores the jungle, learning about himself while realizing there's a reason for the law of the jungle. Yet, throughout it all, the law of the jungle is being stretched and applied in different ways. The jungle isn't just the vision of Mowgli's younger childhood memories, but an evolving community with both good and bad. Trust is inherent, yet judgment and good decisions matter and those around Mowgli learn that he's so much more of a young man than anyone had expected…except maybe Bagheera, whose insight is critical in helping Mowgli and the rest of the jungle survive and thrive.
My memories of Mowgli were so much different, because all I saw was the adventurous young boy dancing and singing and avoiding a snake. Now seeing the movie as an adult, I see the power of family, and how family isn't just those who bring you into the world, but the ones that love you and keep you safe along the way. It's a bit like life — we all have things we're running from, things we're running towards and wanting to have fun on the journey. The new live-action movie is going to be just as enjoyable for a child as it is for an adult; everyone is going to come away with their own thoughts and it's guaranteed everyone is going to laugh. The music is original and the scenery no less stunning.
I have a couple of favorite scenes, one of which involves a very large, sinuous, serpentine creature who mesmerizes within seconds. (Someday I'll share my experience with Disney's 4-D virtual reality set-up, where I donned a pair of 4-D goggles and was launched into the jungle, face-to-face with Kaa!) The other is a bonding moment between Mowgli and Baloo while playing along the river — just like when I was a child.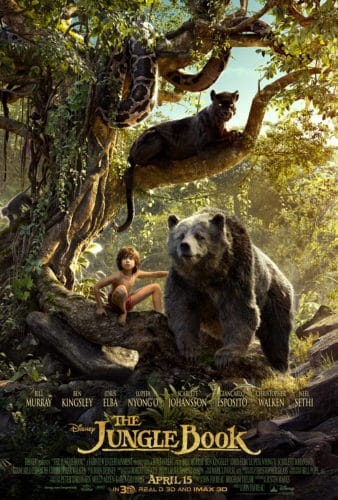 Disney's new Jungle Book is going to be a hit with both the young and old crowd, and everyone in-between. Buy your tickets now so you too can enjoy the toe-tapping music, stunning visual scenes and emotional moments, with a few laughs in between. Your new memories of Mowgli will be as amazing as those of my childhood!
Haven't seen the trailer yet? Here it is!
Follow along on social media using #JungleBook for even more fun!
"I wanna walk like you…talk like you…shoo-bee-doo-bee-do-wop."