When we first bought our house, I remember being excited to see the backyard and create a new backyard landscaping plan. I love to garden — vegetables, herbs, fruits, I do it all. After living in the RV for four months, with my only outdoor plants being a couple of tomatoes in pots that my sister had given me, a lemon tree and a lime tree, I was ready to get a winter garden going. I had plans for a salsa garden (tomatoes, all sorts of peppers, onions) and herbs for cooking. That first visit to our new house, it was just me and my two youngest kids. We walked all throughout the downstairs and loved the layout. Two sets of sliding doors to the backyard? Awesome! Great for entertaining!
Then we walked out one. Oh, how weird, we must be in the side yard, this is so small.
We turned around, walked around a corner and realized, no, this IS the backyard.
It got quiet as all three of us looked at each other in confusion. Huh? Really? This is ALL THERE IS?
We went back inside, still liking it but feeling just a little letdown. The upstairs and the price had better be worth it.
This is what we saw.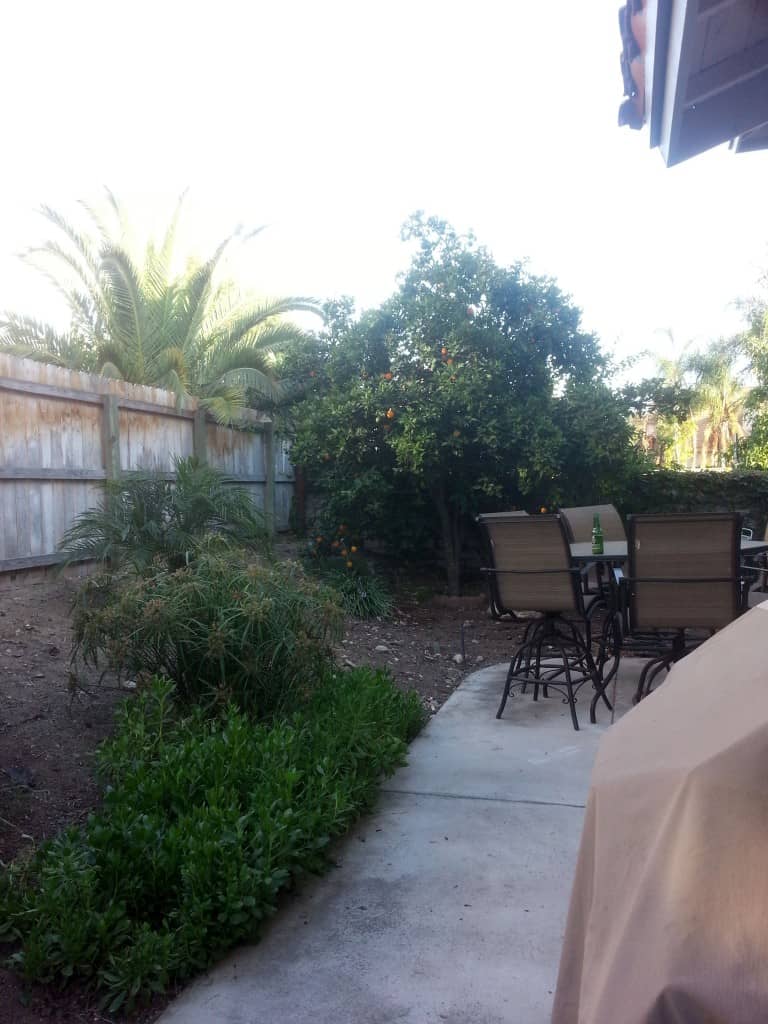 To the right of that table is one set of sliders. See how narrow it is? Forget that beer bottle on the table; we took this that first weekend.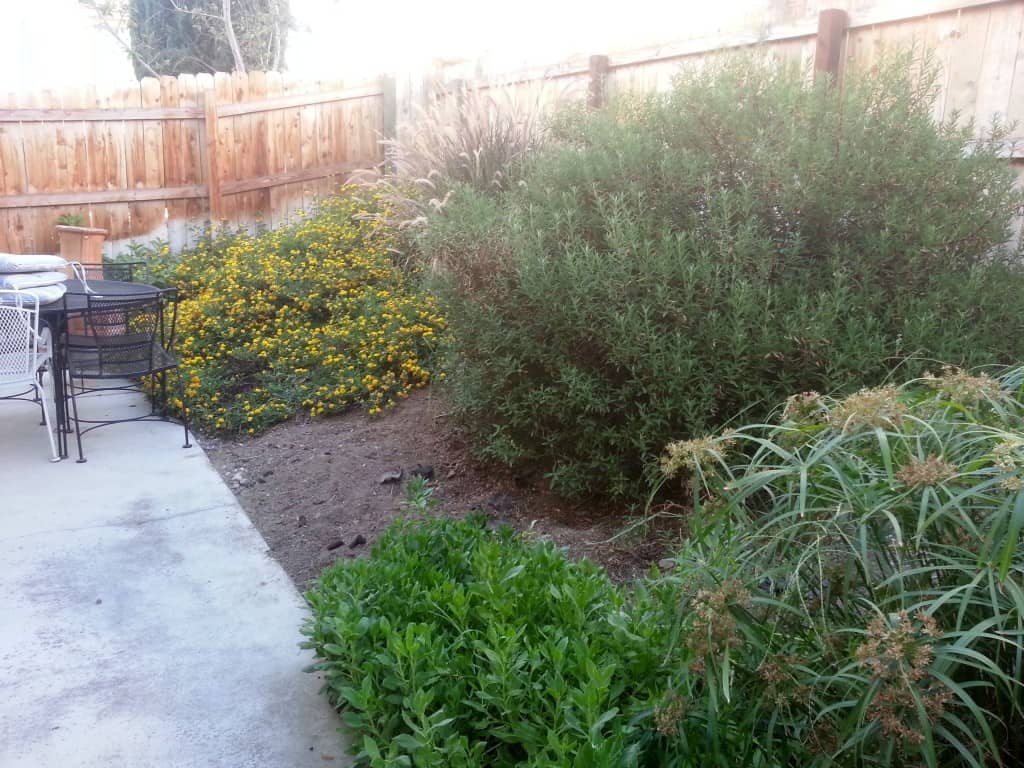 To the left of that table is the other slider. I was standing in the same spot when I took both of these pictures.
Disappointment. Then questions: where will we fit our three tables that are frequently full when we entertain? Where will I put a spa? Where will I plant my garden? Where is the covered patio? This took the idea of backyard landscaping to a new level, because it had hardly any real space to do it.
A couple of hours later, I came back with my husband. I'd warned him. "The house is beautiful, but the backyard is small." I still remember the look on his face as he made that same turn we had made earlier, looking for the rest of it. "No bother, that's it. Really."
Then we learned we'd have to not only put in an offer now, as there were six other offers on the table, but we'd have to go $5k over asking. So much for negotiating. The husband wasn't having any of it. We ended up at Graziano's, a little Italian place around the corner that we'd eaten at years earlier.
Over a couple of beers, we discussed the house. We discussed how most of the homes that were on the market were off the market in less than 24 hours, how the interest rate had risen 1.5 points in the last week, how there were only three homes with four bedrooms listed in our price range right now and how we couldn't get into two of them because they were not allowing tours..and they STILL each had offers. (This was California's real estate market last June/July. It's not a lot better yet, as inventory is low and homes are going above asking, with sellers not being held accountable to make any fixes because if you require too much, they'll just go onto the next purchaser. Prices had also taken a steep hike.) Then the husband gulped the remainder of his beer and said "I'll call the realtor." He told him to pull the trigger and the offer was made, accepted and we were on our way, small backyard and all.
We've been here for about nine months now. We had to do a lot of minor repairs. A LOT. It has cost us a lot more to make the house secure and up-to-date, but we love it. I still have things I want to do, like replace three lighting fixtures in the foyer, stairwell and front room, and I want to put in a new vanity/sink/mirror in the downstairs bath, but neither are immediately necessary. We want to re-paint, using paint that won't come off when you wipe a spot and we'll probably put in new flooring, with the little carpet that we install not being a horrible not-good-for-pets-and-kids ivory.
And the backyard is a work in progress. We decided we were going to cut into that hill and put in a retaining wall, adding another 8′ or so of flat space. The beautiful orange tree is staying, and the back 3-4′ will be my garden space, above the retaining wall. Fire pit, outdoor kitchen area and some grassy area for the pups, and it's going to be gorgeous, but it's also expensive and takes a lot of time.
Each weekend, the husband is out there digging and using a borrowed trailer, taking dirt elsewhere to dump. My younger son and his friends have been helping, and my daughter's fiance's been out there as well. It's a true family affair as we get it ready to put in the wall soon, and have the sprinklers moved so the new garden space will be watered in addition to the tree and other bushes we have plans for. Not a project for the faint of heart, but I'm also hosting a bridal shower here in early April and we like to spend a lot of time outside. A glass of wine on a bench under that orange tree, while it's blooming and smells so good? Perfect way to spend some time.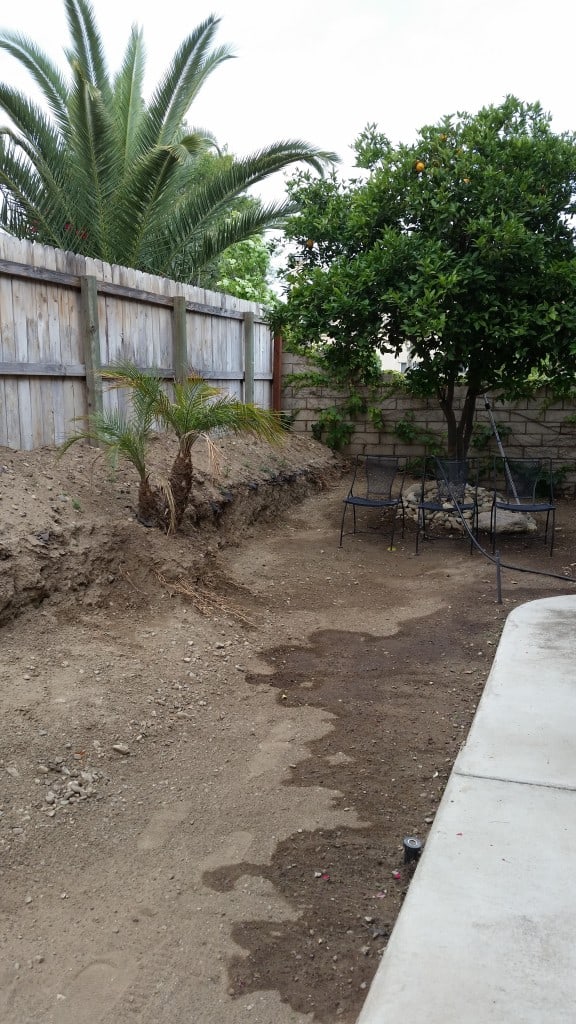 This is what the backyard to the right looks like now.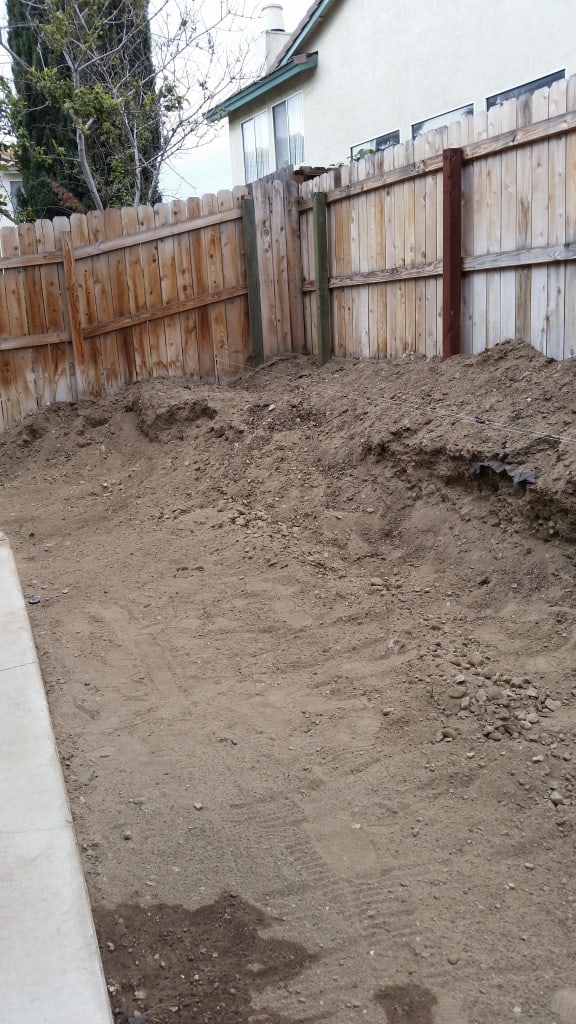 This is to the left.
So, I have no garden this year and we're not ready to host anything. But, we're able to get a sense now of how much more space we'll have. The dogs have more space to roam, though they still gravitate to the top of the hill. The little one slides and the big one gets stuck and can't figure out how to get over the string sometimes. (Don't go up there anymore, problem solved!) I can't complain though as I have some gorgeous potted plants to brighten it up and I'll have a head-start when I can plant them in the ground. I also haven't had to be the one getting the trailer, backing it up into the driveway and filling it with wheelbarrows full of dirt, over and over and over, after filling those wheelbarrows, one shovel at a time.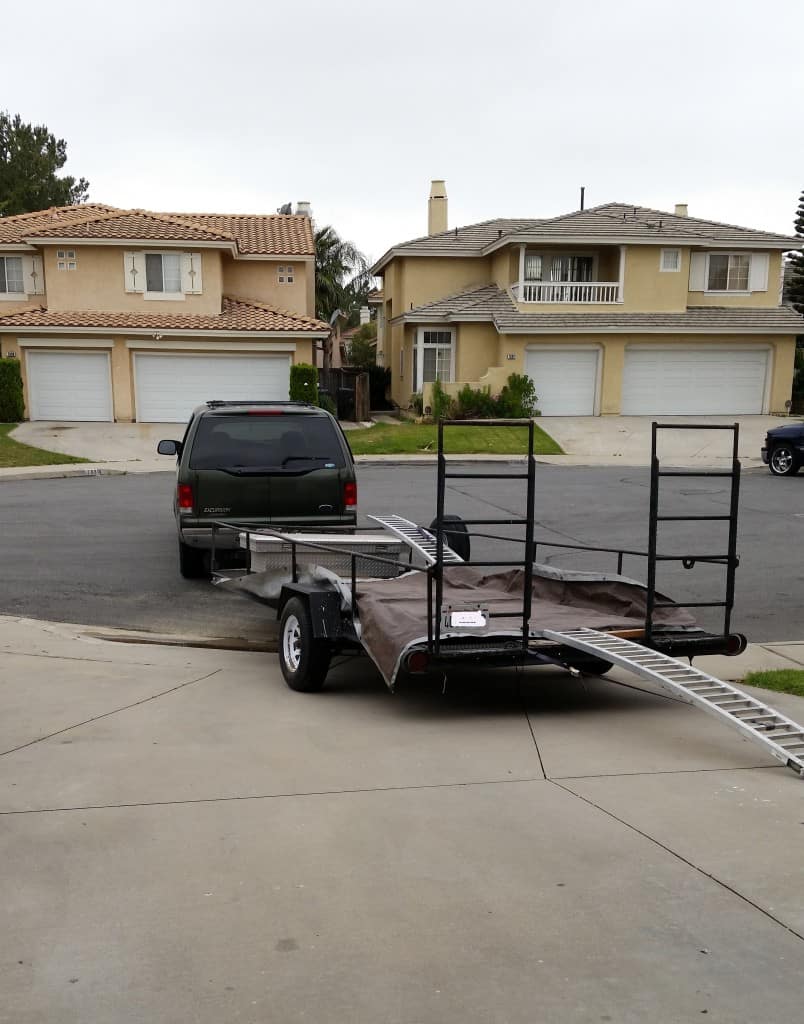 In the meantime, I'm going to be starting an herb garden and that orange tree keeps us in all the fresh-squeeze orange juice and mimosas we could ever want. We're making the most of our available space and enjoying the fact that the rest of the house is exactly what we need.