Several months ago, I got an email from a PR company about a trip to the Grand Canyon. Zip lining? Hiking? Riding mules? River rafting trips? Sign me up, we love adventure! I pitched it to the family and some were excited, but as we got talking about it, the location morphed from the mighty Grand Canyon to Kernville, California, so we could go camping at Kern River up in Kern County.
An RV, eight people, two dogs and six days on the river, literally ON the upper Kern river. Before I knew it, plans were made. Two campsites reserved, deposits sent. White-water rafting reservations made. Boom. Done.
If only it was that simple…
There was a lot of Kern river camping trip preparation, which I wrote about here. We ran into a few obstacles, like my son's summer school program and making sure we had someone to house-sit and water the garden. (The school worked with us eventually, and wonderful friends stepped in to take care of things on the homefront.) Then the weekend was here. The husband brought the RV home and packing ensued.
It was a lot of work. I say that as the person who left midway to attend a press junket, so by the time I got home, all that was left was my personal items, random kitchen items (cast-iron pans, a Dutch oven, k-cups for the Keurig) and all the hygiene and first aid items. (Never leave home to go camping without plenty of drinking water, anti-itch meds, a form of Benadryl, baby powder and a few more things that will keep people comfortable in the event of minor health issues.)
We pulled out bright and early Monday morning. I rode in the truck with the husband, Missie the Yorkie on my lap. We stopped once for gas, in Inyokern, then headed straight to the RV park. It was an easy drive, and we stopped at the edge of Lake Isabella for a photo opp. We got some of our best photos there!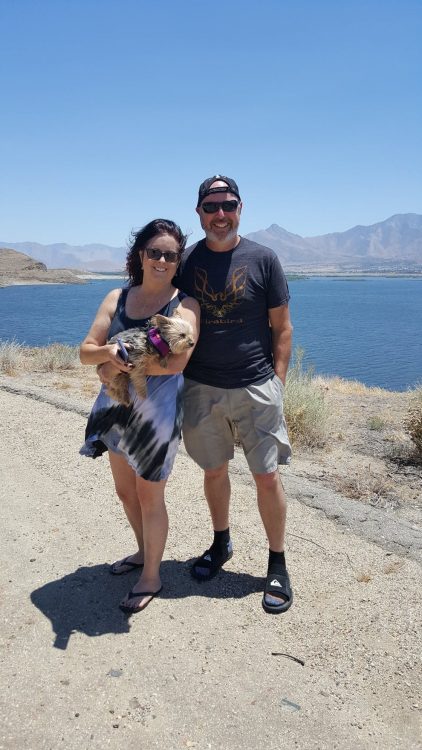 We were staying at Camp James, aka Kern River Sequoia RV Park. Full hook-ups were $55 per day, with a small fee per dog. They are very accommodating about allowing guests to set up before checking in, and then we were ready to start vacation. We opened the coolers, grabbed a beverage and put our feet into the water. VACATION!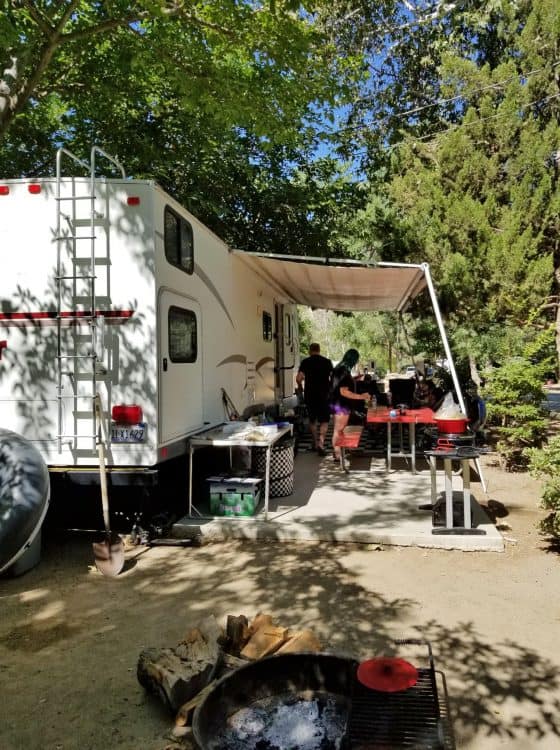 All week was a mix of hiking, floating down the Kern River, eating and drinking, exploring Kernville, and our white water rafting trip, but more on that later. The RV park was mostly full and quiet time from 10pm-8am was pretty strictly enforced, which turned out to be fine because by 10pm, we were tired. It didn't mean we had to close up shop, just lower our voices, so we did stay up and play games. (We tried to watch a movie one night, but someone told us the sound was too loud, so while we're not sure it really was…and it was only 930pm…we turned off the movie and went back to telling stories around the campfire.)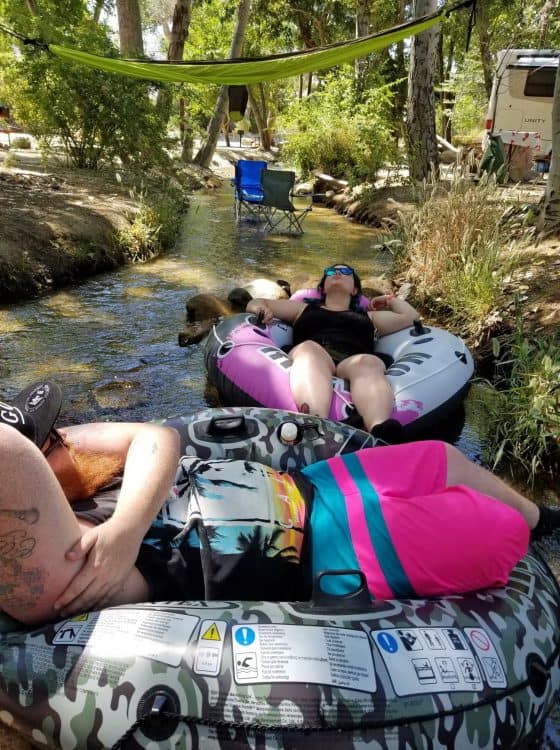 Back to the white water rafting: we booked with SoCal White Water Rafting. Our guides were Isaiah and Chris, and Frankie was a new guide who also accompanied us. We booked the Bakersfield Boogie, which was two trips down the river, and then lunch after. We were in two-seater rafts all the way down the first time.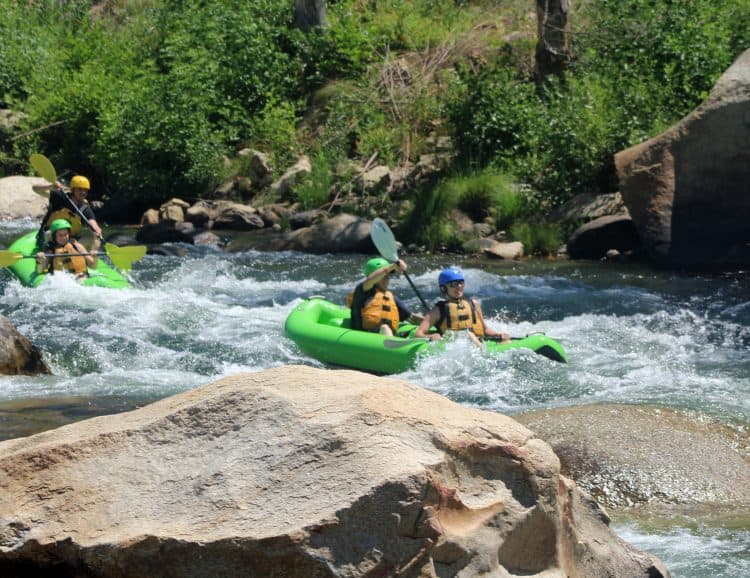 Not everyone was booked for two trips, so when we went back up river for the second run, it was just our family. My sons broke up into individual rafts, and my youngest took off on his own. I was a little freaked out, but he did really well.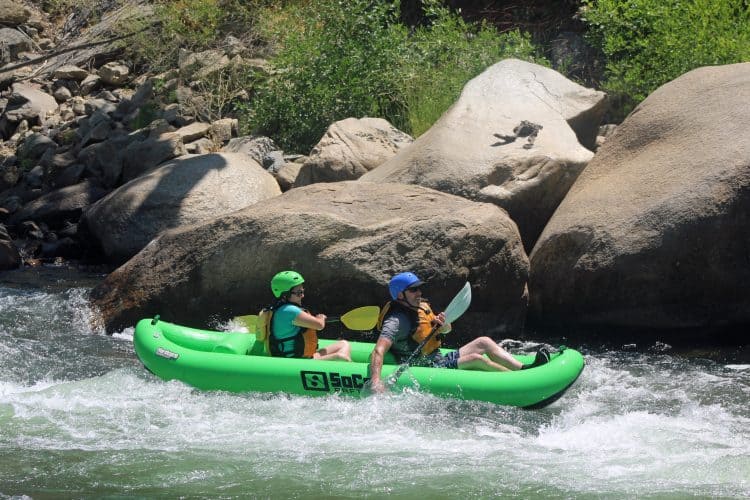 The husband and I capsized on the first run. We hit a raft that was sideways between two rocks, and since some sections are rockier than others, we didn't have a lot of space to go around…so the momentum of steering in the right direction took us straight into them. It was like slow motion, seeing my daughter and her fiance look at us like oooooh noooooo, grabbing us and then SPLASH, we were in the water. I came up under the raft, in an OMG I AM STUCK UNDERWATER moment, and the husband ended up down river. I lifted the raft and grabbed it, holding on until the guide flipped it and helped me back in.
I had hit my shin on a rock and lost my other shoe, but the prescription aka expensive sunglasses stayed put thanks to the floating Chums mentioned in my prep post. The husband was floating right ahead, in the California lounge chair position — on his back, feet up in front — and he got pulled in. Our oars were found in different places and we were temporarily cold, but what an experience! It made us a lot more leary yet comfortable at the same time for our second run.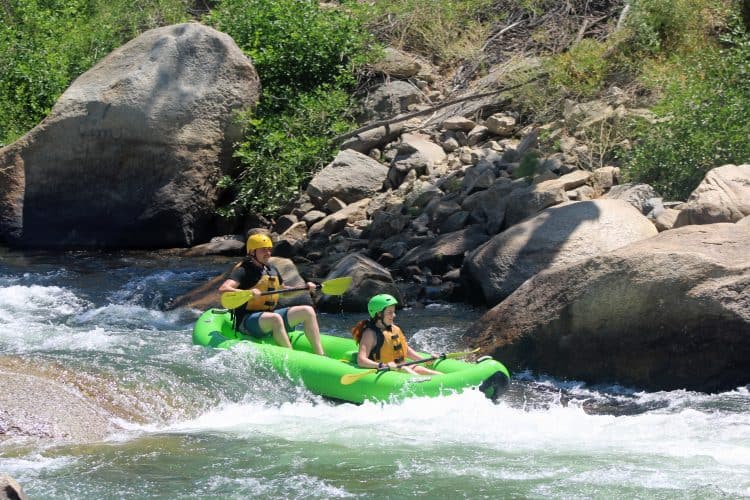 I'd recommend SoCal Rafting in a heartbeat. They were kind, knowledgeable, encouraging and the bonus was that they got me a replacement pair of water shoes once we exited the rafts.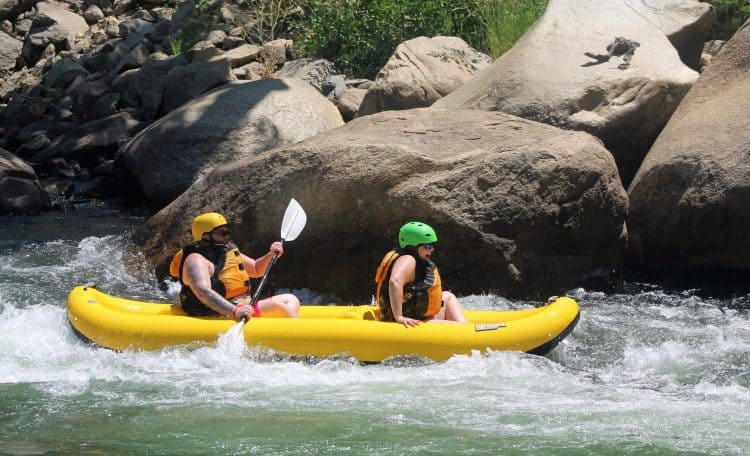 After the second run, they took us to the Pizza Barn in downtown Kernville for all-you-can-eat pizza and a salad bar serving. SO good! We were really hungry after all the activity and it was fun sitting and eating with our guides. (And the husband and I enjoyed a beer from a Kernville brewery, something else we'd planned on doing so two-in-one!)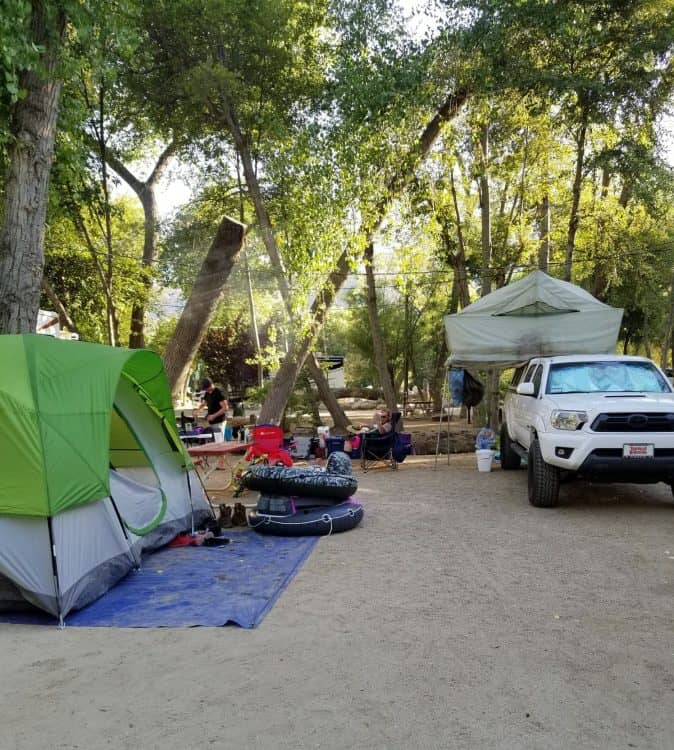 Same with Camp James — five stars. The bathroom by our site was out of order the entire six days, kind of a bummer, but we had our RV bathroom so it didn't affect us, just our two tent camping couples that had to walk to our site in the middle of the night. Luckily, we were pretty close.
If you're looking for upper Kern river camping, Camp James Kern River is your go-to. The rates were fair, they are very pet-friendly and sites were large enough to accommodate the RVs/trailer, tents, a picnic table, fire pit and one vehicle per site. (Additional vehicles pay $5 per day to park out front OR there is apparently some street parking available, but we didn't ever use it.) We had several trees but still plenty of room for our slide-out, and we had the benefit of shade so our awning was handy but not required.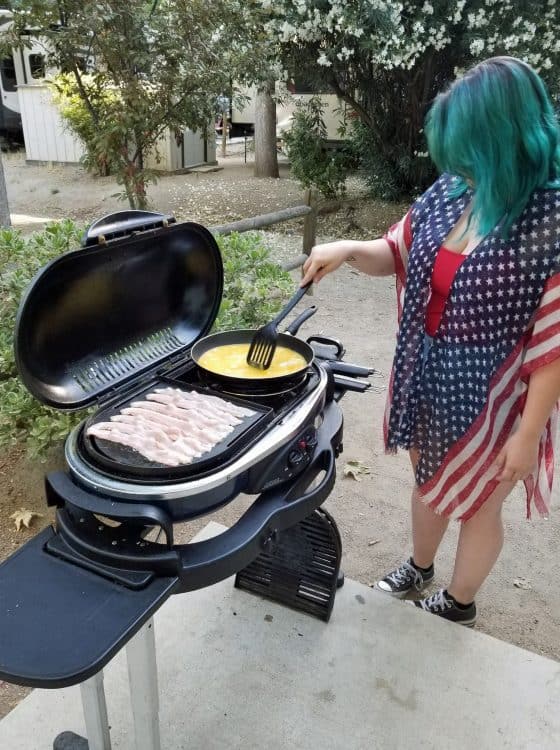 We spent a lot of time in our camping chairs in the small Kern River tributary running alongside our other campsite with the two tents. Brisk water in the shade of many trees, with the sound of the big river in the background. We also learned quickly how fun it was to float down the river by walking up-river just a short ways, wading in past the rocks, and getting in that California lounge chair position. We found a point where it was safest and easiest to exit before the rapids, and we did it a few times in our floats, too. (Aldi had a tube float for $14.99 but the campsite sold similar ones for $25.99 in case you can't find them before you go.) It was so much fun! Fisherman do fish along the river's edge, so you'll want to keep an eye out but everyone works together so we were all able to share the space without problems.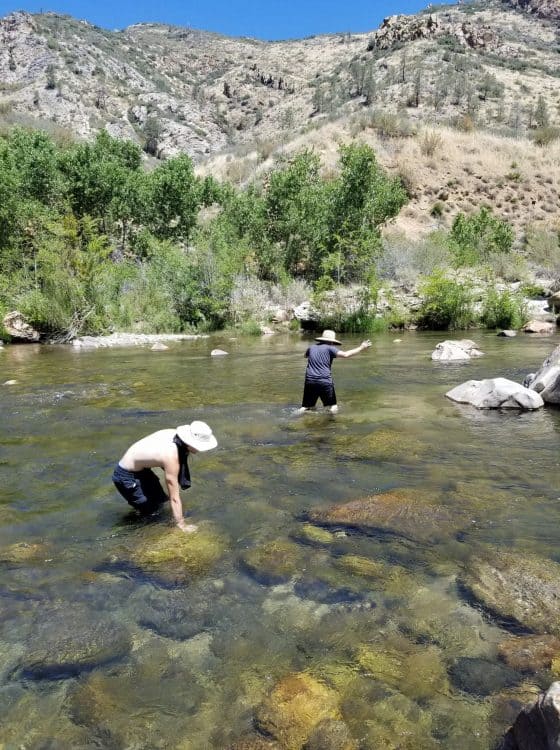 Bring your own firewood, or buy it there onsite for $7 per bundle. Ice is also available, and in the heat, you will go through it quickly. They allow fires in the assigned fire pits unless the fire safety level is too high. Showers are $1 for seven minutes, but the showers were clean and large. I used the RV shower each day, but for a buck, public showers were a hit with some of the kids.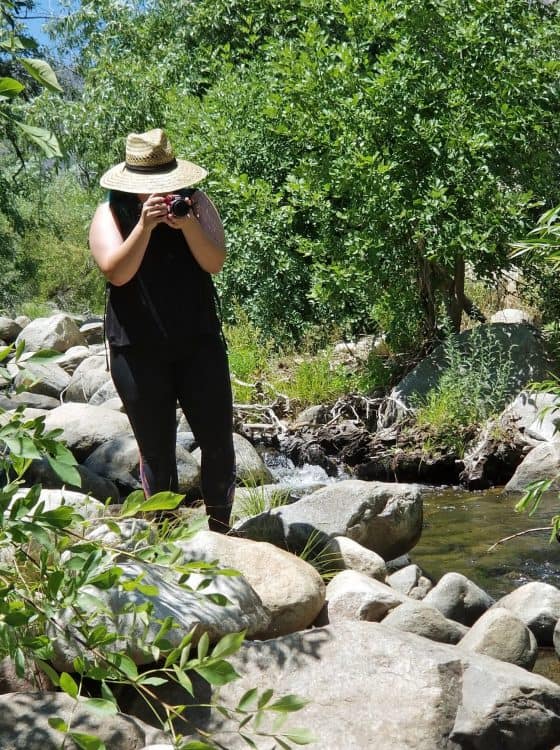 Grab a map from the camp store or Google it prior. The hiking trails are prevalent but they range from easy to advanced. Pack Saddle Trail, the one we took to a cave full of stalagmites — totally worth it — is advanced. Parking is on the left a bit past McNally's on the main road, but bring your water, more water, a first aid kit, strong flashlights (your phone will not suffice) and more water. You'll be in the sun a lot and the cave is deep. It's not a hike I would take young children on, as the path gets narrow and steep in several places. It's also hot in the blazing sun, so head out early.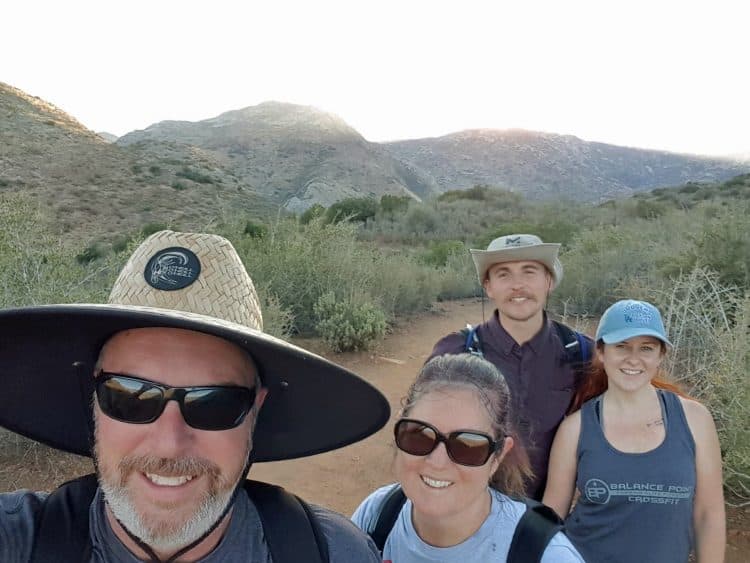 In case you didn't read my other post on the trip, I'll recap: we got 1/2 mile up the very steep incline to start the Pack Saddle Trail hike and my shoe gave out. It literally fell apart, sole falling off the body. As I was standing there going WTH, the left shoe did it too. They were good quality hiking boots…which had been sitting in my closet a few years…and the heat just melted the glue. I was left with just the body of the shoe.
We considered still hiking like that, as though I was wearing elf boots, but I had a bad feeling so we called it. Good thing, because the elf booties gave out 20 yards down the hill, meaning I'd have ended up stuck in the middle of an advanced hike with feet covered only in socks. We went back to the truck, I changed into flip flops and we played in the water, planning to re-do the hike on Thursday, which we did, and this time it was a success! Every vacation has at least one disaster, right? Our Kern River camping trip was no exception!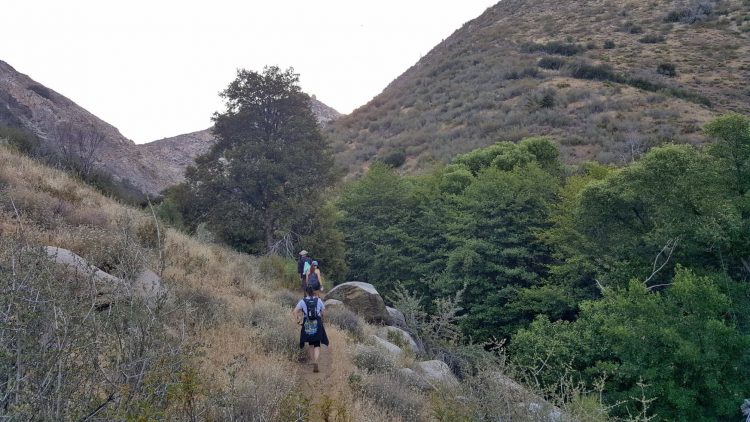 When I saw this photo, I was like, oh, cool! I take so many pictures, I'm not in a lot. Then I saw a video that the husband took. Maybe there's a reason: I hike like Paul Bunyan, arms out wide and legs all over.
It wasn't pretty.
Pack Saddle Trail is not for a beginning hiker. The first 1.5 miles is almost all uphill and if you're in the sun, it would be brutal. You then go up and down for a while, then you drop to the bottom of the valley, where you'll be under tree cover as you cross the water 3-4 times. Pass an old campfire, climb some rocky areas, and when you turn a 180 to look up the mountain top to your left, you'll see the mouth of the cave.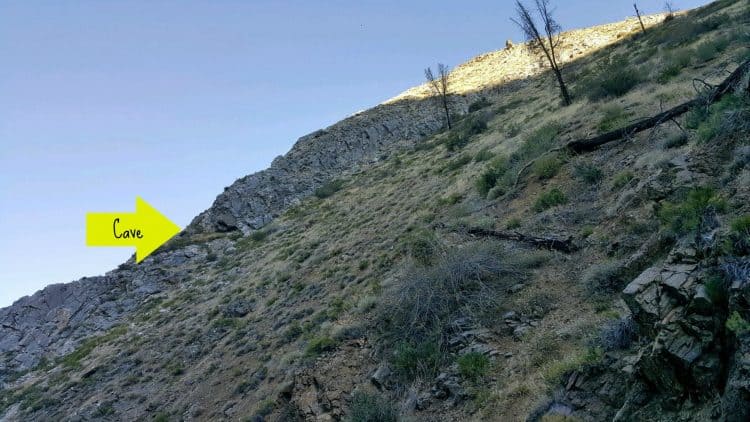 On the ground is a sign pointing you 1/4 mile to the left, and be ready: that last 1/4 mile is a narrow path along the edge. Once you're up there though? WOW. I wouldn't take young kids on this, and you need flashlights. A phone light will not suffice, as the cave is long and deep and extremely dark. Full of stalagmites, if you turn off the lights and just listen, you'll hear the drip-drip-drip and see nothing at all. Going back is easier but it's a long hike so be prepared. Water, water and more water.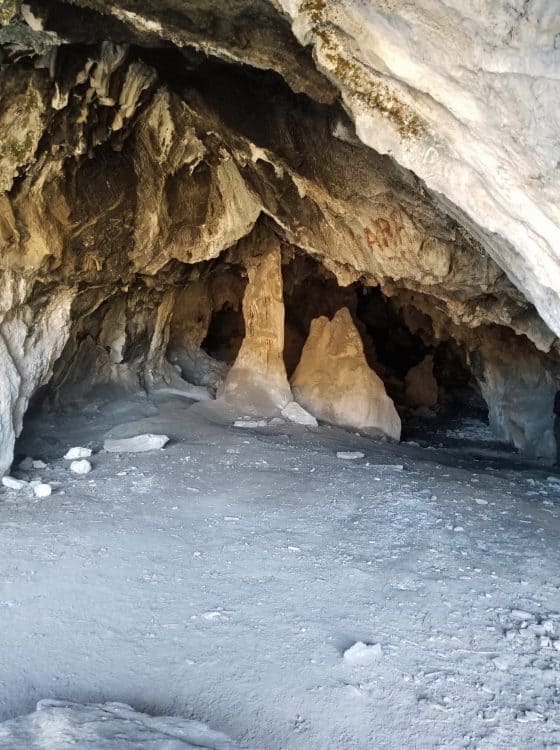 The fam explored the depths of the cave, which is way deeper than that picture shows. Me? I did this. Just a few feet past my feet was a straight cliff down. Beautiful but what a workout!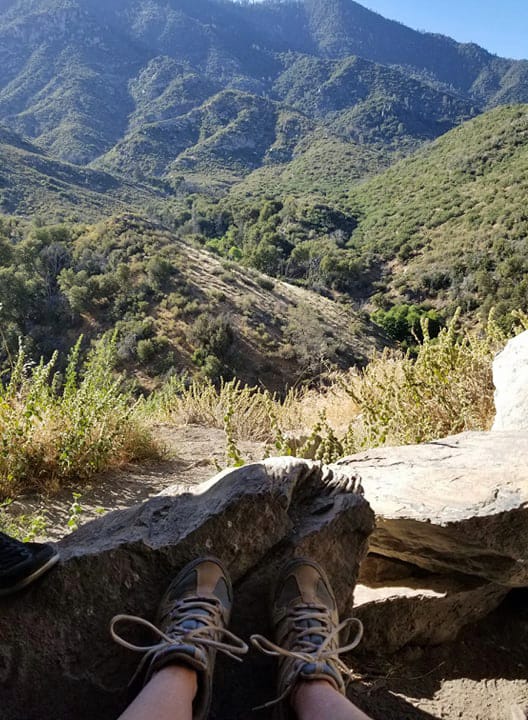 The Whisky Flats Trail is much easier. You'll get a brief glimpse of the Kernville residential area before you park at the end of the street downtown. The path may seem mundane for 1/2 mile or so, but then you'll run into an offshoot of the river and you'll want to park on a rock and just listen to the sounds of nature. You can go up the river, crossing back and forth, which is what we did, or cross and go further. It's apparently a long trail but we chose to stay around the water and it was so worth it.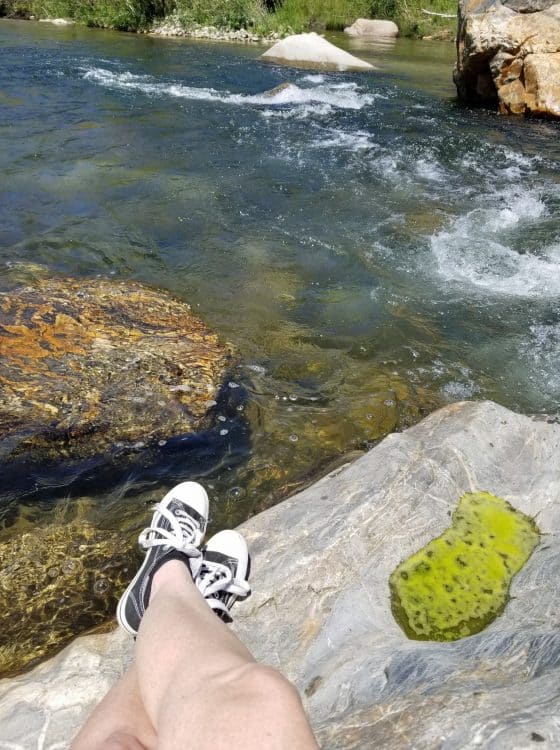 Kernville has a lot of options for accommodations. There are numerous RV parks and hotels, many along the water. Restaurants and stores are everywhere, so if you forget something important, you'll find it somewhere. There's a museum and it's just a neat city to walk through and they have a couple of places known for their ice cream and shakes. We didn't get to any of them but next time!
This is Richard. He became our camp friend. I miss you, Richard!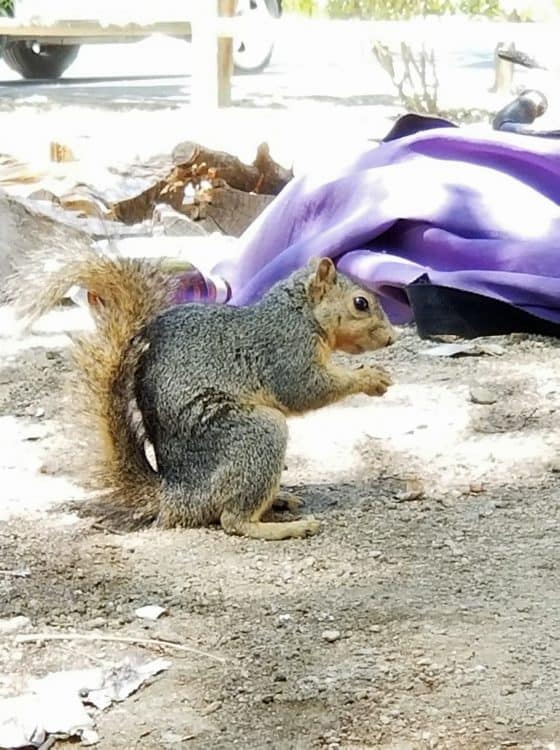 We definitely are going to visit again, and we'd stay again at Camp James. The location of the park makes it easy to find and the park layout is accessible for RVs of all sizes. If you're staying in a tent or RV, you'll have plenty of space, but make your Kern River camping reservation ahead of time. There are gas stations in town, but they were crowded so the husband gassed up while unhooked from the RV.
Camping at Kern River is something we've wanted to do for a long time, so we're glad we made it happen. We came home with a lot of memories and I have a little Poison Oak. I'm planning on typing non-stop for days as a distraction to itching my arm, which is covered in bandaids because I absent-mindedly scratch if my hands aren't busy. Vacation problems, right?
Kids grow too fast and work has a way of sucking up our time, so if you can swing it, plan a family vacation today. Camping isn't expensive and even if you do it in tents, you'll have memories for a lifetime.