Last month, the husband took me on a weekend getaway to San Francisco to celebrate my birthday. We decided against a rental car though, because we know getting around San Francisco would be a lot cheaper and easier without it. Between parking, daily fees and gas, it saved us a lot of money. But, it did pose a few challenges for newbie travelers to the bay area, and while we got everywhere we needed to, on time, we did make a few mistakes.
How to Get Around San Francisco Without a Car
San Francisco is full of things to do and see, and it's easy to try to cram in everything on one trip. Having a rental car sounds like it would provide the freedom and ease to you need, but parking is expensive. It's also not available everywhere, and if you can find it on the street, it's frequently on a hill. There are parking structures but sometimes you still have a bit of a walk to get to your destination, and if you're wearing heels for a fancy dinner or it's rainy, it can be miserable.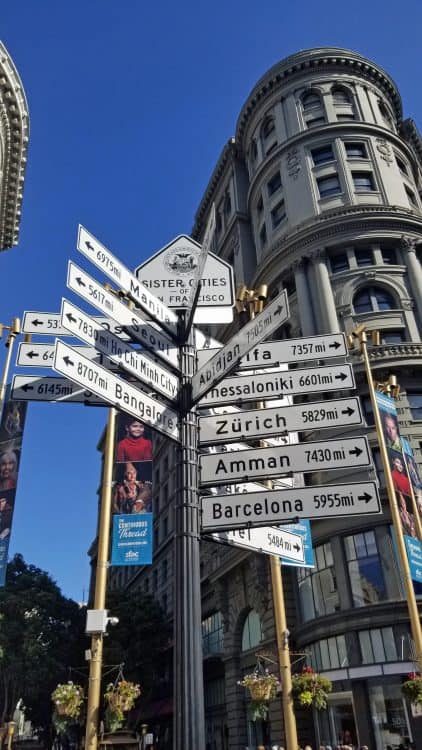 Parking is available per hour or per day, and it can get more expensive for peak seasons; average costs are $35 or so per day. (There are early-bird rates in some locations.) Add in gas, which is not only expensive in California but finding a gas station in the city is really tough. (A quick Google Maps search shows only 20 or so in all of San Francisco.) You'll notice many of the cars are electric, so you'd still need to find a place to plug in. Because of all the hassles and costs, we opted to take public transportation around San Francisco as much as we could, which started with our ride from San Francisco Airport to our hotel.
When booking our plane tickets, the husband was offered vouchers for the BART. This is the underground train system, similar to NYC's subway, that operates all throughout San Francisco and surrounding cities, such as Antioch, Richmond, Warm Springs, Millbrae and points in between.
We are train newbs. We have the Metrolink here in Southern California, but we aren't familiar with it. The trains here are different, as they are above ground and don't have the same types of transfers underground trains employ. (A lot of SoCal Metrolink transportation requires a shuttle or bus between trains.) Our first mistake was not doing any research about the BART system, and trying to get help there in the airport was not a pleasant experience. So don't be like us — research before you arrive.
Pre-purchasing BART vouchers is not a bad idea, but read the fine print. The shuttle around SFO is a loop so if you get off at the wrong station, you could be in for a long ride back….and I say this because we did it. The fine print on our vouchers stated that we had to visit the Information booth to receive our BART vouchers. For some reason though, our Expedia purchase didn't show up in the SFO system, so we got lucky with a kind lady at the booth who still gave us our tickets. We then had to hike to the BART terminal.
Then the fun began.
Orange line. Yellow line. Blue line. Easy peasy, right? Except no. The trains aren't marked as a newbie might expect, and the direction in which they take off is irrelevant to where they are actually going. Trains go in opposite directions or not and you have to really pay attention to the signs and the times. So my second tip? Hold onto your ticket. It is essentially a card that holds a certain amount of money on it, which is deducted when you exit the BART station. You pop it in the slot when you enter, and again when you get out, but not in between when you transfer, unless you exit the station.
When you pre-load a ticket/pass, you can view the schedules on the wall that will give you an idea of how much money to put on your ticket/pass. It cost us approximately $11 for one person from the airport to downtown San Francisco at the Civic Center station.
Next tip? Take a photo of the map in the station. You can refer to this if someone stands in front of the map while you're riding, which is frequent, and if you have cell service issues, you won't have to worry about remembering which train you need to be on.
For example, on Sunday, we needed to be at the Oakland Airport by 2:30pm. We walked to the BART Station at Market Street, where we took the yellow train, or the Antioch Train, to the 12th Street Station. We changed platforms (which is frequently upstairs/downstairs, not just adjacent) and found the orange train to the Coliseum. Get off, and take the Oakland Airport BART. Some connections were immediate, and others required us to wait up to 15 minutes as other trains came and went.
Best tip to help navigate this part? Listen to the announcement system as they run through a regular cycle of trains that will be arriving/departing and at which platform. Learn the name of the train, such as "Antioch train" instead of the color, and pay attention to the digital signs that go through the same thing as the announcements. Also, give yourself plenty of time.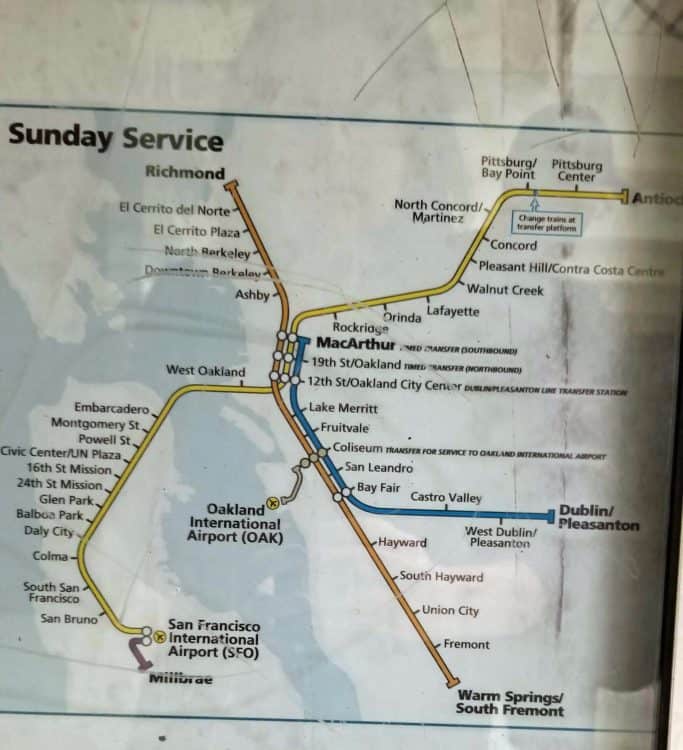 When waiting for your train, stay back from the edge, but bear in mind that some trains get very crowded. If you stand too far away, others will crowd in front of you; we watched multiple cases where people didn't get on the train or had to ride in separate cars from the rest of their party. People exit the car as people enter and it can get a little chaotic.
If you're nervous, stand closer to the doors rather than take a seat towards the back of the car. However, doors open on different sides at different stations, so that still isn't foolproof. Be prepared for a lot of people in your personal space, and hang on tight to a handle or pole.
While the BART can be confusing at first, I felt like we got a handle on it towards the end of the weekend. It was still a lot more economical than a car and lines run seven days a week, though there is abbreviated service on Saturdays and even more so on Sundays. At the time of our trip, there was major construction on one of the lines that added 40 minutes onto the trip due to a temporary shuttle bus ride required between stops.
There is a BART app you can download onto your phone. It wasn't very helpful to me, with my limited experience, so we relied more on the map photos I'd taken. You can refill your tickets, or purchase new ones, with debit and credit cards and cash at the station. However, use the lowest denomination of bills available. We needed to purchase two $4 tickets, and the smallest we had was a $20 bill. We inserted it and tried to deduct money from our purchase, but the lowest we could get it to was $16. When you're in a hurry, this can be a little stressful, so my suggestion is to carry ones and fives.
Most stations are manned, at street level where you insert your ticket to get in/out, so you can seek help if you're in a pinch. We had mixed results with this. They are incredibly busy and they weren't all the most patient with our questions. We're pretty savvy travelers and weren't aware that getting around San Francisco on the BART train was going to be so confusing. We aren't big question askers so this was new for us.
Because the stations are below ground, plan your attire and accessories accordingly. Unless you're ready to take several flights of stairs in heels, pack your sneaks and change later. We had one rolling suitcase for our SFO airport round-trip, and I'm glad the husband was able to get it up and down the stairs so I didn't have to mess with it. Backpacks work great, but with the number of people on the BART, be mindful that you become a wide load. I got hit SO many times by backpacks and at one time, it tipped me over on the train.
Another way to get around San Francisco is MUNI, but we didn't use any of the buses or trains to share personal experience.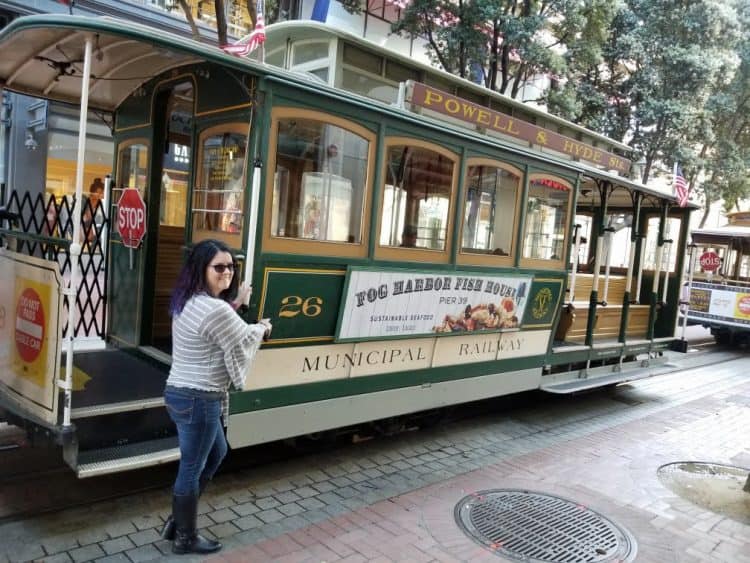 Then there's my personal favorite, the cable car system! We got in line at the end of the line, near Market Street. (The other end is at Fisherman's Wharf.) Because the cable car is inexpensive, and it has such a colorful history, the line can be long. We were told to expect a 45-minute wait to get on, as the line wrapped around the corner and up the street. In reality, it was probably about an hour.
The cable car system is pretty simple. Buy a ticket at the booth and get in line. When it's time to load, the outdoor of the car fills up quickly, and the interior often remains empty initially. (As the car continues along the line, it fills up. Many people riding the cable car, or trolley, do it for regular transportation so they aren't worried about the experience or the views like we tourists do.)
When the cable car reaches the end of the line, it has to be manually turned around. It was a fun process to watch, and by far the most photographed and video'd thing we saw on the whole trip. Everyone has ample time to see this while in line, and there's typically street entertainment of some sort. The banter of the conductors was a lot of fun to hear, too.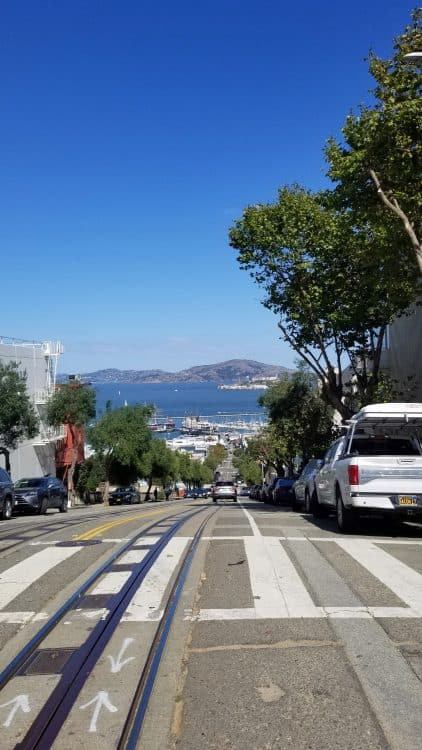 We chose to stand along the edge of the car and hang on tight. This means you will be right in front of other people, but that's how this system works, so don't feel bad. If you don't stand there, someone else will. By the time we got to the Lombard Street stop, every handle and every step was full. People get on/off at stations along the way, and many times, our car would pass by stops with our conductor announcing that our car was too full to stop.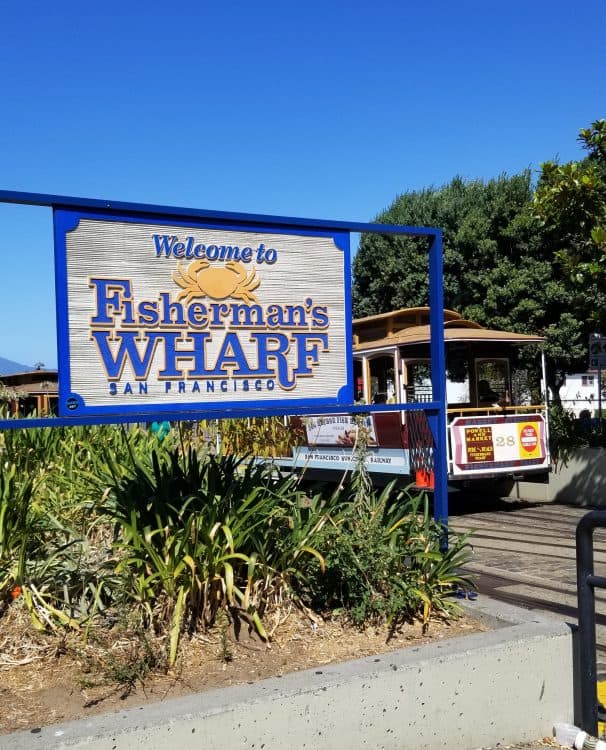 A couple of tips for riding the cable car: if you stand up, you get an amazing view and it will be unobstructed at least in one or two directions. I was lucky and I stood at the front so I had the most amazing views of the ocean as we came up to the top of the hill. However, if you have a backpack, you are required to wear it on your front. If you are taking pictures, have a pop socket or some other way to maintain a good grip on your phone. Wind, bumps and weird objects that stick out can occur. (Conductors don't run into things, but people are unpredictable and not all vehicles leave the lead space they should.)
I wouldn't recommend heels for this either. I love heels, hence my frequent mentions of them, but I lived in comfortable boots almost the entire trip. It can also take a little longer than you expect, as the trains are always running in a loop, and they have to stop for backed-up traffic, blocked intersections and red lights. We took it down to the wharf, but chose another option to get back to our hotel that evening.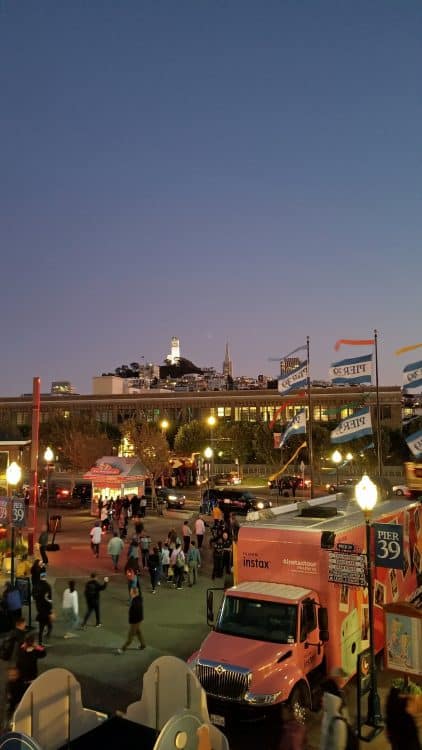 What method? An Uber. We used Lyft a couple of times, but on Saturday evening, we couldn't get a car after ten minutes of seeing available Lyfts in the area. Our hotel was about 15 minutes away from the pier, so maybe there weren't a lot of calls from that area, who knows. Our Uber and Lyft drivers were all kind and funny, though we had one that didn't speak a word other than hello and thank you. A couple gave us great tips and pointed out historical things, so it's kind of like a tour when that happens.
There are also taxis available, but we were recommended twice against using them due to cost. They also aren't as readily available along the street when you poop out like an Uber or Lyft can be.
One problem with personal car transportation is traffic. There are times that festivals and events can make it very difficult to get around the city, so check the schedule ahead of time. We were going to use a Lyft to cross the Golden Gate Bridge on Sunday morning, but we were warned that coming back, the vehicle may not be able to advance beyond the park and that we'd still be stuck. Hence, the BART trip to Oakland Airport. (And because we were just tired of calling and waiting and paying, we ended up walking the last 1.25 miles to our destination after we stopped to get food.)
Getting around San Francisco isn't difficult, but in summary, remember a few things:
Read the fine print on vouchers and pre-paid tickets.
Research your route ahead of time.
Carry some small bills.
Take photos of the BART or Muni maps for reference.
Allow yourself extra time.
Check the schedule for closures and/or expected traffic.
Wear or bring appropriate footwear.
Preload rideshare apps and payment options onto your phone.
Protect yourself and your personal belongings.
Visiting San Francisco is a good way to celebrate a romantic getaway or a family vacation. If I had to pick the best way to get around San Francisco, I'd have to go with BART. It wins for affordability and speed, because the train hauls between stations and exits in two directions for convenience. The cable car was the most fun though!
Having your own car for the trip isn't a bad thing, because the trip down Lombard Street or across a bridge is memorable, but it's definitely not the cheapest way to get around San Francisco. Hotels charge to park, too, so consider that as well.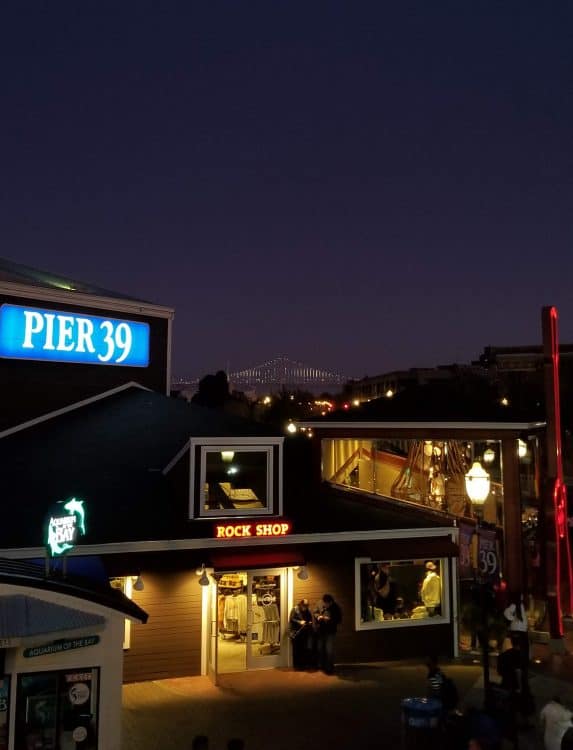 However you choose to get around San Francisco, give yourself enough time to soak it in. Eat where locals eat. Try clam chowder in a bowl at Blue Mermaid by the wharf. Take a ferry to Alcatraz and watch the sun go down over the Golden Gate Bridge. See the infamous Painted Ladies….from across the street, instead of bothering the homeowners.