Today, I am 9 days post-vacation. Nine days since I was sitting in my anti-gravity rocking chair, listening to the rushing river sounds and watching Richard the Squirrel try to figure out how to get to the Hawaiian rolls.
It was heaven.
The reality is that I'm sitting at my dining table, watching Salvation, trying not to scratch my Poison Oak rash, drinking Chardonnay and reviewing photos taken during our six days camping at Kern River, California. I'm looking at the smiling faces of my kids while we were battling Class 3 rapids on the river. I'm seeing the meals we cooked outside the RV and tents on the stove, amongst nature. I'm shaking my head a little at the amount of stuff we managed to do in those six days and I'm happy.
Was it perfect? No, but it was amazing nonetheless. We ate out only one time in those six days, and we ate all of our meals together. When you have four kids, a son-in-law, an almost-son-in-law, and two high-needs dogs, it's no small feat to have pulled this trip together in the first place, but with the help of a logistically-inclined husband and every kid taking on a task, we made it happen. And so can you!
The idea was to pack everyone into the RV and head out to the water. The reality was that the RV park we chose, Camp James, or the Kern River Sequoia RV park, only allows six people per campsite. No problem, because eight of us in one RV is a lot. We've done far more, but six days means a lot of gear. We also wanted full hookups for our 32′ travel trailer, towed by our mighty Ford Excursion V-10, and you can't get sewer service along the river. Backing up to 8 people using the bathroom? We need that sewer connection so the husband made our reservations months prior, ensuring we would have all the hookups and space we needed. (Tip 1: you can always use more space.)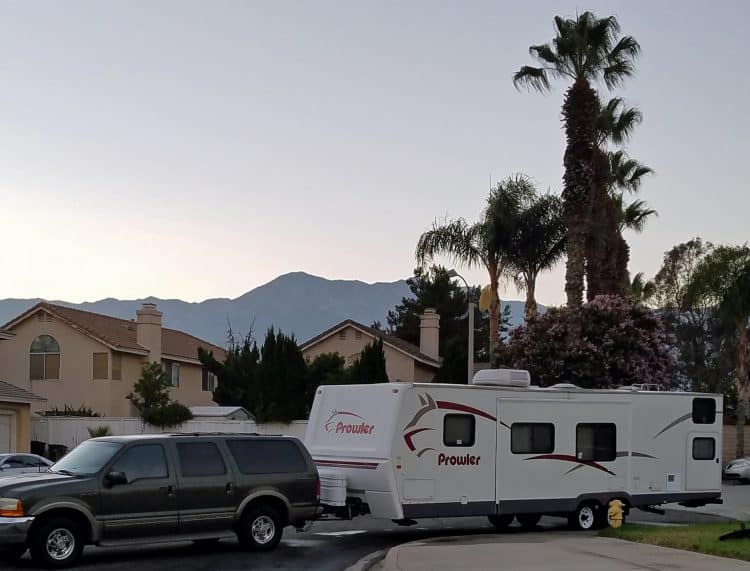 Planning a family camping trip in an RV means a lot of planning ahead. To smooth out the process, I took the inside of the RV and the husband handled the outside.
Here are a few of the tasks we handled to get ready:
Get the oil changed in the towing vehicle. Ensure tires are fully inflated.
Have the RV maintenanced to charge the battery, fill the grey water tanks, empty the black water and check the tires. RVs that sit for any length of time typically lose air and need to have the tires inflated; flatspotting can happen so tires may even need replacement. Vents and fans tend to dry out in the heat, if your RV isn't stored inside an RV garage, so look at replacement as necessary. Do a quick run-through to ensure everything functions as possible.
Map out the route, and then map out a Plan B. (On our way home, the Cajon Pass had major construction occurring in a place that would have meant we were stuck on an incline. This means heavy brake involvement, so if you are towing 10-12,000 pounds in the trailer, you want to avoid prolonged times braking on a hill if possible.)
While mapping out your route, look for gas stations or travel stops that cater to bigger vehicles. A 20′ truck towing a 32′ trailer, with around 3′ of connection, can't just fit into any station.
Put together a list of meals. I created a Google doc that broke down each day by meals and snacks, and I covered our Wednesday meal in red as that was included with our white water rafting. The rest were open for us all to fill, so each group/kid started filling them in with their own color of text or highlighting the entire block if they were claiming the whole meal. This allowed us to see gaps in food and to make sure there were no duplicates.
Lists. They are lifesavers. Each person was responsible for their own clothing — which is easy when the youngest is a teenager — but I took on the task of providing all utensils, servingware, beverages for the RV and maybe most importantly, a full first aid kit and medicine chest.
Speaking of the medicine chest, consider what you may use at home and then add in everything you will need for the outdoors. Over-the-counter pain relievers, age-appropriate Benadryl, bug bite cream, anti-itch medicine, antiseptic, bandaging equipment and simple band-aids, calamine lotion and wound cleaner. A trip to Kaiser Pharmacy and Target got me everything we needed for less.
The husband took photos of the RV cabinets from top to bottom before he brought it to the house two days prior to departure. This enabled me to see what we had in the pantry and shelves and what I needed to purchase. It has been a while since we used the RV so I had to start from scratch in many areas. New plastic cups, new reusable coffee mugs, more towels…and don't forget the fun! We keep a pretty well stocked game shelf but considering the group we had going, I wanted to pack additional games like Uno Roboto, Backgammon, Marvel Trivia, dice, cards and a few odds-and-ends to keep us busy at night when it was too dark to go anywhere but too early to go to sleep.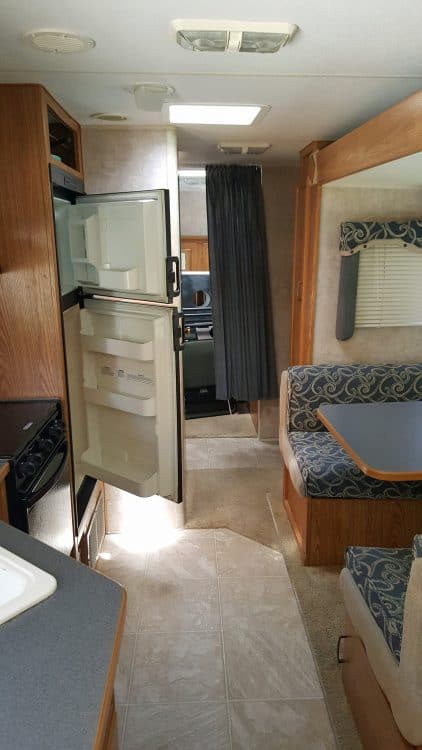 Where did we have problems? Skewers. Skew-ers, for those who want to laugh at my pronunciation…and you know who you are! We still don't know where they went missing, but it was a surprise when it came time to assemble kabobs. Let's just say that dinner was more of a stir fry. Lesson learned: if you rely on something for a meal or an event, double-check it actually is IN the RV or vehicle.
We took six cases of water in the RV and each tent couple brought more, but we were still close to running out. Pack extras or scope out where the closest store is. Campgrounds have stores but their prices can be higher due to convenience.
Pad your schedule. Things like walking dogs to the pet park or feeding them in unusual spaces can throw them off, and it will take longer. (And on that note, be sure you add their medicines, foods, bowls, toys, beds and leashes to the list of things to take. We didn't forget any of that, but we had to add IV bag, IV hanger…an actual clothes hanger..to the list. So.Many.Things!)
Reserve your excursions ahead of time. We went white water rafting and it was the end of the season, so with a group of 8, we wanted to be sure we were all in one group. We knew we'd have to arrive 45 minutes early. Read up to be sure you wear the proper attire and that you don't bring anything you shouldn't into the building or you'll be walking back to the car. Tip: buy floating Chums or other eyeglass restraints. Trust me on this. Really.
If you are hiking, bring more than one pair of shoes specifically for walking. In the event of something like, hmmm, your shoes literally falling apart 1/2 mile up a very steep incline on a 3-mile hike, you'll want to know you have a spare pair so you can start over the next day.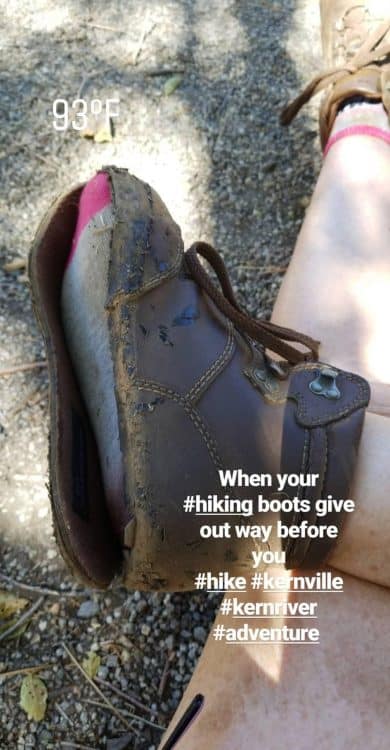 That's my Insta story while waiting for the rest of our hiking group. Nice shoes, right?
Hydration backpacks are awesome, but when it's in the 90s, the water can heat up pretty quickly. If you don't want to buy one, pack iced water bottles into a regular backpack. Not only will this help them stay cold longer, but they help you, the carrier, stay cool longer. Protein snacks are also important. You burn more energy than you think, when you're focused on climbing to a ridge or making it to the destination with the rest of the gang.
Target's small-sized aisle is a treasure trove for RV camping and hikers. That $.99 first aid kit is a must. Stow it in a backpack, along with hand sanitizer, wipes, suntan lotion and moisturizer. AND a Go Girl…a gift from a treasured friend that made me feel SO much better knowing I had it with me! You just never know. And guys, seriously, I hope you appreciate how much easier you have it! There are no bathrooms on many hikes, and a 6.5 mile hike over a period of a few hours, well, that Go Girl is going to come in handy. (Still, pack tissues and a baggy to pack out whatever you pack in.)
Be flexible. Things are going to happen. You'll realize you're out of skewers. The propane will run out at the wrong time. Your RV park neighbor may accuse you of stealing firewood. The microwave may not thaw your chicken quickly enough. Aaaaaand you may scrape your arm along poison oak or sumac, leaving you with a small section of itchy rash that just doesn't go away for what feels like forever after you return home.
Planning a family camping trip is an adventure in itself, and you can even turn that into a family event. Give everyone a chore and while you need to plan for contingencies, as long as you're not out in the middle of nowhere, you can buy things you forgot or just get creative.
Then you can do stuff like this. That is not water in my cup.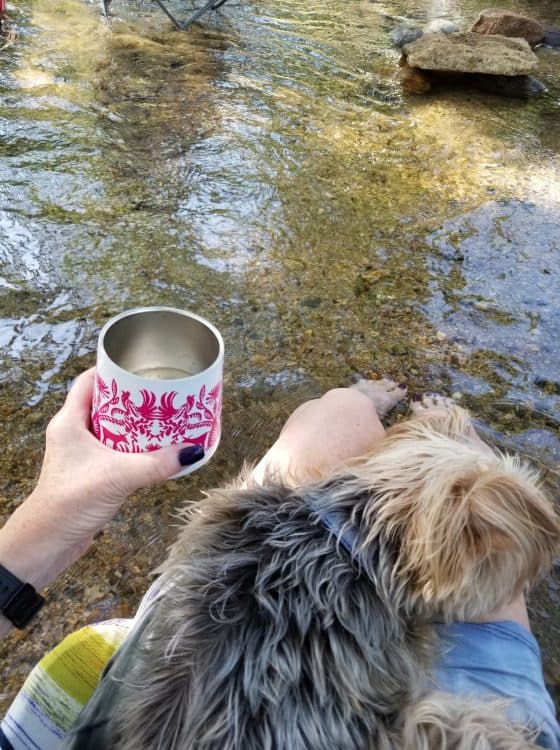 Enjoy the moment and have a blast camping as a family! RV life for the win!