Earlier this month, I got to participate in a blogger press trip to the San Jacinto Valley, here in Southern California about an hour southeast of me. Located off the 15 freeway, about 85 miles southeast of Los Angeles, the San Jacinto Valley is the home of Hemet and San Jacinto. It's also the home of the Soboba Band of Luiseño Indians. The valley is one of the oldest destinations in California and is an area rich in culture, history and community. Part city, part country, the San Jacinto Valley provides all the shopping, food and activity you find in a typical city but with a country feel, welcoming guests with a slower paced feel and small business focus.
I arrived at our destination, Golden Palms Village RV Resort, on Wednesday morning. I was quickly checked-in and directed to my cottage, a new 399 square foot tiny house consisting of a living room, dining area, fully appointed kitchen, full bath and master bedroom. It even had a front porch, reserved parking area and barbecue/picnic area on its patio, so much more than I expected! The Golden Palms was our base for the trip, with most of us staying in the cottages all in a row.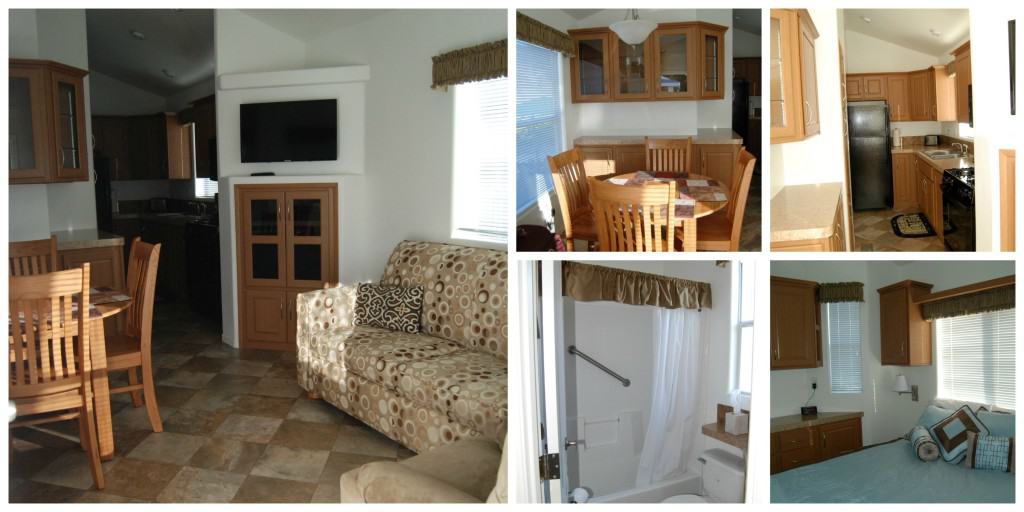 It comes fully loaded with everything you could need to be comfortable, like staying in an RV but with an upgrade.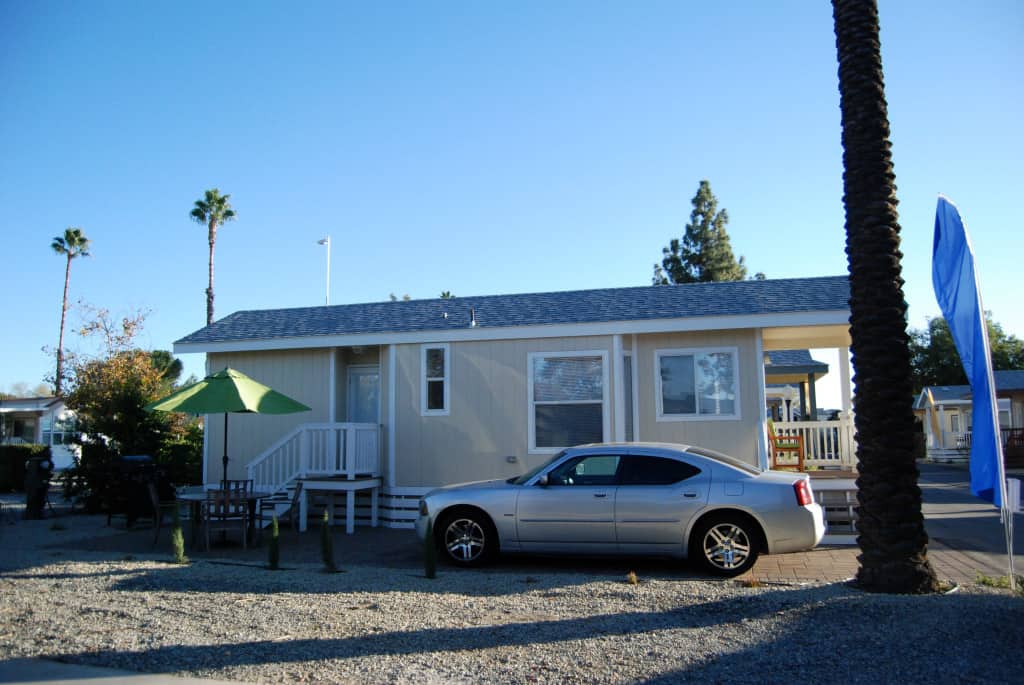 My cottage was on the end, next to an RV site that was currently empty. I had such pretty sunset views available here off my porches. We have an RV and would definitely stay here! Doesn't my car look sharp? (I'm a muscle car fanatic and this is as close I can get right now.)
Golden Palms Village is California's largest RV resort, housing snowbirds during the winter and permanent guests year-round in the cottages and/or RVs, with RV sites of all sizes. Replete with everything a guest or resident could want, Golden Palms was the perfect choice for our base of operations. The staff was beyond hospitable, the resort provided everything we could need and its location makes it easy to travel and be back in time for dinner. It also didn't hurt that I was able to walk to Target and many other stores the afternoon I arrived, picking up a few things I'd forgotten. Cottages are available for rental short- and long-term, or you can purchase a cottage; with low rates and all the amenities included, the cottages are made more affordable because they max out at one foot below what the Department of Motor Vehicles limits an RV and are installed for permanent living yet can still be moved. (Golden Palms also has three new styles of cottages in the works, offering different styles of living for different lifestyles, including a cottage with a larger bedroom area and limiting the living space in the case of travelers who are out and about during the day.)
After checking in, we headed as a group down to old town Temecula to eat at the Public House. It was my first visit to the Public House, despite having been to Temecula numerous times.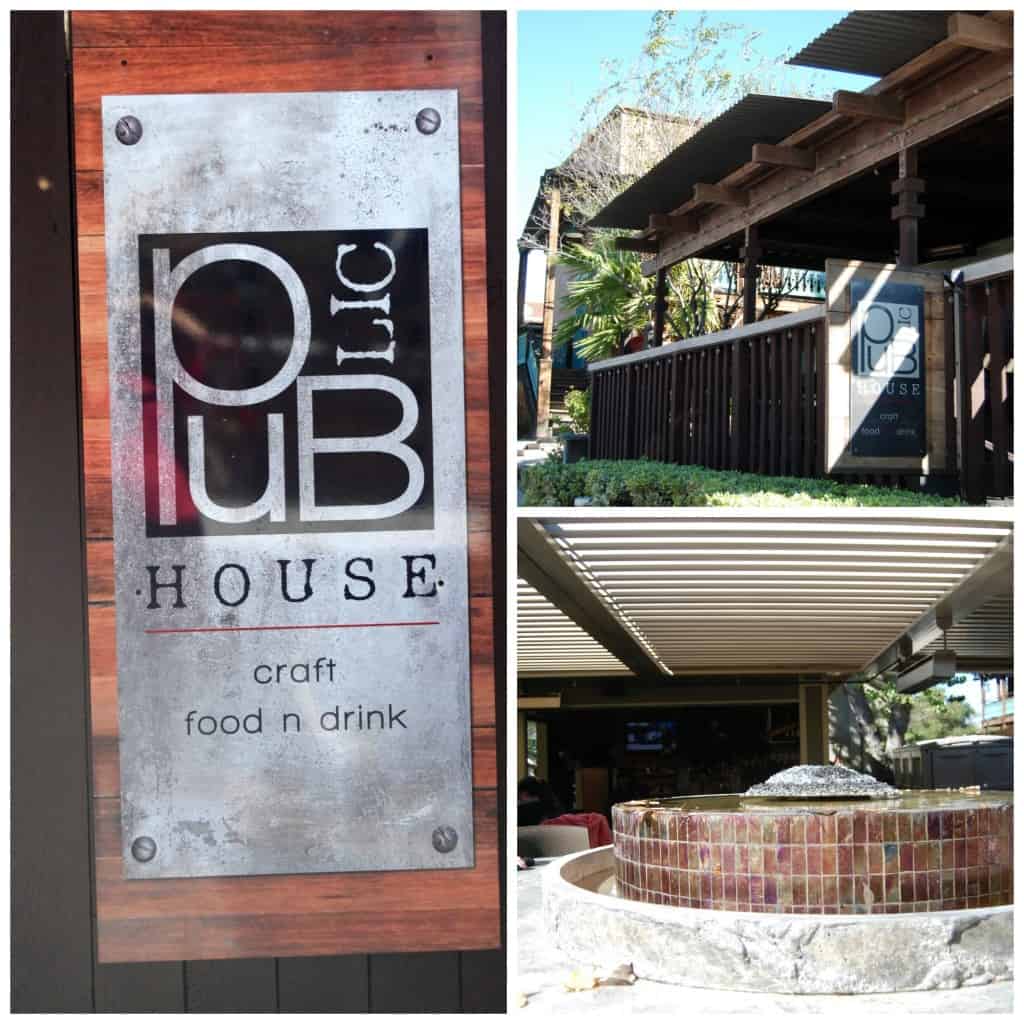 The Public House has a menu made up of organic, seasonal foods in unique, tasty ways.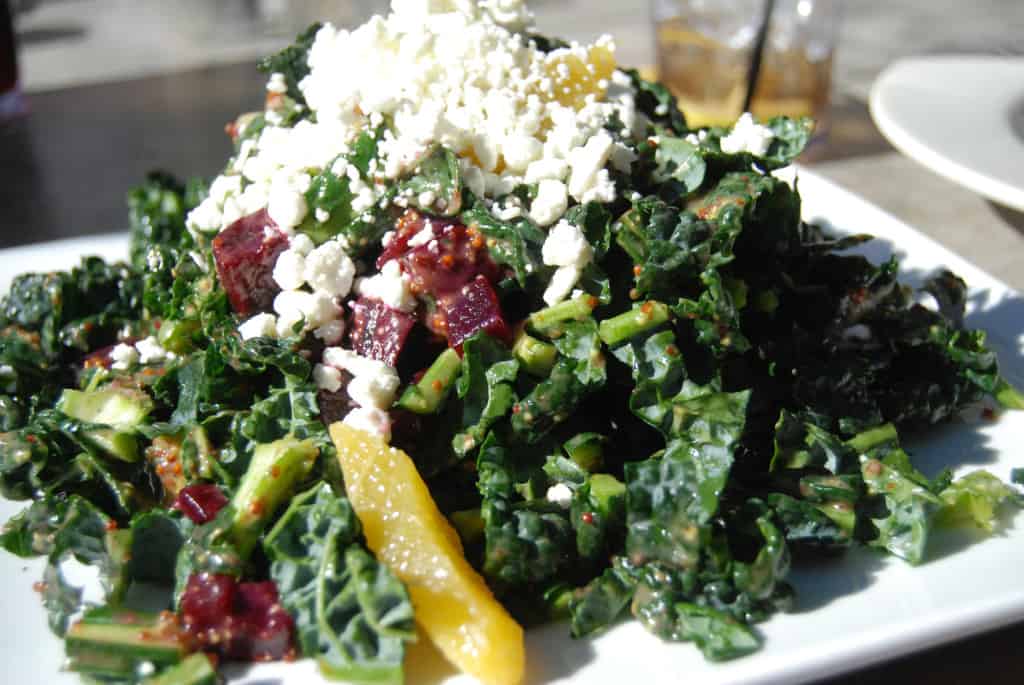 I enjoyed a huge mound of kale-beet salad with candied citrus and goat cheese. To balance out all the healthy, I also ordered poucine poutine, or duck fat fries covered in gravy.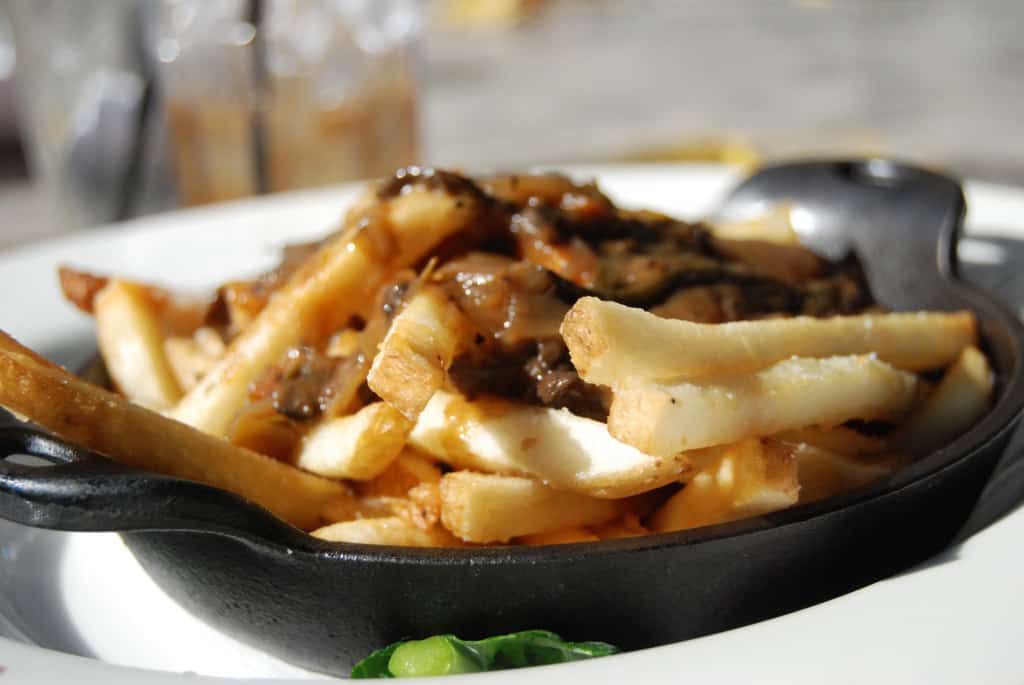 I was getting to know the other writers during lunch, but my mouth was so full, I was so hungry, I probably did a lot more nodding and listening than talking, at least at the beginning. I quickly learned what a great group of ladies I was paired with and how fortunate I was to be included in this lively talented bunch.
We did some shopping, poked around an antique shop and a very unique metal sculpture garden full of animals of all sizes. Dinosaurs, peacocks, ants and other interesting characters comprise a fun interlude amongst all the shops, providing a nice break to wander.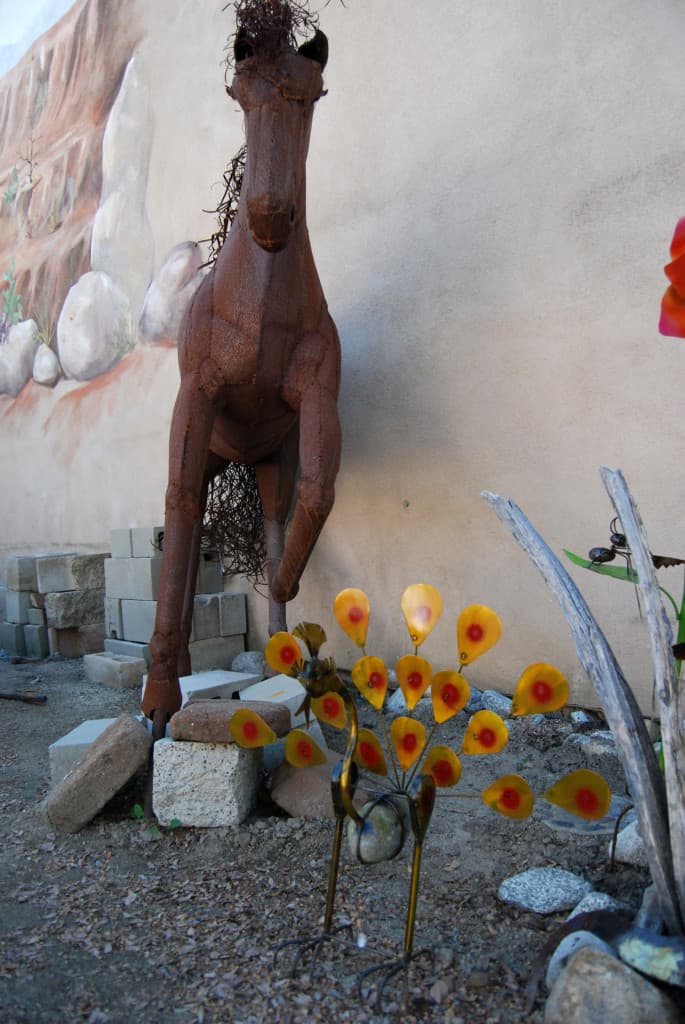 Back to the Golden Village Palms, we made a quick wardrobe change and headed out to dinner at the Anchor Bar, a marine-themed bar and restaurant with a lively happy hour. (As we were taking photos, there was no shortage of guests in the happy hour area who were willing to 'pose' for us.) American food with a Swiss touch, the buffet was delicious, with the overall favorite being a delicious version of mushroom stroganoff. (I love stroganoff but it's frequently made with beef, so I was pleased to know I could eat this one.)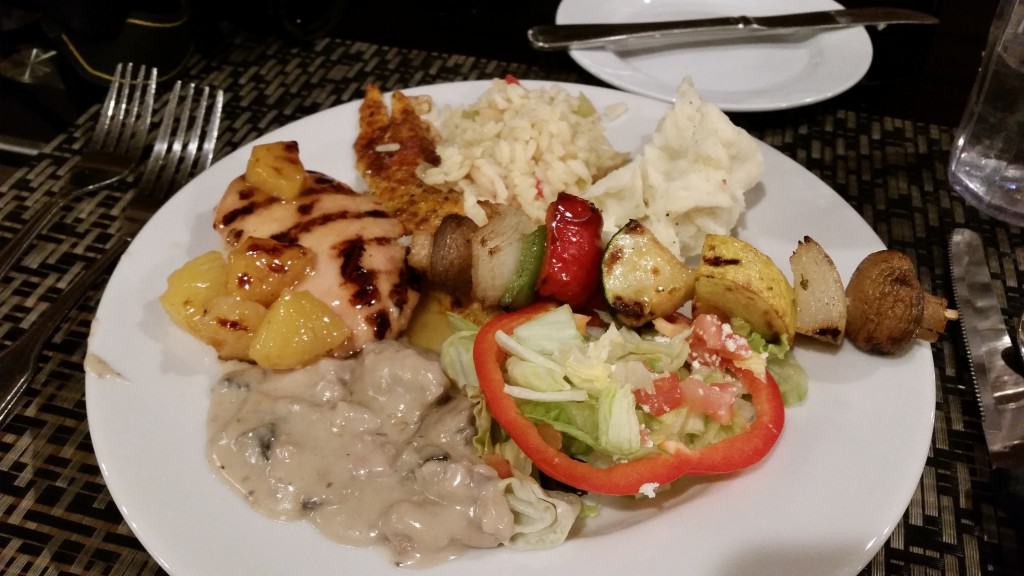 The owner has a vision for the Anchor Bar, including a decor with furniture shipped largely from Switzerland. The restaurant is huge, sectioned into various areas to meet the needs of everyone from the happy hour crowd to couples wanting a more intimate setting to large groups. It was a perfect setting for us all to get to know each other, and we were joined by the mayor of Hemet, Linda Krupa, so it was a fun evening all around.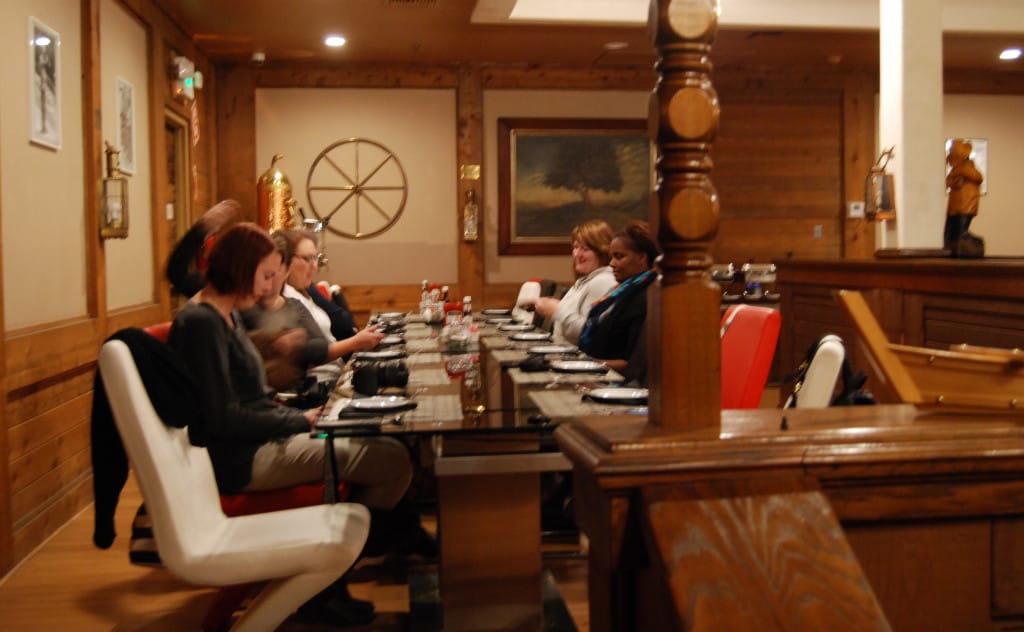 Back to Golden Village Palms, a few of us did a brief tour around the resort, including the three pools, three spas, large laundry room, various sporting opportunities (putting green, volleyball court, pickle ball court, shuffleboard building), fitness classes, tequila tasting and other community events.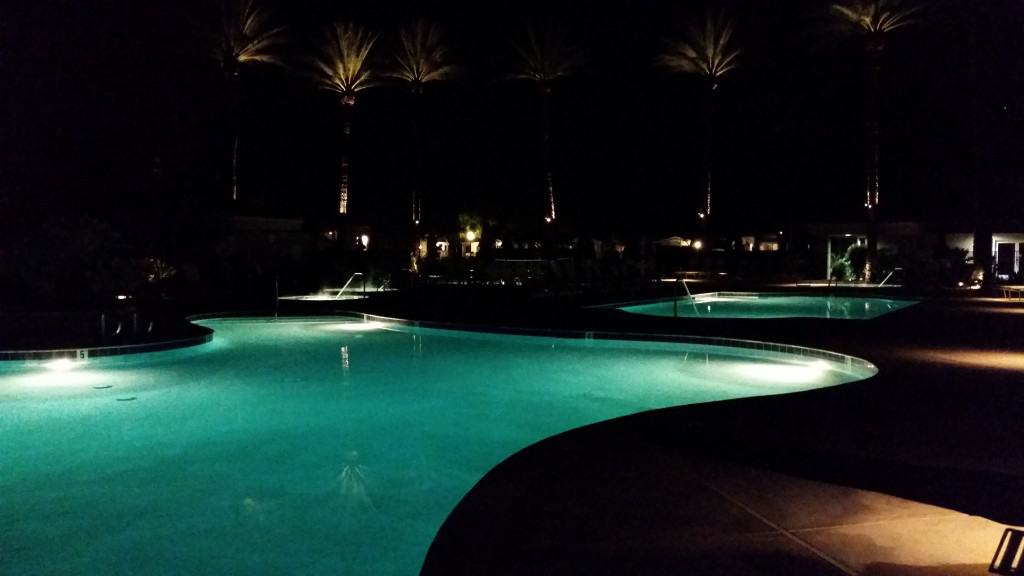 It was cold and dark so we didn't get the best lighting for photos, but the mist and the steam made for a surreal feeling as I walked back to my cottage, ready for a hot shower and relaxing in the recliner in front of the TV. I accessed the wi-fi (sitewide/free) and did some work in my jammies, enjoying some peace and quiet moms don't often get! I enjoyed it until I couldn't keep my eyes open any longer, glad to snuggle in the comfortable queen sized bed, also in front of a TV. (It was also in front of a huge closet, which stuck out to me because it was deep enough to set my open suitcase on its raised floor for easy access. I wish all accommodations allowed for that! Traveling to a place where you don't know exactly what you need, you often end up with extra things, and I had no problem storing my large makeup case, work materials and two suitcases…and the four pairs of shoes and boots I'd brought along, just in case.)
Stay tuned for another two posts about my trip to the San Jacinto Valley, so I can showcase all of the things we did over the four days. I learned about so many things that I had never heard about before, despite having been so close for so many years. If nothing else, the community alone is a big reason to visit San Jacinto Valley. In all the places I've lived, I've never run into a tightly knit group of people who truly care about each other and their neighbors and cities as much as the people of the San Jacinto Valley. From the friendly smiles, the welcoming hugs and the excitement in sharing their home with us, their love for the San Jacinto Valley was readily apparent the entire time. I hope I can convey that properly so you too can see why you need to head to the SJV on your next exploration in Southern California.