I'm shoe-obsessed. I love to buy new shoes, like, a lot of new shoes. I currently am coming at around 160 pairs.
How to Achieve Stylish Closet Organization on a Budget
This post is sponsored by Wayfair!
The good part of this problem is that I have a pair (or five) of shoes for every event. The bad news is that I have to store them, and I can't just shove them in boxes piles. Well, I can, and have, but that makes it really hard to find what pair I need, when I need it.
It also means I forget what shoes I have and more than once, I've bought a second pair because I forgot about the first. (The local thrift store has benefited from my mistake a few times.)
I decided recently that I needed to step up my shoe organization game. (See what I did there?) I needed to take a hard look at my closet, purge a lot of clothes I no longer like, regain some space and reorganize the entire closet.
Easier said than done. My closet is a walk-in and while decently large, it's not big. I also share it with the husband, which means I get about 80% of the space and he gets the end. Any work I do in there has to be done when it's cool inside the house, as there's no air flow, and it's easy to get stuck in there, surrounded by boxes and piles.
One thing I learned in this process is that it is entirely possible to complete a stylish closet reorganization on a budget. I could get everything in functional spaces that were attractive and not just utilitarian. I can spend a little money and a few hours of my time to measure and rearrange, and before I know it, I will be completely organized. No more duplicate shoes or scrambling to find something quickly.
I am doing my closet reorganization with the help of Wayfair. They offer many options to redo a bedroom and en suite, including closets. Whatever style you're going for and however small or large your space is, I think you'll find what you need on their website. They ship quickly and their products are affordable. I have made several choices on what I'm going to order, and here are a few of the things that are going to help me clean up these shoe piles!
Here's what I'm working with, just as a point of reference.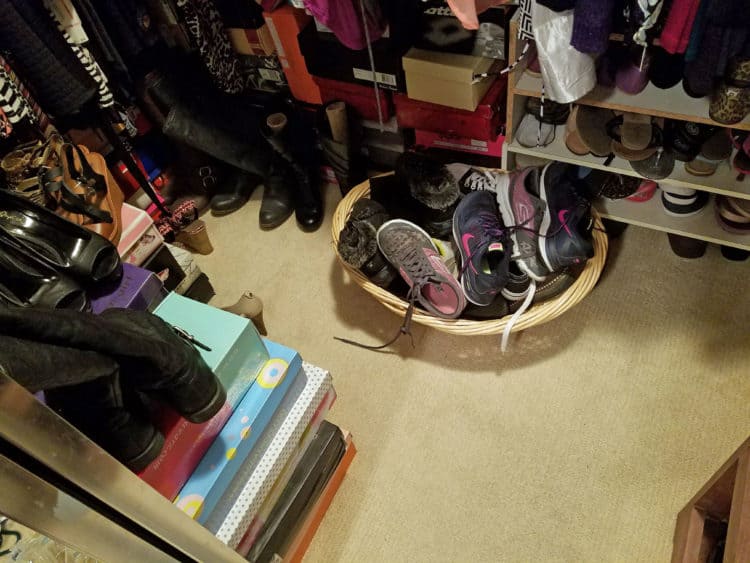 This is a four-tier rack that holds 24 pairs of shoes. (Be sure when you buy products online that it says "pair" and not "shoes," or you may end up with something that holds only 12 pairs because it holds "24 shoes," not pairs.) This rack can go underneath shorter items in the closet, and you can organize your clothing with shirts in one area, dresses in another, long dresses in another, etc. This allows you to have consistent space for racks or shelving units.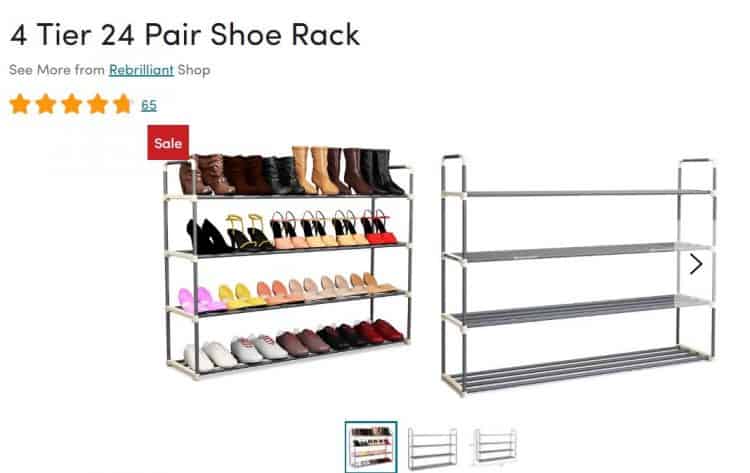 This 12-pair rack is only three tiers, so it is shorter, and can fit under longer dresses, pants, etc. You can also stack these on top of each other. I have a set and they are sturdy enough to stow other things on them as well, without having to balance anything on heels/toes like some shoe racks require.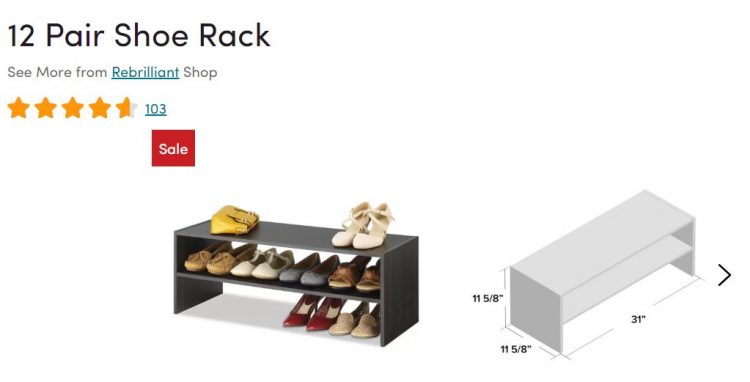 This 20-pair rack is a great option for athletic shoes or other footwear that may need some airing out. This is the kind we also have in our garage, so if shoes are wet, they can dry evenly and quickly without dripping on my nice indoor floor. It can also hold more than 20 pairs if you are using it to hold flip-flops and other sandals you can place on top of one another.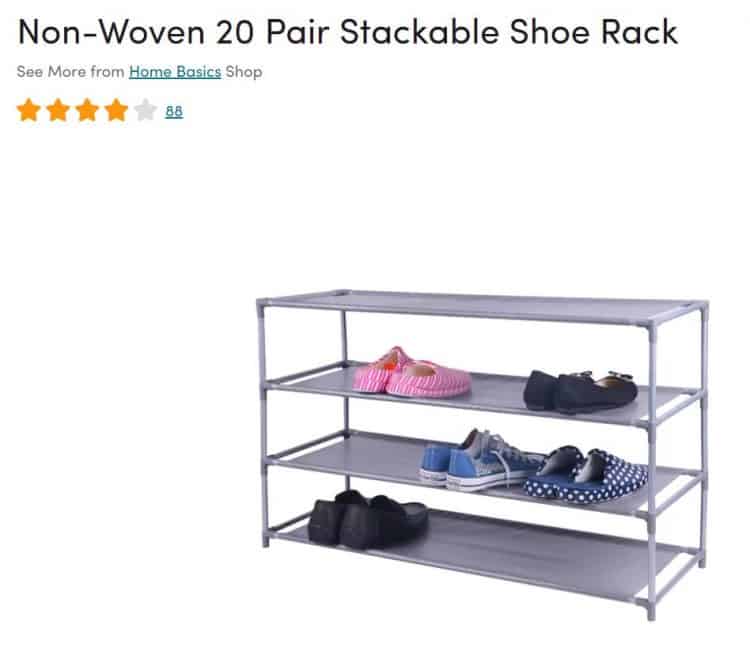 This spiral shoe rack is a pole version, good if you've got an unused corner and there are several versions of this depending on color choice and budget. (This particular item was on a really good sale when I published this post.)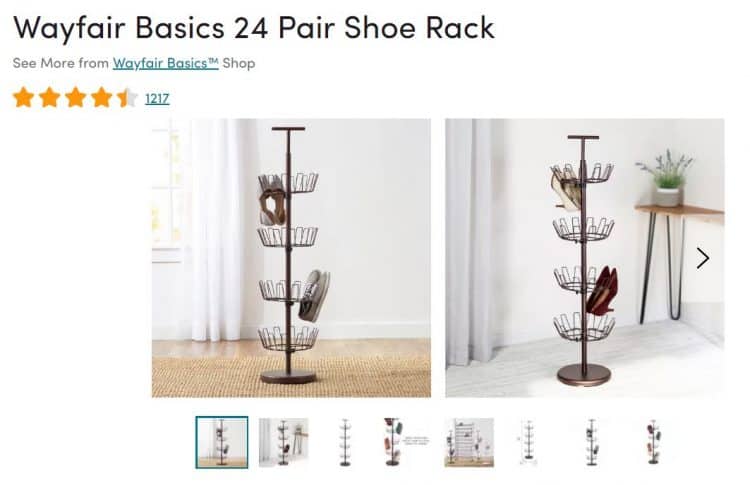 In a dream world, I'd have a closet just full of these beauties. Ah, to be able to see all my shoes and arrange not just by style and purpose but by color! (I'd need four of these 40-pair racks though…that's kind of a sobering thought. Nah, nevermind, I'm over it.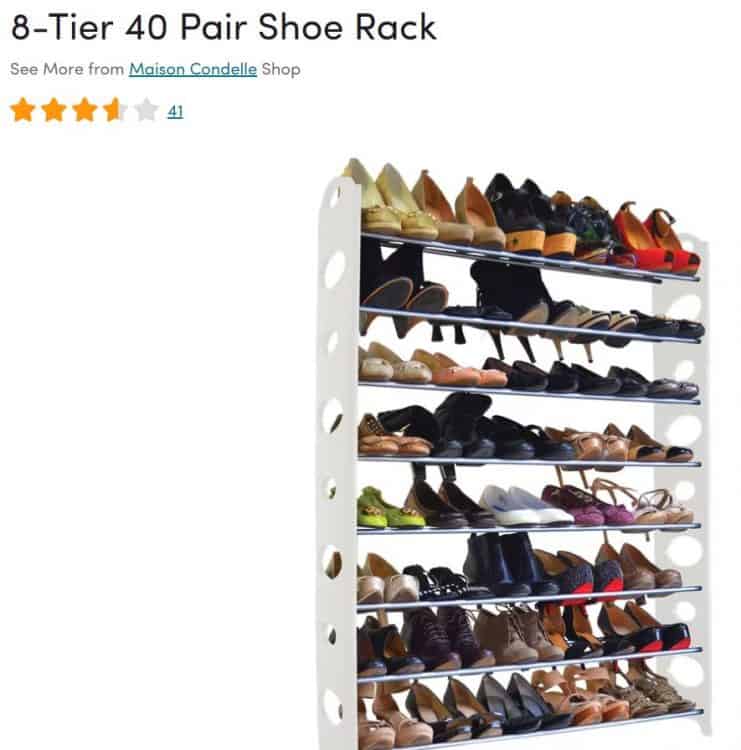 When it comes to organizing your shoes, your goals are to neaten up your closet, make it easy to find pairs when needed and to keep the shoes from getting damaged. And let's be honest, the neater they are arranged, the more room you have to purchase additional pairs. Gotta think ahead.
If you have too many pairs to put them all on racks, like I do, you can settle for some racks and then keeping other pairs in boxes. I've ordered a small mini-printer so that I can take photos of each pair and tape that photo to the box. This allows me to see what's inside of each box so stacking isn't much of a worry.
I also organize my stacks, with boots in one area, work-style heels in another, high-heel sandals, stilettos, patterned shoes, etc., so when I get a red-carpet premiere invite, I know which pile to go to. This has saved me so much time, though setting it all up was a cursy, sweaty couple of hours as I stacked and restacked until I got them just right. Now it's a piece of cake to add and remove shoes. Living in California where I do, I spend three months in boots, and not just for cold but for our rainy season. Those boots get used the least still, so they go in the back corner where I can easily rotate those piles with piles of strappy sandals during the off-season.
Whatever you decide for your shoes, I highly recommend one of these accessory racks. I have one shelf for sunglasses and hats, another for scarves, another for handbags and another for odds and ends like hairbands, shoe inserts and other fashion accessories. This allows everything to be visible and I can put together an outfit in a flash as everything's nearby.
These cubicle shelves come in numerous colors and can eliminate piles and for extra storage, turn it to its side so you can use the back as belt storage with the simple modification of stick-on or screwed-in hooks.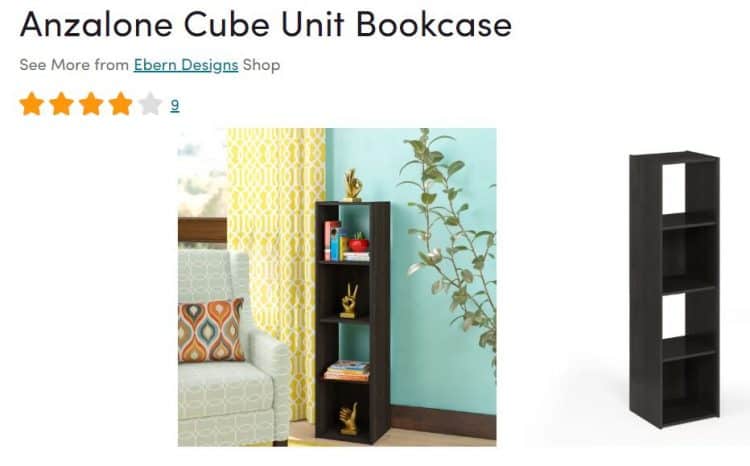 This is my old-style version I'm replacing. This was in my home in South Carolina and has really served me well for about nine years now.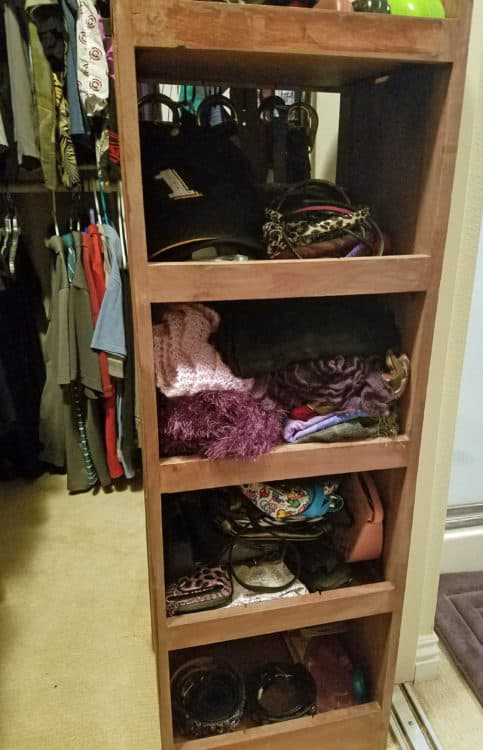 Storage tip for tall boots: they can get bent and misshapen in boxes year-round, so I take my tall pairs that are not suede and stand them in the closet with paper towel tubes inserted, one per boot. This helps the boot stay upright and allows for more air flow. You can also stuff newspaper in the toes. A friend of mine has a lot more space than I do, and she hangs her suede boots on padded clips from pants hangers, the kinds that have one hook at the top and numerous pairs of pants hang on one, something like this. She added extra hooks between hers to allow for more space between pairs.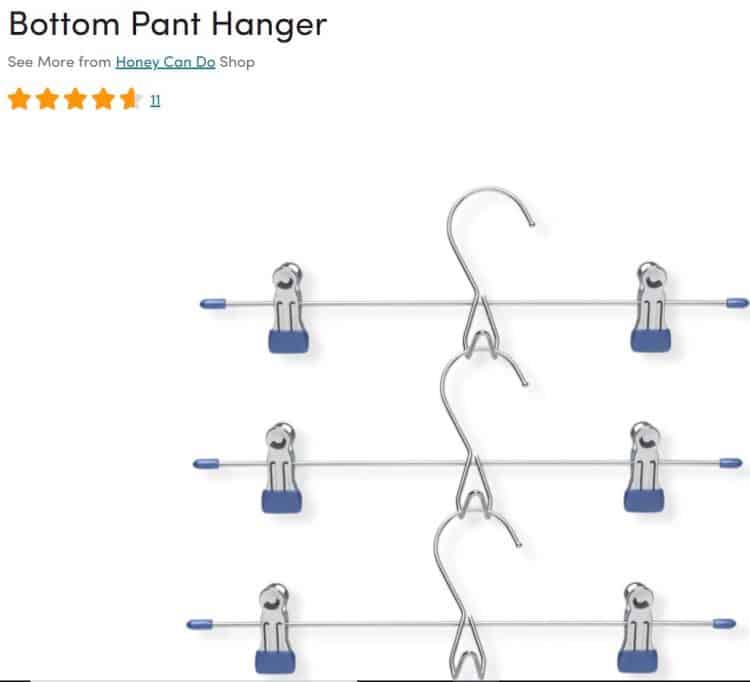 For the odds and ends, things you use a lot or just because you need a little additional space, consider a floor basket. I have an oval one already, but this round one is really pretty. (And no scraping your leg on a corner as you squeeze by it.) Baskets can also be moved around if you need to get by. I use mine to hold a few random pair of sandals, three pairs of workout and running shoes, and a pair of winter slippers. It's so easy to throw them in there and be done, keeping your closet neat and everything accessible.
One last tip: save some space in a bin or cubby for shoe repair items. Polish, cleaner, even inserts and blister protectors, etc., you can grab them when you put your shoes away so you don't put away a pair of shoes that need some work and then forget it!
You really can have closet organization on a budget. Everything I've shared above is in a good price range, but there are also cheaper options and of course, fancier options if you really want to invest some more money. In another post, I'll talk about clothes organization and my quest to make my closet full of only things I like and that fit me. (Easier said than done, but I did it!)
Wayfair.com is about way more than closet organization products, so whatever household items you're looking for, give them a peek! New bedding is on our list next, as we're going to be painting the bedroom and redoing some flooring. (The little room containing our toilet was built with carpet around it. Who does that?) We've used Wayfair many times to add character and personality to our home, but they also have everything you need to be functional as well as fun. Enjoy shopping!
Related Post: If renovation and home redesign is a thing for you, read about our best kitchen brands recommendations!