In our recent kitchen remodel, we redid the entire kitchen, from counters to countertops, floors and walls, lighting and backsplash to major appliances and small countertop appliances. Here's our breakdown of some of the best kitchen brands we used and our recommendations on how to make your kitchen the one of your dreams while keeping it in budget.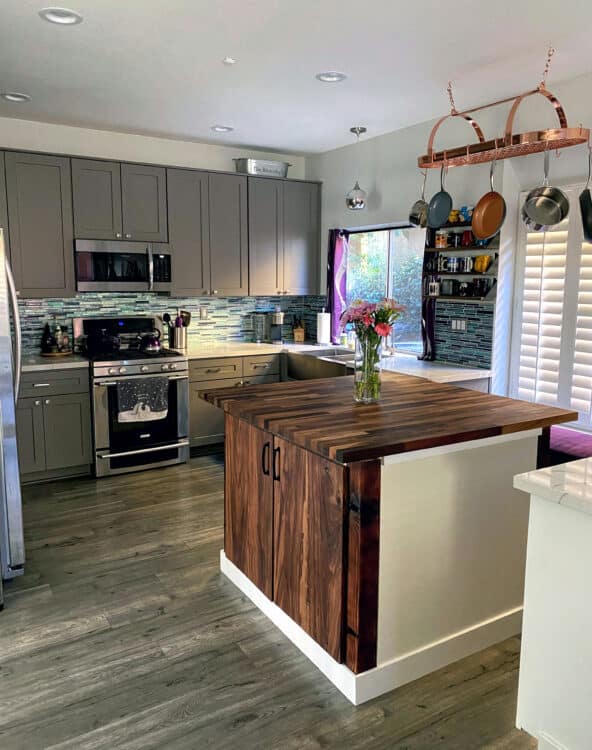 When you start to design your own kitchen, consider functionality. What's missing in your current setup? Why are you considering a renovation — what drives it? If it's aesthetics, it's much easier, but if you're tired of having no space to roll out pie dough or your family bumps into each other as you cook dinner, you have to spend some time mapping out your ideal flow of traffic and space.
Pretend you're having a normal dinner, including making a dessert. Mentally get things out of your refrigerator. Spread them out as you'd need to, then chop something. Put that bowl near the stove, and have your partner or a kid walk around you to get in the way. Hand them the bowl. Open a fridge door, open the oven, see where people are bottlenecked. Is your dishwasher by your sink? Are you carrying hot items across the kitchen to set them down safely? Are your spices, oils, utensils and oven mitts close enough to the stove?
Pretend to roll out cookie dough. (Do this even if you don't bake, because at some point, someone will bake in your kitchen.) Put it on cookie sheets. Put them on racks to cool after you bake them. Where will you put them after? And where will the tin foil or parchment paper and storage containers go?
If you're a coffee drinker, consider your coffee corner. Are your mugs, k-cups, any coffee gear close enough to make it easy to put together a coffee, a latte, iced tea or any other beverage you frequently make?
Put all of that together and lay out a rough drawing of how you envision the space. Use that as a guideline when you choose your new design. When it comes together, you can begin to purchase the items that you will store on your counter as well as the appliances that make your kitchen the functional and fun space of your dreams.
Some of the Best Kitchen Brands for Your New Kitchen
We're huge coffee drinkers, so it was important that making a coffee at o-dark-thirty was easy. For us, that meant a good coffee maker that wasn't overcomplicated and didn't take up too much space. I wanted to eliminate clutter and keep a lot of open counters for use when cooking, baking and entertaining. We chose the new K-Supreme Plus Single Serve Coffee Maker.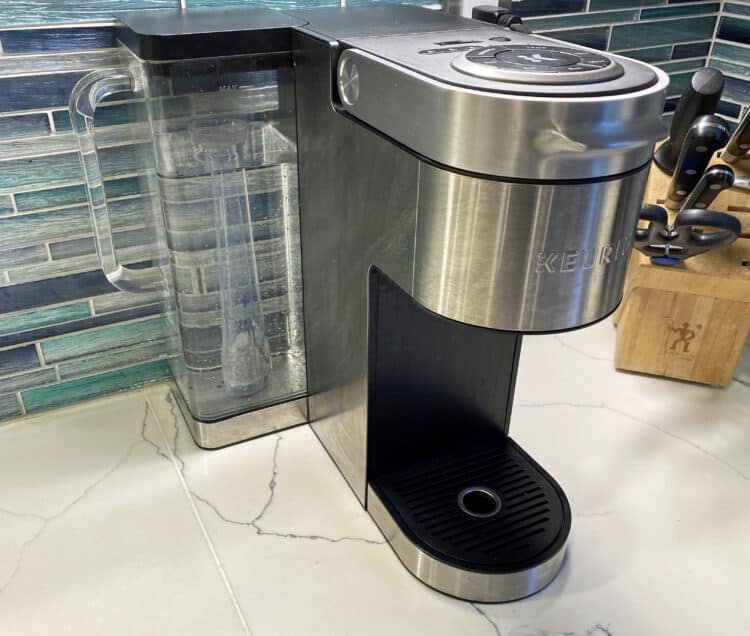 The footprint of the K-Supreme Plus was small, and it's got a black exterior with touches of stainless steel, so it fits in with our focus on all black and stainless appliances. Our cabinets are Shaker-style grey, with white quartz countertops and a shiny blue and silver backsplash. Black and stainless steel is modern and keeps the lines clean. The K-Supreme Plus costs more than the basic models of Keurig single-serve machines, but the qualify of the coffee is the best of the many single-serve machines we've burned through the past decade.
This single-serve Keurig offers us three temperature options, numerous size options (4 oz, 6 oz and 8 oz), lets us choose our strength and has an iced coffee button, too. It's a little more advanced than Keurig coffee makers of old; instead of just one hole poked into the top of a k-cup, this one has five. That means more coffee flavor and less bitterness. The sizes are true, so if you want an 8 oz cup of coffee, you'll get 8 ounces. And it's still fast, so you've got a custom cup of coffee in under a minute. It runs about $150, but you can definitely find it on sale at Target, Amazon, etc.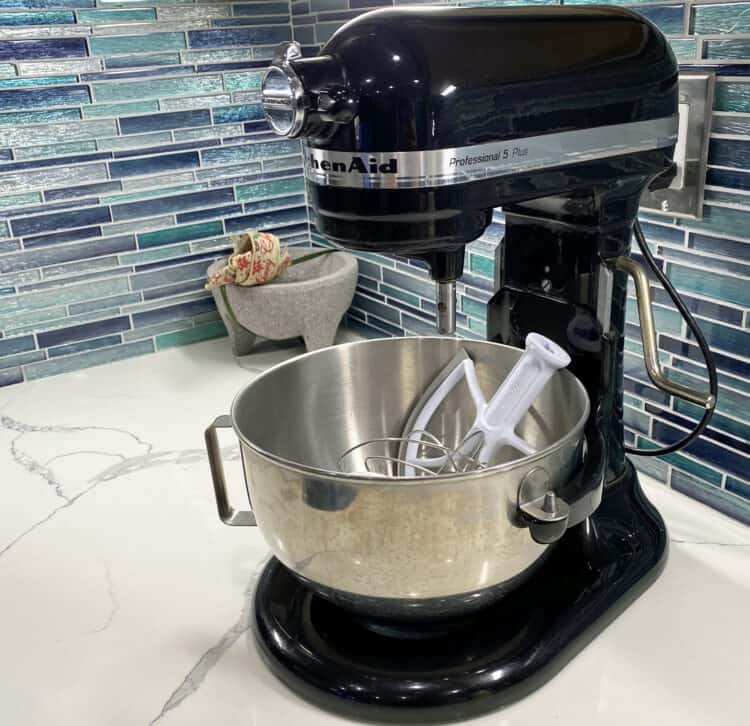 The next most-used item in our kitchen is our sturdy KitchenAid stand mixer. It's the model with bowl-lift. Tip: Be sure you measure your biggest must-have counter top appliance before cabinet installation The KitchenAid stand mixer barely fits under mine and I can use it without moving if I need to. It has various extra add-ons available, such as a juicer, grinder, pasta maker, and more, but I use it just for mixing and I absolutely love it. Worth every penny of it's $400 approximate cost. (And it's also black and stainless!)
If you bake bread or cakes, whip cream or egg whites or just use a mixer for various combinations, you can't go wrong with the KitchenAid stand mixer. We love to make individual grilled pizzas and the mixer is a workhorse with bread dough and other yeast recipes. It also withstands multiple batches of meringue without burnout. It is a heavy piece of equipment, so we'd considered putting it in a pullout cabinet, where we could use then hide, but it would have meant losing an entire cabinet.
We make most of our toast in a toaster oven, and having boys means I need an easy way for pizza rolls to be made. Priorities. Our old toaster oven had made the cross-country move — twice — and its grey exterior showed its years, so we needed something that worked at full speed as well as fit the new look. Enter the Calphalon Precision Air Fry Convection Toaster Oven. I purchased it at Target for about $150, but you can also buy it at Best Buy or Amazon. It holds a small/medium frozen pizza, a 9×13 pan (as long as it doesn't have handles) and the air fry rack holds quite a few pieces of food, which makes it more appealing than the expensive air fryer unit I keep in my pantry but almost never use.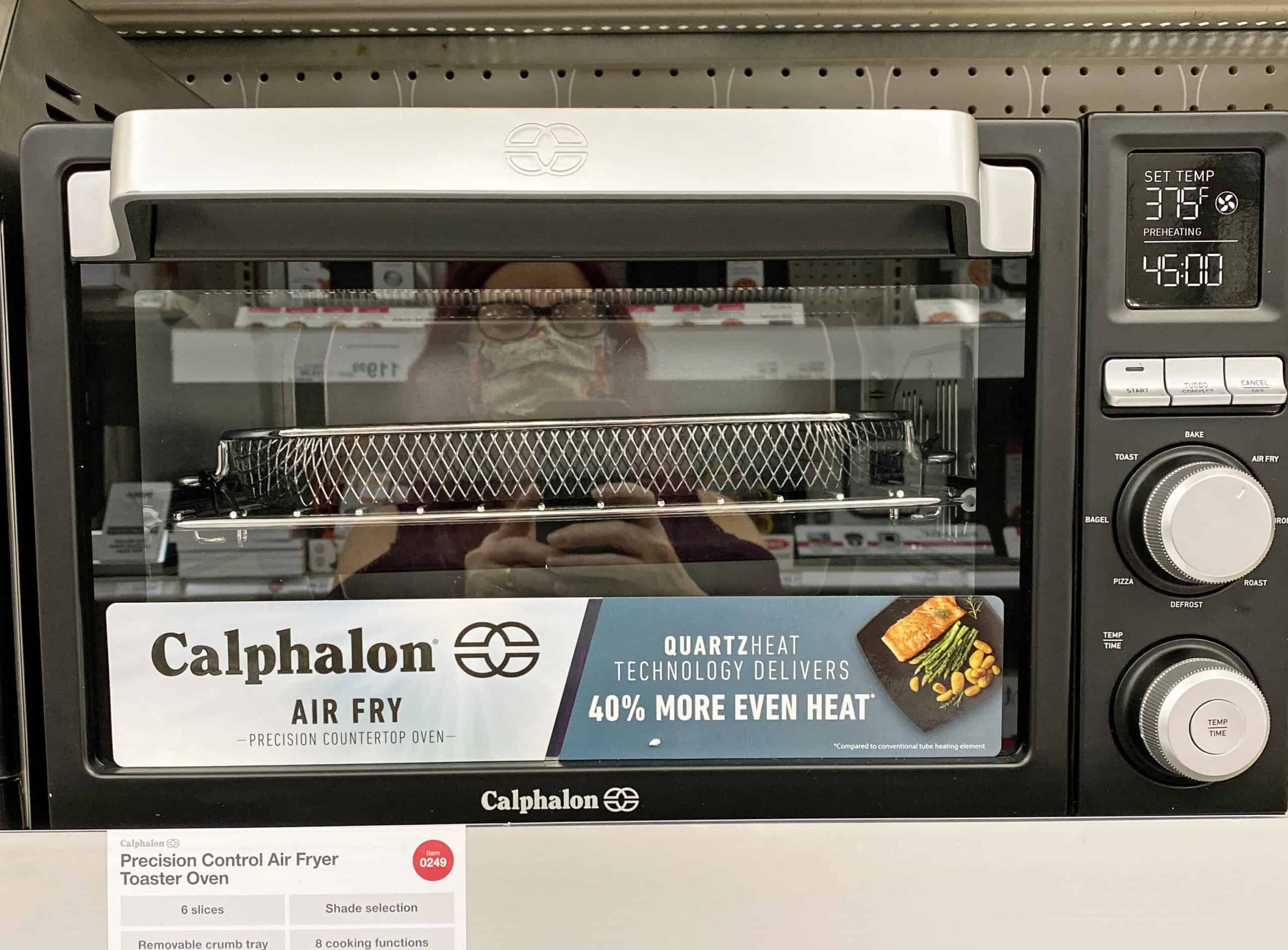 The Calphalon Precision unit is square, with no odd shapes jutting out that make it take more space than it should. It's easy to use and its broil option is perfect for small batches of bruschetta or roasting tomatillo for green salsa. Having one piece of equipment that does multiple things — and does them well — is fantastic. We've made air fried chicken strips, kale chips and buffalo-sauce cauliflower, all as successfully as in the separate air fryer, so I'd say it does its jobs.
For convenience, I can't leave a few other smaller items off of my list of best kitchen brands. One of them is this simple wood lazy Susan turntable that sits next to my stove. It has soft feet so it won't mar my counter, it can spin fast without rocking and it's sturdy. Bonus: it only cost me $20 on Amazon.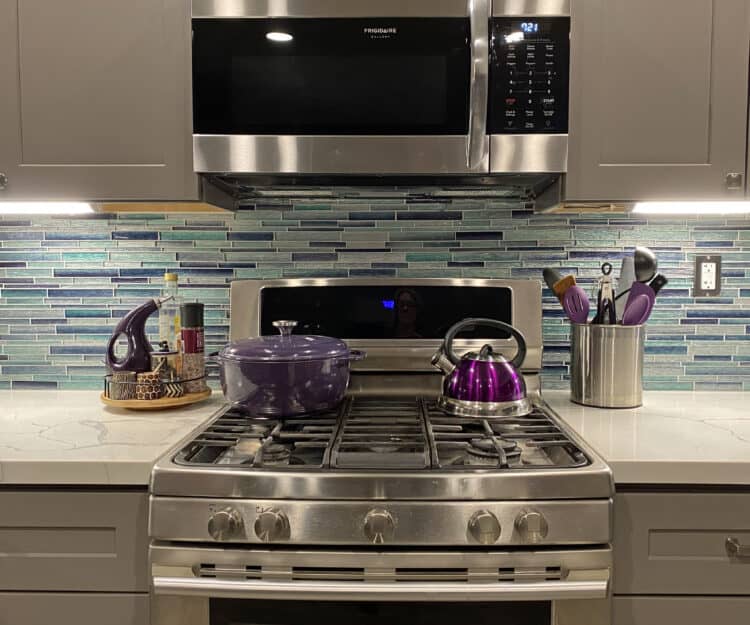 On the other side of my stove, I have this stainless steel spinning utensil holder. Found on Amazon for $20, it has a soft bottom, again to prevent marks on my counter, it's tall so utensils stay safely inside it, and it has three sections for better organization. It doesn't slide no matter how fast it's spun (because adults….I mean, kids will always try to spin stuff at least once) and it's easy to keep clean.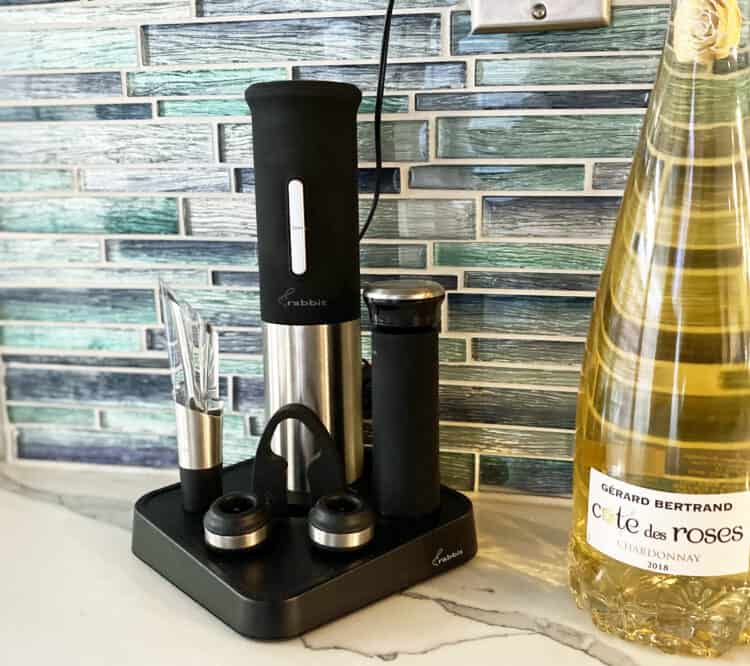 Another item we leave out on the counter top in the Butler's pantry section of our kitchen is this Rabbit wine cork removal set. The husband found it at Costco for about $30, but it's also available currently on Amazon for $39.99. It is the easiest cork remover I've ever used, holds a charge for a lot of uses and it comes with the seal cutter and air seal pieces. And, it too is black and stainless steel. We have two wine refrigerators in the new kitchen, which definitely should both go near the top of the Best Kitchen Brands list, but I will suffice it to say that both are Electrolux and are really fit the style of the kitchen.
There are a few other appliances that are often on our counters, such as our full Ninja blender and food processor set, a Belgian waffle maker and my new Emeril Pasta Maker & Beyond. (I've got a post coming soon on breaking into the fresh pasta-making field using this appliance. I scored on it for only $120 at Marshall's. It was a rare find, and I had $60 in Marshall's credit card rewards, so it was a steal.)
All of these things add up, because sometimes the best kitchen brands will cost more, but when you've got a brand new kitchen, the last thing you want to do is put an old toaster oven with melted bread bag plastic in view of people. You want to complete your vision of complete functionality and fun from start to finish.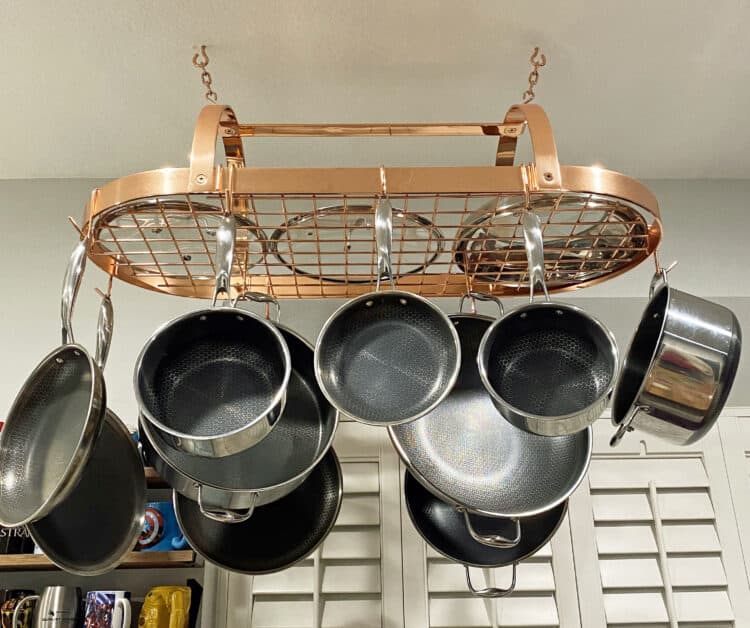 When you set your budget, add to it. I was told to add 10%. In our case, it was closer to 20%. We didn't go hog wild, but we also didn't cut corners. We'll be living here for at least another five years and we wanted to not regret having cut back on something. Did I need all new cookware? Not necessarily, but the money spent on an entire set of Hexclad makes cooking actually more fun, and they look awesome hanging from the copper pot rack. (Oh, and that pot rack? The husband was committed to getting it entirely replaced, which took a few weeks and not a little money at a place out in Los Angeles. I was not on board, but after seeing it, I was, and still am, hooked one it.)
What I think are the best kitchen brands may not be your choices, but I hope these ideas help you to consider different options, save a little money on quality products that cost far less than some of the super-fancy pieces of equipment, and really be sure you enjoy your new kitchen and home renovation!