Did you see the new adaptation of the old holiday story, the Nutcracker? Done by Disney, it hit theaters on  November 2, 2018. Now it's getting ready to hit the store shelves via Blu-ray™, 4K Ultra HD, and DVD on January 29!
Disney Movie Giveaway! 
Disney's newest adventure, starring Keira Knightley, Mackenzie Foy, Misty Copeland, Helen Mirren and Morgan Freeman,  inspired by E.T.A. Hoffmann's classic tale and the beloved ballet "The Nutcracker," is sure to become a new holiday classic every Disney movie collector is going to want to add to their collection. 
This new Disney movie is full of adventure, whimsy, holiday spirit and its own brand of drama, by way of 14-year-old Clara's slightly rebellious jaunt into the winter wonderland, one that soon becomes dangerous though she is compelled to find the key she needs to open a special gift. Along the way, she meets wooden soldiers, dancers, odd animals and a few other special characters.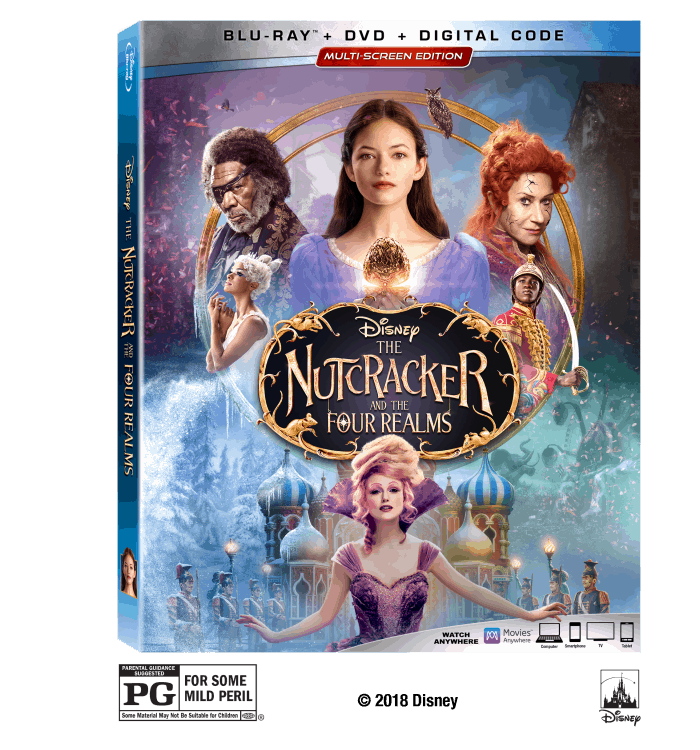 Now that the movie is coming out on digital and Blu-ray, you can own your own copy soon — or you can keep reading to enter my giveaway for one of two copies below!
The movie has a lot of cool extras available on each version. Here's a list for each type.
BLU-RAY BONUS FEATURES:
On Pointe: A Conversation with Misty Copeland – Copeland shares the thrill of portraying one of her favorite characters in a whole new way.
Unwrapping "The Nutcracker and the Four Realms" – Dive into the production design, sets, costumes and more that helped transform a beloved ballet into an adventurous movie.
Deleted Scenes –
The Stahlbaums Arrive- As the Stahlbaums enter the Christmas Eve ball, the butler attempts to announce them to the assembled guests.
Follow Your Ribbon- Drosselmeyer encourages a reluctant Clara to go find her gift.
Clara Asks About Her Mother- Sugar Plum gives Clara a tour of her mother's bedroom.
Left, Left, Left, Left, Left- Wandering lost in the forest, palace guards Cavalier and Harlequin quarrel about which way to go.
Out with the Old- Sugar Plum makes sweeping changes to the palace decor.
Music Videos – 
   "

Fall on Me" Performed by Andrea Bocelli Featuring Matteo Bocelli

– Experience superstar tenor Andrea Bocelli and his son Matteo Bocelli performing their first duet together in this uplifting song.

   "The Nutcracker Suite" Performed by Lang Lang

– Get swept up in a series of images from the movie, set to Tchaikovsky's music and featuring world-renowned pianist Lang Lang.
BONUS FEATURES ON DIGITAL:
Unwrapped: The Visual Effects of "The Nutcracker and the Four Realms"–

View a reel that explores the layers of effects in sequences of the film.
Just like every other Disney movie, the Nutcracker will capture your heart. You'll get taken away by the ethereal scenery, the fun special effects and the unusual characters that transport you to another time period. If you want to add this movie to your collection, you can do so today OR you can enter my giveaway here for a chance to win your own copy!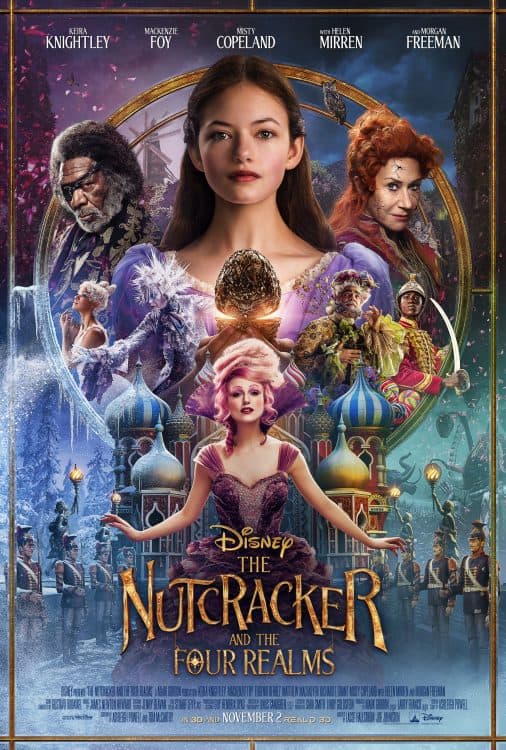 Giveaway rules: winner must reside in the US including Alaska & Hawaii and Puerto Rico or Canada. Winner must be 18 years of age and provide complete shipping address within 24-hours or prize will be forfeited and a new winner will be randomly drawn. Dangerous Cupcake Lifestyle is not responsible for prize fulfillment; prize will be shipped by Disney. No purchase is necessary.