I married a football fanatic. We have four kids, and the oldest three have zero interest in the games. Luckily, number four, our youngest son, inherited the husband's football gene, so he has at least one kid to watch the games with. Now, every Sunday during football season, the two of them huddle on the couch, covered in their team gear literally from head to toe, yelling at the TV.
A couple of years ago, I realized finally that I had two choices: spend the day in another room, or learn to enjoy the sport.
I chose to learn to enjoy the sport.
Now I officially follow a football team. I have gear. I wear the gear. I also pass pop quizzes my son throws my way to see if I'm really paying attention or just pretending. Quarterback's name? Check. Owner's name? Check. Standings? CHECK.
We have an informal football pool every season now. We select who we each think will in every game, and there's even a point system to ensure there is no tie. Let's just say, I have a lot to learn about football, but I definitely have my weeks where I win….and I may have won last week, as all four of my choices for who would advance and then ultimately, who would go to the big game, were right. TOUCHDOWN!
With game day coming this Sunday, the son's already been making plans about who we are inviting and if we are serving pizza. I can't promise yes to the pizza, but I guaranteed him there will be plenty of food. See, I have a secret. I enjoy football, but I enjoy family time more. Sitting amongst the noise, I am so thankful for that family time. Football, food and fun? Sign me up!
This post is sponsored by Babbleboxx.com, but the photos, food and opinions are my own!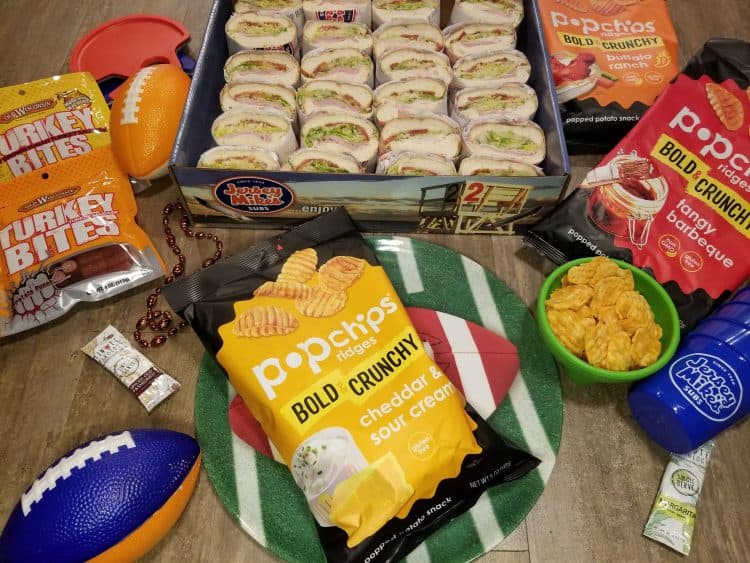 We've found that the days that we go fancy, we have less fun. Too much time prepping or in the kitchen, someone inevitably misses some game action. We've decided that if we combine convenience and quality, we've got a winning meal that makes everyone happy. Here are a few ideas that we enjoy!
Jersey Mike's: they're new-ish in town, but more locations have recently opened and their variety of choices is big. (They actually have more than 1,500 locations!) Cold subs, hot sandwiches, wraps, sides, drinks, they have it all. Order online and one quick trip later, we're on the couch with our customized sandwiches, just in time for kickoff. (My favorite? The Big Kahuna Chicken Cheese Steak sandwich. White cheese, jalapenos, grilled onions, peppers, all on chicken in a fresh roll? Perfection!) Check out their website to see if they're close to you. We love that we can even pay via a gift card online, so the husband gets to walk right to the register when he arrives, grab our bag (or box), and he's home in a jiff!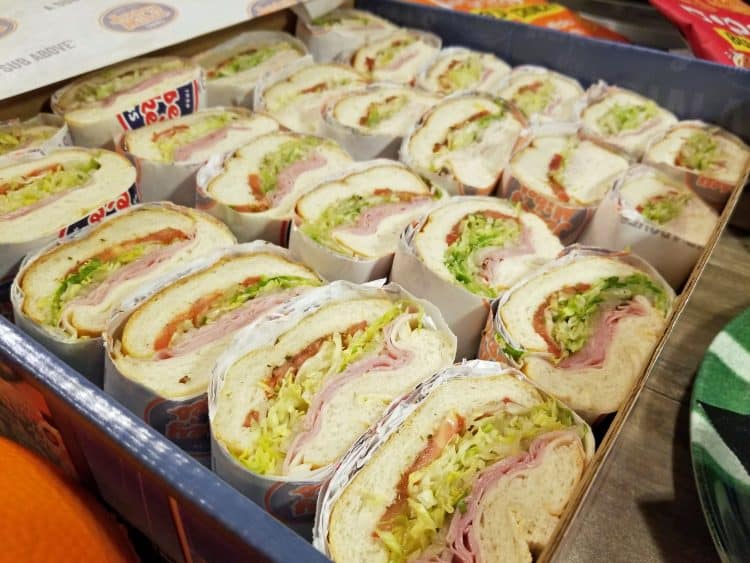 Jersey Mike's also offers catering boxes! For our game watch party, we chose a variety pack, and each of the four varieties is delicious! We ordered:
The American Classic, with ham and provolone
The Super Sub, with provolone, ham, prosciuttini and cappacuolo
Turkey Breast and Provolone
Club Sub, with turkey, ham, provolone, applewood smoked bacon and mayo
I don't care for mayo, and we like light portions of any oils or vinegars, so we notated that on the order form and that easily, we made it exactly what we wanted!
Big game catering is such an easy way to go, letting you focus on the rest of your party plans. Because it's customizable to your party's needs and size, everyone will be happy AND full!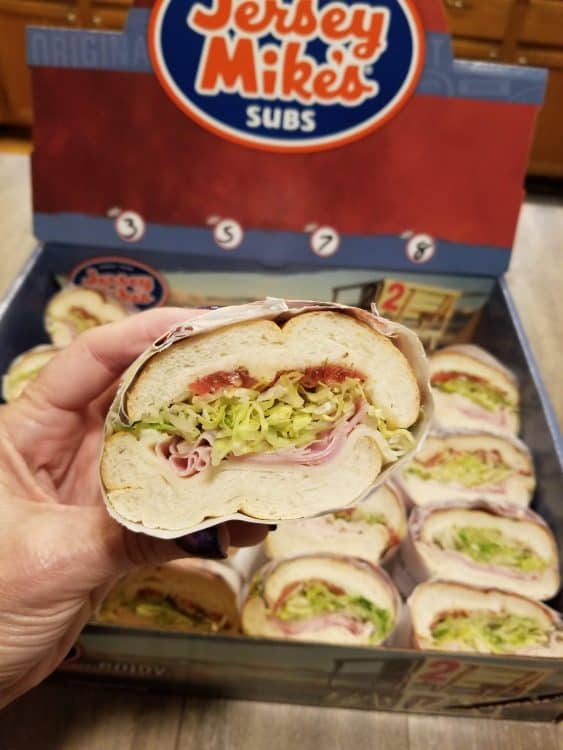 Head over to the website for more information about how you can set up your own Jersey Mike's catering box! You don't need to give them a lot of time, either. When we ordered that box online, they had it ready in under an hour — you can also choose a time if you'd like to pick it up later, too.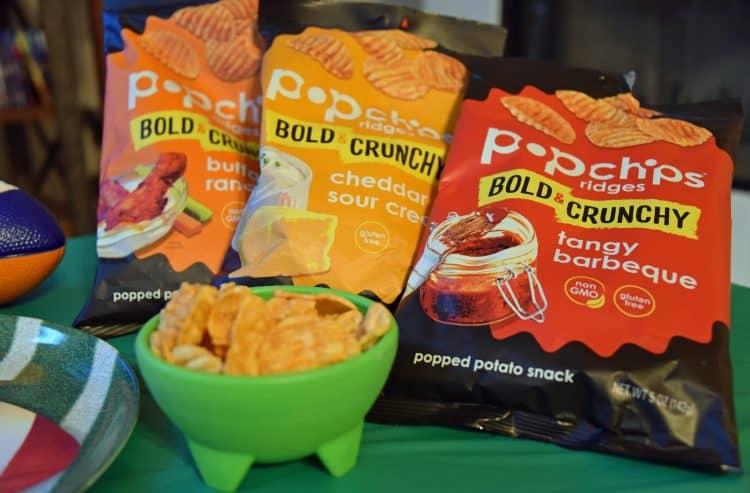 popchips: Whenever you eat a sandwich, you need some sort of chips. I'm a little picky…okay, a lot picky…on the type of chips I'll eat. I want flavor in a crispy package that doesn't undo all the good I've otherwise done with my food choices earlier in the day. popchips ridges fits the bill! They are a light, popped, ridged potato snack that has the flavor and crunch of traditional potato chips but without the deep-fry it takes to get them there. The ridges packaging got a new look , and they pack even more flavor than regular popchips. They are also gluten-free, kosher, include nothing artificial, are low in trans-fats AND some of them are even gluten-free, making them a viable option for a lot of lifestyle preferences or needs, and they are delicious! We tried the Tangy Barbecue, Cheddar and Sour Cream, and Buffalo Ranch. My favorite is the Buffalo Ranch, because it has all the flavor of a messy buffalo chicken wing without all the mess, but I liked all three of them and may have had to slap a few hands away from MY bag.
Trust me, pour these in a bowl for game day and the bowl will empty soon. Buy extras for snacking later. Give into the crunch! 
You can buy popchips at your local grocer or on Amazon! (Snacks delivered?? That's how you do it!)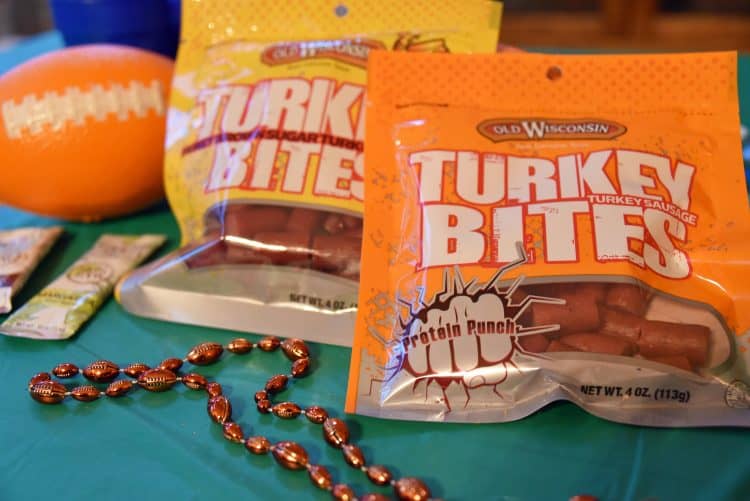 Old Wisconsin Turkey Bites Turkey Sausage: these are fun, portable snacks that are no muss, no fuss. The 70-year-old company based in Sheboygan, Wisconsin, makes these protein-packed, hardwood smoked treats that are too easy to pop into your mouth and not miss a beat in the game. They make a great side for sandwiches, or they are great to eat straight out of the bag on their own. My son likes the Protein Punch bites, but I like the Honey Brown Sugar Turkey Sausage bites the best. You can't go wrong with either one! Available in 2, 4 or 6 oz packages, they work for busy snackers, those on gluten-free or high protein diets or those on the go. They also come in turkey and beef. They are America's #1 selling snack bite! Learn more about them here.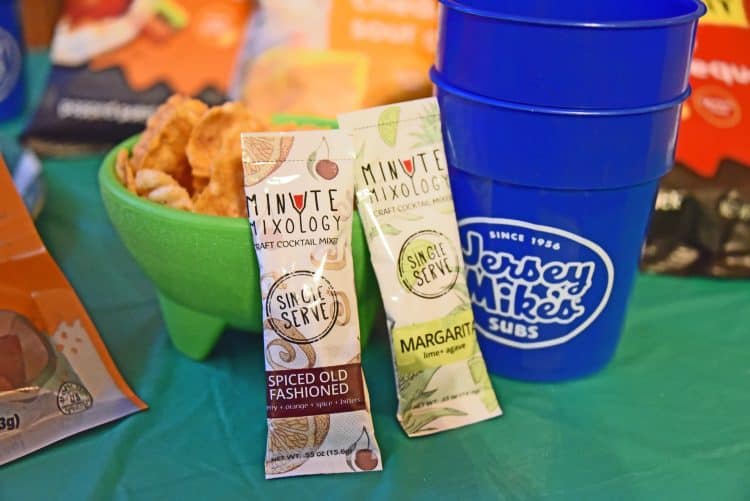 Minute Mixology: While it's certainly not a requirement of our game day parties, most people will indulge in some adult beverages. I love to get fancy with our bar selections, but then I'm missing the game. These new Minute Mixology packets solve that problem! Simply pour one of these packets into a shaker, pour in the suggested alcohol, shake it up and boom, there's your party bev! Pour over ice in a rocks glass and you're good to go. They are an ideal partner for the chips, sandwiches and turkey sausage bites! We tried the Spiced Old Fashioned, mixed with bourbon (which is kinda my favorite anymore), and a Lime + Agave margarita. (It technically was my husband's, but I had to try it so I could tell you about it, right?)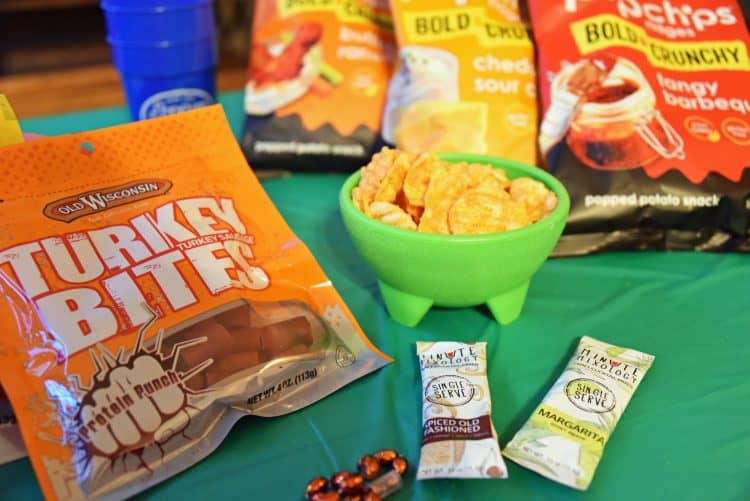 With these few things, it's super-easy to satisfy everyone's appetite without missing any plays! Throw down a turf-colored dollar store tablecloth. Lay out some easy football decor, like dollar store footballs, necklaces and plates. Color coordinate your serving bowls as much as possible — even have napkins in the colors of penalty flags — and you're done! It's easy to enjoy the game with the family without a lot of money!
Thanks to BabbleBoxx for inviting me to participate. You can follow along on social at #foodfootballbboxx, and I'll be sharing my photos on Facebook, Twitter and Instagram. I always appreciate your comments and likes on my posts and tweets!
Whatever you serve this weekend, remember that whether or not your team is one of the two playing in the game, enjoy the time with your family and friends. Football, food and fun!