Today's the day, the day that the new Trolls World Tour: Dance Party Edition comes out on Blu-ray and digital! We get to join Poppy, Branch, Guy Diamond and now Tiny Diamond, and more, on more adventures, music, and fun. AND DANCING. And Trolls chalk stencils!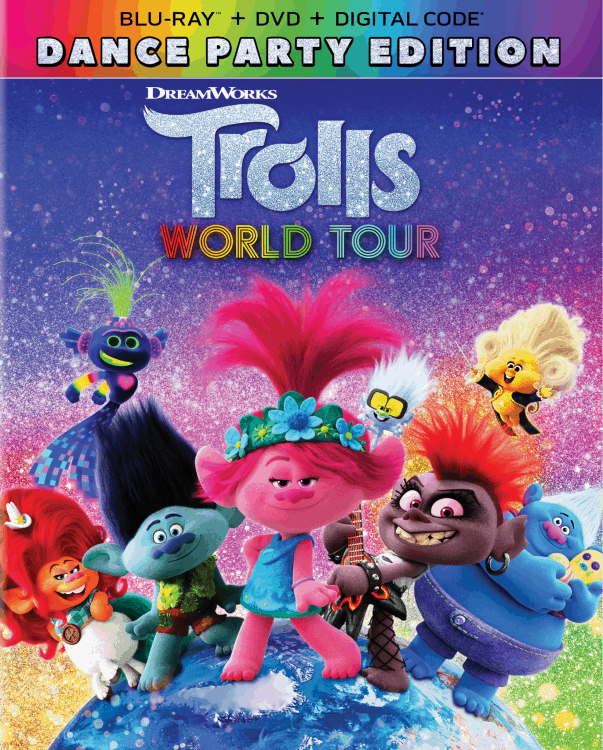 Along with a Blu-ray copy of the movie (which comes with its own digital download code), we were sent some fun things to celebrate today's release. I had it delivered directly to my one-year-old granddaughter, so she could have the fun and surprise of opening the big box of Troll fun, which included a bucket of chalk, large Trolls chalk stencils and small.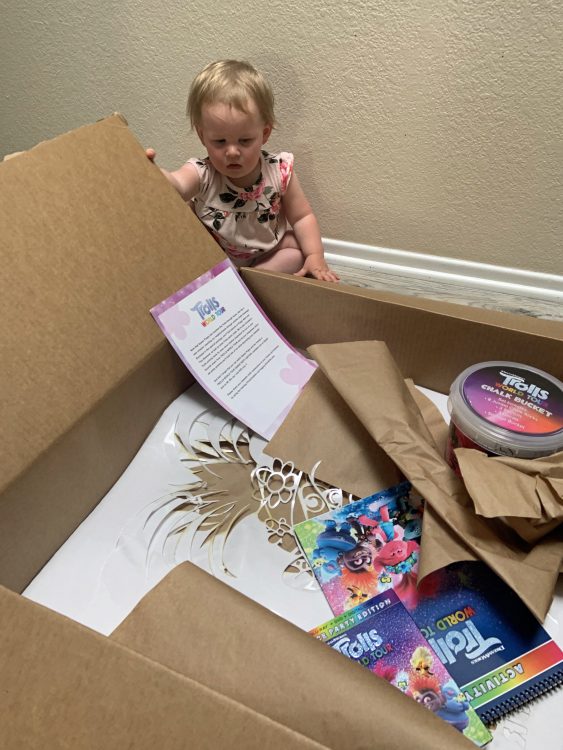 Immediately, she watched the movie. Multiple times.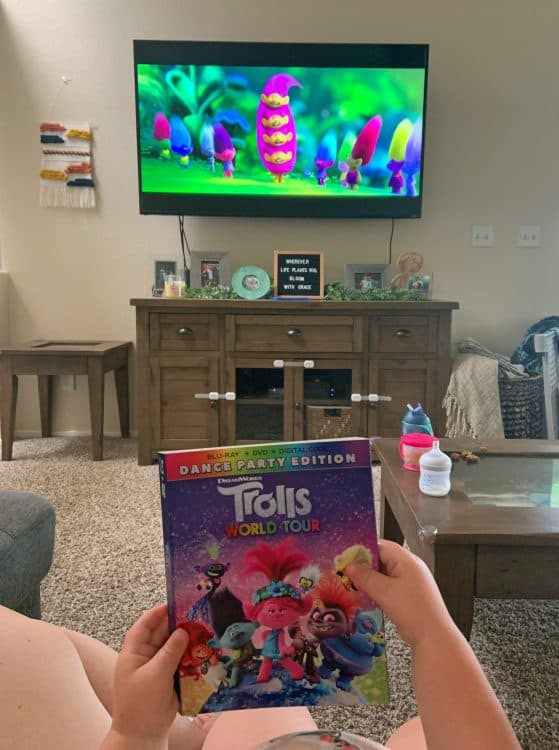 Even a one-year-old can appreciate the color and joy that a Trolls movie brings. I've sat with her as she giggles at their antics, so this week, when the temps finally dipped out of the 90s, she went out back to a shaded area of concrete with her parents and broke into the Trolls chalk stencils. (It's going to be 102 here today and yesterday it hit 97. Summer is officially here.)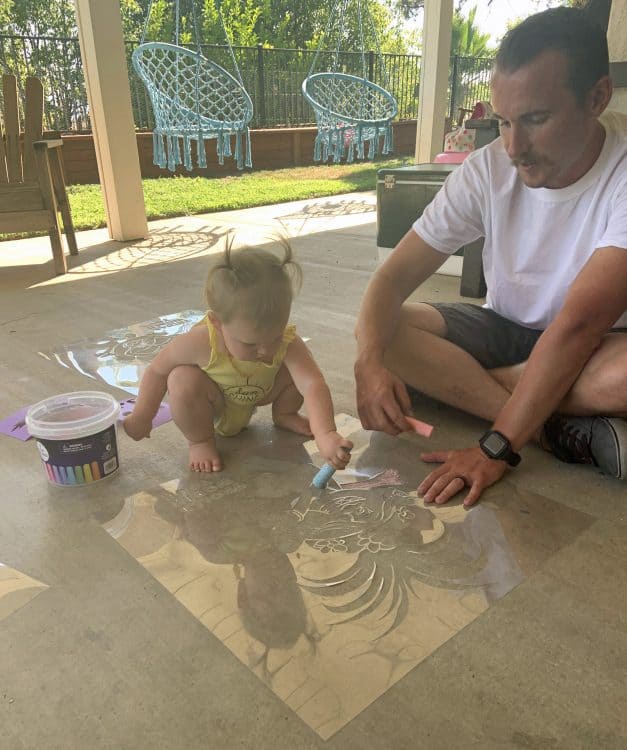 There's no better first experience with sidewalk chalk than coloring one of your favorite characters. With a little help from her dad, they made several different drawings on their back patio. She was having a blast!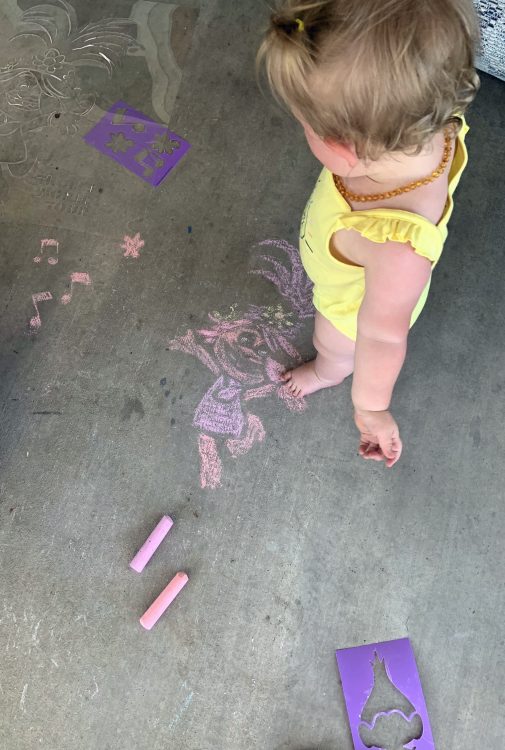 I share more about the movie on my other blog post (where I'm also hosting a giveaway for your own Blu-ray copy of Trolls World Tour: Dance Party Edition) but if you ever had one of those fuzzy troll dolls as a kid, you need to watch this movie and reminisce a little. Pop the popcorn, grab a beverage and laugh with your kids. Or on your own, the humor is not just kid-oriented. It's the kind of movie that even when your kids leave the room, you're still watching. (It's not just me, right?)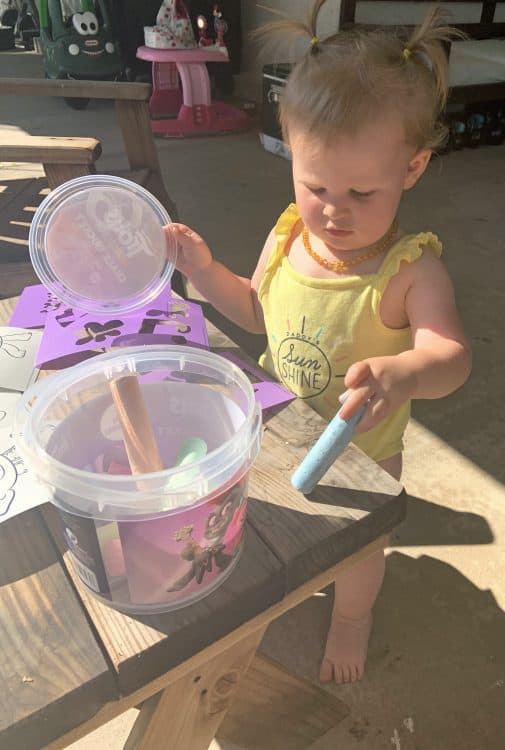 Here's a little more info on what's available on the Blu-ray:
BONUS FEATURES ON 4K Ultra Hd, BLU-RAY (TM), DVD and Digital
DANCE PARTY MODE – As Queen Poppy makes her way across the lands, this on-screen experience encourages the viewer to sing and dance along as they customize their own musical journey. With sing-along and dance elements, interactive pop ups and more, it's sure to be a world of fun!
TINY DIAMOND GOES BACK TO SCHOOL – In this exclusive original short film, journey back to school with Tiny Diamond as he tries to figure out how to be the cool kid and 'fit in'.
TROLLS DANCE ACADEMY – Compilation of How-To-Dance pieces from Dance Party Mode
Pop
Waltz
Country
Funk
KPop
Reggaeton
TROLLS WORLD TOURIST MAP – Cloud Guy provides a quick "tourist guide's" view of the six realms that make up Trolls Kingdom.
Trolls Village
Symphonyville
Lonesome Flats
Vibe City
Volcano Rock City
Techno Reef
DELETED SCENES WITH INTROS BY DIRECTOR WALT DOHRN, PRODUCER GINA SHAY AND CO-DIRECTOR DAVID P. SMITH*
Cooper's Destiny
Let's Go Save the World
Bicycle Built for Two
Breaktime
Meet the Bounty Hunters
Making New Friends
Cloud 9
TROLLS PERFECT HARMONY – Hear from the star-studded cast of Anna Kendrick, Justin Timberlake, Anderson .Paak, George Clinton, Kunal Nayyar, James Corden and the filmmakers about the history of music featured in the film. From classical to country to rock, pop and techno, the cast and filmmakers reveal their favorite types of music.
TROLLS WORLD TOUR BACKSTAGE (exclusive to Blu-ray and 4k) – A behind-the-scenes making of featurette showcases Anna Kendrick, Justin Timberlake, Rachel Bloom, Ron Funches, George Clinton, Mary J. Blige, Sam Rockwell and Kenan Thompson as some of the talent behind the Trolls and the process of bringing the them to life.
Opening Act
Headliners
Encore!
FEATURE COMMENTARY WITH DIRECTOR WALT DOHRN, PRODUCER GINA SHAY AND CO-DIRECTOR DAVID P. SMITH
"If we lose our string, we lose our music!"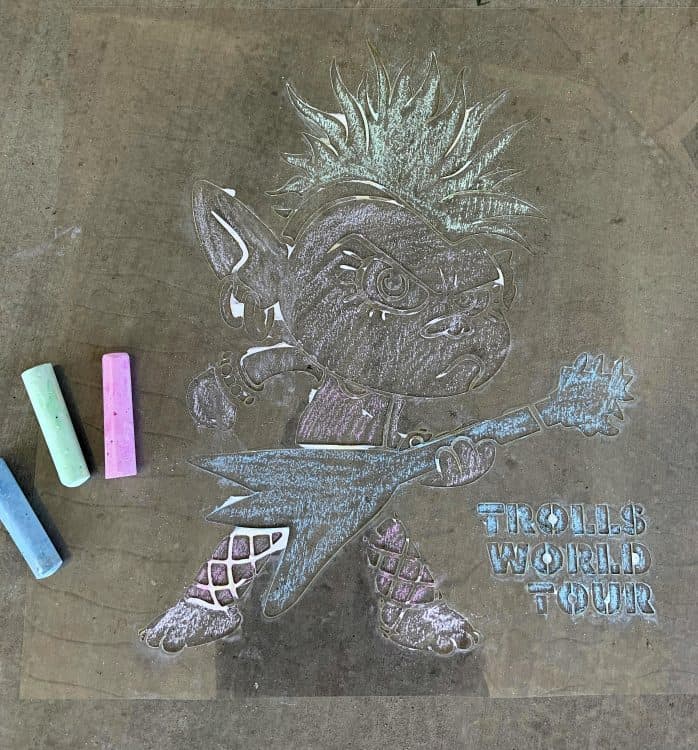 Enjoy the movie! (And here's one last gratuitous photo of grandbaby cuteness.) Hug time!