I love a good carb, with my favorite carb being bread. I could literally eat it at every meal, but who has the time to keep up on fresh bread baking or shopping? As a business owner and mom, not me. Enter Wildgrain, the first frozen bread delivery service that allows you to get fast artisan bread (and pasta) on the table without all the work and wait!
Wildgrain sent me a complimentary delivery box to review, and I only had to bake one of the items in the box to be a new fan! The idea is genius, yet simple. Sign up for their monthly service and choose between two different kinds of boxes: the Mixed Box, which includes pasta, or the Bakery Box, which is just bread. Store all the products in your freezer, and when you want bread or pasta, you prepare it straight from frozen. It really is that easy!
Product options change, and every month, as long as you do it before four days prior to shipment, you can customize your box. Seasonal items are also available. There's no longterm commitment, which means that each month, you can cancel, reschedule or pause without obligation….but I think once you start, you won't want to quit. Check out what came in my first box!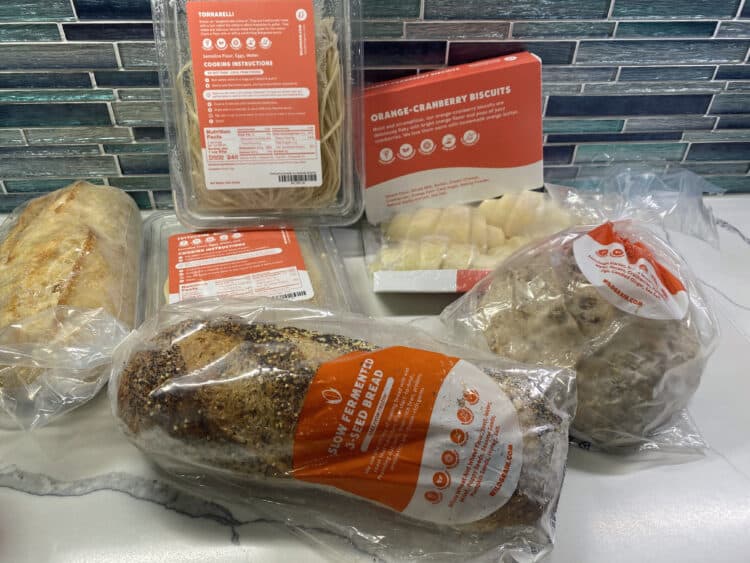 Every box is delivered in special packaging to keep everything frozen, and there's no delivery charge. Baking bread straight from frozen saves you from the mess of mixing, kneading, letting it rise, kneading it more, and so forth. Open the package, put it on the baking tray, and bake for 25-30 minutes depending on which type of bread. Let it sit when it's done (directions will tell you how long) to finish the process and soon, you're diving into fresh bread to compliment your meal. Or, if you're like me, you're slicing and covering with goat cheese and fig jam. It's a great holiday appetizer!
Fast Artisan Bread Delivered Monthly for Free
Why Wildgrain though? Other than the fact it is super convenient? It's the clean ingredients and quality products! Their products contain no preservatives, which is a step above grocery store bread. There are also some health benefits to sourdough bread, because it contains lactic acid, which helps your body absorb more nutrients than your body would when consuming other types of bread. The Wildgrain fermentation process digests the majority of the gluten, which can help people with gluten sensitivities digest and enjoy sourdough bread when they normally can't. That's a huge win for people who normally can't eat bread!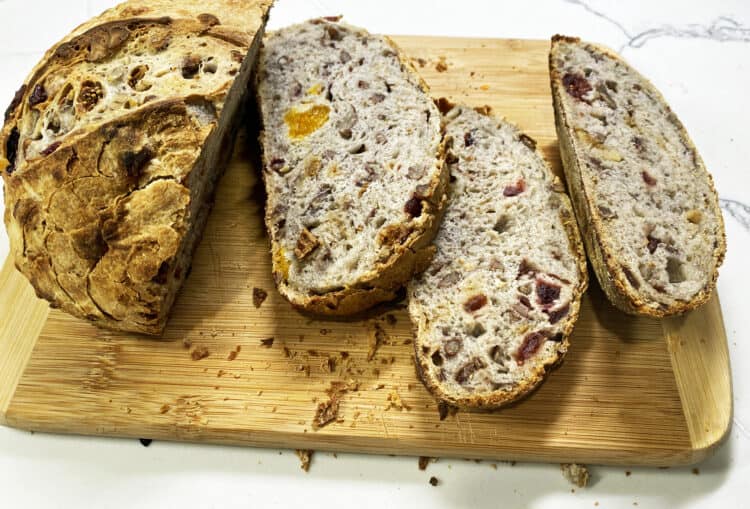 This Sourdough Harvest Bread is my favorite thing in the box! All that flavor, and on my table in under 60 minutes. It's the consistency of fresh, sourdough bread but full of pecans, cranberries, figs, candied ginger, and more. I'd just had dental work before I baked this, and was still able to eat it because the ingredients bake perfectly — just enough chew, no real crunch, and so, so good. We served it with kale turmeric soup and it was a great balance with the spiciness of the soup. Here's the before and after photos. See how it blooms after baking? I mean, no kneading, no shaping, no work!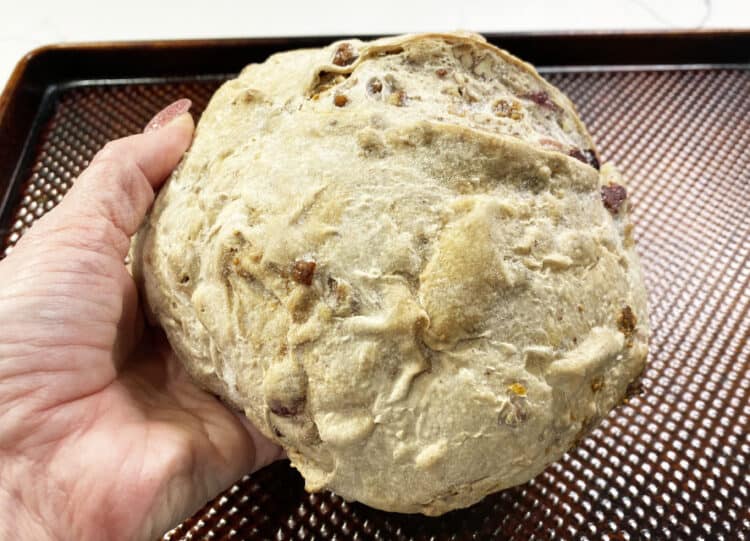 Right now, Wildgrain is also running a croissants for life promotion. Subscribe and get four free croissants in every single delivery! And they are SO GOOD. We made egg and sausage sandwiches out of them, alongside baked potato wedges; I was able to put them in the oven at the same temp with the bread and cut dinner prep time even further.
Fast artisan bread doesn't have to be expensive or time-consuming. Subscribe to Wildgrain and give it a try! Wildgrain also has a fabulous holiday gifting program, where you can purchase gift cards that send the monthly deliveries to someone else for three, six or 12 months. What a fun, unique gift, right?
Thanks again, Wildgrain, for giving us a delicious addition to our meals and for helping us save time during this very busy time of the year. Can't wait to try more items in the future! (And we just tried croissants and they were the fluffiest croissants we've made yet!)