Ever wish you could blink your eyes and healthy, non-GMO, organic food would appear? Now you can! Sign up for Out of the Box Collective and you'll have the best Monday morning delivery ever!
As a foodie, I feel like I'm at the grocery store way too often. I want to serve the family lots of healthy produce that they enjoy eating, but sometimes finding new ideas and things that inspire meal options is tough. Busy parents have enough to do that stressing out over cooking a delicious meal that everyone will actually eat shouldn't be one more thing on our already long list of things to accomplish each day. We have to eat, so why not make it easy?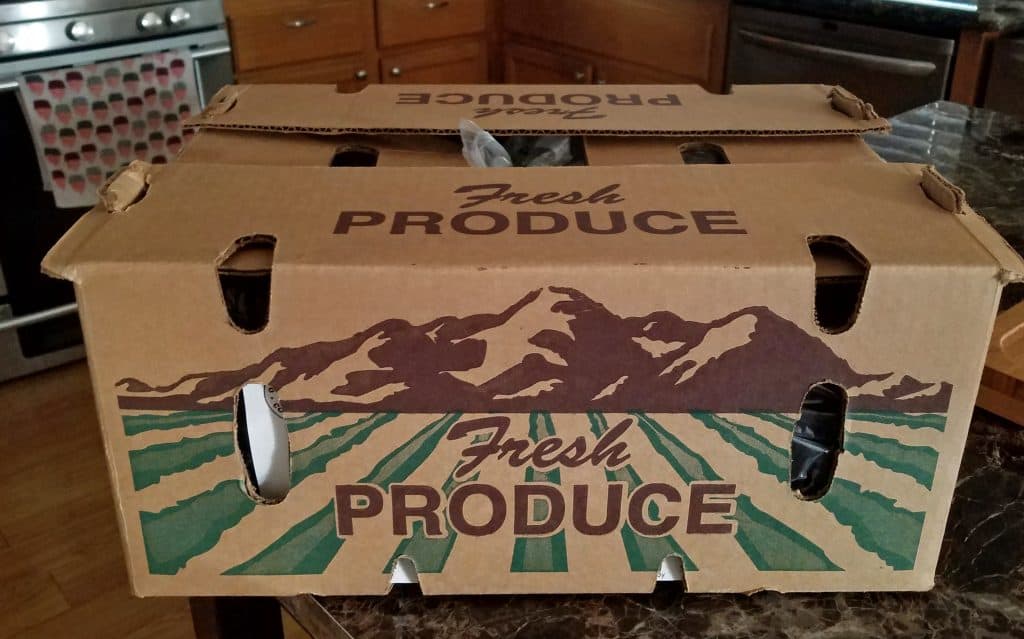 Out of the Box Collective sent me a free weekly box so I could test out the product and then share it with you. My box arrived before 6am on Memorial Day morning, evidence that even a national holiday won't impede reliable delivery! See? Best Monday morning delivery ever with no worries that I'll have what I need to help me make easy meal choices throughout the week.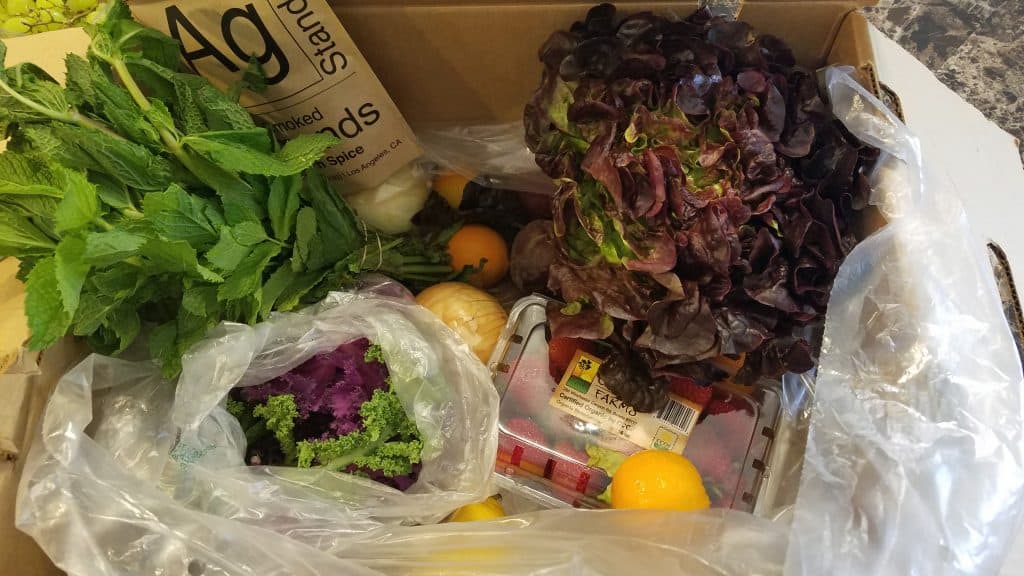 Signing up for Out of the Box Collective is one decision that is easy to make. Every Monday morning, before 6am, your weekly box is delivered, making it convenient to refrigerate necessary items before you're out the door for work. Each box is a combo of three things: a CSA farm box, things from the farmer's market, and a meal kit. All the food items are non-GMO, organic and farm fresh. The items are allergy- and gluten-free, all sustainable and with recyclable packaging. If you choose a box with meat, all meats are grass-fed, antibiotic- and hormone-free.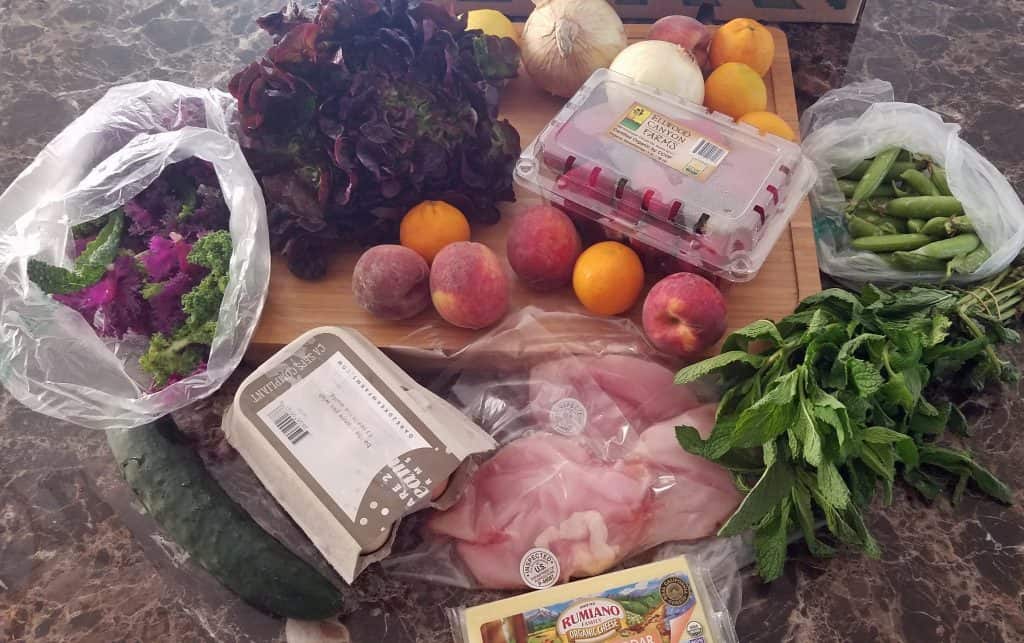 Boxes are available in small or large size meals, feeding 1-3 or 3-5 people. Don't eat meat? Don't worry, your boxes can be meat-free. Each box is designed to inspire meal ideas. I know mine did! I received gorgeous, bright produce, chicken breasts, cage-free eggs and organic cheese, along with almonds, onions, brightly colored kale, sugar snap peas, fresh peaches, tangerines and strawberries. And that mint! I joked with Out of the Box Collective on Facebook that I could easily choose a bouquet of mint like that for a wedding bouquet. So fragrant, colorful and beautiful.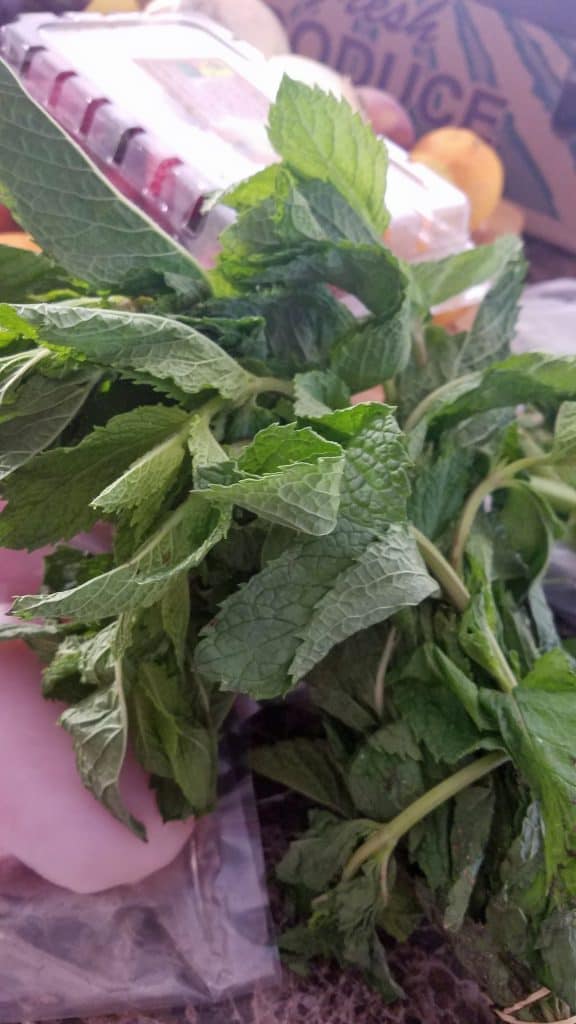 The head of artisan lettuce was great with sauteed ground turkey, shredded carrots and a light balsamic dressing. We baked the chicken, put them on brioche buns and topped it with some of that cheese. With just a little spread of butter and a few basil leaves from our window herb garden, we had a filling dinner sandwich. For that same meal, I sauteed the kale in a little bit of olive oil with fresh chopped garlic, salt and pepper. Perfect light side full of good things for my football-playing son! Sometimes it can be hard to get kids or teens to eat right, but I really believe if food looks appealing, it's much easier to get them to try it. That's half the battle, as most of time they like it once they've had a bite!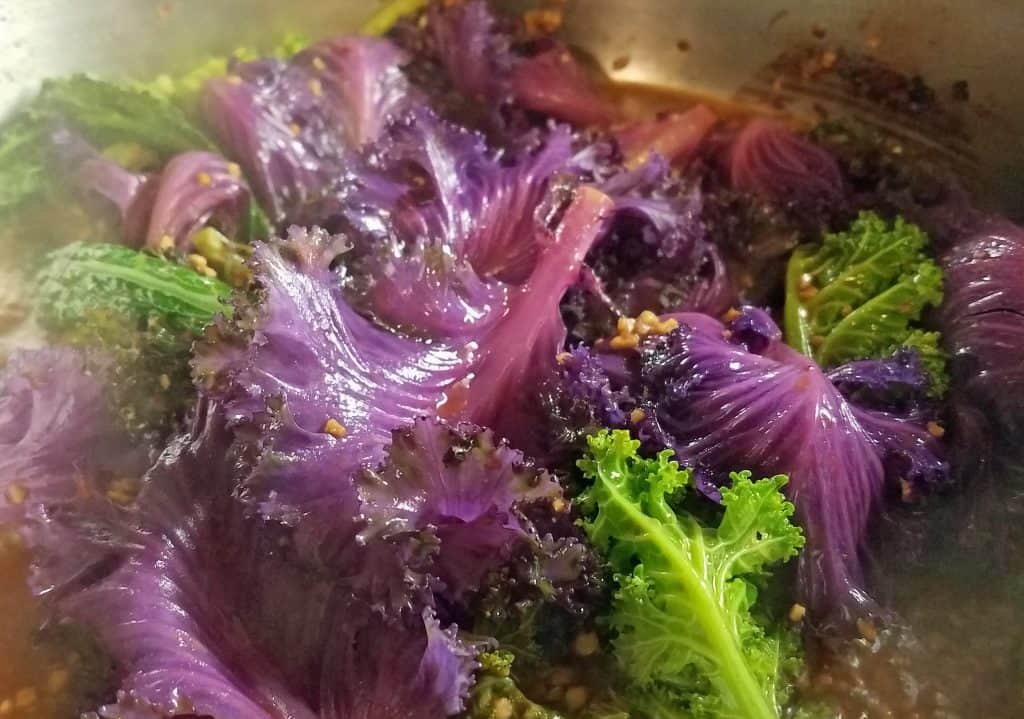 What did I do with the mint? Mint syrup! We like our Sunday cocktails during the NASCAR race or while hosting brunch, and it can be tough to get enough mint leaves ready at the same time for a good syrup that really adds a strong enough mint flavor to anything. No worries this time, I put the whole bouquet in a small sauce pan with 2 cups of water and 1.5 cups of sugar to simmer for about 10 minutes, stirring periodically. Turn it off, and once cool, strain into a tightly sealed jar. Bam, best mint syrup EVAH.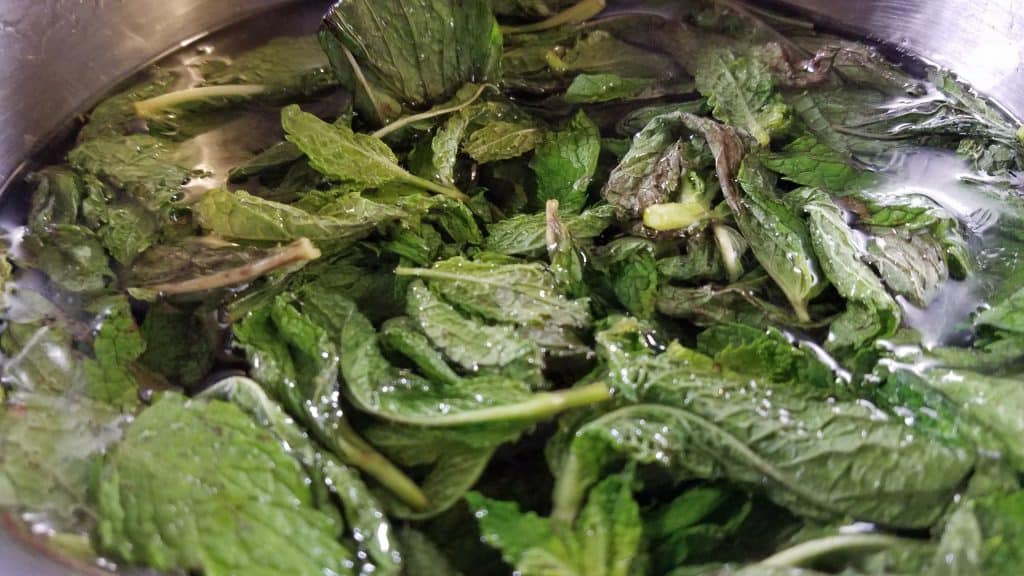 Strawberries are always a favorite in our household, and they're so easy to serve. Even if you have no time at all, pull out the strawberries and you have an instant dessert or after-school snack. One of our favorite ways to dress them up a bit is to slice them and macerate them very briefly in a little bit of balsamic vinegar. The natural berry flavors are amplified and it doesn't take any time to prepare. You can use them on store-bought pound cake, homemade pancakes or a bowl of basic granola. If you don't overcomplicate food prep, you use more of it when it's at the peak of freshness and you waste less. (I hate going through my produce drawer, tossing out spoiled tomatoes or shriveled oranges! I see dollar signs and I think about how others would have not wasted it, then I feel bad and I hesitate to buy the same food next week for fear of doing it again. What a ridiculous cycle that's so totally preventable!)
Consider Out of the Box Collective if you're looking for an easy way to get your weekly produce and shake things up each week. None of the meals I made with my Out of the Box Collective food were fancy, but that's the beauty of it: they don't have to be. Food should be fun, satisfying, delicious and appealing to your senses. Sometimes that's easier if you take out all the extra steps and additives and enjoy the produce, meat, cheese and other items as natural as possible. That often means your meals are affordable, too. Win-win!
Let me know if you try the service! You can sign up via the box on my blog sidebar (over here to the right —->) or if you purchase $100 or more, use the code CUPCAKE for 20% off! (In the interest of full disclosure, I am an affiliate so if you purchase via my link, I may get a few dollars.)
Let's run down the deets one last time: boxes arrive Monday mornings before 6am, from San Diego to Santa Barbara, California. Prices start at $57 and boxes can be customized to your preferences or the needs of your household. Everything is locally-sourced, non-GMO and organic. There are also a la carte options available on the website, with unique items for individual purchase in addition to Monday morning delivery boxes. Operating in the Los Angeles area since 2010, Out of the Box Collective sources food from not just farmers, but from beekeepers, ranchers, fishermen, vintners and more. The company is a shining example of utilizing the best California has to offer by way of food and community.